JustTeak is a premium teak protection designed to clean, brighten and protect your teak.
JustTeak is a marine-grade teak cleaning system that quickly and easily rejuvenates your teak. It will clean, brighten and once sealed protect your teak decking and outdoor teak furniture. The Teak Cleaner renews your valuable teak, removing stains, greying and old coatings, whilst being gentle on your teak.

The Teak Brightener removes light stains and greying and brightens teak when used in combination with JustTeak and Teak Cleaner.
Teak Sealer ensures a beautiful, natural finish that protects your teak from sun, rain and stains. You will also prolong your teak from turning grey, and when it is time to re-apply, Teak Sealer can be easily removed with JustTeak, Teak Cleaner and Teak Brightener.
There are no effects on caulking from using the JustTeak system. At times, the caulking can feel "sticky" once the JustTeak system is applied, this is because the 2-part cleaning and scrubbing process and to a lesser extent the sealer will remove the light oxidization layer that forms on the caulking. Usually revealing fresh caulking that is not sticky.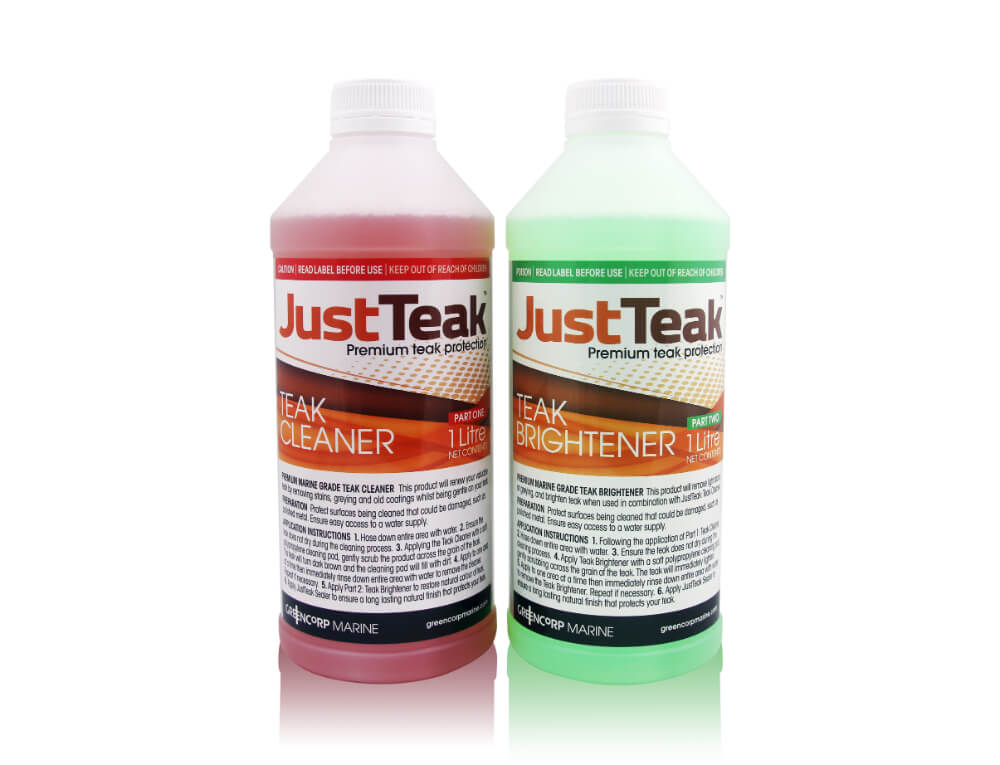 The JustTeak Cleaner and Brightener meets the 2018 Guidelines within Annex V of MARPOL (International Convention for the Prevention of Pollution from Ships): Cleaning agents and additives in deck and external surfaces wash water. Non-hazardous to the marine environment. With thousands of worldwide applications on everything from superyachts to sailboats and outdoor furniture, the JustTeak system is the proven choice to protect your teak.
www.marineexpress.co.nz