While it is fair to suggest the King Cat 38 is very much a fledgling marque, its unique and innovative approach to styling and appointments has raised more than a few eyebrows Australia-wide.
The financial backing for King Catamarans was provided by Lyle Gilmore, a very successful Mackay-based businessman. He is a decidedly avid boater, but more importantly his keen analytical approach to his engineering profession saw him have some very definite ideas on exactly how a boat should be set up and presented to the market. His approach from the start was not only systematic but also sequential, for polarised in his mind was a game-plan for success. On to paper went every pre-conceived aspect of his dream, and a game-plan evolved around infrastructure, the people, the premises, the manufacturing equipment and machinery – the same process by which he nurtured and grew his successful engineering and labour-force companies. And while possessing the necessary business acumen he was also acutely aware of the fact he couldn't pull all this together on his own, especially from his base in Mackay.
He would need the right management back at 'ground zero' so introduced into the equation from day one was Rex McGrath as the sole director of King Catamarans, and along with him his son, Scott McGrath, who would handle the marketing side of the Gold Coast-based business. There was one other very important influencing factor that Gilmore had very definite ideas on, namely the timing of the release of his product. The ultimate luxury I suppose of having the necessary funding right from day one, he was adamant the concept would not hit the market until the boat was fully tested in the field, and he was 100% happy with every aspect of the design and build. No testing and changing after the boat goes to market, because as Gilmore so rightly pointed out, "Traditionally people will not buy the first few boats of any new marque, simply because aspects of the hull or powerplant or whatever are changed and sometimes dramatically, which disadvantages those early buyers.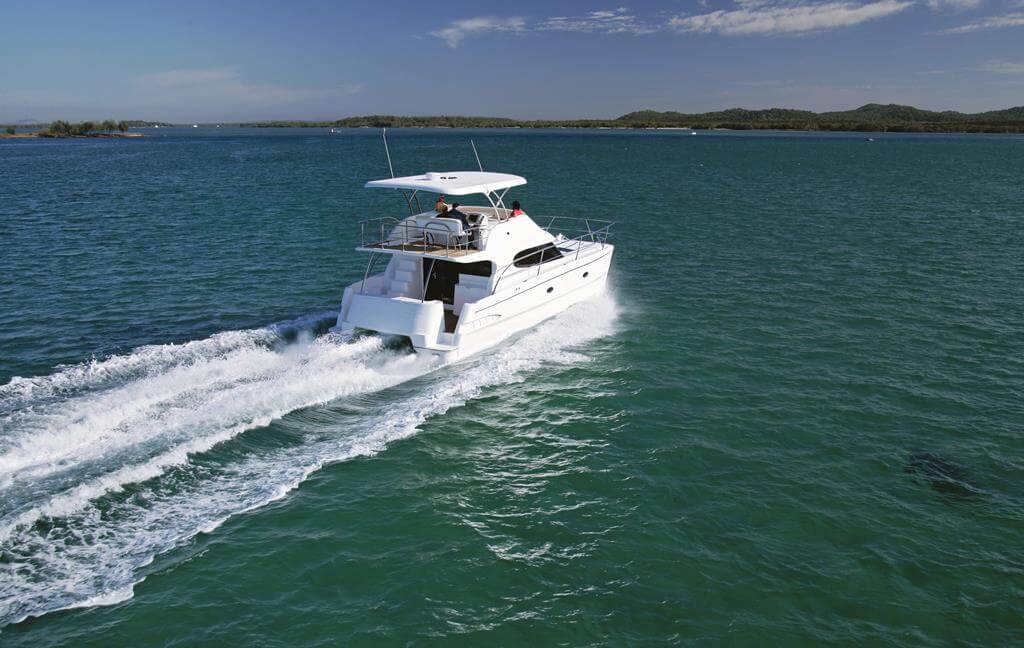 In this instance we have a boat that has been fully tested and developed before it hit the market, from tooling that had been completed – this model was indeed the finished product!" he emphasised. While the company kicked off in earnest only in October 2005, the pace has been frenetic ever since. Already, boat number four is ready for delivery to an eager client. Nothing has happened by accident, however, and even at first glimpse it is not hard to work out why this new brand has enjoyed early success. Initial impressions of the 38 King Catamaran suggest a boat that is certainly more than a little different from the average rank and file catamaran. The casual observer would perhaps loosely describe boat #1, the subject of this review, as a fisherman's boat, even though it is rather opulent; and I say that because this boat is Gilmore's own. He is an unashamed fishing 'fanatic' and because of that his boat is fitted out a little differently.
The fact that a number of these 'ideas' have found their way into the production versions is far from coincidence for most are commonsense and user-friendly. The cockpit especially, in the context of a 38-foot vessel, in my opinion was right on the button. Whether for entertaining or fishing, covered by a generous canvas overhang this huge aft platform included a serious work station with sink at each end, shower, BBQ, storage, live-bait tank, slurry kill bins (on the aft face) recessed integral tackle-boxes, and aft and forward-facing bench seating. There was freezer provision against the rear bulkhead and the picture was completed with a set of moulded steps to the upper flybridge, plus the again moulded steps, each side, that lead up to the side walkways to the foredeck. Innovation was especially evident in the case of the flybridge steps that lift up as an assembly to reveal wet storage underneath for the outboard, shore power, fenders, hose, and whatever else you cared to place in there.
King Catamarans has quite obviously gone to great lengths to break the catamaran mould so to speak, with refreshingly different features, such as the huge foredeck that because it is completely flat, offers a multitude of usage options. The substantial bowrail assembly envelopes this 'stadium', making it a very safe are to move about on. The stainless steel work on this bowrail and indeed on the side entry pulpit, the staircase hand-rail support, and the flybridge supports and pulpit, was in fact some of the best examples I have seen on a production vessel. Oval rather than round in shape, it offered greater stiffness whilst at the same time being uniquely and refreshingly different. Very impressive! You really needed to pinch yourself after climbing the stairs to the flybridge level, for the utilisation of space was quite awe-inspiring.
Three could easily be seated on the helm seat, and if you had them aboard there would certainly have been room for another 10-12 people seated on the oval-shaped settee that surrounded the outdoor table. Yes, the vessel was only 38 feet in length, but this structure was indeed graphic confirmation you could still have a generously-sized flybridge structure such as this – that from a side profile perspective, was still very much 'in synch' with the rest of the package!
Visually, above decks is your typical gelcoated moulded presentation, but upon entering the saloon I felt I was walking into another world. An extremely well spec'd and spacious aft galley to port and a generous plush dining setting and bar and entertainment module opposite were features that seemingly occupied a large percentage of available space, yet they were not visually overpowering. Everything of course is a trade-off in any vessel, so when I took into consideration the size of the cockpit feature and of course what was below in the way of accommodation, I felt the designers had been most innovative in having achieved what they had – again I was impressed with what I saw! With the galley placed upstairs, there is more room below for accommodation. Layout is optional with three cabins plus ensuite or, aimed deliberately at the charter market, a full four-cabin version. In this instance Gilmore understandably opted for the three cabins and an ensuite, a queen and double room both on the starboard side, and a most innovative alcoved bunk room and a 'house' bathroom on the port side.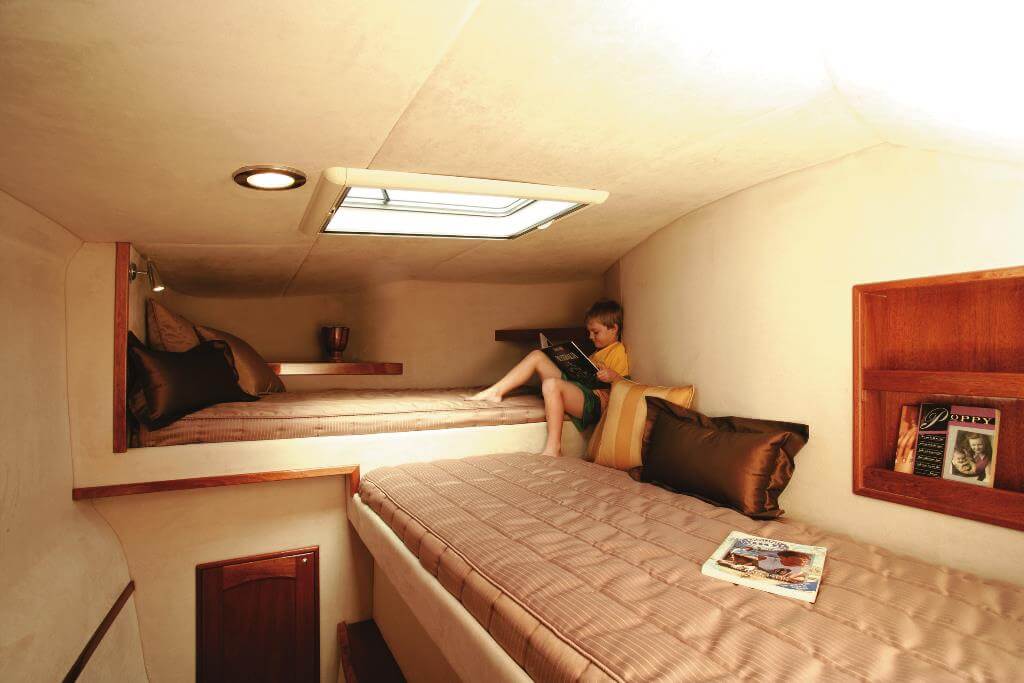 As in the saloon above, all cabins were opulently presented in contrasting Micro Suede trim and luscious lashings of 'deep' Khaya mahogany woodwork. It was quite obvious that while this form of presentation would serve to 'soften' the water and engine noise somewhat, it was obvious to me, in decidedly inclement sea conditions, that a lot of effort had gone into the sound-proofing and mounting of the engines and conventional shaft drives – there was very little noise or vibration even at that in-between 'fast-idle' range. Obviously contributing too was the solid (multi-axial) glass composite construction below the waterline, with foam sandwich construction of the decks and cabin and flybridge structures, so as to arrive at an acceptable displacement of 9.56 tonnes with 'half' tanks.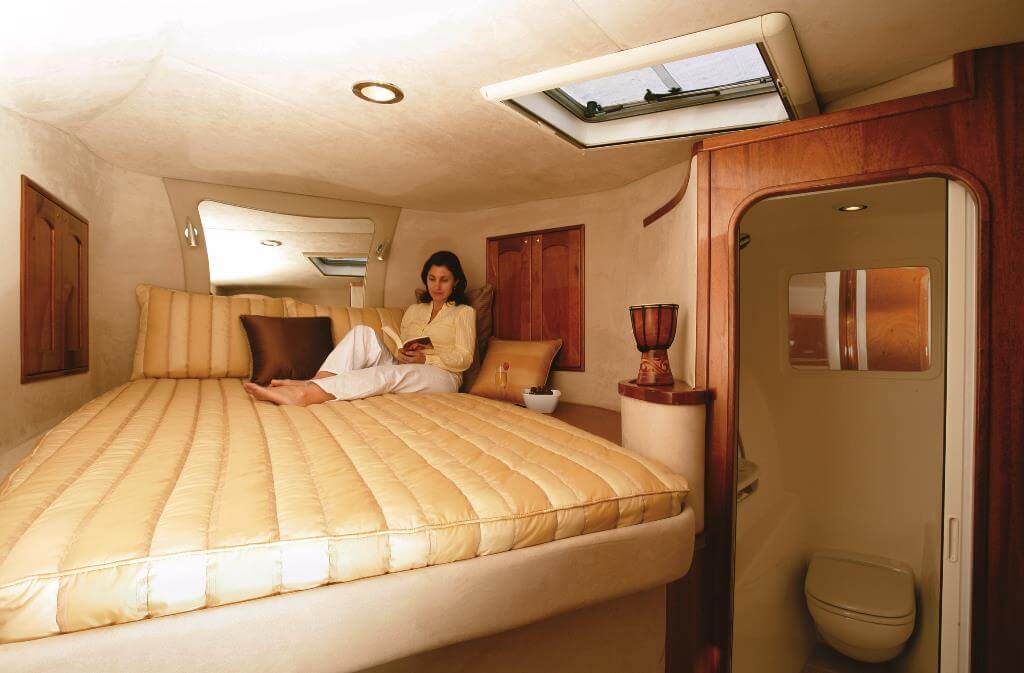 Twin 6-cyl, 3200cc (195cid) 256hp Steyr diesel engines through a ZF 63 gearbox and Faster propellers were Gilmore's personal choice, and pushed the boat to a most acceptable top speed of 24 knots and a cruise speed of 16-18 knots. There are a number of other power options you may like to choose. Gilmore's 'peripherals' choices were very much aligned to a long-range cruising scenario. For a start he opted to go for the recently introduced Paulger vessel management system that in essence totally eliminates the AC/DC circuit-breaker switch-boards as we know them. Everything including the remote engine controls are controlled by three onboard and backed-up computers that 'report back' to an unobtrusive small activation screen and two touch panels that are mounted on the cabin wall. Every onboard operation is managed from there. Gilmore also opted for a dynamo charging system attached to one of the Steyrs that charges when underway, a multi-bank of five 200Ah AGM deep cycle house batteries that power the totally 24-Volt onboard power system. "We do of course have 12V/24V/240V systems available complete with whatever you want in the way of gensets, battery chargers and inverters," Gilmore noted, "but this more long-range-cruising-orientated system offers me the ability to be able to fully charge the batteries during the day then run my 'silent' air-conditioning right through the night if need be – without coming out in the morning and finding all my batteries flat. For my purposes, this was the best system I could find that was efficient, effective, plus reliable!"
The 38 King Catamaran was one of those vessels that dares to be different. Sometimes that can be a recipe for disaster, but in this instance the package has been designed and spec'd by a team of obviously knowledgeable people who whilst deliberately embracing the engineering side appropriately, also have a great appreciation of the basic requirements of boating in a vessel of this dimension. Any wonder this keen value-for-money catamaran is turning more than a few heads, wherever she goes!
Boat Design Name: 38 King Catamaran
Year Launched: 2006
Designer: King Catamarans
Builder: King Catamarans
LOA: 12.7m
Beam: 5.3m
Draft: 0.8m
Displacement: 9.56 tonnes
Max Speed: 24 knots
Cruise Speed: 16-18 knots
Construction: GRP and Foam Composites
Fuel Capacity: 1500 litres
Water Capacity: 1000 litres
Engines: Twin Steyr Turbo Diesel
Gearboxes: ZF
Drive System: Shaft Drive                    
Propellers: ZF Faster (nickel/bronze)