The King Watercraft 4.3 is one of the most popular models in this Christchurch RIB builders range and is available in both outboard or jet versions. Barry Thompson checks out the newest of the outboard models on a very calm Lyttelton Harbour.
It was when I was walking around the Hutchwilco New Zealand Boat Show last year, that I first encountered William King, who enthusiastically showed me through a couple of his King Watercraft RIBs. I have to admit I had not heard of the brand before and was very impressed with what I saw. The finish and styling of the boats were exceptional and compared to some similar sized RIBs at the show, they stood out for me. I mentioned to William that I was keen to do a review sometime soon. Well, that sometime soon took almost nine months to happen, but I have to say it was well worth the wait.
I appreciate that there are a lot of small RIB tenders on the market, so any manufacturer needs an edge if they hope to compete. One particular area that King Watercraft have done exceptionally well is the jet tender market, with a variety of hull sizes and engine packages to suit a diverse client base.
"Our jet tenders are used as yacht tenders, for families towing water toys, especially in rivers and shallow estuaries, and for anyone wanting a shallow draft RIB for hunting, fishing and diving", says William.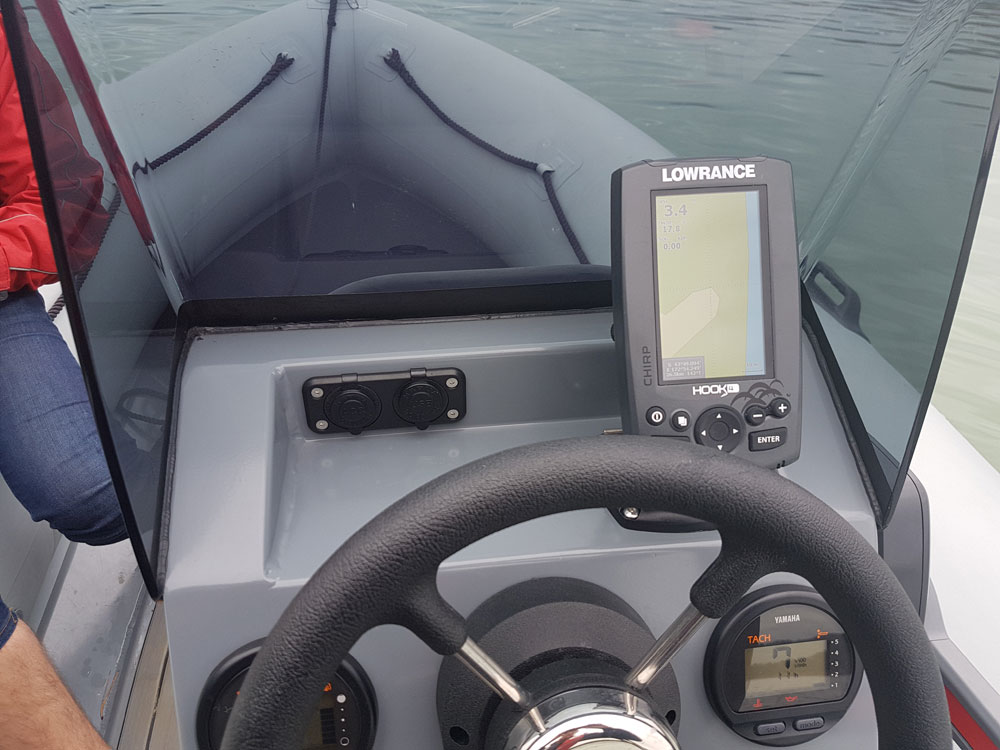 In the previous issue of PPB, we ran a story on the King Watercraft 4.8 jet tender, which a delighted Taupo owner uses extensively for fishing and family fun. Powered by a 125hp Yamaha 4S engine through a small jet unit, the 4.8 is a real rocket ship with a top speed of 50 knots.
While the custom-built jet tenders have enjoyed steady sales in both Islands, the market is not as broad as with a conventional outboard RIB, a sector of the industry that William is keen to develop with his brand. So, when I finally got to Christchurch for my first review of one of William's RIBs, it was appropriately an outboard powered 4.3m console tender. Like the jet tenders, he has developed the 4.3 outboard model to suit just about every facet of the Kiwi boating lifestyle. The owner of the boat I tested uses it mainly for taking 2-4 guys out diving around the Canterbury coastline. Many a cray has crawled across the Ultralon U Deck flooring!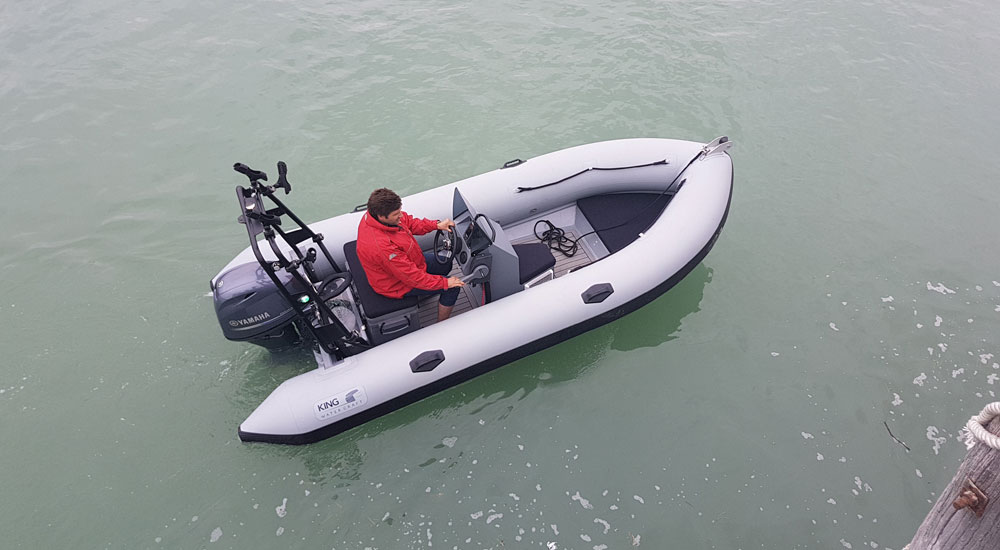 While the 4.3 is one of the oldest models in the range, it has undergone constant development over the years, with a tweak here and a tweak there to the pontoon and hull shape. The changes now are more cosmetic, as William says; "After eight years I reckon we have achieved the perfect combination as far as performance, handling and ride are concerned".
The running surface is a conventional vee hull with 18 deg deadrise at the stern, with a long keel and reasonably aggressive bow entry. This works in well with the wide 480mm diameter pontoons. These are glued to the hull and give the 4.3 a maximum beam of just under 2m with the tubes inflated. The tubes are made by a local manufacturer, About Inflatables, using high-quality fabrics and glues.
The 4mm alloy hull has an air chamber under the level floor, and as it is designed as a 'wet' boat for diving and water sports, there are two large drain socks at the stern.
The interior layout is very customisable from complete open space with a tiller steer outboard to a variety of side, full width and centre consoles. Accordingly, the seating layout is designed to suit the console style and also what an owner requires.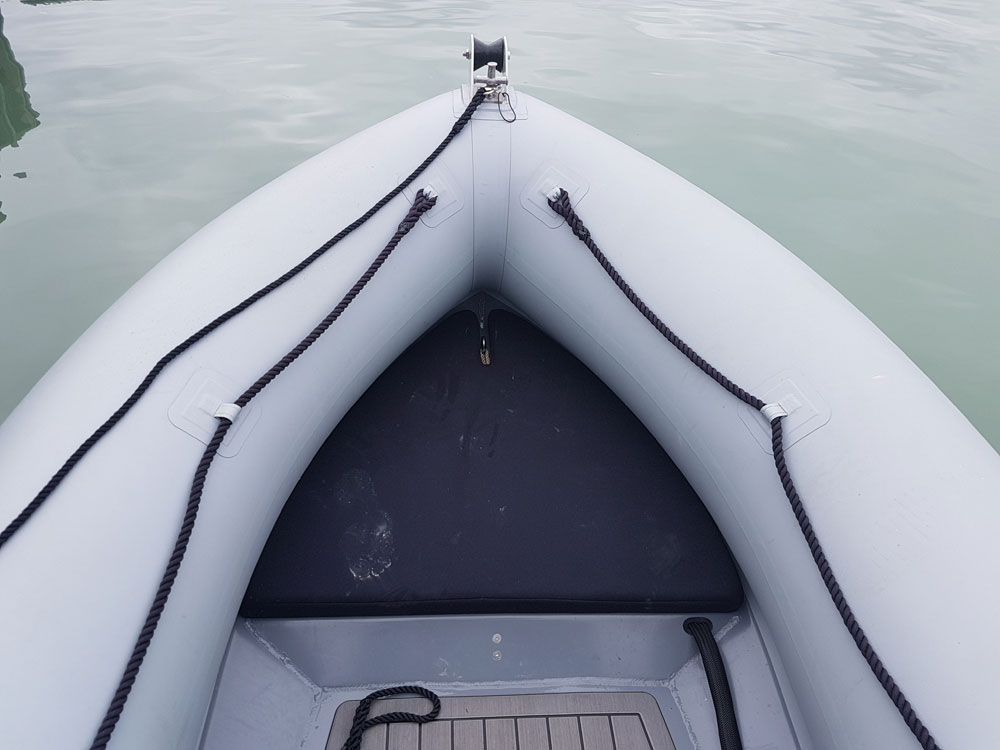 Although the waters were calm for our test, there was a couple of local ferries wakes to give the 4.3 some action. No problem! The RIB took them with ease at around 20 knots and we never received a spot of spray aboard. William tells me that the 4.3 is a very dry boat when it comes to running across moderate to choppy water and it doesn't mind carrying some extra weight.
One of William's prerequisites when setting up each boat is making sure the weight distribution is correct. "We adjust the position of the console and seating in accordance with what a client is going to use the boat for, be it carrying the weight of 2 or 3 sets of SCUBA gear in the bow or just a couple of kids with a tube or skis", says William.
The 4.3 has also proven popular as a coach boat for rowing clubs, where the console is as far forward as practical to accommodate low planning speed and only one person aboard.
Power options are 30hp-50hp, with the most popular being a 40hp 2 or 4 stroke. Maximum speed was just over 31 knots with a Yamaha 50 and on the calm waters of Lyttelton Harbour, it ran nice at around 20-22 knots. We had a fuel gauge, but no litre per hour measure so with an average of what was used in previous trips, I am picking it would be very miserly.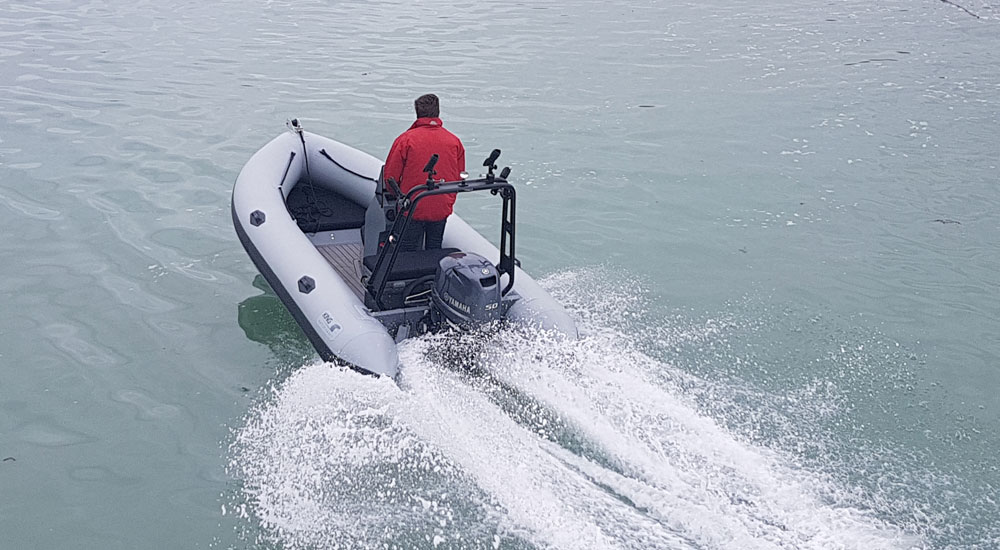 As I already mentioned the layout is very customised and the case of our boat it was a single console with side access and a forward seat. Helm seating was provided by a 70-litre Icey-Tek removable bin seat. Storage is available in an aft wet bin locker for warps and ski ropes and inside the console for dry gear. The anchor locker is under the front squab, where there's also a 25-litre built-in fuel tank. One advantage of having the fuel tank forward is it counterbalances the weight of the outboard on the transom. 
A transom mounted powder coated alloy roll bar (polished stainless steel option) is strong enough to tow water toys and comes with nav lights and eight mounts to allow for a variety of attachments such as a bait board, rod holders and even a speargun mount, all as an optional extra.
Overall a cool little RIB that has the versatility to suit a wide variety of on water activities. It also comes with a heritage of New Zealand made quality in every aspect and the performance and handling you could easily attribute to a larger RIB.
Model: King Watercraft 4.3               
Priced from: $24,500
Price as tested: $28,000
Type: RIB
Construction: Alloy/Hypalon or Valmex
LOA: 4.3m
Beam: 2.0m
Deadrise: 18 deg
Height on trailer: 2.0m
Trailerable weight: 380 kg
Power: Yamaha 50
Power options: Outboard/Jet
Propeller: 11" Alloy
Fuel capacity: 20 litre
Trailer: King Watercraft
RPM    Knots  LPH
1000    3.0       1.0
1500    4.3       2.0
2000    5.2       3.4
2500    6.0       3.9
3000    10.0     5.1
3500    14.6     5.8
RPM    Knots  LPH
4000    18.4     6.4
4500    20.0     7.0
5000    22.5     7.8
5500    24.3     8.7
5800    31.3     9.8