There are two distinct construction materials used in trailerable boats – aluminium and fibreglass. Each has its own following and the benefits and shortcomings of both materials have long been debated. Dunedin based Lazercraft Marine are one of the few builders in the country that have managed to successfully marry both materials together and compete head to head in mainstream retail sales. Recognised for both quality of finish and style, Lazercraft boats follow traditional more than innovative lines yet each standard design has the versatility to be customised.                       
Recently the company introduced the revamped 720 series and although at a distant glance it may look very much the same as the previous model, it is in fact 100mm wider, 100mm higher from the chine to the gunwale and 200 mm longer. This has meant more cockpit space and also created a space for the head under the forward centre V berth. The previously 3mm sides are now 4mm and the transom is now designed to take ultra long (25 inch) shaft outboards as standard.
I had the opportunity to spend a day aboard one of the new model Lazercraft 720 Sport GTs, packaged with an Evinrude 200 Ficht. As the boat came with an awesome rough water reputation I was keen to take it out into the bluewater. A 60-mile round trip to Little Barrier from Gulf Harbour Auckland with a couple of diving and fishing buddies seemed like the right thing to do.
I have crossed the open stretch of water between Kawau Island and Little Barrier many times and I have never seen it so calm as on the day we took the 720 for a test. Mirror smooth would be the simplest way to describe it. A pod of dolphins, and Sigh whales, gannets and birds sitting patiently waiting for their midday snack were all that broke the oily surface. So how did the boat perform? Great! Mind you, it couldn't really do anything wrong in the conditions and we settled on 40mph @ 4500 rpm for the trip both ways.
Having been told about how great the ride was in rough water, I was keen to experience it first hand so a few weeks later got the opportunity to punch into a breaking swell on Auckland Harbour. The ride was soft and predictable and if you have a driver who really wants to show off his skills, then it's "hang onto your hat" material. The 5mm plate, 20 degree deep V hull doesn't have that 'tinnie' sound when it lands, with more of a 'humph' than a 'twang'. Top speed in the calm water was 44.8 mph @ 5000 rpm, with a comfortable cruise around 40mph @ 4500 rpm. If you are looking towards trolling offshore for a marlin or broadbill or on Lake Taupo for trout, then the Evinrude Ficht will tick away all day without so much as a whisk of smoke surging in behind the canopy. You will see from the fuel figures, at 1500 rpm @ 6 mph, the engine only used 5.4 lph and even at 4000 rpm @ 35.3 mph was using a conservative 36.4 lph. If the 190-litre fuel tank is full when you start, you would have a range (based on 90% of the fuel capacity) have around 166 nautical miles @ 4000 rpm.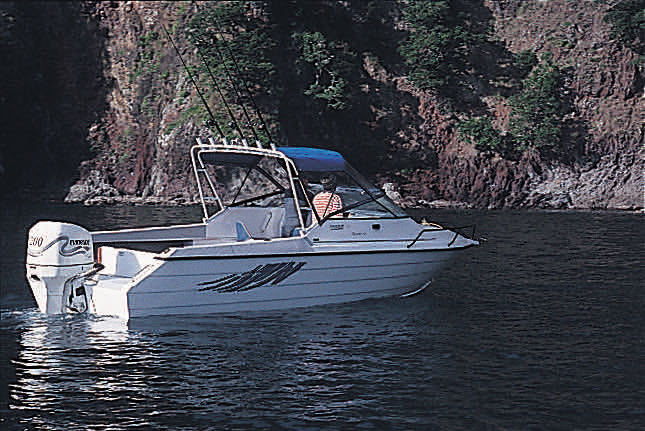 The 720 Sports GT is 7.0m overall, with a beam of 2.35m and freeboard of 0.77m and provides a roomy cockpit that we all found very workable. Despite a couple of sets of dive gear and all the fishing equipment for the three of us to move around, it didn't give us a cramped feeling. In fact it was quite the opposite. With no underfloor storage areas (the 190-litre fuel tank takes up most of the central space) the dive bags and tanks can either be stowed inside the cabin or left on the chequerplate alloy cockpit sole. Not wanting to wet the pristine fully lined cabin we opted to leave all the mess in the cockpit and yet it didn't seem to get in the way. Storage shelves either side caters for an assortment of gear and fishing rods. With the optional fold down rocket launcher fitted there is plenty of provision for your rods overhead.
Considering the fact that owners will go fishing from the 720 Sports GT, a built-in tackle box is found in the coaming beside the forward passenger seat plus there is a similar sized locker in the same area alongside the driver. A fascia glove box looks after all the keys, wallets and cellphones and there's also plenty of space in recessed areas under the screen.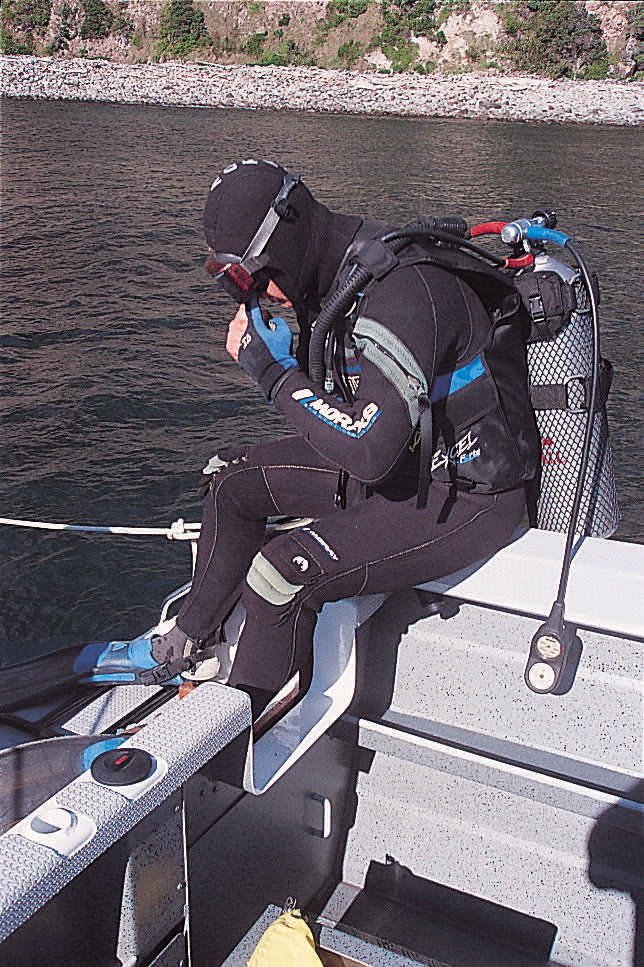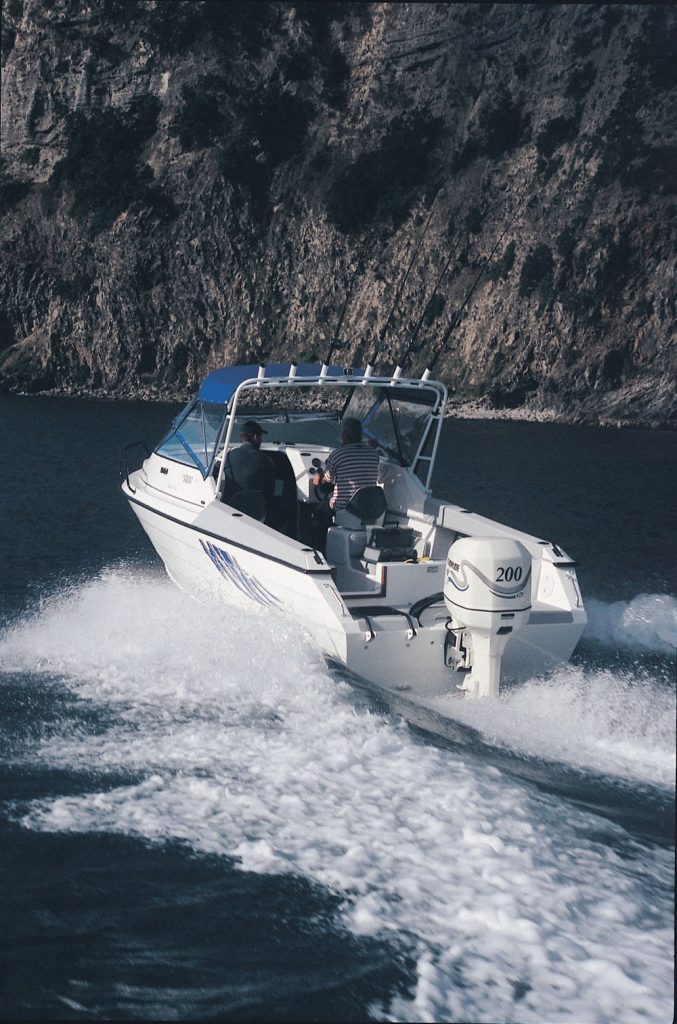 Standard seating is a pair of swivelling rotomoulded forward seats with flat aft facing seats on fibreglass bases, but you have the option of everything from no seats at all, twin pedestal buckets or full wrap around back-to-backs. There is also a fish box seat that is large enough to seat two. Personally, I like the idea of back to backs as there is still plenty of space in the cockpit for fishers and divers. There are two storage areas in each base, with the helm seat folding forward to reveal a moulded sink unit. This can be plumbed in with freshwater and fed from a built-in 60-gallon tank or a smaller capacity tank under the sink unit.
The Lazercraft 720 helm consists of flat areas so there is room to fit flush mounted electronics and with some planning you can still incorporate all the necessary instruments and switches in close proximity. Our test boat was fitted with mechanical steering, although hydraulic is an option, plus flush mounted remote control lever with dash mounted key start. The driving position is excellent when standing with the curved up-lift on the perspex screen diverting any wind off your face. This also adds strength to the screen, but if you don't want your passengers grabbing the aluminium extrusion around the top, then a stainless handrail around the entire top edge is a good addition. When seated, I felt the steering wheel was too far away and would have liked to see the footrest on the seat pedestal rather than the bulkhead. An optional sliding seat base would allow you to set the seat where it best suits you, although Lazercraft will position the seat base to suit your own requirements.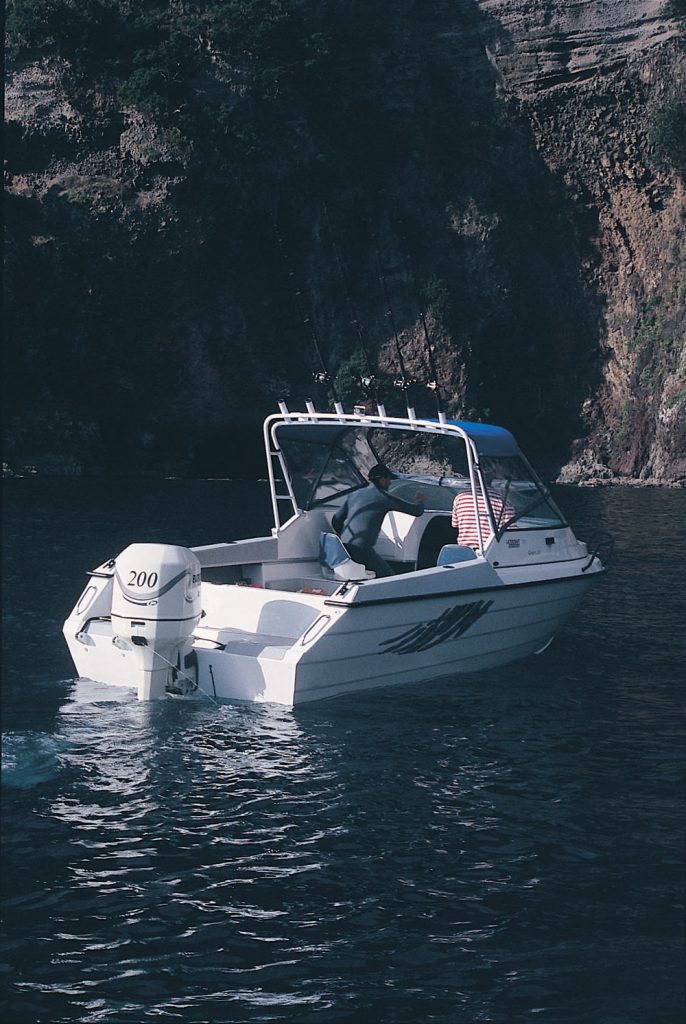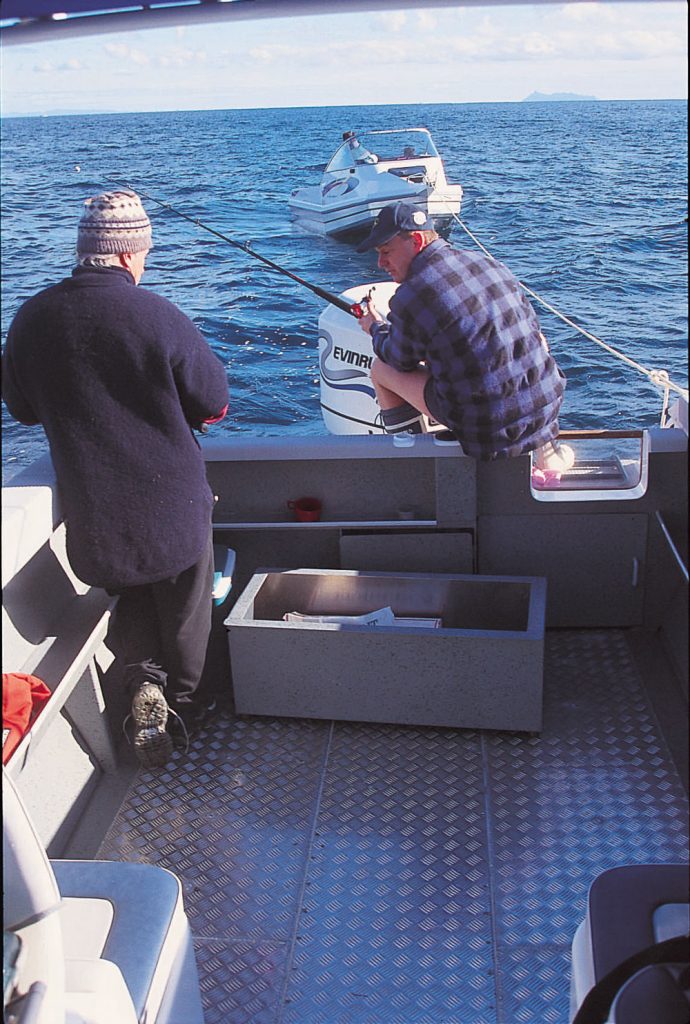 I liked the trio of rear alloy doors under the transom that hide away items such as the battery, oil reservoir, fuel filter and spare tote tanks. As we didn't carry any extra fuel tanks for our trip I found the space ideal for some of the fishing gear. The wide flat transom area incorporates a ski pole/bait board bracket (ski pole and bait board optional), with a portofino style stern, lift-out perspex door, drop down alloy ladder and well placed grabrails. Our divers gave this area of the 720 Sports GT full marks. The cockpit gunwale and transom is covered with deck tread, although again there is an option of leaving it as clean shiny fibreglass or covering the area with teak. The canopy on our test boat had a full zip-out clear forward and clip-on side panels with a bimini style top. However if you prefer the seriousness of a full hardtop that option is also available, with the only major alterations to the GT being a new windscreen. The good thing is, the hardtop is available ($5000) as a retrofit for existing 720s.
The cabin layout is simple and effective with deep storage both under the full-length squabs and in split level side trays. There is provision for a toilet, either chemical or fully plumbed under the centre squab and with an in-fill you can turn the whole area into one huge double berth. Despite the low profile styling of the cabin top there is still reasonable sitting headroom and for privacy and security there is also the option of lockable teak doors. Screw-on panels hide away all the untidy bits behind the fascias of both bulkheads.
This is a big volume family boat that has all the necessary attributes to also suit the serious fisher and diver. You get the best of both worlds, with the stylish soft lines available with the grp cabin and the ruggedness of the aluminium hull. The 720 is also available in a variety of versions to suit different applications, such as those who want a more commercial layout, with a smaller cabin, big open uncluttered cockpit, all alloy screen and lower sides. The Sports 720 GT is the biggest seller in the range as its versatility appeals to both markets.
Model: 720 Sports GT
Price (Hull Only): $28,000
Price As Tested: $68,000
Designer: Gavin Child
Material: 5mm/4mm alloy (hull) grp (cabin)
Type: Sports cabin
LOA: 7.00 m
Beam: 2.35 m
Hull Configuration:  semi deep V
Deadrise At Transom: 20 degrees
Trailerable Weight: 1800 kg (estimated)
Engine Capacity: 140 hp – 250 hp
Power Options: Outboard, sterndrive or jet.
Fuel Capacity: 180 litres
Water Capacity: 60 litres
1500 rpm        @   6.0 mph (  5.2 knots)
2000 rpm        @   9.4 mph (  8.2 knots)
2500 rpm        @ 13.5 mph (11.6 knots)
3000 rpm        @ 18.5 mph (16.1 knots)
3500 rpm        @ 30.0 mph (26.0 knots)
4000 rpm        @ 35.5 mph (30.7 knots)
4500 rpm        @ 40.0 mph (34.8 knots)
5000 rpm        @ 45.0 mph (39.0 knots)
Performance figures have been rounded off to the nearest 0.5 mph.
NOTABLE STANDARD EQUIPMENT
Moulded GRP top, four rod holders, two zinc anodes, deck tread, transom door, carpeted cabin.
NOTABLE OPTIONS ON TEST BOAT
Underfloor fuel tank, painted hull, fish box seat, bowrail, ski pole, fold down rocket launcher, nav lights, cockpit lights, cabin lights, fuse panel, bilge pump, foot rest, two extra rear doors under transom and canopy.
Make: Evinrude
HP: 200
Model: Ficht
Cylinder Type: V6
Max RPM: 6000 rpm
Retail Price: $22,380
Make: Voyager
Model: A22
Braked: Yes
Suspension: leaf springs
Rollers: multi-roller
Std Features: submersible lights, wind-up jockey wheel, tandem axle, 10:1 winch and lockdown strap.
Retail Price: $7300