Barry Thompson looks at underwater lights and what's available for today's trailer boat, flybridge cruiser or superyacht owner.
Since Underwater Lights introduced one of the first recognised underwater lights for the recreational boating market
in 1991, the market has expanded with over a dozen international manufacturers. Deep Sea released its first recreational underwater lights in 2003 and UK-based company Ocean LED and Australian based Aqualuma released its first underwater lights in 2005 and helped kickstart the evolution of light emitting diodes (LEDs) for marine use. All four are market leaders in this very competitive field. Other leading brand names now include Quick, Lumitec, Bluefin, Perko, Cantalupi and Sea Vision. Underwater lights are, as the name suggests, lights that work underwater so obviously they should be installed below the waterline for optimum heat dissipation and lighting effect. The light source for virtually all underwater lights today is LED, a rapidly developing technology in lighting.
LED is the most common type of light on the market and far more energy efficient than any other form of lighting, including halogen, xenon metal halide and plasma which are used on larger yachts and superyachts. LEDs are shock and vibration resistant and have a life expectancy of more than 50,000 hours. LED manufacturer CREE claims a life of 100,000+ hours on its lights, but most manufacturers of underwater lights limit this to 40,000 hours due to the operational conditions.
To contain a LED light in extreme conditions, particularly when the light is mounted underwater, requires a superior housing. The choice is either aluminium bronze, which is popular with some manufacturers, or an injection moulded transparent polymer, such as that used by Australian underwater light manufacturer Aqualuma. The material is ideal for underwater lights because it is immensely strong and is durable, lightweight, scratch-resistant and UV protected. The benefit of using polymer is that the housing will never corrode as there is no metal in contact with the water. Therefore, the lights do not need to be bonded to the boat's sacrificial anode system. It is probably a good idea to antifoul the exterior surfaces of the
underwater lights if they are not made from plastic. Aluminium bronze is a popular material for housings as it is one of the most robust metals underwater. Stainless steel is very good out of the water as its top layer oxidises, but underwater this does not occur and therefore it will corrode. Aluminium bronze has great resistance to salt water corrosion as well as having great thermal characteristics to help keep the light and LEDs cool.
Underwater Lights can be mounted in a number of ways, from thru-hull and surface mount to attaching them to trim tabs or separate L-shaped bracket A thru-hull fitting is mounted literally through the hull of a boat. A hole is drilled and the light fitting slides into that hole and is fixed internally. Aqualuma is the only LED underwater light manufacturer in the world whose lights have the ability to be serviced while your boat remains in the water. Care and maintenance of underwater lights are simply a matter of cleaning the lens on a regular basis if you want to maintain the best light projection. Cleaning is easy and can be done with a soft cloth or soft scrubbing brush. Cleaning is important as if you don't clean your lights, they may get a build-up of marine growth such as algae or barnacles that will affect the light projection. However, simply using the lights is one of the best ways to keep away barnacles and the like, as the heat generated from the lights will help prevent marine growth.
New generation LED lights are very lean on power usage. For example, the Aqualuma 1 Series uses less than 0.2A @ 12V and less than 0.1A @ 24V. The more powerful 12 Series uses less than 1.2A @ 12V and less than 0.6A @ 24V. Most underwater lights are also polarity protected and polarity sensitive so you need to make sure you hook the right wires to the right power source, be it positive or negative. There is no difference really between 12 or 24 volts, when it comes to the power strength and leading brands are usually dual voltage so they will accept either 12 or 24 volt systems. The light output and brightness is the same on either 12 or 24 volts. When it comes to colour, that is a personal choice and each colour has different benefits. Blue and green light have shorter wavelengths than white light, and can penetrate through the water more efficiently, making them look brighter. The human eye is more sensitive to blue and greens, which make the lights look brighter. The way light travels through the water is dependent on its colour temperature. Blue is the colour temperature that penetrates water further than any other colour, therefore this is one of the most popular colours. This is followed closely by green, which is great in fresh water. White LEDs are very bright as opposed to the dull yellow of halogen lights.
There are a number of factors regulating how far the lights will shine out. The first is how big/bright the light is and secondly the colour used. Obviously, the clarity of the water has a lot to do with it also. In dirty water, a light may reach as little as 1m but in perfect conditions, the same lights may reach out beyond 30m.
You can run with your LED lights on, which looks neat, as LEDs are a solid state light source, therefore are vibration proof. Most manufacturers' lights are fitted with thermal cut out protection, so if the light does overheat it will turn itself off as a precaution. When looking at just how many lights to use, Ocean LED's website sums it up by saying it's like comparing one big stereo speaker or strategically placing six individual ones. Surround sound is the answer to clever sound and clever lighting design can be done by using more individual lights; it's like surround lighting! If you are looking at the different brands and trying to see which has the brightest light, it's not an easy question to answer. However, it's not always about brightness. The real issue comes down to design, technology and size. So what are your options? There are many brands on the market today, it's simply a matter of finding the right light that suits your needs. 
Designed and manufactured in Australia, Aqualuma offers five underwater lighting options starting with the 1 Series, a powerful and cost efficient light for smaller craft up to around 6.5m. Designed for tenders, ribs and smaller pleasure boats, the 1 Series is built from the same high-impact polymer material that Aqualuma has become famous for. Like all Aqualuma lights, the 1 Series is fully serviceable and upgradeable and without the need for haul out and only requires a 12 or 24 volt DC power source. The Gen 1V Series is available in 6 Series for boats 6m to 13m, the larger 12 Series designed for boats from 12m to 30m and the 18 Series intended to illuminate the world's largest superyachts.
This is also available as the Gen 1V Tri Series, which combines the brilliance of the blue and white with the body of the 12 and 18 Series and offers customers the choice of two colours (9 blue and 9 white LEDs) in the one housing.Aqualuma also offers the Luma-Vu, a hull mounted underwater camera, manufactured with Aqualuma's corrosion-proof, injection-moulded polymer housing. This high-resolution colour CCTV camera is virtually bullet proof (and definitely shark proof!). Luma-Vu will connect to any video input. Other underwater products include the Dock Light. This has 12 high powered LED's and new optics, with no metal parts in contact with the water and its leak-proof construction eliminates corrosion worries. There is also the Gen 4 FF12 Surface Mount light, which offers the ultimate performance where a surface mounted underwater light is the only option. All Aqualuma lights carry a six-year housing warranty with a three-year warranty on the internals.
Engineered and manufactured in England, the Bluefin LED range of underwater lights is extensive, with 15 models in either surface mount or thru hull style. Their lights are available in white, blue and green and RGBW colour changing options. Bluefin LED`s unique range of surface mounted products comprises eight models, ranging from the Piranha P3, a small yet powerful underwater light producing 1300 fixture lumens.
Compact & low profile design makes the Piranha P3 the perfect choice for all types of boats and is suitable for transom and side mounting on all hull types. Top of the range is the Hammerhead H48 RGBW colour change LED underwater light, that produces up to 11,000 Fixture Lumens. This unique colour changing surface mount light is suitable for all hull types, constructed from billet AB2 marine grade Bronze these lights are built to last. 
Almost unlimited colour options which can be strobed, dimmed or sequenced allowing you to pick the best colour to compliment your environment, suit your mood or create a custom party theme with our light to sound function. The new surface mounted Piranha P12, is the most powerful member of the proven Piranha range producing 5500 Fixture Lumens. Like all Bluefin LED underwater lights, it is an ultra-compact low profile design and perfect for all types of boats as well as being suitable for transom and side mounting on hulls. There are three models in the standard Thru-Hull range, plus four in the interchangeable series. The interchangeable range offers a removable cartridge that can be serviced or upgraded from inside the hull, so no hauling out is required. Ultra Low profile bezels. Like all Bluefin LED underwater lights they are from constructed from billet AB2 marine grade bronze.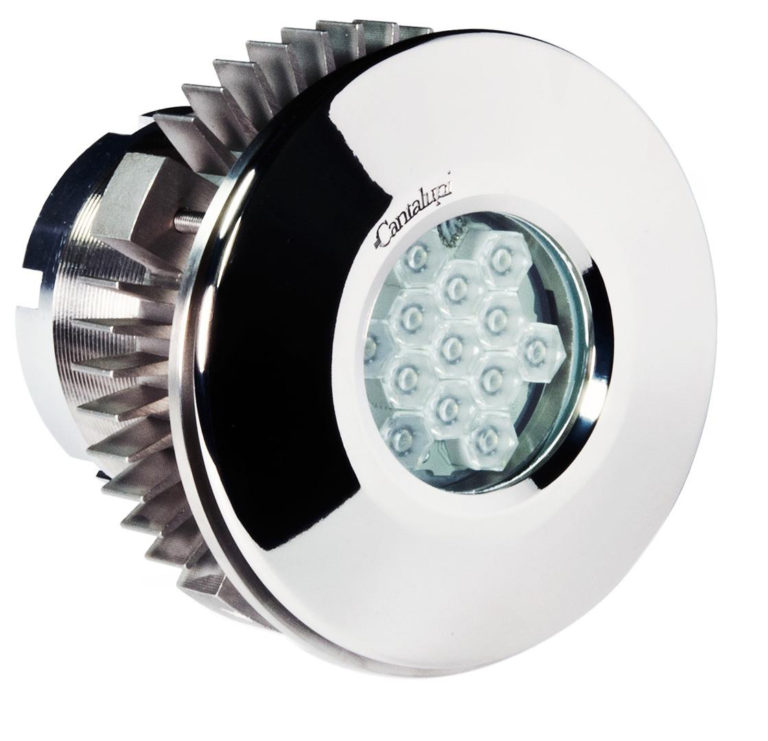 The Italian company, Cantalupi call their underwater light range, Sealed and have 13 different models, mostly designed for the big boat market. The Sealed MY series introduces the widest and most innovative range of underwater lights for megayachts. All Sealed lights are serviceable from inside the yacht for a quick and easy inspection of the light body. Sealed MY lights have three barriers interposed between the hull and the inside of the yacht to ensure a perfect watertight protection in respect of the marine certifications. They are available in RGB+W with Bus multimedia control to offer a versatile and easy-to-use experience through a variety of standards and devices such as the last generation of smartphones and tablets. 
Constructed of 15mm tempered glass and aluminium, they are protected from the environment by a film of sprayed metallic paint. The light body has through allen screws and o-rings, for the perfect mechanical holding. Cantilupi also offers the MYA Adjustable lights with an innovative trim and lock system. This offers the ideal solution for any angled hulls up to a range of 50 deg for a perfect flush-mount welding all around the yacht.  The Sealed MYA are also available in RGB+W with Bus multimedia control to offer the most versatile and easy-to-use experience."The Sealed FY is a very low profile stainless steel AISI 316L flush-mount light specifically designed for fibreglass hulls. All Sealed lights are serviceable from inside the yacht for a quick and easy inspection of the light body.
SeaBlaze, Lumitec's underwater lights offer amongst the highest lumens per dollar on the market. They are designed to run cooler, consume less power and last longer than other conventional LED underwater lighting technologies. There are four models in the SeaBlaze range, from the Mini LED through to the SeaBlazeX Spectrum. Depending on the model they are constructed in either bronze or anodised alloy. The SeBlaze X Spectrum delivers full-colour underwater lights, with nearly infinite colour output options and user-selectable modes, easy surface-mount, two-wire hookup and no external control boxes. 
The diminutive SeaBlaze Mini packs a surprising punch! SeaBlaze Mini leverages many of the technologies utilised in the SeaBlaze3. With an output of nearly 900 lumens†, there are perfect for smaller trailer boats, skiffs, or dinghies. SeaBlaze3 is available in four output options, including two colours and are completely self-contained with no external driver boxes to mount. The SeaBlazeX LED underwater light has an output of 4000 lumens and is completely surface mountable. Housing is bronze alloy with an underwater service life of more than 50 years. The circuitry is completely self-contained and tested to rigorous military standards for EMI, transient voltages, temperature extremes, and mechanical shock and vibration. It has a lower profile and smaller footprint than most other competitors LED underwater lights.
At the heart of each Lumishore underwater light lays the compact, powerful Lumishore HICOB (High Intensity Chip On Board) 3rd Generation LED system. The Lumishore HICOB LED array produces the equivalent amount of light to earlier generation LED products but at one-third the size. The reduced size of Lumishore underwater lights allows for a fixture that is compact, yet without any compromise in optical power. The HICOB format makes use of the very latest ceramic substrate materials and flip chip technology to increase output efficiency. The HICOB array solution can be configured to many power levels over a range of wavelength colour combinations. Lumishore is a pioneer in the field of colour change LED technology. They manufacture a wide variety of innovative colour units, from single brilliant colours to fixtures that change colours to any wavelength in the visible spectrum.
There are three models in the range; Ora, Supra and Eos . Lumishore's ORA Series surface mount (SMX) are one of the world's smallest interchangeable thru-hull units for small to medium size boats. Both models are compact and low profile and feature a focused 60° beam of light. The Supra Series provide '2-lights-in-1' and is available in a surface mount with a 90° beam angle, and thru-hull standard fit and interchangeable models with the widest available beam angle of 110°. The EOS Series are colour changing surface mount LED lights that simply connect the EOS SMX Lumi-Hub to your DC power. You can have your sound-to-light entertainment by connecting your audio output to the EOS Mini Controller. They are available in standard fit thru-hull and interchangeable thru-hull, for no-haul servicing and easy upgrading in the future.
OceanLED produces a very broad range of underwater lights suitable for trailer boats to superyachts and everything else in between. There are around 20 different models in the Sport Series, Extreme Trailer Series, Xtreme Pro Series, Allure Series and Pro Series. The Xtreme Trailer Series (XT16) are perfect to light up your wake, create incredible nighttime lighting effects and attract fish and bait. The Xtreme Trailer Series has a higher lumen output than previous models with a sleek bezel design and an incredibly robust body which is highly impact resistant. 
Exceptionally easy to install on the transom, hull, or above water on your T-top, engine brackets or cowling, under your gunnels, in your engine compartment, and even on your trailer or tailgate for night launching. The Extreme Pro S (XP4) has a higher lumen output than previous models with a sleek 316L stainless steel bezel design and a built-in driver, ultra low power draw, with no start-up current required and reverse polarity protection. The XP8 and XP16 are available in colour-change models which allow the user to cycle smoothly between red, green, blue and white and choose virtually any colour to display. The Pro Series HD Gen2 has the smallest hole cut-out for a thru hull light at only 1" and is 67% brighter than its predecessor. This has been achieved by exploiting the next generation of high definition LEDs from Cree. With 7,000-fixture lumen brightness and a (25mm) profile head, the 2010TH model is the ideal underwater light for transom mount applications and is suitable for all hull types up to and over 20m using 2-6 lights.
Perko introduces simple-to-install trim tab surface mount lights that have all the benefits of underwater illumination without drilling additional holes in the transom. Mounting directly on trim tabs already in place, these LED lights require no further holes to be made below the waterline. Customisable, the beam of light can be adjusted by simply transitioning the trim tabs up and down. Available with blue or white LEDs, the energy-efficient trim tab surface mount lights produce less heat and use 1/10 the power of standard bulbs. With a 15-degree beam angle, the white version produces 75 lumens, 324 CP, while the blue supplies 27 lumens, 207 CP. Rated for a service life of 50,000 hours, the 12V, 7W lights feature a completely submersible, non-corrosive, moulded black polymer housing. They come with 2.5m of electrical cable, as well as removable brackets for horizontal or vertical installations.
A mounting riser is included for lipped trim tabs. Quick Pic 12 Quick have two variants in their underwater light range, the Xyper and the new Challenger Series. The Xyper is a 15w through hull grp unit that radiates a cool white light and output of 980 lumens. The new Challenger Series comes in four sizes, 15, 30, 45 and 60; that relate to their specific wattage power consumption. Constructed of stainless steel, the four through hull lights are available in either white or blue light output.