EVERY YEAR, MORE BOATS, BOAT TRAILERS, PERSONAL BOATING ITEMS, ELECTRONIC AND BOATING SAFETY EQUIPMENT ARE STOLEN. FREDDY FOOTE INVESTIGATES THE LOW DOWN ON VESSEL SECURITY AND EVERYTHING YOU CAN DO TO KEEP YOUR VESSEL SAFE AND SECURE, EITHER AT HOME OR ON THE WATER.
For insurance companies, insuring a vessel, or anything for that matter, is all about perceived risk. Which is why you as the owner should take obvious steps to ensure the security of your boat.
Thieves regard trailerboats and personal watercraft as easy targets, as they can be hitched up and driven away, but there are steps you can take to make it more difficult.
In the case of personal watercraft, it's not uncommon for theieves to lift the craft off the trailer and to put it on the back of a ute or truck and drive away. So it is advisable to take steps to not only prevent your watercraft and trailer being towed away, but to take steps to secure the craft to the trailer as well.
Thankfully, most new watercraft on the market these days all have unique ignition systems, so as long as you don't store your key under the seat, it will be virtually impossible for them to get it started, and going to the manufacturer for a new key is going to look very suspicious.
With any trailerboat or personal watercraft, it's preferable that it should be covered and secured as completely as possible. You can take steps to ensure ignition switches are locked and additional steps such as installing a hidden "kill switch," hidden fuel shut off or removing motor parts such as the coil wire should be considered – basically, it's the old adage to make the vessel as difficult as possible to make off with. If possible, store the boat and trailer in a locked garage, secured boat storage facility or mini-storage warehouse.
"The key thing for any insurance company is where the boat is going to be kept. If it's at home in the garage or in the driveway, a quality and recognised lock is preferable," says Aaron Mortimer of Mariner Marine Insurance.
Use a high-security chain and quality lock to secure the boat and trailer to a fixed object such as a tree or post. No matter how you store your trailer, get a trailer hitch lock. Some trailers are available that allow you to remove the forward part of the tongue which contains the hitch, but there are a myriad of very sturdy and rugged devices available from most marine shops.
Though interestingly enough, Mortimer says that big items like boats are often harder for thieves to on-sell, so in reality, the value for thieves is what is in the boat, such as electronics and gear etc., as well as outboard motors, but also, the trailer is where the money is for thieves.
"Thieves will often remove the boat very quickly from the trailer and make off with the trailer; it's a lot easier to on-sell a trailer than a boat and motor."
"Older generation outboard engines are a favourite item with thieves. Older engines generally have more wear and tear, the serial number will often be corroded and thus it's much easier to on-sell the motor separately."
Though it seems impractical and an inconvenience, one of the best security measures to take is to remove all equipment from your boat and store it in the garage or other secure area. If your boat is going to be stored outside, then it is prudent to remove the electronics if you are able to (many sounders/GPS chartplotters can be mounted using a bracket, allowing them to be easily removed and stored separately.)
It is also important to take security precautions at the ramp, too. Many of us will go boating for the day, and leave the car and trailer parked in the carpark. It's quite a common occurrence for people to come back from the water to find the car there, but the trailer gone. A simple lock on your tow hitch is usually enough to see the thieves move onto the next trailer.
Down at the marina where marina companies usually have access gates and roaming security guards, things are pretty safe. But, it's actually quite amazing as to exactly how many people know an access code to get onto a pier, whether they be someone who's been boating with a mate, a service technician, valet or the likes.
How many times have you been down on your pier and seen people come and go carrying gear to and from cars. Are they boat owners simply coming down to the boat for the day or are they someone more sinister. The fact is, you really don't know.
It is also believed that the keys for far to many boats are stored in a cockpit locker onboard – the first place thieves will look.
Mortimer says that good quality locks and latches go a long way towards making it harder for thieves to gain entry to your boat. "When possible we always advise that it is a good idea that valuable and easily removed items be secured below deck in a locked compartment. Lockers should be equipped with non-removable hasps and hinges and secured with padlocks. Also, take steps to lock outboard motors and fuel tanks to the boat. When your boat is left unattended, close the window curtains if you have them, otherwise it is far too easy for thieves to glance inside and spot something of value."
So we've got it all locked up now, but what's the next step? A security system will probably be your best bet; many of us have them at home, so why not on the water too?
Security systems may be comprised of a simple door-hatch sensor or an audible siren alarm, or more sophisticated systems can call you on a cellphone or send you a text message when an onboard issue arises. Other systems are capable of providing you with the complete remote monitoring status of your boat.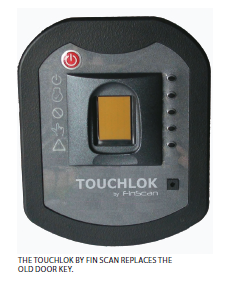 One of the most innovative companies in the security systems businesss is Australian based FinScan. Their Bio eLock range are a wireless fingerprint reader to integrate yacht keyless entry and security, seamlessly with FinScan's engine starting products, and other third party electronics. With the BioeLock installed, it can wirelessly and securely lock down entire systems, cabins and boat power. Simply presenting a finger will activate a relay that can be connected to any system on board to enable it securely. Plus with FinScan's TouchLOK you can securely lock down entire systems, cabins and boat power.
FinScan recently launched its new IntelliCORE system, a CANbus based AC and DC load switching, lighting control, Security Alarm, Keyless Entry, SMS vessel monitoring system designed for easy snap together installation. The entire system is controlled from an intuitive, easy-to-use, graphical menu system on a weatherproof LCD touch screen.
Maritron's M-2 combines high tech features of reliable monitoring and ease of use with an extremely low power consumption (6 mA) while in a sleep mode. A typical marine battery can run the M-2 system for months on end without draining the battery. When pressure sensors, located below the deck (out of the weather) are activated, either by someone stepping into the boat or tempering with engine, the system then "wakes up" – becoming a fully functional alarm system. M-2 is easy to install by average skilled boat owner and very inexpensive.
Self-contained systems are inexpensive and many are designed specifically for boating use. The damp and constantly moving marine environment puts demands on the alarm system, requiring special sensors and a location properly protected from the weather.
Onboard alarm systems also have built-in smoke detector features – allowing you to essentially cover most eventualities.
Closed-circuit video cameras certainly aren't just for megayachts anymore, as there are an increasing number of video surveillance products available in surprisingly inexpensive packages and designed for the launch market.
Many of these systems can integrate into currently available chartplotters.
Onboard camera systems can also allow you to remotely and quickly take a look in and around your boat at any time of the day to see if all is normal. Systems such as these can be quickly and easily accessed via the Internet or just as easily on your mobile phone.
But say that someone does manage to get onboard your vessel and start to motor off. While being advised of the theft does alert you to the fact, how will you know where the boat is and where it will end up? The majority of boat-alarm system manufacturers have features such as GPS-tracking options that will allow you to know exactly where the boat is, or where it is heading – a great feature to be able to notify the authorities and as soon as possible have your boat back where it should be.
While not totally classified as a 'security system', there are various vessel monitoring systems out there, that monitor a whole raft of onboard systems such as your engines, gensets, rudders, bilge pumps, etc. – essentially providing you with the security of peace of mind.
There are now quite a number of companies offering applications for your iPhone/iPod/iPad devices. This means that a boat owners already having this software on their vessels will be able to monitor or control a variety of different vessel data using wireless Internet, whether they are onboard the boat, or from the marina, car, home, office, etc.
Marine Electrics NZ Ltd has developed an iPad application that interfaces to your electronics on board, and also allows you to pre programme some of your navigational systems when away from the vessel. The IPad application uses a wireless interface via NMEA through a black box system for navigation and position monitoring and allows you to remotely monitor your boat's position and systems while you are ashore.
What it will do is that if a thief gets onboard your vessel and starts the engine, then an alert will be sent to your iPhone notifying you that your engines are running. If you have cameras onboard, you can view these and see what's happening and take the appropriate action.
Global Ocean Security Technologies (GOST) offer a unique system call the GOST Cloak, a system designed to provide protection in the critical time gap between the alarm's activation and the response team's arrival at the scene. In a matter of seconds, the GOST Cloak fills the protected area with an impenetrable cloud of thick white smoke that confuses the thief.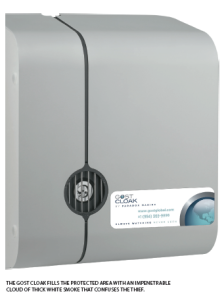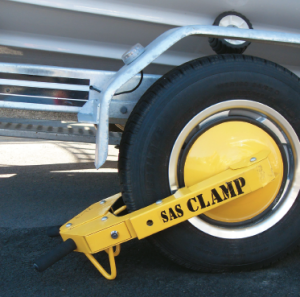 There are many ways to protect your boat and equipment, from the simple trailer lock through to high tech electronics linked through to your cellphone. Nothing's perfect, but some prevention is better than nothing.
BlueRay Marine is another Australian based company that offers a superior security and monitoring system that will provide proven protection against the key threats faced by unattended vessels: break-in, theft, loss of power and sinking. Both systems utilise GSM/GPRS technology to instantly notify you directly to your cell phone of threats or alarm conditions on your boat.
All BlueRay security systems send an instant detailed text message (SMS) to up to 6 mobile phones and can call a land phone number when a warning event or alarm is detected. Both the Sting and Manta products can be configured to contact a central alarm monitoring company using Contact-ID protocols.
BlueRay's Sting and Manta systems may be fitted with their own internal GPS receiver. In the event an alarm occurs, the GPS information, including the boat's speed and direction, is sent with each alarm message.