MAKAIRA STEPS UP
Stepping up from a jetski to an 11m alloy cruiser was a big step for the owner, but it was one he was pleased he made. Barry Thompson went aboard to check out OnJon II, the first King Bank 35 from Makaira Boats. 
OnJon II is the first King Bank 35, to be built from the Kerikeri based Northland yard of Makaira Boats and interestingly, it wasn't the owners first choice. He explained that after looking at a few other yards around the country that could build what he wanted, he settled on a 970 Makaira. "I was very impressed with the way Allan (Shaw) built his boats, the quality, and I had had some great reports from Makaira boat owners on their performance, especially in rough water," he said.
However, early into the build, the owner's wife asked about fitting a gyro, which, while usually no issue in a 970, was not practical at the stage of construction the boat was already at.
"So, after talking with Allan, we decided to sell the partially completed 970 and ordered the King Bank 35, so we could fit a Seakeeper 2 gyro. It did delay our delivery time of the new boat, but then what we have ended up with is more than we had originally planned on, and we are delighted we made the change."
"They are wife keepers as much as sea keepers", remarked the owner.
He says that his wife is also much happier to go boating and staying overnight, with the Seakeeper 2 providing stability when it's needed. He also reckons it will be a winner when they finally get out wide to sit over a deep canyon in search of bluenose and groper. While snapper fishing will always be a big part of the target species, he is also keen on landing some big kinghies this summer. There are also a couple of game rods fitted to chase tuna and marlin off the coast.
Delivery was mid-2021, and after initial trials in the Bay of Islands, OnJon II was driven down the coat to its berth in Gulf Harbour Marina, Auckland. "Our first trip with the boat was brilliant, and the boat performed like Alan had told us it would".
STERNDRIVE POWER
While there is a trend towards fitting multiple large outboards to boats of this size, the owner was always going for the diesel sterndrive option. In OnJon II, it's a Volvo Penta D6 440/DPI that provides all the power. The top speed is a very respectable 34 knots, which gives a range of around 280nm. The optimal cruise speed on this vessel is 21 knots, using 1.9 lpnm, providing an approximate range of 420 nautical miles.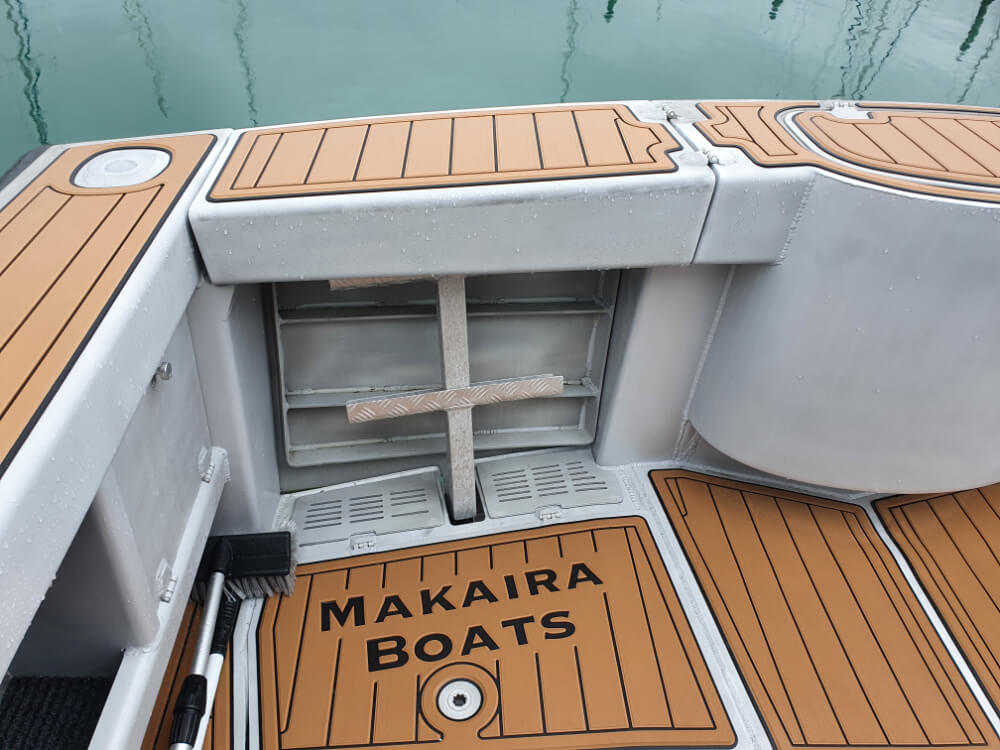 According to Allan, if you were of the outboard persuasion, a pair of 300-450hp outboards would be a great combination, or perhaps a single Mercury V12 600. The diesel inboard choice is limited to 400-600hp.
I have driven a couple of Makaira Boats in the past and was impressed with their handling in rough water. Anything the size of the King Bank 35 will perform in the calm, but the test is when the seas are coming at you from on the beam, or you have to punch into it. On both counts, the Makaira King Bank 35 runs well. Weighing in at around 6200 kgs, there is enough weight to keep the boat on the water and the deep vee warped hull helps with a comfortable ride. 
TWIN BERTHS
While the main deck and wheelhouse arrangement of the King Bank 35 and the King Bank 970 are very similar, proportionally, you get a lot more in the bigger boat. According to Allan, it's about 30% more volume, so that's a big step up from the original 970. OnJon II has a 3.4m beam as opposed to the 970 at 3.0 m beam. There is also the addition of a separate amidships master cabin. The forward cabin can be configured with various layouts, with the owner opting for four berths (upper/lower), with an infill to make the lower an enormous double.
To port is easy access to a reasonable spacious mid-cabin under the wheelhouse, which is well lite and ventilated. While OnJon II was devoid of storage lockers or shelves in the mid-cabin, there is plenty of space to add them if required. Opposite is a separate head and shower space. The King Bank 35 has spacious sleeping for six, and that's without the optional drop-down table in the wheelhouse making up another double.
FISHING COCKPIT
U-Dek is applied to the deck and gunwales and even comes with a 150cm fish measurer. Underfloor are various wet lockers, with more on both sides under the coamings. Being a dedicated fishing boat, it has been fitted with nine-rod holders overhead and a further six in the coamings. There is a central live bait tank on the transom, and even a couple of gunnel-mounted electric reel plugs for those long hauls back from the deep-water chasing groper and bluenose. A dedicated bait station houses tackle drawers and a polycarbonate cutting board. There is even a couple of tuna tubes hidden away under the port coaming.
There is no boarding platform to get in the way when backing up on a fish, with a transom ladder built-in under the starboard side transom opening. A boarding platform is undoubtedly an option. The cockpit is self-draining with large scuppers on both sides.
Forward to port is a lift up bench seat that exposes further storage and starboard a secondary control station. With the bi-fold doors and drop-down windows providing a secure wheelhouse, there is an easy flow from the interior to the cockpit when open. It makes the boat feel even bigger.
COSY WHEELHOUSE
To port is the galley complete with diesel stove and hob, sink unit and Isotherm fridge. The timber is all oak and adds a nice touch. Opposite is the U-shape dinette with a fixed table, with comfortable seating for 4-5 people. With the high-profile window line and raised seating, you get excellent all-around visibility when seated. The front screen is 6mm curved toughened glass, with sliding side windows. Overhead are a pair of black powder-coated Cule hatches. A Wallas diesel heater keeps the wheelhouse warm on those cold nights away.
When it comes to the electronics package, the owner has gone all out, especially when it comes to finding fish. Central is a Garmin Volvo Penta Glass Cockpit System MFD 8616, with two 16" screens. There's also a WAASP F3 which has a 120-degree port-to-starboard swath, so you'll locate and map baitfish shoals quickly and easily. This lets you present your lures and bait to marauding billfish and tuna with great accuracy. The wideband CHIRP technology enables excellent target separation of bottom species like bass and bluenose.
Fusion provides all the sounds you need from the accommodation areas to the cockpit, with speakers placed strategically throughout the boat.
On Jon II has a flip-up bolster double helm seat on a sliding base, with the standing or seated driving positions offering excellent visibility. The owner chose not to fit a wiper, instead has coated the windscreen in Nanoshield, and it seems to work well.
BUILT TOUGH
While Makaira Boats are not one of the more recognised brands, they are quietly making a name for themselves as builders of quality alloy boats. Their range now extends from 7.5m through to 10.7m. All are hardtops, and all can be designed to suit an owner's needs. All the hulls, regardless of size, are constructed from 8mm 5083 alloy with full depth frames and girders. Captive buoyancy is created amongst the structural grid by fully welding all the seams.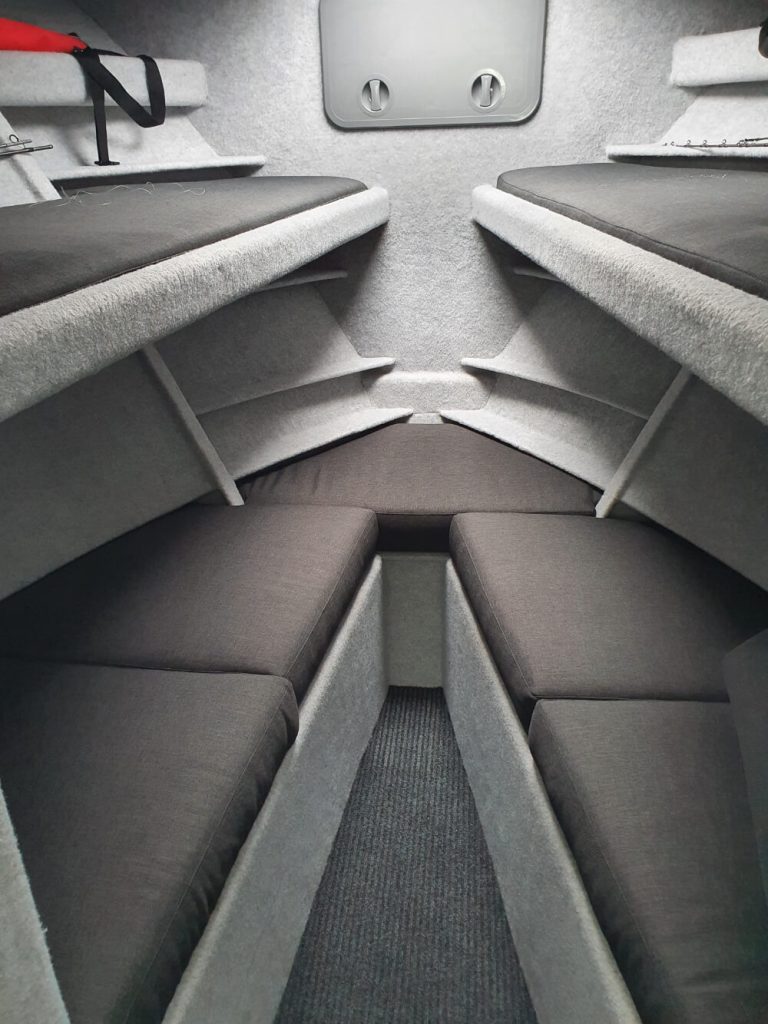 The hull structure is designed to meet Lloyds Register Special Service Craft (SSC) requirements, with a limited lifetime warranty. All aspects of the boat build are completed in house, from cutting plate on a CNC Router to paint, upholstery and complete fit-out of the boat. 
OnJon II is an outstanding example of Makaira Boats craftsmanship and a testimony to Kiwi boat builders who are at the leading edge of design and construction in the alloy hardtop and sedan market. 
Boat Design Name: Makaira King Bank 35      
Year Launched: 2021      
Builder: Makaira Boats
Designer: Alan Shaw
LOA: 10.70m
Beam: 3.40m                                     
Deadrise: 16 deg            
Displacement: 7750 kg          
Max Speed: 34 knots          
Construction: Aluminium 8mm
Class: Lloyds Structural
Fuel Cap: 800 litres                                
Water Cap: 250 litres
Engines Make: Volvo Penta D6 440/D
Drive Train: Sterndrive
Bow Thruster: Maxpower
Sonar: WAASP
Gyro: Seakeeper 2                     
Interceptors: Zipwake
Flooring: U Dek                              
Lighting: Hella
Hatches: Cule                          
MFD: 2 x Garmin 16" 8616
Diesel Heater: Wallis              
Winch: Maxwell Freedom               
Ent System: Fusion MS-RA670
Price of Boat: $NZ  POA