To fully understand the Malibu ski-boat range is to go for a walk through the Malibu factory in downtown Albury on the border of New South Wales and Victoria, and see for yourself the materials, the workmanship and the attention to detail the company instils into every boat produced. As well as this there are constant upgrades to keep the boats completely up to date with market expectations, the very latest Malibu  Wakesetter VLX model being one such typical example.
Malibu has been distributed in New Zealand since 1996 through Carl Crowe Marine Malibu Boats (NZ) Sales, based in Christchurch. Boat sales have been steady with a growing wakeboard and ski market and the Christchurch distributor has seen in excess of 150 boats sold throughout the country. While boats in the Malibu range are ostensibly American designs, the New Zealand sold boats are sourced from Australia, by a fully Australian-owned company, Malibu Boats Australia (MBA), and marketed through a national dealer network of five dealerships plus the one in New Zealand.
That in itself is a huge compliment to the Australian marine industry and in particular MBA, for the parent company very much jealously guards its reputation for quality. Pick up a Malibu brochure and you will find two manufacturing facilities in California and Tennessee, and just the one other in the rest of the world, MBA. MBA is privately owned by Xavier West, who produced a winning move when he enlisted the services of former water-ski champion Simon Hill, a professional slalom skier on the world circuit, to market the range in Australia, New Zealand, the Asia Basin, and the Middle East. That was four years ago and since then MBA has enjoyed a solid and sustainable 9-11% growth spiral each successive year – easily holding its own in a national market (800 boats four years ago, currently 1100 boats per annum) that is growing at roughly the same rate. What is perhaps more significant is Malibu's market share that has grown with its growth spiral, and currently sits at around 30%. Situated on prime real estate within the main industrial precinct of Albury, MBA has already expanded once during its seven-year tenure at the present site, and currently is eyeing up the block of land it already owns next door, with the view to further expansion. This time the plan is to virtually double floor space and production capacity once again. "Obviously we certainly won't double our market share overnight, but at least we will have the capacity to be able to address requirements as they eventuate," Simon Hill noted. "10 years ago we only made one model, then we made two, one bigger than the first, then a wakeboard boat, and now we make 10 different models purposefully suited to Australian conditions and expectations. That in a nutshell is where our growth came from – supplying such a wide variety of boats to not only the ski and wakeboarding market, but also to the leisure boat market as well – people are now buying Malibus to go cruising and joy-riding in."
." While the majority of componentry and materials, including windscreens, wakeboard towers, water pick-ups, rudders, shafts, dashes, wiring looms, engines, carpet, vinyls etc are sourced direct from Malibu USA in order to maintain Malibu's strict quality control, Malibu USA allowed MBA to build the actual hulls including upholstery, here under licence. And this is what prompted my intro lines, for the standard of effort that goes into the build of these boats just has to be seen to be believed.
Despite their outward appearance of being identical hulls for some of the models, there were in fact many subtle differences especially in the underhull shape, that necessitate the use of several different moulds that are all kept inside out of the weather. When required, the moulds are wheeled into the lay-up bays, prepared, then the hulls and decks are all hand-laid using multiple layers of chopped strand glass and bi-directional woven cloths, with coremat to add further stiffness. There was no wood in the boats anywhere – Malibu instead uses a fibreglass composite panel for the floor that was chemically bonded (WeldOn fusion adhesion process) to the underfloor 'FibECS (Fibreglass Engine Chassis System) grid system that is also bonded to the actual hull. Even in this state, without the deck on, once out of the mould the 'vented' hull was a very strong and rigid assembly. HDPE (High- Density Polyethylene) and several other types of plastic and aluminium honeycomb are used to build the impressive interior components. Much work was performed on the hull and deck whilst separate, and then finally the deck was attached to the hull, again employing the WeldOn process. All mechanicals were then fitted, and finally the interior.
It was almost an assembly line as there were specific teams that performed specific tasks – an assembly team, a rigging team, an interior installation team, and so on. Everything was certainly done almost regimentally, to ensure continuity of quality in the build. Any wonder Malibu is able to offer its 'peace-of-mind' lifetime warranty on its hulls (along with three years on engine and componentry!) From here the boats received their upholstery package; the (40oz) materials sourced from the USA were stitched together in a huge upholstery shop within the Malibu facility. Interestingly, it was a decidedly 'modest-sized' work-force (Malibu has about 50 staff in total) that builds, assembles, markets and administrates these boats – there were obviously some well thought out systems in place! As anyone will tell you who buys an overseas boat, getting back-up, appropriate service, and most importantly spare parts, is the biggest bone of contention. Not so with the Malibu range, for the company has eight permanent 40- foot containers and a warehouse full of up to $2million in boat parts (and 80 odd engines) permanently in its backyard (a container arrives every two to three weeks).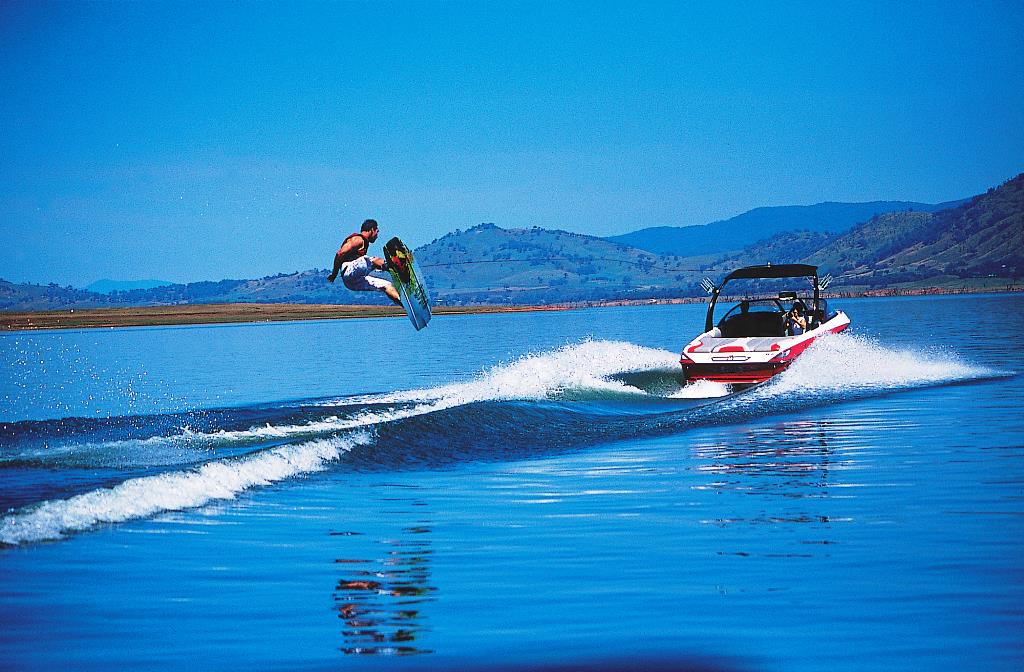 "We are very proud of the service side of our business," Hill enthused, "we have heaps of spares here, and if by some chance we don't have a particular boat or engine part, then we will take it off one in stock. We never want to see our clients stuck without their boat running. We will do everything that is physically possible to get them back in the water ASAP – wherever they are in Australia. There are no smoke and mirrors here, we honour our commitments."
Interestingly, in keeping with the promise that Malibu provides 'appropriately powered' boats that handle any ski scenario, the entire Malibu range featured engines in excess of 300hp. In the case of our Malibu Wakesetter VLX model (one of seven new models for 2005), power was courtesy of an Indmar "Monsoon", 5.7-litre, 340hp MPI V8 petrol engine, running through a Hurth 1:1 transmission and Walter 1.46:1 Vdrive – via a 28.6mm diameter shaft to a 13.5" x 16" ACME CNC-machined fourblade propeller. American engine supplier Indmar sets up these particular powerplants exclusively for Malibu. As you would expect, the power was obscene and rocketed the VLX up to its 'geared' maximum speed of around 45mph. I say geared, for there was no point in running a big prop that would give it top speed – stump-pulling acceleration and pulling power was far more important. The Malibu was almost instantaneously up to planing speed, and able to maintain speed even through a tight turn. Be very aggressive in the turn, and even at full speed the boat just – turned – I have never experienced such turning prowess before, in any boat. A look underneath confirmed why, though, a very serious set of reverse-step strakes and reverse-chines, a good-sized rudder and a couple of 'gorilla' tracking fins amidships, to aid the turning and directional stability. These fins also kept the boat rock solid when there was a wakeboarder on the back, as we discovered during a wakeboarding demo by local ace Matt McBurnie – gee the experts make this wakeboarding look oh so easy! The beauty of this particular hull design was its inherent ability to handle both disciplines of wakeboarding, and slalom. With the full 480kg of water in the two integral 90-litre underfloor tanks at the rear, the 160-litre tank in the centre (plus in this instance the optional 140- litre bow tank), the hull design produced a perfect high but shallow-angled or "kicker shaped" wake with no roll-over. 'Dump' all the ballast however, and at speed the wake transformed into a low gentle wake that was then very good for slalom. Our ride on the picturesque Lake Hume water catchment was quiet and vibration-free, and even when we went over a wake there wasn't the usual banging, crashing sensation that I had braced myself for. Driving it, the VLX felt like a most substantial craft, this V-drive configuration far out-performing and out-handled a typical stern drive guise – it drove as Hill suggested, "like a go-cart".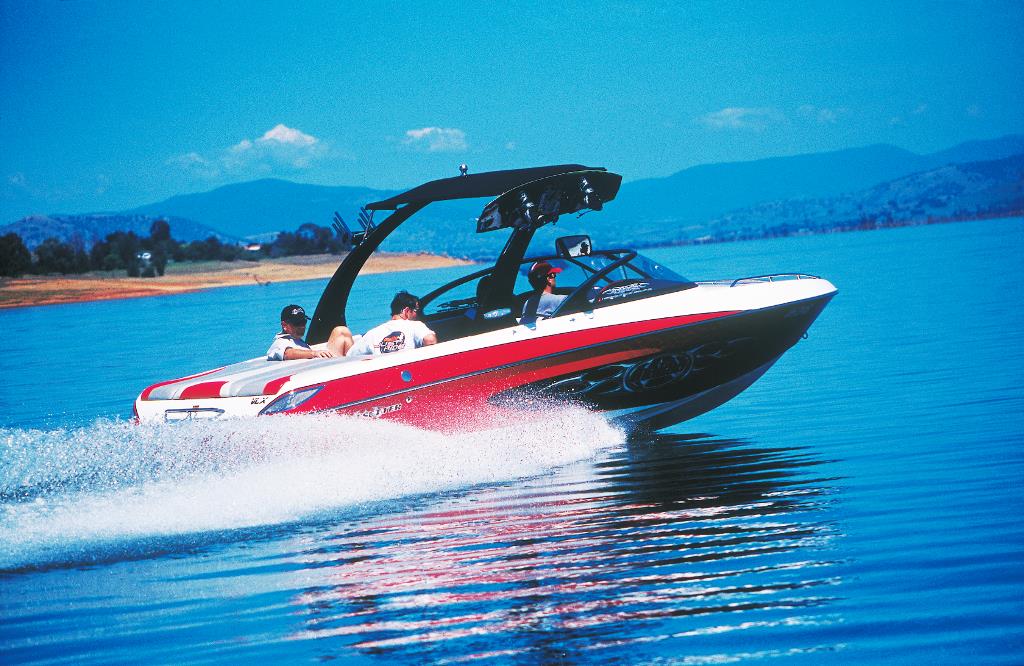 The first noticeable layout feature of this particular 'ski-boat' was the higher
topsides and correspondingly higher bow – there was a real feeling of security with this example. The pleasurable moment certainly didn't end there however, for this boat was everything to everyone. The neat boarding platform, the bowrider concept, substantial sports dash and helm area, huge rear lounge – were all features that applied equally as well to a skier, as they did to the day boater. On top of these were features that are so often optional, very expensive extras, which in this instance were all part of the standard turn-key package. Quality items such as the three-piece glass windscreen, sliding seats, servo electronic instrumentation, wakeboard tower, mirror, carpet, bilge pumps, bilge blowers, ski pylons, bow-cushions, paddle-wheel speedo, navigation lights, fuel injection, refreshment table, plus more – there was nothing else to buy, other than perhaps a bimini top, a boat cover or a stereo system. The VLX was rated to carry 11, and in fact would actually seat more, thanks to the 6.55m length and the generous 'legal towing width' beam of 2.49m – and the lack of noticeable intrusion of an engine (that, along with a storage facility each side, was in under the large aft sundeck). Up front there was seating for three adults, and the U-shaped rear lounge (the skis were stored in under the plush French-stitched squab on the port side) which curled round at the front to form the obligatory rear-facing observation seat, deceptively easily catered for up to eight adults. The dash on the port side featured a huge42-litre lockable glove-box, and below this and accessed from the generously wide walkway to the bow feature, was further storage provision. For the driver the experience was almost surreal – adjustable bucket seat with lumbar support, sports dash with an impressive chrome billet gauge panel, sports wheel for the rack and pinion steering, foot rest, Morse MV3 throttle control – all very impressive and most comfortable, nestled in behind a postless glass screen that was easy to see through. Overhead, the wakeboard tower was an absolute work of art – lights, board racks, horn, speakers and tow-pylon.
The 2005 Malibu Wakesetter VLX was a multi-functional boat that was as good towing skiers and wakeboarders as it was cruising along at just 30mph. Its capacity to seat eleven people offers some insight into the buoyancy and handling capabilities of the hull; it handled and turned in fact as Hill commented, like a go-cart. Quality control, standard of workmanship, materials, fittings, attention to detail – were as good as it gets. Malibu with its extensive range, has the luxury of being able to sell clients the right boat for their particular application, and this VLX model although designed primarily for wakeboarding, also fitted very nicely into an all-rounder category. All this – from a company that rates customer service and back-up, as important as the boat itself!
Model: 2005 Malibu Wakesetter VLX
Priced from: $75,500
Price as Tested: $86,000
Designer: Malibu Boats
Material: GRP & Composites
Type: Bowrider
LOA: 6.55m
Beam: 2.49m
Draft: 450mm
Rear Deadrise: 12 degrees
Hull Configuration: Monohull
Trailerable Weight: 2300kg approx.
Engine Capacity: maximum 400hp
Power Options: 320,340,375 & 400hp
Fuel Capacity: 174 litres, underfloor
Engine: Indmar Monsoon @ 340hp