MANs new Smart Hybrid Experience is compatible with all marine engines in the current D2862 (V12), D2868 (V8) and D2676 (in-line six-cylinder) series.  
Munich-based engine builder MAN Diesel unveiled its all-new Smart Hybrid Experience propulsion system at the Cannes Yachting Festival last week, staking a claim as the first engine provider to provide a complete hybrid system from a single source.
The system features multiple operation modes. Zero Emission mode, with propulsion and onboard hotel loads, is served entirely by the vessel's batteries for quiet, emission-free operation.

 Diesel-Electric mode has the power supplied by the battery and is supported by onboard generator sets. The diesel model has the propulsion and onboard power needs provided by the diesel engines. Boost mode is where the electric system complements the diesel power, and Hotel mode, where the batteries supply onboard power with the engines switched off.
The all-new hybrid drive system uses an electric generator to produce a rated power of 184 kW or 386 kW at an efficiency rating of up to 96%. The permanent-magnet synchronous motor/generator is positioned on the diesel engine in front of the marine drive and can be separated from the engine by an electromagnetic clutch. The arrangement allows the operating mode can be changed on the fly without stopping the engines for more convenient operation, says the company.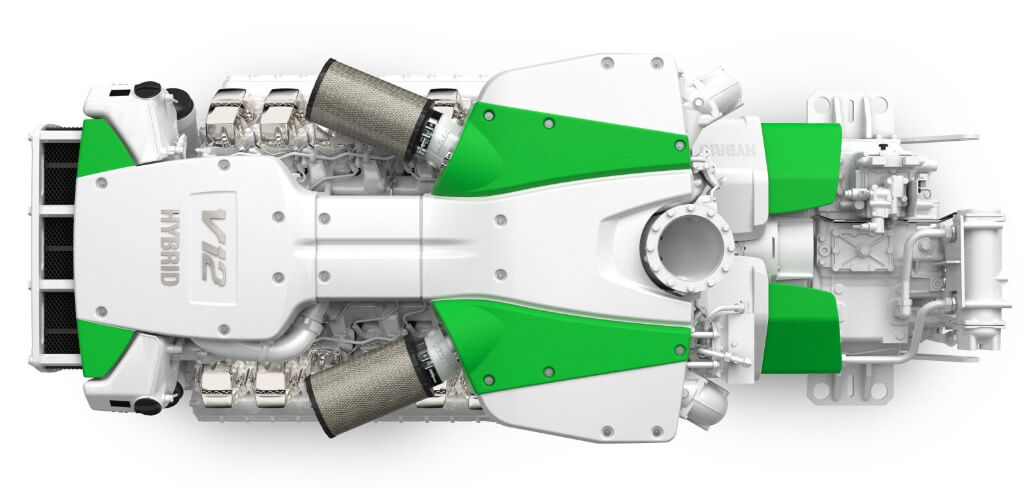 The new hybrid system is compatible with all the MAN marine engines in the current D2862 (V12), D2868 (V8) and D2676 (in-line six-cylinder) series.
The company notes that its new hybrid system allows enhanced power outputs, ranging from 474 kW in the six-cylinder series to 1,838 kW in the most powerful V12. Depending on how the components are assembled, the hybrid system can account for up to 56% of the vehicle's overall power output.