The magnificent backdrop of Lake Tekapo with Craig Archer in the lead.
Rounds 7 + 8 of the New Zealand Boat Marathon Commission's racing series were held last weekend hosted by the Timaru Yacht and Powerboat Club. 
Round 7 saw the return from the hiatus for the Lake Tekapo event. Fielding 21 entries ranging from 5m 90hp ski boats to 300+ hp 7m cats, the event was a welcome return by all. Saturday brought with it a start to the day at -6deg outside, and by the intended race start of 1 pm, it wasn't much warmer, a balmy 3deg.

A delayed start saw racing getaway at 2.30 pm in the best conditions of the seasons so far. The lake was a mirror. A-Class "V" saw Craig Archer in Gulfland Marine shoot out to an early lead, but by the second lap, Paul Rutherford in Infra-Red had reeled him in passing Craig where he held his lead comfortably to the finish line. A-Class Tunnel saw a close battle between a few of the cats before Billy McEwan's Outlaw spat a blade off their prop, handing the class win to Brett Archer in Secret Agent.
Sunday's event saw the return of the Roaring Forties in Caroline Bay. Again, the weather turned it on with next to no breeze and a beautiful blue-sky day. Race start was again delayed as the swells out of Caroline Bay were deemed a little unsafe, although the tide's turn saw them flatten out slightly. A modified course saw laps of under 4.5 km's which proved excellent viewing for the spectators along Caroline Bays breakwater. Sunday saw Gulfland again jump out to an early lead, a lead quickly wound up by Secret Agent and not too far behind them, Nick Hoskin in Red Blooded had given chase. Brett and Nick went hammer and tong, switching leads numerous times until the last corner of the final lap, where Nick made his move.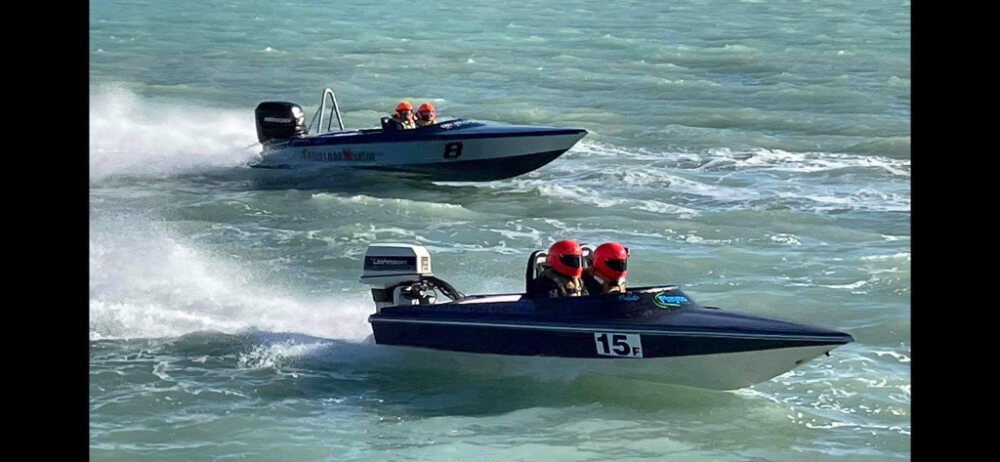 Brett left an inside lane on the last corner, and Nick poked his nose into the gap.Brett, turning the big cat at high speed, dug in a sponson, started to spin, but caught it in time. However, it wasn't enough to prevent the two boats from colliding. Fortunately, both stayed right way up, and Nick went on to driving his B-Class boat over the line for line honours. 
Shortly behind was Brett in Secret Agent and a half lap further back was Craig in Gulfland Marine, a comfortable 3rd overall, and first, in A-Class "V". Notable mention is Alan Wier in his locally build Stealth running the series only inboard engine in D-Class who managed to be the first boat to finish his respective laps in a time of 31.27 posting an average speed of 91.57km/h, enough to secure fourth place overall (from the 5th class down). A strong field of 14 boats started at Caroline Bay, and for the first time this season, all 14 made the finish line. 
The series heads into its final round at Lake Waihola on 31 July.