Magazine:    Alloy Boat
Article:    Marco 550 Bowrider Test
Pages:        94-98
Adverts:    None
The new Marco 550 Bowrider is a boat that anyone, even with limited experience can feel confident with on the water. Barry Thompson checks out Marco's only bowrider model.
 When Dayne Horne, GM of Morrinsville based Marco Boats, was first approached by the now owner of  the boat I tested, he had a few special requirements that were based on what he wanted to use the boat for. Namely netting, flounder netting to be more precise, something that he was very familiar with, having done it both commercially and recreationally.
His main criteria were for an open bow, with enough protection for all year boating, a spacious cockpit for line fishing and all in a compact package. Stepping down from a launch he was looking for a small boat that he and his wife could easily handle and that was suitable for fishing close to the coast.
After looking at the 550 Centre Console, he approached Dayne about using the same hull but turning it into a bowrider. He felt the centre console would not afford the required protection from the weather, especially in the winter months and the cuddy cabin version just wasn't practical.
Marco's 5.5m hull is available with the traditional transom as found on the 550 Bowrider or as the Marco 520 with a portofino transom. The new bowrider concept adds another dimension to this well-proven hull and only needed a change in the dash and windscreen area to transform it.
"I drew the boat up in Rhino, to make sure that the position of the windscreen was in balance with the rest of the boat and yet far enough back to provide the owner with enough forward space for his netting.
"We made a few changes to the original drawings, but the boat is very much as I first drew it. There's a little more space forward and the outboard pod has been shortened, so there is less chance of the nets tangling with the propeller. This has all helped to balance the boat, as well as give it a nice side profile", says Dayne.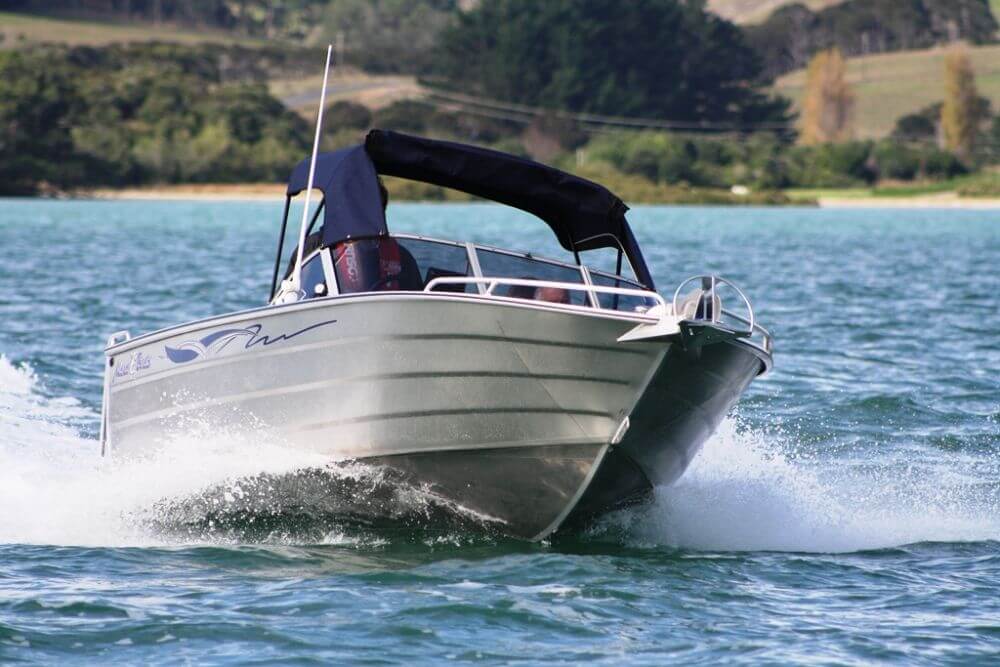 Marco Boats have been around for many years and they have always had a reputation for building strong boats. The new 550 Bowrider is constructed with 4mm on the running surfaces and transom, with 3mm sides, floor and decks. Under the cockpit sole  is all sealed chambers with a 60-litre fuel tank down the centre. The 550 is built tough with six longitudinal stringers, a fully welded chequer plate floor and underway you certainly get the feeling this is a stiff and well-built boat.
Marco run quite a low chine line on their boats, that is carried well forward on the 550 hull. This makes it a very easy boat to drive in the following sea. I found it a predictable hull in the short harbour chop (blowing about 15 knots) and while a finer bow might be an advantage in a big head sea, the conditions we had presented no issues.
The chines are 50mm wider than on previous 550 hulls, which adds to the stability at rest and the dryness of the boat when underway. Add this to the moderate 15 deg deadrise at the stern and it's easy to see why the hull is so quick to plane. From zero to 30 knots is less than 15 seconds.
The 550 is available with outboard or sport jet power, from 60hp-90hp. Our test boat was fitted with a Yamaha 80hp 4 stroke, running a 17" 3 bld stainless prop. Top speed at 5600 rpm was just over 31 knots and that was with full fuel and three of us (290 kg) aboard. Take out some of that body weight and I am quite sure there are another few knots to be found.
In the short harbour chop off Maraetai, I found a nice cruise speed around 4500 rpm @ 23 knots. Not sure what the fuel consumption was as we had no fuel management gauge to measure off. However, the owner says he has found the Yamaha to be especially lean on fuel and is surprised just how much boating he now gets on a tank of gas.
One of the main reasons the owner wanted the bow rider concept was for flounder netting and so needed the space to be able to work his nets over the bow. Because of that there is no seating forward, although this is something that could very easily be added if required. A simple transformation from a fishing boat to a family boat.
However, as it is, with a clean open sole, it is a great place for soft baiting and the wide flat side decks offer good seating. Due to the full bow shape of the 550 design, there is no shortage of depth and volume in the anchor locker for a free fall auto winch. In our test boat, the owner had chosen a Quick winch, with a Sarca anchor and 95m of rope and chain. Certainly more than is required for a boat this size, but then if you have the space, why not.
The cockpit layout is simple and functional with dry storage in full-length side trays, under the seats and in a couple of rear lockers, plus a very large underfloor wet locker.
With the split screen arrangement, the helm is of a minimal area, but still enough for a few Yamaha gauges, the Quick auto anchor control and switch panel. Fishfinders, such as the Raymarine Dragonfly 7 need to be bracket mounted and in our boat, the owner had also fitted a GME 600 VHF under the dash.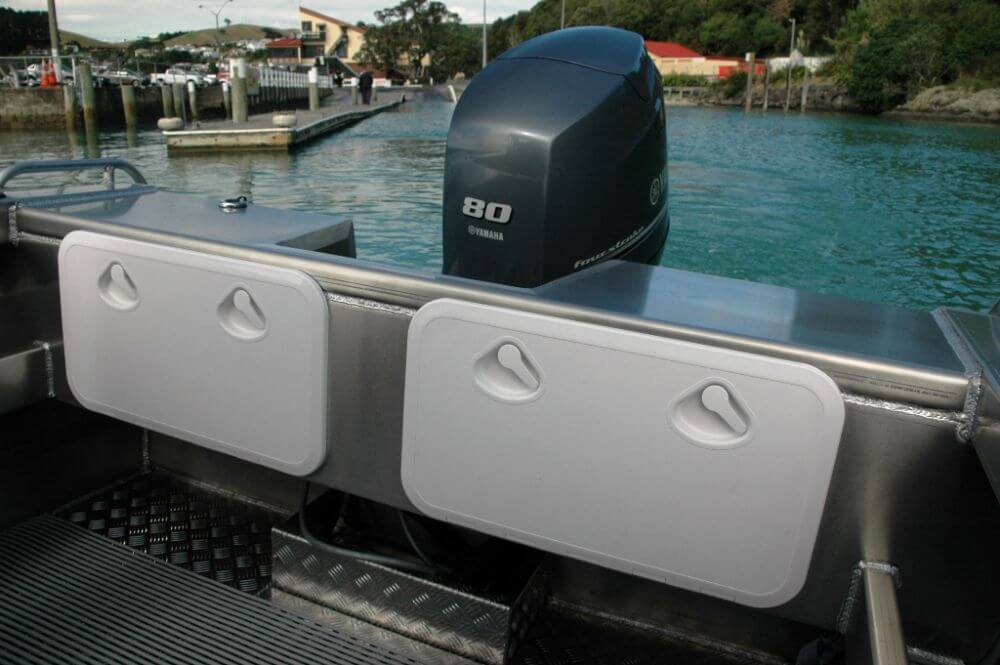 Standard seating is a pair of single Hi Tech Plastic seats on alloy box bases. We had the optional king/queen on the port side, which is a nice combination, giving seating for three, without encroaching too much on the cockpit space. There's also a little more storage. Footrests are standard and the seating is well positioned for those of us that like a bit of leg room.
One of the nice things about alloy boats is you can make layout changes without too much of a problem. The 550 Bowrider, like all Marco boats, is available with a variety of transom options. While boat #1 had a single portside walk through, you can have none at all, a bait station and even a built-in bait tank. The choice is yours.
The 550 Bowrider is a boat that will have appeal to those of you who are into your soft baiting and surface fishing and like the idea of having the space to do it. There is a nice balance between the centre console style and cuddy, with the bow rider offering the best of both. It's a boat that you can fish three quite easily, which can be an issue in a similar sized cuddy cabin.
If you like the lines of the 550 Bowrider, but not the open bow, then Marco can simply add on a foredeck and turn the boat into a runabout.
Model & Model: Marco 550 Bowrider
Priced from: $34,000 (70hp 2Stroke)
Price as tested: $45,000
Type: Bowrider
Construction: 4mm/3mm alloy 
LOA: 5.5m
Beam: 2.07m
Deadrise: 15 deg
Trailerable Weight: 750 kg (est)
Test Power: Yamaha 80hp 4S
Propeller: 17" 3bld Stainless
Power options: Outboard | Sport Jet
HP Range: 60-90hp
Fuel capacity: 60 litres
| | | |
| --- | --- | --- |
| RPM     |   | Knots |
| 600 |   | 2.5 |
| 1000 |   | 4 |
| 1500 |   | 5 |
| 2000 |   | 6 |
| 2500 |   | 7.5 |
| 3000 |   | 10 |
| 3500 |   | 15.5 |
| 4000 |   | 20 |
| 4500 |   | 23 |
| 5000 |   | 26.5 |
| 5500 |   | 31 |