TEXT BY BARRY TYLER
PHOTOS BY MARITIMO
From the outside, it appears more of the same from the prolific Gold Coast manufacturer, but delve a little deeper and you soon discover this boat has virtually re-invented the wheel, such are the advancements and refinements of the recently released Maritimo 440 Offshore Convertible.
It is rather ironic that not too many years ago a 43-44ft cruiser was considered a 'big' boat, but in today's market it appears this size-bracket is regarded by many as quite the opposite. Boats got bigger and bigger and that's fine, but it only takes a hiccup in the marketplace, an aberration such as the current GFC and all of a sudden the reality kicks in and people retrench – and reconsider the size of their discretionary spend – and a smaller boat makes sense again!
Maritimo supremo Bill Barry-Cotter has always been one of the best at reading the market and I guess it comes as no surprise that he has responded by addressing this new demand, with a boat more suited to the economic and social climate. Not only does this new 440 genuinely cater price-wise for the under $A1-million market, but also it is a boat that with all its unique and ground-breaking features, is more embracing and therefore more attractive to a far wider and therefore more diverse audience.
From a distance this 440 appeared more of the same, for while it still enjoyed the familiar tell-tale classic Maritimo lines, up close and personal I soon discovered that there were a number of differences, some minor, some ground-breaking – both from a conventional-drive as well as an IPS-drive perspective. Yes, that of course was the first minor detail for as reluctant and vocal as Barry-Cotter had in the past been to the concept of pod-drives, he had succumbed to the prospect and indeed responded to this market demand in a manner only he knows how to – 110%!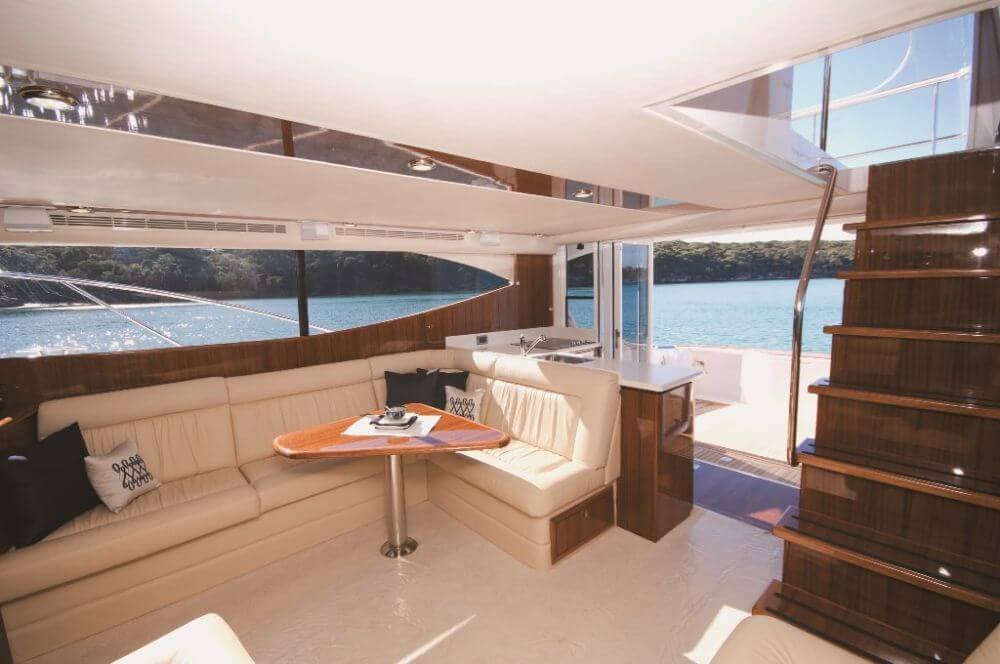 But there was an idiosyncrasy in that this boat, as I discovered following a quick perusal, was different in that the aft cabin, so typical in an 'IPS' layout, was nowhere to be found. In its place were two floor hatches I discovered, that offered access to two huge underfloor voids that housed in the aft version, the washing machine and battery boxes, and in the forward of the two the water tanks, hot-water cylinder and genset.
Why, I asked myself (and of course the people from Maritimo) and to every conundrum there is an answer, for it appears that while Barry-Cotter was happy to address this all-important 43/44-foot (Volvo) IPS and (Mercury Marine) Cummins Zeus-dominated sector of the market, he was adamant that it would be an enclosed hard-top flybridge version – with an internal staircase. If it didn't have those two vital factors, if he couldn't get that to work, then he wouldn't have designed and built the model – period!
Fine, but there was one major stumbling block – height. It seems that if you are to build an enclosed flybridge configuration, in the interests of weight in all the right and wrong places, the powers that be (the European CE 'Standards' authority) have imposed maximum height (off the water), length and displacement parameters. That was the problem; the solution was simply a matter of lowering the cockpit and saloon soles and therefore the centre of mass, and then adhering to the trade-off theory/principle by reverting back to the traditional for'ard three-cabin two-bathroom layout of previous similar-sized conventionally powered vessels.
Stepping aboard this Maritimo 440 Offshore Convertible, which incidentally had its world debut at the recent Sydney International Boat Show, you really had no idea of the implications of any of the above. The entry feature was traditional, a teak-decked 'fixed' boarding platform with an equally traditional GRP-moulded (a continuation of the transom) swinging transom door which led you through and onto what was a most generous-sized teak-decked cockpit. A cockpit deck incidentally, which hydraulically lifted to reveal the twin 5.5 litre, inline 6-cylinder435hp Volvo Penta IPS600 diesel engines, driving pod-drive systems below each engine.
Also obvious in this large and stupendously easily accessed engine bay in this solely IPS-powered and indeed Volvo Penta-certified model, were the two positive buoyancy tanks each side, that provided the necessary buoyancy required when the engines as in this IPS case, are located in the aft extremities of the hull. Other features in this cockpit included a shower, a fender and rope locker, a fresh water deck-wash and in the centre of the transom upright, a moulded module with lid, for either a live-bait tank or a BBQ.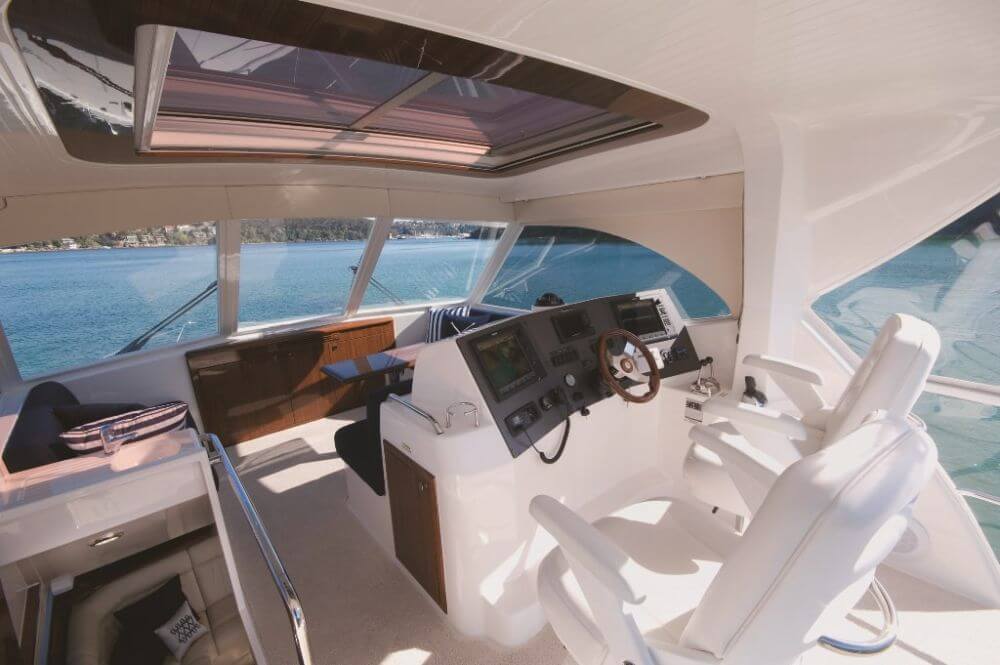 In contrast to all other Maritimo models and indeed flybridge models in general, the cockpit level on the new 440 continued on through into the saloon at that same level, give or take a centimetre or so in difference. A step(s) up and it would have either compromised the saloon height, the height in the flybridge, or, it would have blown these rather stringent CE rules out the door!
The first revelation I noted when entering the saloon was the triple panelled doors, one a single and the other a bi-fold, which both hinged outwards and therefore out of the way and effectively transforming cockpit and saloon into the one continuous room. That to me was a huge feature, perfect for entertaining, for they went hand in hand with the equally acceptable aft galley to starboard.
Galleys are controversial at the best of times – up, down, forward, aft – but in this case not only was it sited conveniently well, but also it was spec'd well, with a microwave, four-burner cook-top, a sensibly-sized sink, plenty of cupboards and drawers, a generously-sized (Corian) bench and opposite this the upright refrigerator/freezer which was built into the space under the flybridge stairs.
Forward of the galley was the saloon proper, again spacious but also in proportion with the rest of the boat. Immediately in front of the galley was the dining setting, which included an L-shaped lounge around a teak triangular table and opposite this yet another L-shaped portside lounge. Special features here included a nice décor blend of teak, leather lounges and plush vinyl wall and roof panels, a wall-mounted Panasonic 42" LCD Television, a Lifestyle V25 entertainment system, a polished timber bar complete with wine bottle cooler, privacy blinds on the side windows and aft door, carpeted floor and of course Bill Barry-Cotter's crowning glory, the aft-facing moulded internal staircase to the flybridge – again a subtle break with tradition, for Maritimos in the past have almost always had their stairs facing forwards.
From the outside, this Maritimo 440 was very much in proportion, especially considering the fact it was an enclosed flybridge boat. Far from being visually top heavy, the wow factor was surely the massive floor area – many 50-footers would be very jealous!
The aft-sited helm would certainly appeal to the game-fish skipper, but more importantly the additional floor space this opened up lent itself nicely to a most congenial lounge setting for four or five adults around the teak table and another two on the lounge forward of the sink module to port. Seven people could be accommodated on these two lounges, and the skipper and one other could be seated on the Pompanette 'skipper' chairs in front of a comprehensive helm.
Notable features included two 12-inch Simrad NSE screens, with radar, GPS, plotter and depth capabilities, a Simrad autopilot, Volvo Penta steering, remotes and instrumentation, the joystick control, two windscreen wiper and washer controls and Lectrotab trim tabs. In something of a rarity for an aft-helm flybridge, there was even generous space immediately behind the helm that could be used as a viewing platform in the event of gamefish action below!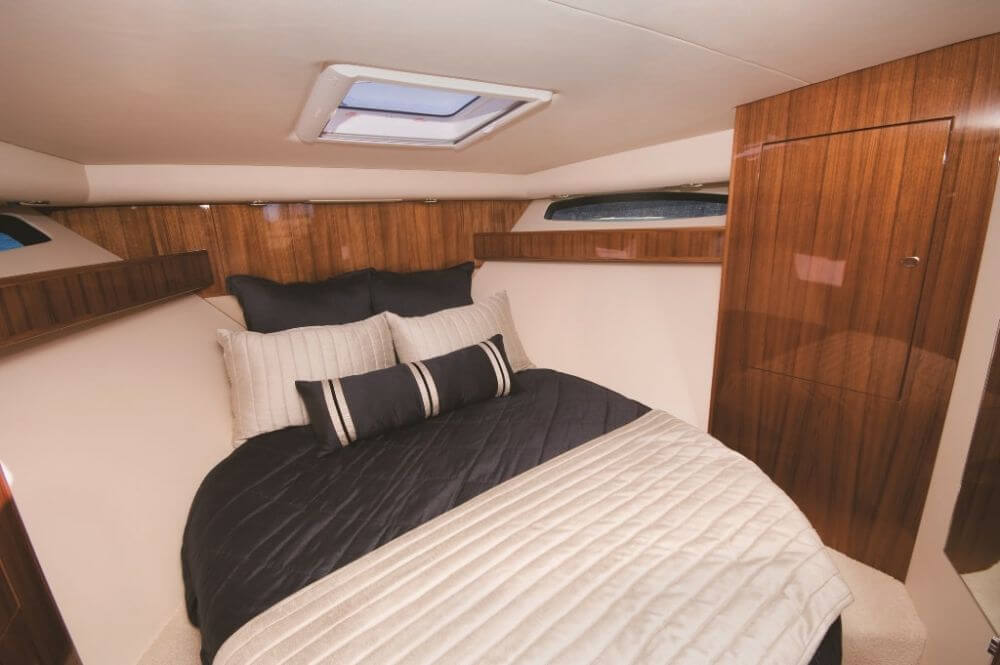 With all I had seen thus far, the space 'trade-off' just had to be in the accommodation area in the bow. Three steps down from the saloon level yes, granted it was a little tighter in space when comparing it with other IPS-orientated counterparts. But come back to reality, appreciate the enclosed flybridge factor plus this sublime amount of storage below the saloon and cockpit soles – and in my mind there was a most acceptable space allocation devoted to each of the three bedrooms and two bathrooms!
At the bottom of the stairs and to starboard was the single berth cabin and opposite this was what I thought initially was a twin berth cabin – one lower berth athwartships, and one upper fore and aft berth. Just as quickly I learned though that what appeared to be a base with a mattress on top was in fact two mattresses that could be laid side-by-side to form a double berth.
This was perfect, I would venture to suggest, in a family situation as you could have three children in this room, one in the cabin opposite and mum and dad in the forward cabin in the bow. Featuring a queen-size island berth, like the other two cabins this master cabin too was presented very tastefully with contrasting wood and plush vinyl panelling, hanging lockers, appropriate storage overhead and reading lights, side storage lockers, overhead hatches, impressive light-enhancing fixed windows in the hull side and of course carpeted floors. The master enjoyed air-conditioning along with its own dedicated ensuite with separate shower and Tecma electric head, while the other two cabins shared the house bathroom opposite this.
The realisation for me was that between Maritimo and Volvo they had done a very good job with a resultant hull shape that performed well in every facet. A fast run on Sydney Harbour is always a challenge such is the sheer volume of traffic on this waterway, but this hull handled the conditions with ease – at full speed!
Unexpected waves it took in its stride and I must say the hull while quiet through the water also felt very strong and rigid over the worst of the waves. Built the traditional Maritimo way, with solid GRP below the waterline and cored composite for the topsides, deck and cabin superstructure, this when combined with the deep vee of the hull in the bow quarter, offered a feeling of security as it ironed out the rough stuff.
From a performance perspective, I felt the top speed of 32.3 knots was more than acceptable from a pair of 435hp engines, but it was the efficiency factor which impressed me most, for the 440 cruised at a speed of anywhere between 22 and 28 knots. And when I say cruise I mean efficiently cruise, for with its fuel payload of 1800 litres, the range at 22.5 knots was 380 nautical miles and at 28.5 knots it was 371 NM. Why go slow?
As we have come to expect from this Gold Coast manufacturer, mechanically the equipment was not only good quality but also it was of an appropriate specification so as to promote longevity as well as reliability; Bill Barry-Cotter has a thing about sourcing and fitting good gear for/to his boats. This was especially so when it came to the specification of the electrical side of things, for it was pleasing to find appropriate inventory such as an 11kVA genset, 10kW of Marine Air air-conditioning, a 1.3kW, 35A inverter/charger, and a battery bank consisting of a 70Ah battery for each engine and two 210Ah batteries for the 'house'
The Maritimo 440 Offshore Convertible was a new concept, a new design, a new attitude towards boating and the timing couldn't have been better, what with the GFC in full swing. This boat could well be the answer for many boaters who want to appease their own appetite for boating while at the same time accommodating their families' boating needs. At $844,000 the standard turn-key boat is good value; but add a few luxuries such as teak decking, aft clears, a dishwasher and washer/dryer, TV, electronics and refrigeration upgrades and a bar fridge, electric sunroof and second helm seat in the flybridge – and the total still comes in under the magic $1-million threshold!
Year Launched: 2010
Designer: Maritimo
Interior Designer:  Maritimo
Builder: Maritimo
LOA: 14.8 m
Beam: 4.6 m
Draft: 1.10 m
Displacement: 14,500 kg
Max Speed: 32.3 knots
Cruise Speed: 22-28 knots
Construction: GRP
Fuel Cap: 1,800 litres
Water Cap: 400 litres
Engines Make: 435 hp Volvo Penta IPS600
Drive Train: Volvo Penta IPS600
Base Price of Boat: $A844,000
Price As Tested:  $A964,161