The new Maritimo S55 marks the first of an evolutionary design shift to the exterior form and styling within the S-Series sedan range.  
The new S55 hull is an advanced evolution of Maritimo's longstanding experience in long range cruising design. It fuses the latest advancements in nautical technology and design with the iconic features of Maritimo's S-Series models of the past.
"Australian built, its sharpened exterior design, extensive entertainment areas and high performance reset the international standard for long-range cruising sedan motor yachts", says Tom Barry-Cotter, Director of Design at Maritimo..
Inspired by the lessons learned to create a class-leading, enduring line of blue water motor yachts for tough Australian conditions, Maritimo's experienced team of maritime designers and skilled craftspeople have developed a fresh take on how a sedan motor yacht should perform and feel.
Maritimo is renowned for breaking the status quo, and the all-new expanded cockpit hardtop coverage has amplified the amount of area above, on the often-inaccessible sedan hardtop in order for the hardtop to be utilised as a utility deck space,
The amount of floor space offered in the upper cockpit alfresco deck is exceptional, with standard rear U-shape lounging and dining table and further option of opposing lounging flanking each side of the area.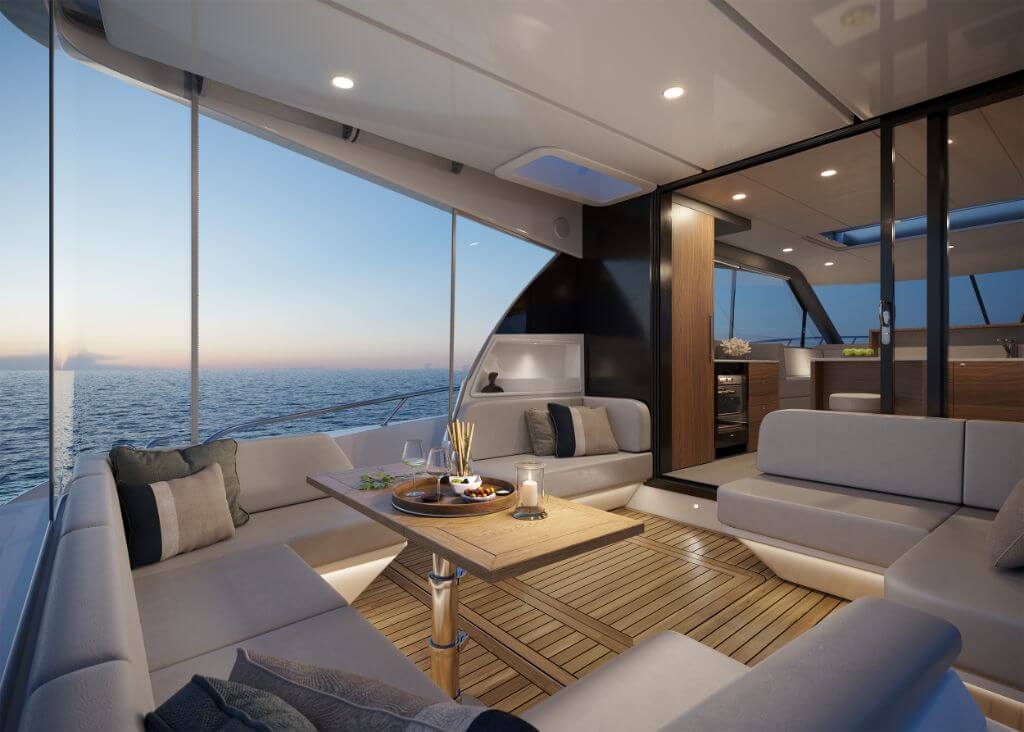 Below deck free-flowing spaces utilise the hull's volume, maximising height and minimising the number of steps. Three spacious staterooms and two ensuites are on offer, with full-beam king master stateroom, offset queen forward stateroom, and twin single starboard guestroom.
Maritimo's aft galley seamlessly connects the upper cockpit deck and the enormous saloon lounging area. Injecting light and air to the saloon is the option of Maritimo's unique two-stage vista sliding windows which transform the areas into an indoor/outdoor escape.
Standard power is a pair of Volvo Penta D11s @ 670hp.