Understated elegance is the best way to describe the overall look and presentation of Maritimo's all new M58.
Released at SCIBS, the acceptance of the new Maritimo M58 has been delivered in orders from the US as well as Australia. At first glance you could be excused for thinking you were looking at the well-established M56, but when you look more closely you'll find a whole new boat.
While a full-beam master has been available for some time in the Maritimo Cabriolet and Aegean ranges, it has not, until now, been available in any of the motor yacht range. The M58 is the first and what a difference it makes! After discussions with both dealers and current Maritimo motor yachts owners, designer Bill Barry Cotter took the moulds of the M56, raised the hull coaming height by 300mm, added around 900mm to the hull and increased the overall length of the boat by 1.2m.
The M56 is now no longer available and has been superseded by the M58, which has in effect given the original M56, of which around a dozen were sold over three years, a whole new lease on life. However, in effect the M58 is a complete new boat, from the accommodation layout through to the revamped flybridge and deck. Plus, to accommodate the full-beam master stateroom and provide adequate head height, the saloon sole has been raised accordingly. The hardtop has been retained, although the interior décor has been given the special Dave Stewart makeover.
Apart from some cabinetry and colour changes, the layout and fit out of the M58 is very much standard and the same for every boat. Maritimo is a production boat builder and is not prepared to completely remodel the layout of any of its models to suit an owner's personal choice. Maritimo prefers to leave that to custom builders.
What you see is what you get, albeit with some variations that don't require major structural or design changes. There is a choice of colour fabrics and timbers and you get some different accommodation options, but essentially there is not a lot you can change. Boat #1 was finished in high gloss teak throughout, although you may choose cherry instead, to various levels of matt or gloss finish.
The M58 is a three-cabin, two-bathroom boat and as already mentioned is the first of the M series to offer
a full-beam master. And impressive it is. When you drop down a few steps from the saloon into the accommodation spaces and see the owners' stateroom for the first time, you can't help but be in awe. The layout is focused on making great use of the available space – and there is plenty of it – finished exquisitely by interior designer David Stewart. 
Understated elegance is the best way to describe the overall look of not only the master stateroom but also the entire M58. It's practical, functional and extremely efficient in every respect. Stewart has achieved a pleasant balance with breakouts in texture and materials throughout the boat that are subtle yet refined and really lift the whole décor of the M58 to a higher level.
When you walk into the master stateroom you first have to go via the mezzanine with a separate vanity table/workstation, complete with a cube chair and the separate en-suite with its glass shower stall, Corian bench tops with a recessed bowl, all encased in a fibreglass moulding. Drop down three steps and you'll find a queen size double berth that is interestingly set diagonally, to achieve maximum use of space. It seems to work well as there is excellent access both sides of the bed. This is one area where you do have a choice and Maritimo will position the bed whichever way you like.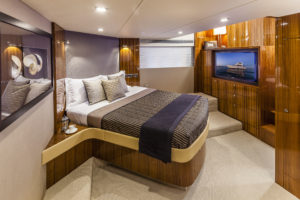 Hanging lockers, drawers and cupboards are all cedar lined and provide copious amounts of storage. There's even a separate locker for an optional washer/drier, which if you prefer to retain the space for your own clothing storage, can be located in the engine room or elsewhere on the boat. There's a large settee built into the starboard side and a 40" flat screen TV mounted on the forward bulkhead.
One reason for the huge volume of space in the master stateroom is that in the previous M56 the fuel tanks ran athwartships right behind the aft bulkhead, whereas in the M58 they are longitudinal in the engine room. This has enabled the rear bulkhead to be moved aft by around 1.2m. Triple vertical Bomar portholes, a trademark of the Maritimo motor yachts, provide some natural light into the stateroom, which is supplemented by a generous amount of direct and indirect lighting. The M58 has two further cabins, a smaller starboard side guest cabin with upper and lower single berths, ample storage lockers and deep hanging locker, plus a forward guest VIP with central island berth and plenty of storage options. 
Opening portholes either side and overhead provide ample ventilation and lighting. Both share the same en-suite, which also has a large glass shower stall, Corian vanity surface, and fibreglass moulded interior. All cabins are air conditioned with both the VIP and master cabin on separate air handlers.
Compared to the M56, the lounger area in the M58 has been extended around 600mm, and typical of most Maritimos, there is a real emphasis on open living spaces. High profile windows all round with narrow mullions and a three-piece rear bi-fold door opens the boat up tremendously. There are unbroken sight lines from the transom to the forward areas of the saloon and even the heavy stainless section and teak tread staircase to the fly bridge is open and unobtrusive.
The layout is all about entertainment and relaxing with a large L shape settee forward plus an entertainment area with pop up TV aft on the port side and a second lounger to starboard. A drinks cabinet utilises the space traditional where the downstairs helm would be, but being an enclosed fly bridge boat it's no longer required, although is still available as an option. Drop a few cube chairs around the solid timber table and you have a comfortable area for six to eight people for dinner.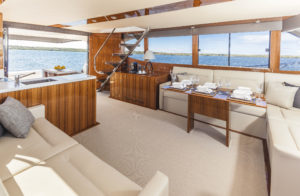 There is a large pull out fridge/freezer and icemaker under the staircase as well as another full size fridge or fridge/freezer in the galley so keeping provisions chilled down for that summer cruise isn't an issue.
Maritimo do their galley's a little different to most, with an island bench separated from the L shape Corian counter top. This really increases the useable servery space and is a very practical feature. Here you'll find the usual mix of gas hob, dish drawer, convection microwave and storage lockers and drawers. There's also a pull out pantry alongside the full height fridge/freezer.
When you step out into the cockpit you are greeted by more open space, which is typical of the way we prefer our cockpits, so you can do your fishing and not be upset with a bit of blood and guts on the teak. If you want to relax and enjoy the evening sun going down with canapés and a glass of the very best South Australian reds, then stowaway chairs and a table will do nicely. There's plenty of room in the easily accessible lazarette to stow them when not required.
The central transom island houses a stainless steel hot plate style BBQ and top loading eutectic fridge, plus storage lockers under. Access to the moulded boarding platform is on either side and you also have the option of a full hydraulic high/low platform.
Access forward is made safe and secure with deep bulwarks either side of the superstructure and plenty of well-placed hand holds.
Like downstairs, the enclosed fly bridge is all about space and light, with an extremely comfortable and practical layout. While the whole area is air conditioned, there is the option of sliding side windows, plus a large Webasto electric sunroof providing extra natural light and ventilation. After all, this is where the skipper and crew will spend a lot of their time when underway, so it needs to be inviting. The helm is huge and offers space for two 15" screens, plus a split-level dash for all the rest of your electronic and navigational equipment.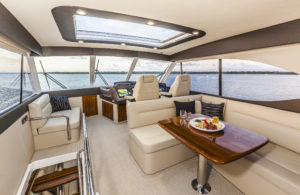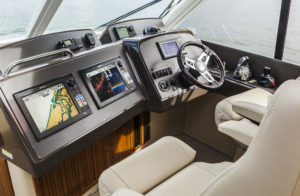 Two adjustable helm chairs are complemented by a double lounger to port and an L-shaped settee to starboard, which can be converted to another berth. The fact that there's another large timber table up here enhances your eating area options. Three-piece sliding doors open onto the upper deck level where there's room for more outdoor furniture, making this another great alfresco drinks area. A separate fridge and wet bar is fitted on the port side.
One thing that the M58 has in common with all Maritimo models is the exceptional efficiency of its hull, giving it both high speed and good fuel economy. Barry Cotter prides himself on designing hulls that deliver exceptional performance per horsepower and the M58 is no exception.
In a reasonably rough sea off the Gold Coast the M58 sat comfortably at around 25 knots and was a pleasure to drive. The hull form has a variable deadrise, which twists aft to a fairly flat 9 degrees at the transom. In the following sea the big hull tracked clean and straight, with very little effort required on the helm. Quartering seas didn't present a problem and whilst I felt we could have gone a lot faster, the boat just felt right at 24.4 knots. When I dropped back 200rpm, to 60% engine load, the speed came back to a still very respectable 20.7 knots, but the big plus was that fuel consumption in L/NM decreased by 7%, from 7.1L/NM to 6.6L/NM and the range increased from 631NM to 685NM. That's something to consider when you are planning a long distance passage such as the Gold Coast to Hamilton Island or Auckland to Stewart Island.
The M58 comes standard with Volvo Penta D13/800s or you can up-spec to Volvo Penta D13/900s or C18/1150hp Caterpillars. Pods are not available for this model and all engines drive through conventional shafts. Bow and stern thrusters, coupled to the Italian Xenta joystick docking system, take care of all your slow speed manoeuvring and make docking a simple and effortless task. A second cockpit docking station assists when backing into tight spaces.
The M58 is available only with a fully enclosed fly bridge and while Australians and New Zealanders have long embraced the style, it's only in recent years that the US and much less the Europeans have accepted it. Despite this, with one M58 already sold to a US client, and interest in more, the trend for this style of boat may very well be what local production boat builders need as an edge.
The Maritimo M48 is proof positive that the enclosed fly bridge has a place in the US, with a considerable number sold in recent years and there is still a lot of interest in the model.
With the exchange rate advantage now well and truly gone for Australian boat manufacturers, companies like Maritimo need all the help they can get to maintain a competitive edge in this still very tight world market. The M58 may just be the start of Maritimo's growth back on to the international scene.