It had been the Australian Marine Industry's worst kept secret, but when it was finally unveiled at a 'who's who of boating' function prior to the Sydney Boat Show, few were genuinely prepared for the actual moment of truth – the level of opulence, the level of specification, the efforts Maritimo founder Bill Barry-Cotter and his team had gone to, to literally present a superyacht – in a smaller package.
Very few people were surprised when prolific boat manufacturer Bill Barry- Cotter announced he was back building boats again. Really, it was just a matter of when and in what capacity. An inventor by nature, although few people other than his closest friends truly appreciate his obvious talents, passion and perseverance in that direction, it was reasonable to assume that with his background and knowledge, his next project would indeed be something very special.
Who knows what really went through his mind in those initial first few weeks after the sale of his previous business, but a good bet would suggest it all revolved around his dream boat. Most at home when fiddling with boats, and designs, this time round it would not be a transitional or progressional thing that evolved with subsequent model changes, this would be a start-from-scratch exercise to transform his ultimate dream boat, everything he ever wanted in a boat – into instantaneous reality.
Take a wander through the Maritimo factory and the whole image literally oozes infrastructure, or if you want to put it more bluntly, money. In what usually takes a lifetime to accumulate and develop, Bill Barry-Cotter put together a complete infrastructure of workers, equipment, and assembly and build procedure – the platform if you like from which to build multi-million dollar cruisers – literally in a few months. Symptomatic of his wealth of experience, it enabled Bill Barry-Cotter and his Maritimo Offshore team to quite literally hit the ground running.
The Maritimo Offshore 60, which is incidentally the first of what will ultimately be a 12-boat range, appears in two versions, the open flybridge model that is well suited to the warmer climates, and the fully-enclosed hard-top version which will appeal as an all-rounder that can be warmer in the colder climates and of course air-conditioned in the obscenely hotter climates.
Stepping aboard the Maritimo is not a lot different from stepping aboard any other 60- foot luxury cruiser. You are greeted by the usual trimmings such as a nice teak covered boarding platform, a large cockpit again with the teak work the focal point, a generous transom upright that quite obviously transforms into something 'else' with the lifting of the lid, and generously wide and deep walkways and side coamings that lead you forward onto the foredeck. But as noted in the introduction, walk on through the impressive stainless steel sliding saloon doors and it is very much akin to stepping aboard a significantly larger superyacht.
Stunning is the only word that springs to mind, and it is only then that you begin to appreciate the deceptive subtleness of this cruiser, the wolf in sheep's clothing ideal. Please explain! I guess for me the pre-release hype suggested something very, very special, and when I saw it for the first time I was just a little disappointed.
Don't get me wrong, it was still something very special, believe me, but it was just not what I expected, especially considering the pre-release imagery that was circulated.
That momentary disappointment was as I say  very quickly dispelled the moment I stepped aboard, for I was stunned to say the least. I don't think I have ever been quite as (pleasantly) surprised as I was on that occasion, and okay, yes a superyacht does get your attention fairly quickly and rightly so for they are grandiose to the point of being perverse, but to find it in a 60- foot cruiser!
Bill Barry-Cotter is obviously from the school of traditional boatbuilding, for the use of timber about the saloon was extremely effective. With the modern use of dramatically contrasting features such as stainless steel, big glass windows and bold coloured leather suites and ceiling panelling, he has been able to complement and indeed enhance the abundance of myrtle and teak panelling. For someone who just loves wood in a boat, I was in seventh heaven!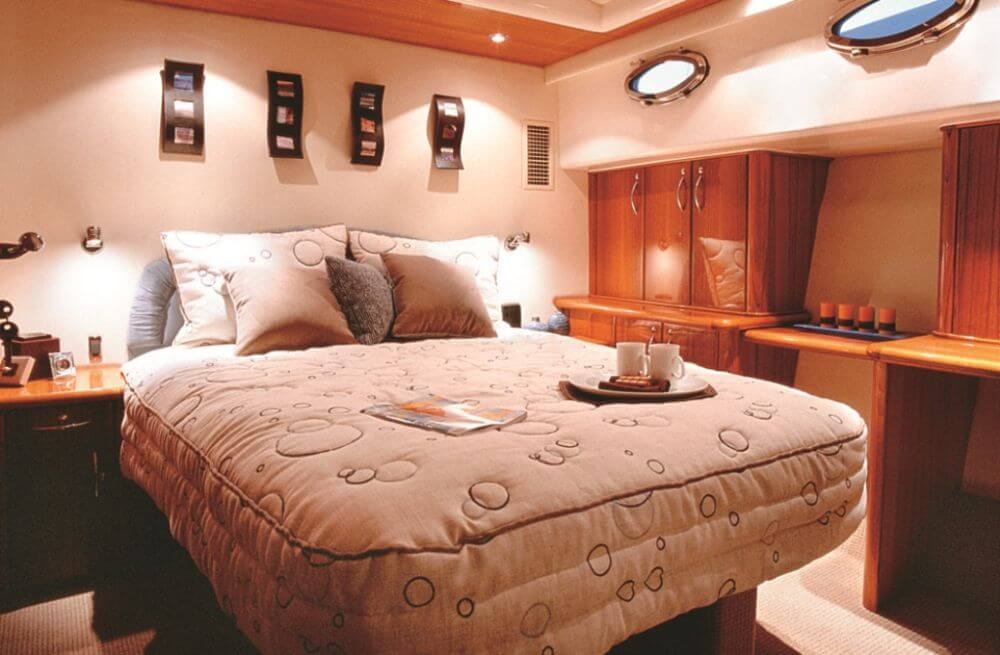 In both the open and enclosed flybridge examples, access was via a set of steps up the port side of the saloon. In both guises this upstairs flybridge level was huge, and very much centred around an entertaining ideal. People will always congregate up here and while there was plenty of seating space, the skipper was still able to place his or herself in such a position so as to be totally in control of all that is happening, without being disturbed by others. In both instances there was an upstairs and a downstairs helm station, plus there was also an option of another albeit lower spec'd 'berthing' control station out in the rear cockpit.
Both helm stations are entirely duplicated, and the remote controls are electronic versions from Caterpillar, steering is Seastar, and there is a most comprehensive interfaced Raymarine electronics package of GPS, plotter, autopilot and 48-mile radar. Offering some hint of the efficiency of the Bill Barry-Cotter designed underhull shape, 'modest' power for the Maritimo is the recommended 700hp Caterpillar engines through ZF gearboxes and conventional shaft drive, to 33" pitch 'Faster' propellers.
I say efficient, for the Maritimo has a top speed of 26 knots at the maximum 2350rpm, and will cruise well at 22 knots (at 2100rpm). Housed amidships in 'bulkhead' tanks, the Maritimo carries a whopping 7000 litres of diesel (along with 1400 litres of water), which offers owners a considerable cruising range. By utilising the engine management system and simply by observing and altering revs it is possible to remain at sea for longer periods than is traditional for a cruiser.
Despite the very modern look of the saloon, Barry-Cotter has opted for a most traditional and user-friendly layout of the galley to starboard as we entered, with the dining area ahead of that, and the helm station ahead of that again. To port there were of course the stairs first, then as we moved forward we found an entertainment and bar module, then a large L-shaped leather lounger, and then for'ard of that again on top of the actual front bulkhead, a series of storage compartments that housed amongst other things, a selection of charts.
The most comprehensive galley, semi-secreted behind a full-length chest-high wooden servery, was an absolute work of art. A galley as large as this one could in many instances be somewhat of an eye-sore, but with the 'deep' wooden panelling of the servery and refrigeration module, the Corian bench-top and the concealed 4-burner stove, it was for me the centre-piece of the whole saloon. No cook would ever want for anything in here; twin sinks, dishwasher, panty, ice-maker, cold-water dispenser, microwave convection oven, plenty of storage cupboards and drawers, and the side-by-side house-size upright refrigerator and freezer – it had it all.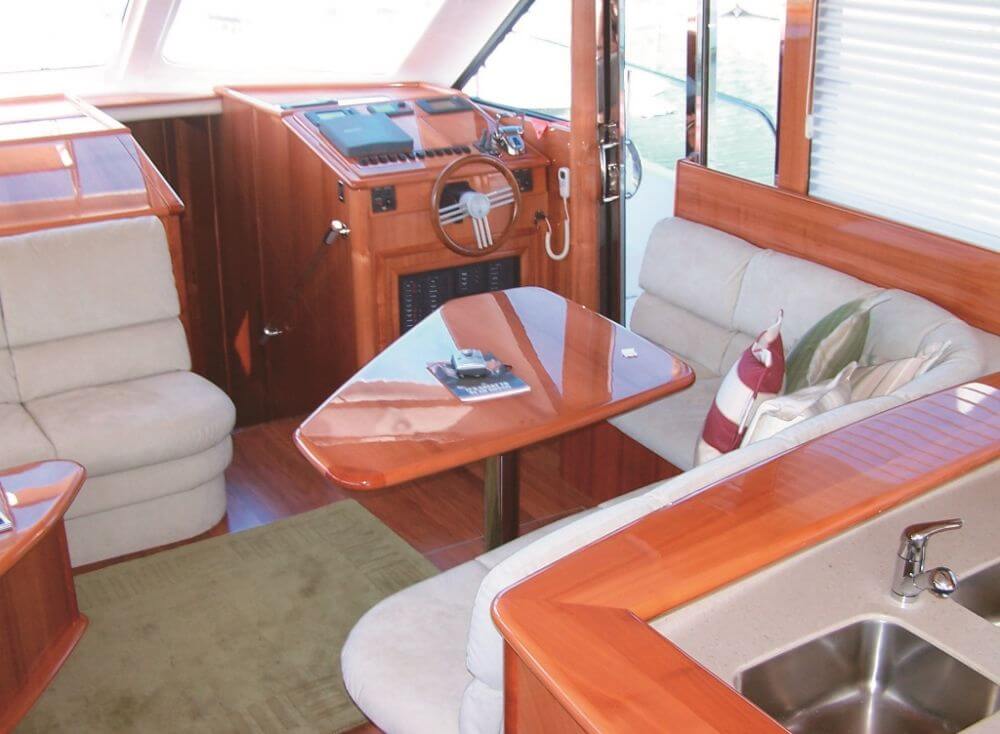 Kept obviously low-key so it didn't impact too much on the layout of what was an extremely ambient conversation area with the two lounges opposite each other, the dining area forward of this galley really caters for five people at most. If you require more room for dining, there was still space on the 'movable' wooden coffee table opposite the dining area that would cater for another two. Opposite the galley and partly underneath the steps was this most beautifully crafted unit that ostensibly appeared to be simply a bench-top with storage drawers and cupboards. Secreted magnificently within it however, we discovered an LCD television that popped up out of the top surface, bottle and glass storage provision, a small refrigerator/icebox, and the stereo and DVD systems.
When we are talking about an ambient saloon it would be reasonable to assume a downstairs helm station would be somewhat out of place, but as in the case of the galley, this feature was very much an integral continuation of the nautical theme. All wood of course, the fact the electronics, instrumentation and switches were up on top of the bulkhead, helped reduce the intrusion factor. What I did especially like too, was the skipper's entry door off to the side of the helm station that gave excellent access to the walkways fore and aft. The room was then finished off with slimline Venetian-style blinds with wooden upper and lower pelmets that completely 'privatised' the interior, just as in a superyacht.
Not surprisingly, when we ventured downstairs to the for'ard accommodation, we were met yet again by the same level of specification, and the same magnificent, opulent use of wood. The owner's cabin, the more spacious room, was to port at the bottom of the stairs, and the guests' cabin was in the vee at the bow. Both were serviced by their own separate ensuites with separate shower and head, and both cabins featured full wardrobes, copious drawer storage space, a vanity and make-up area, porthole and overhead ventilation, plenty of lighting, and of course generous queen-plus inner-sprung beds.
One last thing, I just cannot finish the story off without mention of the engine room. You could eat your dinner off the floor, yet they are not happy with it and a full liner will be built into all future models, such are the lengths Maritimo is prepared to go to, to offer only the best. The plumbing in here was superb. No Maritimo Offshore 60 should ever run low on power for there were two generators and a massive bank of both house and engine batteries, and of course there was a very comprehensive air-conditioning system that provided cool air to every corner of the boat.
Both the owner's and guests' cabins were larger than your average 60-foot cruiser has, and even the third cabin, which could be utilised either as a crew cabin or alternatively a cabin for the children, was larger than is traditional. In here there were two king-single berths one above the other, and behind the large door at the end of this room there was even room for a washing machine and clothes dryer; which really is a must in a vessel of this size and capability, where you are away at sea for two and three weeks (or longer if you so desire) at a time.
Wow! The finish was superb, equipment was of the highest quality available, and different too as we noted for example in the instance of the taps, sinks and fittings in the bathrooms. But it was not all 'glitter and bright lights', for this boat performed well too, its efficiency evident in its ability to plane at just 11.5 knots, and rise to a top speed of 26 knots. It handled well in seas, was nice and dry, and it turned surprisingly tightly, still at full speed and with a decidedly level attitude. Any boat that can do the Gold Coast to Sydney in 19 hours, averaging 18 knots and 68 litres/hour in at times 5m seas, has to be something reasonably special.
The Maritimo Offshore 60 is not a big cruiser, it is a small superyacht. It is what I would term an honest boat, and best of all you can have the lot for the extremely competitive price of $2.271 million.
Boat Design Name: Maritimo Offshore 60
Year Launched: 2004
Designer: Bill Barry-Cotter
Builder: Maritimo Offshore
LOA: 18.7m
LOH: 18.2m
Beam: 5.6m
Draft: 1.4m
Displacement: 30 tonnes
Max Speed: 26.5 knots
Cruise Speed: 23 knots
Construction: GRP/ Balsa Core
Fuel Capacity: 7000 litres
Water Capacity: 1400 litres
Engines: Caterpillar C12 700hp diesel
Drive System: Conventional shaft
Base Price: AUS$2,258,000
Price As Tested: AUS$2,271,200