Barry Thompson ticked off another experience from his bucket list when he spent a day towing lures searching for a marlin, courtesy of Ian Witters and his Maritimo S51, one of the few S51s set up almost exclusively for sport fishing.
Distinction, a Maritimo S51, is avid game fisherman, Ian Witters, 24th powerboat and his third Maritimo. Previously his boating collection has comprised a variety of ski boats, cabin cruisers and launches. Ian and his family have for many years been heavily involved in waterskiing, both as participants and at an administrative level, so it was only natural that ski boats from such distinguished brands such as Malibu and Nautique should grace the driveway. However, they are not fishing boats, and Ian loves his fishing so hence the foray into saltwater brands.
Ian has not always been a game fisherman, having honed his fishing skills catching trout on Lake Waikaremoana and the Rotorua lakes, where he realised that he loved fishing at a young age. It wasn't until the mid-2000s that he had his first taste of towing lures at sea and after landing a few Marlin, (the first a 109 kg stripey off Whangaroa) but also dropping a whole lot more, he admits he was addicted.
"I loved it with a passion and was keen to learn as much as I could to perfect the art of not only hooking up a big fish but also landing it, something I quickly found out is not always that straightforward", says Ian. One of his early fishing boats was a Tristram 851 Grandeur, but his first big sportfisher was a Genesis 4000, which was the first IPS boat in Australasia. This was followed by his first Maritimo, an M52, which got him hooked on the bigger boats. With GFC getting in the way, Ian sold the M52 and scaled back to a Rayglass 4000, which he says was an excellent boat for game fishing and while he caught a lot of Marlin and Yellowfin, it was enough to make him want to go back to a more serious sportfishing boat. Next up was a Riviera 43 with a tower, which he clocked up 3500 hours in seven years. When it was time to move on, he went back to Maritimo, this time for the M500, which he set up expressly for fishing again. He landed a lot of big fish in the 12 months he owned it.
Next moved was to go back to a big trailer boat, and this was filled by a Grady-White 330, a boat that had the advantage of being towable, despite its size. 
"I had this great idea that I could fish one weekend on the East coast and then trail the boat across to Raglan and fish the West coast, but it proved a logistical problem transporting such a big boat, so I canned the idea and after a couple of seasons sold the boat and brought the current Maritimo" adds Ian.
While the Maritimo S51 may not be a purists idea of a serious sportfishing boat, Ian says it is perfect for the task. "I didn't want a flybridge as I find when you are fishing they split the crew and especially if you are short-handed that can be a problem when the action starts and things need to happen in a hurry.
"What I like about the S51 is the ability to see everything from the helm, at the same level, so you are never far away from everything, plus I have a second station in the cockpit which I can also use when we get hooked up", says Ian.
From the helm, we could watch the sonar or look back at the lines, while in the comfort and shelter of the saloon. Another coldie, please! The sociability and the style is another reason Ian was drawn to the S51.
The layout features three cabins below decks with a full-beam offset master stateroom with queen berth and large mezzanine style ensuite. Panoramic hull windows and ports allow for stunning views and fresh air ventilation. A second, VIP stateroom, with queen berth and adjoining ensuite, is located forward. You then have the option of a third 'bunk' style stateroom for children or extra guests. Alternatively, this space may be ordered as a utility cabin with a separate washing machine and dryer. 
Ian says that the size of the Maritimo S51 is ideal for his boating needs and is confident of taking it well offshore if that's where the big fish are. It's a boat he can easily handle himself, and while the S51 is going to be more about fishing, it still serves double duty as a family cruiser when required. "I have had the boat out in some nasty seas, and I am more than pleased with the way it performed", says Ian.
When Ian ordered the boat, he stipulated a game fishing tower, but due to Covid and the USA's supply of materials, it was not available before the boat was shipped to New Zealand just before Xmas last year. Does Ian miss it? "Yes and no. While at times it would be good for spotting fish, the fact we have fitted a MAQ Omni Sonar has superseded a lot of the benefits of a tower, so I am not sure I will both with one now". Ian refers to it as his underwater radar and says he is still learning to use it to its best advantage. (See Sidebar).
He added; "The stability issue is also something I considered when looking at a big flybridge boat as you tend to spend a lot of hours in cruise mode in sloppy seas and a high profile flybridge is going to get tossed around more than a sedan bridge in my opinion".
To increase that stability factor, Distinction is fitted with a Seakeeper 6 gyro. I have to say that after more than eight hours towing lures at 7.5 knots in a reasonable sloppy sea state off the Northland coast I really got to appreciate the benefit of a gyro. Both low and high speeds, you could feel the impact the Seakeeper had on the way the boat rode. For anyone setting up a boat for game fishing, especially when a low-speed mode is the norm, fitting a gyro is a must-have.
Distinction is powered by a pair of Scania D13 800hp engines which return a top speed over 30 knots. Standard power for the S51 is twin 670HP Volvo Penta D11's or the higher output twin Volvo D11 725HP.
Together with Maritimo's hydrodynamically engineered, wide beam variable deadrise hull and deep V entry, this gives the S51 comfortable, efficient ocean-going endurance. There are two wing fuel tanks, structurally moulded into the hull's liner system offer a combined capacity of 3100 litres. 
I was amazed at the fuel efficiency of the S51/Scania package when we were trolling. At 7.5 knots @ 650 rpm the Scania engines were only using 7.0 lph each. That gave us a range of more than 1800nm. Considering we covered about 120nm in the nine hours we were on the water, we could have gone all the way to the Great Barrier Reef chased 1000lb, Black Marlin, at Lizard Island and still had some fuel in reserve. Nice thought.
Best cruise was around 20-23 knots @ 1600-1700 rpm which saw a total burn of 158-177 lph and arrange of approximately 360 nm.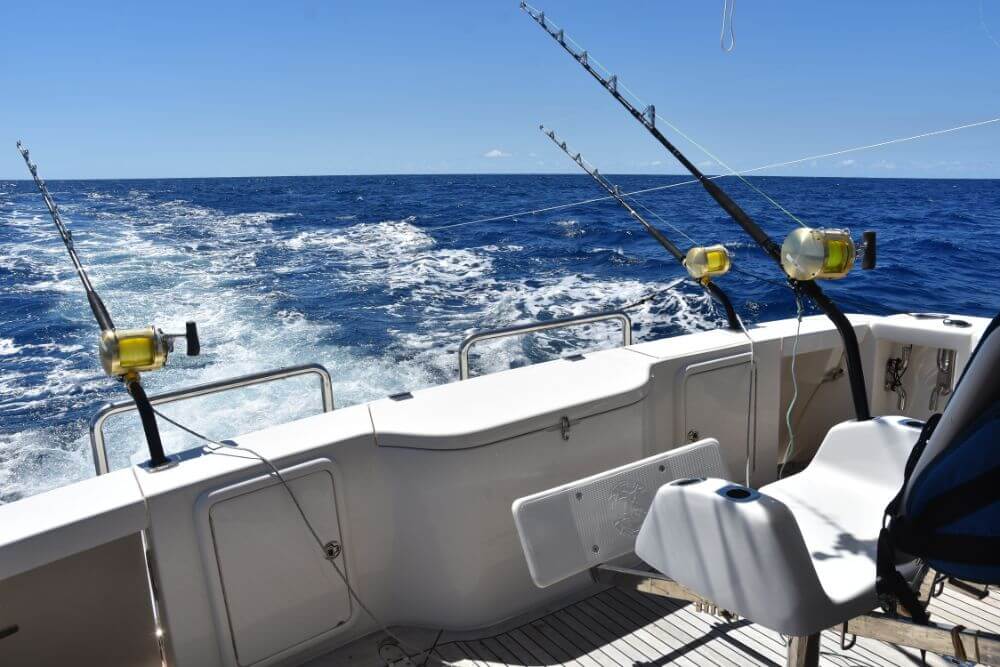 Maritimo offers two cockpit styles for the S51, one of them being what they call their fishing transom. This sees the removal of the aft bench seat to leave an open cockpit fishing space. The transom features twin entry doors, a central live bait tank, a pair of tuna tubes and in Distinction's case, a Reelax game chair. There is a second live-bait tank under the starboard coaming and a BBQ opposite on the port side. Wide bulwarks both sides, a signature feature of Maritimo, offer a safe, secure passage to the foredeck area. 
A large section of the cockpit sole lifts to reveal a dedicated rod rack for the six-game reels/rods, a foldup tender, outboards and dive gear. Either side is deep storage bins accessed from the cockpit, one which has been converted to an icemaker.
While serious game fishing boats don't have a swim platform deck, as this is a multi-purpose boat, Ian decided to include it. If you are looking at an S51 and don't intend to go game fishing, then you also have the options of an additional 1.2m hydraulic extended swim platform creating a total 2.0m adventure deck. The cockpit deck itself is protected by the fully moulded extended hardtop – providing ample shelter from the elements.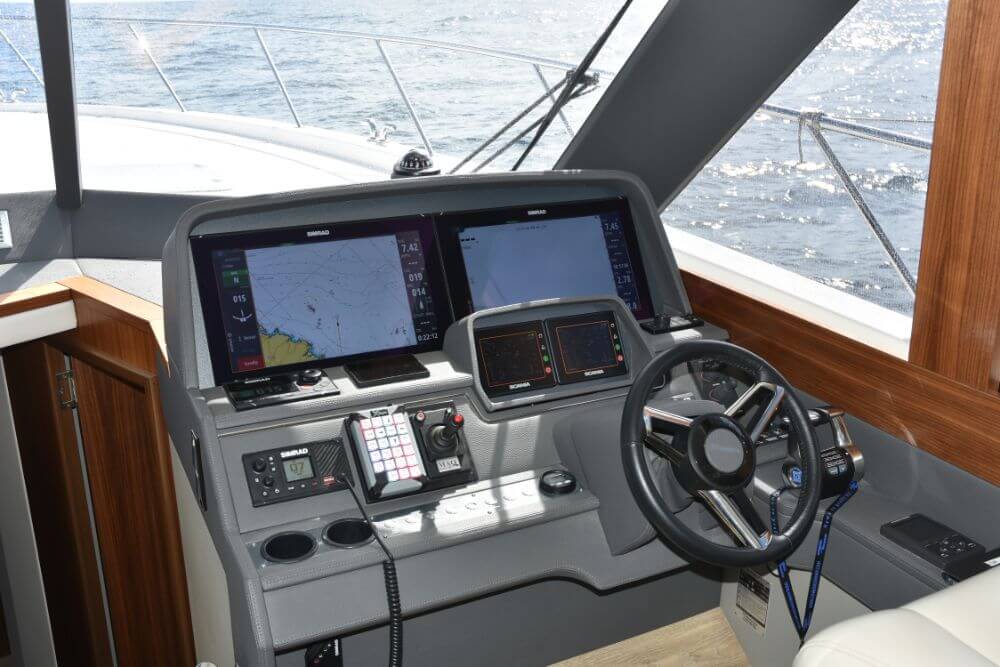 The bi-fold doors that split the saloon from the cockpit fold back out of the way, so there is uninterrupted sightline from the helm to the transom. Something that certainly helped sell Ian on the S51. The port side aft galley is equipped with top-line appliances and configured around the idea of prolonged stays on board – with a heavy focus on storage and meal preparation. What Ian refers to as a 'fishing' change he turned the island bench around to have the drawers facing outwards. These have been taken over as tackle drawers where all the lures, jigs and fishing paraphernalia are stowed. 
The forward saloon flanked by lounges and dinette has panoramic views through the screen and sliding side windows. Maritimo describes the U-shaped lounge and dining table area layout as space to seat six in comfort and is smartly integrated with the helm to maximise space and ensure you remain comfortably connected to the action. Could not agree more.
The S51 is spacious, innovative, superbly finished with Maritimo's renowned handcrafted interiors the Maritimo S51 is both easy on the eye and easy to handle. Socialising and entertaining flow seamlessly inside and outside from cockpit to saloon on a singular level, so everyone gets to share and enjoy the pleasure of Maritimo's proven ocean going pedigree. 
This season, has just begun (end of January) and Ian has landed two Marlin and a couple of Yellowfin Tuna but says he is still learning as he is still dropping fish. He admits he is getting better, but at the moment the fish are winning. Having the right gear and the right conditions are critical factors when chasing game fish. 
For our trip around and behind the Poor Knights Islands, the water temperature was a perfect 21-22 deg, and the water was a deep blue. Perfect marlin territory, but someone forgot to tell them. We trolled for 8 hours and never so much as saw a tailor a sniff at a lure.
Were had five lines out in a traditional Staggered Marlin spread. All lines were 37 kg on Shimano Tiagra 80WA reels and Kilwell International 37 kg full roller chair rods. We were running a mix of five different styles, and coloured lures which Ian says have proven to be the most successful over recent seasons in the waters he fishes.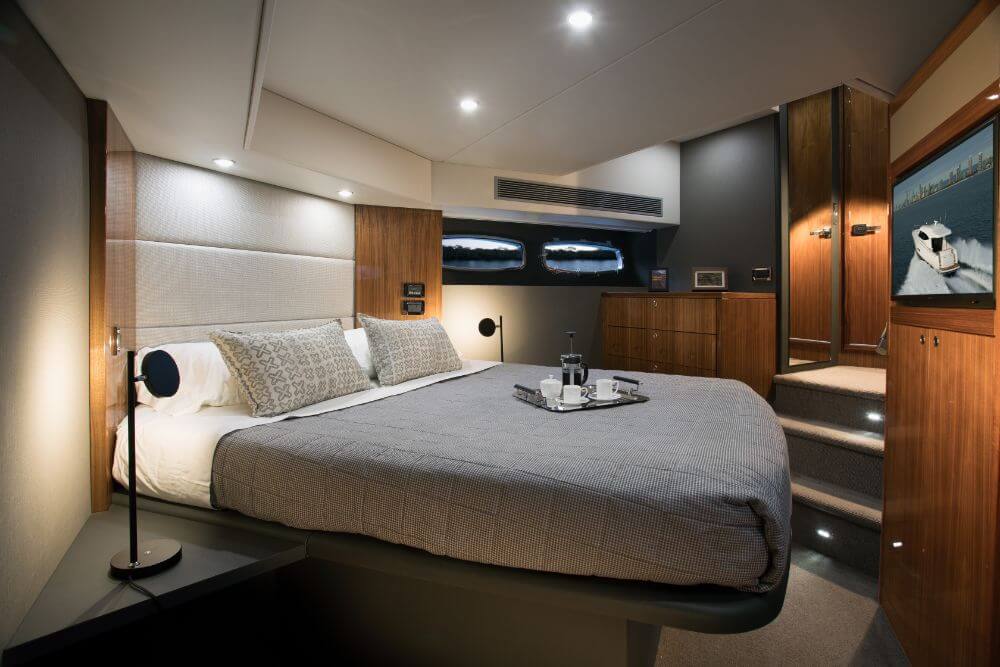 We also ran two dredges teasers. An American' Tournament Cable' EZ/6 collapsible teardrop dredge (runs under the water mimicking a small school of fish to attract Marlin), and a surface teaser of multiple soft plastic fish again to attract Marlin. 
All the right stuff but unfortunately no results. As this was my first real experience at game fishing, I was disappointed that I never got to feel the rush of adrenaline as a big blue, stripey, or yellowfin and I fought for total control. It looks like that will have to wait for another day.
Design Name: Maritimo S51 
Year Launched: 2020
Builder: Maritimo 
Designer: Maritimo
LOA: 16.19m
LOH: 15.92m
Beam: 5.34m
Displ (Dry): 20,500 kg
Max Speed: 32 knots
Construction: GRP
Fuel Cap: 3100 litres
Water Cap: 500 litres
Engines: 2 x Scania D13/800
Gyro: Seakeeper 6
MFD: Simrad 2 x 19″
Sonar: MAQ Omni
Interceptors: Humpree 900
Entertainment: Fusion 750
Camera: Flir M232
Sunroof: Webasto
Generator: Onan
Capstan: Muir
Icemaker: Dometic Eskimo Salt Ice
Drive Train: Shaft
MAQ OMNI SONAR 
Ian Witters says one of the best pieces of kit he has aboard Distinction is the MAQ Omni Sonar, a 360′, high performance, stabilised, omnidirectional fishing sonar. (Effectively underwater radar, looking out to 1,650 metres in every direction).
His MAQ Omni Sonar model 60 allows him to continuously scan the water column up to 1650m around the boat. The Omni can find fish schools faster, and it is around those schools that potentially marlin and other big fish will be loitering. The Omni can approximate size/weight, allowing a fisherman to select small schools of fish and track them well before seeing them on a conventional sounder. 
Ian says that he finds the MAQ Omni Sonar a suitable replacement for not having a tower and even though he always intended to add a tower, he is now not in such a hurry to install one. "We find the sonar takes a lot of the guesswork out of looking for baitfish and that has resulted in several hook-ups because we go to where the big fish are and not waiting for them to come to us, and it is still very early days for us", says Ian.
The MAQ Omni Sonar has a simple to use joystick, and a variety of settings to tune the unit to the given conditions, and target species. It also has audio, that reacts when your target species are in the zone. Fish can be tracked by selecting auto or manual mark. 
The transducer is designed to optimise target detection and tracking of near-surface or near bottom targets, making MAQ ideal for shallow water fishing where detection distances are typically 20 times the water depth. Highly directional 5-degree vertical beams are stabilised to ensure target detection in all weather conditions.
The MAQ Omni sonar has either 22kHz, 60kHz or 90kHz transducer frequency and an optional RDT feature increases detection distances by increasing transmitter output by four times.
Omni Directional Sonar is viewing 360 degrees around the boat on every transmission pulse. 
| | | | | |
| --- | --- | --- | --- | --- |
| RPM | Knots | L/h | L/NM | Range  (NM) |
| 650 | 7.5 | 7.5 | 1.000 | 2700 |
| 1000 | 10.2 | 44 | 4.400 | 630 |
| 1100 | 10.7 | 55 | 5.200 | 530 |
| 1200 | 11.4 | 84 | 7.400 | 370 |
| 1400 | 17.1 | 114 | 6.700 | 410 |
| 1500 | 18.6 | 137 | 7.400 | 370 |
| 1600 | 20.7 | 158 | 7.700 | 360 |
| 1700 | 22.9 | 177 | 7.800 | 350 |
| 1900 | 26.9 | 209 | 7.800 | 350 |
| 2000 | 29.1 | 227 | 7.900 | 350 |
| 2100 | 30.2 | 257 | 8.600 | 320 |
| 2200 | 31.3 | 288 | 9.300 | 300 |
| 2230 | 32.1 | 293 | 9.200 | 300 |