THE START OF AN EVOLUTION
Getting back to Australia after over 14 months of being locked out due to Covid was long overdue. Then, being the first to review Maritimo's new S55, the latest edition to their growing sport sedan motor yacht range, made it even better. 
I have always been a big fan of sport sedan boats and have reviewed my fair share of them around the world. Cruising at 40 knots down the Adriatic coast in 20m Italian rocketship or punching out in 20 knots to Great Barrier Island in Auckland's Hauraki Gulf in a locally built 13m sedan, I have always found this style of boat works for me. Some say if you don't have a flybridge, you don't have a complete boat. I can't entirely agree, and while there is a place for flybridge cruisers, I favour the one-level sport sedans. That said, there are many superb flybridge boats, and Maritimo is one company that offers some of the best examples.
You only have to look at their complete lineup to see that they have both ends of the market covered, and with new releases, equal importance is given to both sport sedans and flybridge. Their full range now consists of six flybridge and six sedan or sport cruisers, and in most cases, apart from the X Series, the identical hulls are used for both the M Series (flybridge) and S Series (Sport Sedans).
The S55 was released at the recent SCIBS 2021 and attracted a fair amount of attention, with a number sold at or soon after the show. These include boats for not only Australia and New Zealand but also North America. Maritimo reported that this had been one of the most successful new model releases since the company was founded in 2003. The S70, S51, and the soon-to-be-released S600 have helped consolidate the brand's position as a serious builder of sport sedans.
Director of Design Tom Barry-Cotter says that the new S55 sedan motor yacht marks the first of an evolutionary design shift to the exterior form and styling within the S-Series range.
Tom is quick to point out that the S55 is not simply an M55 without a flybridge. 
"Early on, we worked on developing a hull platform that would work for two distinct models in the mid 50-foot category, but that's where the similarities end", says Tom.
He added that the final layout of the S55 was based on a considerable amount of market research to determine what the market was looking for in an offshore performance sports motor yacht. 
The result was a boat that features large cockpit and deck space, distinct areas that flow seamlessly, expansive coverage and protection aft and an offshore capability. In fact, the amount of floor space offered in the upper cockpit alfresco is more than most sedans in the mid 50-foot category. 
Tom added that they put an emphasis on the cockpit and aft deck areas as research has shown that that is where owners and their guests spend a lot of time, especially at anchor.
"We want to make this space as inviting and user friendly as possible, and with the all-new expanded cockpit hardtop coverage, we have not only extended the cockpit protection but also amplified the amount of area above, with our new utility deck", added Tom.
The hardtop utility deck is like having roof racks on your SUV and is designed to maximise the unused space. It can be accessed from the upper cockpit deck via an overhead hatch and ladder. You can fit a davit crane, and there is space enough for a tender. The recessed area would also suit a large sunpad, or you can leave it empty, and it doesn't impede on the aesthetics of the S55. Forward is a Webasto sunroof.
Driving the S55 on The Broadwater, the boat is slippery onto the plane with no appreciable hump when you accelerate. Tom says it is all to do with the balance of the boat and the fact they can best position the engines because they are shaft driven. The hull has a flat trim attitude and does everything very naturally. To keep the centre of gravity as low as possible, Maritimo has installed a triangulated fuel system, which sees 2500 litres stowed deep down on the keel under the master stateroom, plus two aft 1000 litre wing tanks. These are gravity fed, so only one filler is required. 
Maritimo's philosophy is their boats are designed to go long distance with moderate power and cruise at a reasonably comfortable pace. We recorded 248 lph @ 2200 rpm with a speed of 26.2 knots and range of 430 plus nautical miles. Dropping back to a more leisurely 20.5 knots @ 1900 rpm rpm, the fuel use was 172 lph, and the range increased to 480 nm.
Standard engines are a pair of Volvo Penta D11 @ 670hp. However, we had the upgraded Volvo D13 @ 800hp, which flat out at 2380 rpm gave the S55 a genuine 30 knots.
Along with the long-range cruising capabilities, Tom says that they emphasise making the boat cruising specific. This includes massive storage options throughout, a large household equipped galley and spacious accommodation that helps make those long cruising adventures so much more enjoyable. 
There is just one layout option available, although you do have a choice of fabrics and surfaces. The adventure deck features a high/low platform, wet bar, access to the tender/equipment garage and has dual access to the upper cockpit. There is plenty of deck space around the standard rear U-shape lounging and dining table and with a further option of opposing lounging flanking each side of the area. Vertical clear drops allow you to enclose the upper cockpit area completely. Deep, wide side decks (360mm) provide safe passage to the forward deck spaces, where Maritimo have added a large sunpad. 
Since 2003 Maritimo have designed their boats with an aft galley with an island counter. This seamlessly connects the upper cockpit deck and the enormous saloon lounging area. Injecting light and air to the saloon is the option of Maritimo's unique two-stage vista sliding windows and sunroof, which transform the areas into an indoor/outdoor escape. There is an overriding feeling of space, and the loungers are at the perfect height giving you 360 deg unimpeded sightlines. 
Loungers on either side can be transformed into extra accommodation, and the high/low table can be replaced with an ottoman. Starboard forward, the helm is graced with a pair of 22″ Garmin screens and flanked by all the necessary controls and navigational extras. There are twin helm seats, with the inner one being reversible to offer another lounge seat. The location of the 50″ TV has been strategically placed to be viewable from anywhere in the saloon and even out into the adventure deck. 
An atrium over the companionway to the accommodation area lets in natural light and gives a free-flowing aspect to the space. Three spacious staterooms and two ensuites are on offer, with a full-beam king master stateroom, offset queen forward stateroom, and a starboard guestroom, with twin singles or a slide together double.
All cabins have full height hanging lockers, floor to ceiling mirrors, natural portlight window ventilation and, like the rest of the S55, a proliferation of storage spaces. The master includes a private ensuite, centreline bed, 42″ TV, full-length side windows with opening ports and the option of a starboard side daybed, lounger, vanity or drawer unit. 
Tom says that the client base for the new S55 is quite broad, but certainly, if an owner has a height limitation where they are keeping their boat and may need to get under a low bridge, the S55 is ideally suited.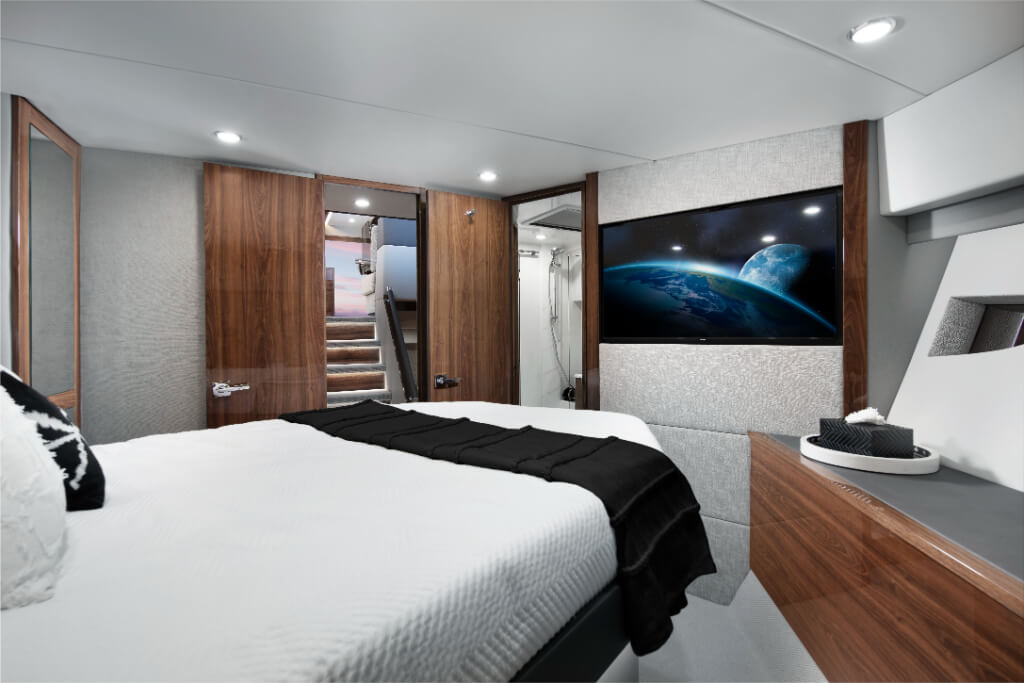 "Also inside the boat, that same scenario applies for our clients. We have a minimum of nearly 2.0m of height inside from the saloon to the heads", says Tom. 
Having recently reviewed the S51 and now the S55, the difference is considerable. The S55 is the first of the new evolution, not just an S51 with a metre tacked on the transom. While it is still true to the S Series core values; stable, functional, with tough ocean-going long-range capabilities, it goes a lot further, but with a contemporary makeover. It is still unmistakably a Maritimo.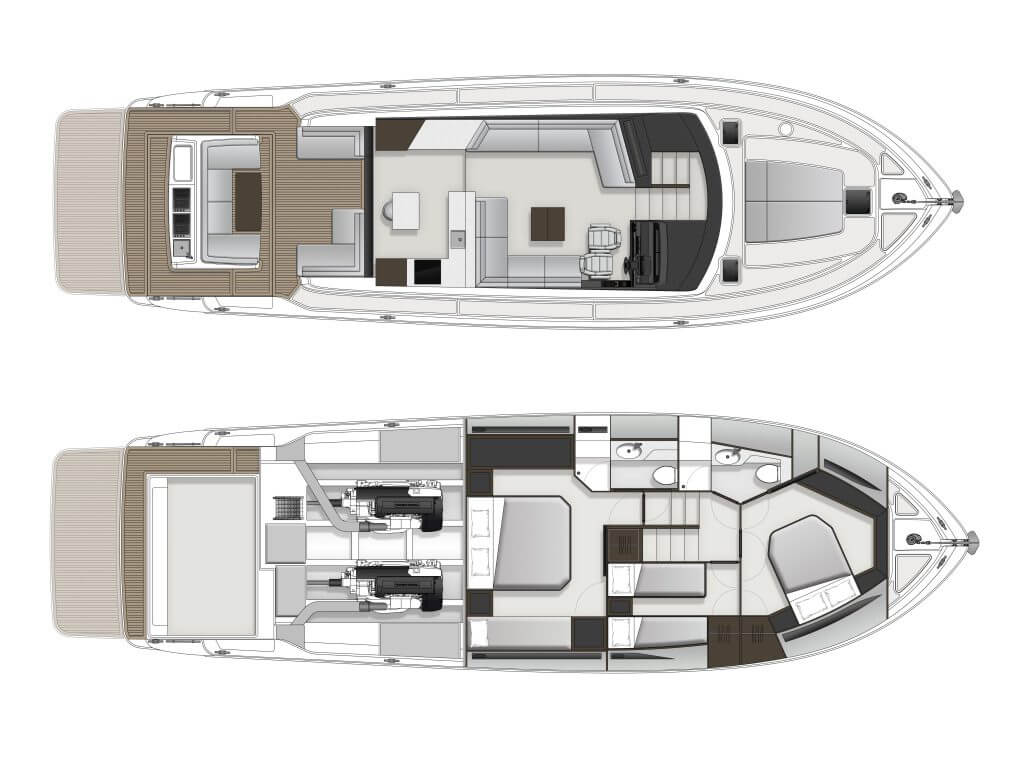 Sport sedans are also an excellent choice for those who don't like the idea of climbing a ladder or staircase to a flybridge and like to have all their boating on one level. With delivery time currently out to mid-2023, you'll need to sign up quickly if you want a new S55 for the summer of 2023/2024.
Model:  Maritimo S55
Year Launched:  2021
Builder: Maritimo
Priced From: AUD $2,146,430
Type: Sedan Motor Yacht 
Construction: GRP
Displacement (Dry): 29000 kgs
LOA: 12m
Beam:  23m                         
Draft: 35m                         
Power: 2 x Volvo D13 @ 800hp
Max Speed: 31 knots
Generator: Cummins Onan 17.5KW         
Propellers: 5 Blade Nimbral                     
MFD: 2 x Garmin 22"                                   
Autopilot: Garmin           
Underwater Lighting: Aqualuma Gen 4        
Entertainment: Apollo 
Cockpit Flooring: Teak
Anchor Winch: Muir
Davit Grane: Davco             
Thrusters: Vetus                          
Fuel Capacity: 4550 litres
Water Capacity: 750 litres
| | | | | |
| --- | --- | --- | --- | --- |
| RPM | Knots | L/h | L/NM | Range  (NM) |
| 600 | 6.1 | 8 | 1.300 | 3150 |
| 900 | 8.1 | 26 | 3.200 | 1280 |
| 1100 | 9.3 | 38 | 4.100 | 990 |
| 1300 | 10.2 | 74 | 7.300 | 560 |
| 1500 | 11.2 | 110 | 9.900 | 410 |
| 1700 | 16.2 | 144 | 8.900 | 460 |
| 1900 | 20.5 | 172 | 8.400 | 480 |
| 2100 | 23.8 | 226 | 9.500 | 430 |
| 2200 | 26.2 | 248 | 9.500 | 430 |
| 2300 | 28.2 | 276 | 9.800 | 410 |
| WOT | 30.1 | 296 | 9.900 | 410 |