Improving on Perfection
Text by Barry Thompson     
Perfection is described as the state or quality of being perfect or the action or process of improving something until it is faultless. There is probably a no more apt way to describe the new Maritimo X60 Sports Yacht.
If there had been an award for Boat of the Show at the recent Sanctuary Cove Boat Show, I would have given it to the Maritimo X60. The response to the boat, both from the industry and those attending the show was exceptional. It was an inspiring recognition for Tom Barry-Cotter, the chief designer behind the X-Series programme.
Son of Maritimo founder, Bill Barry-Cotter, Tom has recently taken a more active position in the business and while initially coming on board to head the X-Series programme, his role has been expanded to also included full-time marketing and sales. With father Bill taking a less public role, although still very much involved with the business, Tom is undoubtedly being groomed as the 'new' face of Maritimo.
A beach club on a superyacht is commonplace but almost unheard of on a 60 footer. Maritimo has nailed it with their beach club option, which is the piece-de-resistance of the X60.
The beach club sets the X60 – and the soon to be released X50 – apart from its competitors, with the versatile aft cabin space enabling a high level of customisation for owners to cater the space to their specific requirements. This spacious area allows an additional cabin accessible from the saloon and swim platform, that can be arranged as a beach club, additional stateroom, tender garage, euro galley and other custom options. What is traditional taken up with an engine room, or mechanical and engineering equipment has been transformed into 4m of extra space. In a boat of less than 20m that's a huge bonus and now provides the accommodation space of 25m.
"The additional aft cabin is completely unique and is resonating with buyers within the sports yacht market. The ability to add extra accommodation space that is similar in size to an additional master cabin in terms of volume, is clearly something special", says Tom.
In fact, the whole boat was initially designed around the aft cabin feature and involved some seriously complex engineering, getting the balance and structure perfect. The X60 is very much a superyacht that has been shrunk down.
Inherent in the X-Series bloodline is the company's race-driven performance prowess.
With a complete new efficient shaft-driven hull and driveline design, the X60 has been tested at speeds up to 34 knots with 925hp Scania power. Other power packages include a pair of Scania D13 @ 800hp or the Volvo Penta D13 @ 800hp or Volvo Penta D13 @ 1000hp. Tom says that they have had some enquiry for even more horsepower from potential owners that are looking for speeds more than 40 knots. He is quite confident that a pair of 1200hp engines would be suitable.
Hull efficiency within the cruising speed range was a significant focus of the hull and driveline design and the X60 has the best efficiency numbers of all Maritimos. At 2000 rpm @ 27.9 knots, the X60 recorded 250 lph for a range based on 90% fuel capacity of 420 nm. I found around 18-22 knots was an ideal cruise range for the X60 and returned a range of about 450nm. If you are towing lures, then you could drag them for over 2000nm before running out of fuel.
One of the most noticeable things when the boat transitions from idle to plane, is just how flat it remains with no noticeable bow lift. The variable deadrise hull design with deep-v bow entry, also offers a soft dry ride, while weight distribution within the hull design allows for a low running attitude throughout the RPM range. It is a well-balanced boat that is effortless and very cool to drive.
We were on the plane at 10-12 knots and with no tabs! You can sit at the helm and not have your visibility forward obscured by the bow lifting over the horizon. Plus, the acceleration from zero to maximum speed, in our case around 33 knots was amazing. I can see where the race-bred technology has come from.
Marina manoeuvering is made very easy with the Twin Disc EJS joystick systems. The X60 is fitted with Twin Disk Quickshift transmissions, EC 300 Electronic Control System, Express Joystick and has the option of being equipped with Express Positioning System technology which enables precise and continuous position and heading hold.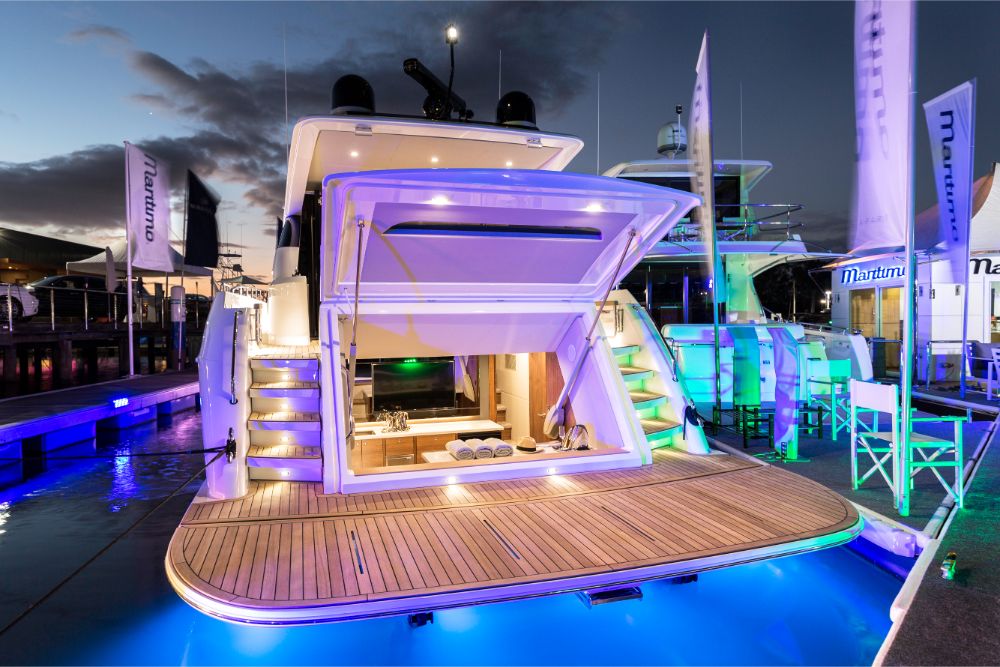 Much as the aft cabin defined the rest of the hull, so too did the panoramic side windows which open an impressive 2.8m each side of the saloon. How the rest of the deck and hardtop was styled was determined by the massive sliding side windows which cascade aft and intensify the brightness, natural air flow and lightness of the saloon area. This is an awesome feature of the boat and one that was mentioned as much as the beach club by visitors looking over the boat at SCIBS.
But wait there's more! While most sedan cruisers have a forward sunroof, in the X60 there's two, with the addition of a separate sunroof over the galley. "We felt that a rear sunroof gave us the ability to light up the rear of the saloon and especially in the galley, where solid side panelling tends to shade this essential space", says Tom.
The saloon layout is traditional with an aft galley to port, with island counter, forward U shape settee and dinette area, with the helm and the second lounger to starboard. Twin helm chairs are standard and you have the choice of a variety of displays and electronics. I especially liked the new reconfigured dash which can take twin 22″ MFDs, plus separate recess for the engine management displays. All controls are within reach and the screens in perfect eye line. Outstanding.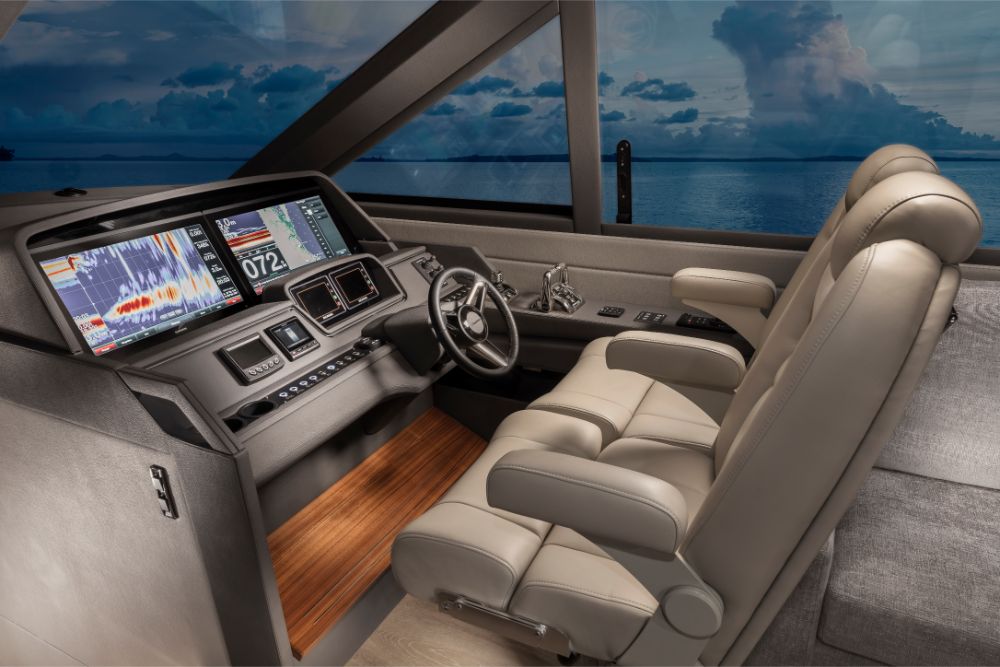 The fact that you can get four large cabins into a 60 footer is impressive, but it doesn't stop there. You have a multi-choice when it comes to the accommodation with different layout configurations that maximise the space available.
Depending on how many beds you want aboard, you can have up to four cabins, or as little as two. If you go for the beach club or tender garage aft, then you can still have the standard three cabins, with a full-width master, forward VIP and port side guest cabin. However, you can just go for two massive forward cabins with en-suites and go for the Regency option which gives you get a third cabin aft. Plenty of choices to suit your needs.
Development has also commenced on the next model within the X-Series Range, a Maritimo X50 – which the company is closely guarding until its introduction at Sydney International Boat Show with its world premiere scheduled for 2019.
The X60 is Maritimo's first serious foray into the luxury sports yacht market and has been designed to give them a competitive edge in a very competitive market. They classify their S Series as sedans and X Series as sports yachts and there is a distinct difference. Maritimo is entirely different from a lot of production boat builders, as they offer a full customisation service so the standard layout can be altered throughout the boat, something that most large production boat builders will not do.
"We wanted to come out of the gate firing and we reckon we have achieved it with the X60. It was a huge undertaking, in fact the longest gestation period ever by the company, as we wanted to make sure that from the day boat number one was launched, we had everything right", says Tom.
After spending some time aboard the boat with Tom, I reckon they have cracked it in one!
Boat Design Name: Maritimo X60
Year Launched: 2018              
Builder: Maritimo            
Designer: Maritimo                     
LOA: 19.42m                  
LOH: 18.16m                       
Beam: 5.21m               
Displ (Dry): 30500 kg           
Max Speed: 33 knots          
Construction: GRP           
Fuel Cap: 4200 litres  
Water Cap: 800 litres            
Engines Make: 2 x Scania DI 13 @ 925hp.          
Drive Train: Shaft
Propellers: 34" x 49"                      
Generator: Onan 17.5 kW
Thrusters: Twin Disc & Vetus           
Air Con: Cruise Air
Sunroofs: Webasto                                 
MFD: 2 x Garmin 22" 
Underwater Lights: Aqualuma             
Price of Boat: $AUD2.232,000
FUEL & PERFORMANCE DATA

MARITIMO S60

Fuel capacity:

4200

litres

 

RPM

Knots

L/h

L/NM

Range (NM)

650

7.4

12

1.700

2200

900

9.6

35

3.700

1000

1100

10.7

63

5.900

640

1300

12.0

108

9.000

420

1500

17.2

137

8.000

470

1700

21.5

176.5

8.300

450

1900

25.8

228

8.900

420

2000

27.9

250.5

9.000

420

2100

29.4

281.5

9.600

390

2200

31.0

307.5

10.000

370

2300

33.0

338

11.000

340
L/NM is calculated to two significant figures and rounded up. Range is calculated to two significant figures and rounded down. To allow for adverse conditions, range is calculated on 90% of the fuel capacity.