Irish mixed martial arts champion, Conor McGregor has taken delivery of a new Lamborghini 63 yacht. 
Conor McGregor had purchased one of Tecnomar's sixty-three Lamborghini 63 yachts in October 2020, and now he has finally gotten his hands on the yacht. In October 2020 the Irishman had previously detailed the Lamborghini yacht and explained why he was honoured to receive the twelfth edition of the Lamborghini yacht.

In the lead up to his UFC 264 fight against Dustin Poirier recently, Conor McGregor spoke briefly about the Lamborghini.
He now has the superyacht to match his cars. Manufactured in partnership between Lamborghini and The Italian Sea Group, the Tecnomar 63 is the attempt by both brands to make a Lamborghini Sián FKP 37 for water.
The high-performance dayboat doesn't just bear the name of the famous Italian automaker; it's been specifically designed to live up to the exacting standards set by its storied supercars.
Cutting a relatively low profile, it's got a carbon-fiber superstructure that's adorned with angular side windows that help create the front and rear hexagonal shape found on almost all of Lamborghini's cars. The visual references don't stop there, either.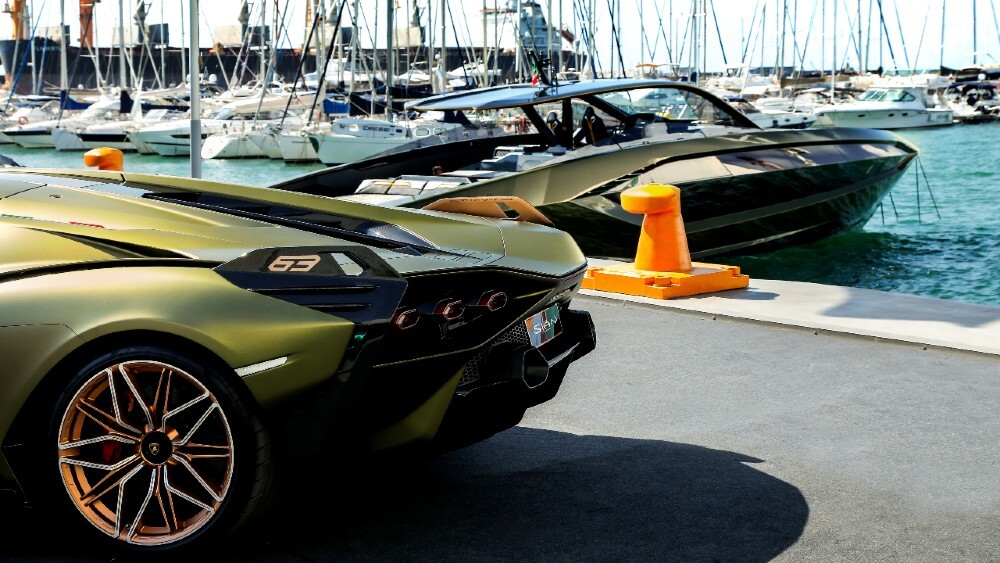 The boat is also painted the same verde gea green as the Sián and features two pilot seats like those found in the Huracán Evo, while the helm is based on the Aventador's steering wheel. One big difference between the boat and supercars: The 63's interior is surprisingly spacious, featuring two discrete bedrooms.
In the same metallic green colourway as the hybrid sports car, the 24-ton Tecnomar 63 measures 19m in length. Powered by two MAN V12-2000HP engines, top speed is 60 knots. At the cruising speed of 40 to 45 knots, the yacht burns 378 lph, giving it a range of 360 nautical miles.
McGregor, who is a huge fan of flashy vehicles, took to Instagram with the caption "My Lamborghini yacht is ready." Known for also buying luxury items in his lucky green colour, such as his Rolex watches.