Barry Thompson went to Taupo to check out the newest Maverick power cat and along the way picked up some handy hints from the experts on how to catch trout.
I really enjoy adding something extra to a boat test, so when it involves fishing, then you've got me. While 99% of my fishing has always been on salt water, the chance to try my hand at catching a Rainbow or a brown and at the same time test the new Maverick 500 Renegade power cat, seemed like a great opportunity.
So it was appropriate that the boat I was to test had just been purchased by Taupo-based luxury accommodation and guided fishing trip company, Fish On A Fly, so I was certain to have some expert help. The boat is used in conjunction with a brand new lakeside fishing lodge, which was only a few weeks from opening when I arrived in town, but the boat was rigged and ready to go.
My fishing guide, Chris Bignall reckoned that for the time of year, the weather and probably according to his secret fishing diary, that Lake Rotoaira was the place to go. I haven't caught a trout in years and I am a total novice when it comes to fly casting. I was keen to learn more and it seemed I had the right guy to teach me.
But unfortunately, due some very strong winds across the lake, I didn't get a chance to discover the secrets of fly casting, but that I will save for another time when I head back down to Taupo and hopefully also check out the new lodge.
Lake Rotoaira is a relatively small lake situated between Lake Taupo and Mount Tongariro. For Maori people, this lake has long been a highly prized eel fishery. When trout were introduced to the central North Island region in the late 1800s, the lake became an internationally renowned trout fishery.
While the sky was blue, there was a bitter 25-knot wind coming off the snow capped mountains and a stiff chop right across the lake. Water temperature was a mere 8 deg. Chris gave me a spinning set-up that was not unlike my soft bait rig.
The only difference was the spinner. The technique was the same, so I had no trouble mastering casting across into the 2 – 4m shallows off a river inlet.
While Chris fought the wind with his fly casting, I did manage to land one small and one extremely small trout, so it wasn't all bad. What it did demonstrate was why the Maverick 500 Renegade was the ideal package for Fish On A Fly. Unsurpassed stability, coupled with copious working deck space makes it the perfect boat for 2-4 fishermen, depending on if they are using flys, jigs or in the saltwater, soft baits or pillies.
But back to the boat. When you talk to David McLellan, you straight away knew that the founder and CEO of Maverick Marine is passionate about power cats. It's a sector of the alloy trailer boat market that has few players and although it's growing, it's never going to rival the conventional monohull for numbers.
But then that's fine, says David, he is happy to spread the good word about trailerable power cats and pick up as many converts on the way as he can. Maverick Marine, founded just a few years ago, started with a 4.5m centre console, but that was given an upgrade to 5m and the range is now the 500 Renegade centre console and 500 cuddy cabin.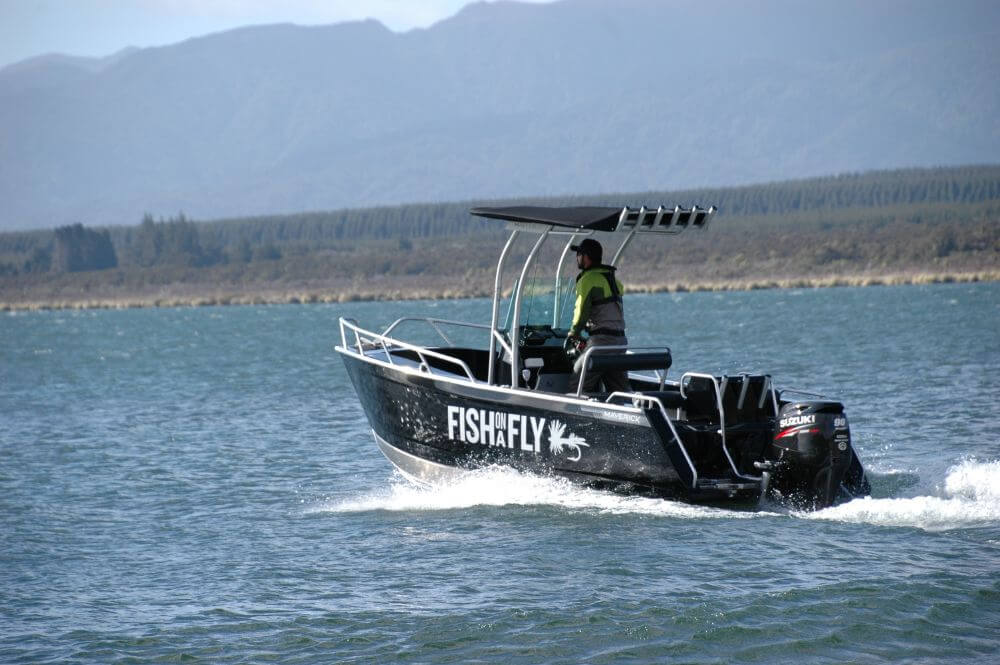 Fish On A Fly's Maverick 500 Renegade features very much the standard centre console layout but is also available with a variety of seating and style options. The console is the command centre of the boat, with a generous facia for large MFDs and all the necessary controls, switches and instruments. Our boat was fitted with a Humminbird 899ci MFD, GME VHF and Garmin engine management displays. There is access below through a large So Pac hatch.
Overhead, the bimini frame is robust and comes complete with removable bolts so you can fold it down when garaging. Chris commented that he also removes it totally when there's two or more flyfishing, as it gets in the way.
Up forward, the 500 Renegade comes with a raised casting platform in the sole ( with storage under) as well as another great casting space at deck level, either side of the open anchor locker. Certainly a perfect setup for soft baiting as well as casting flys or spinners.
Across the transom, the standard layout includes a central live bait tank, which has been removed and replaced with a storage locker and small bait board/table. Below are the battery stowage and either side very neat adjustable seats. Not only can the backrest roll cushions can be removed, but the seats can fold down, leaving a lot more workable floor space down aft. There is transom walk throughs either side of the engine onto a large boarding platform with well placed solid handrails and a fold down dive ladder. Twin tote tanks are kept under the walkthrough steps.
While the Fish On A Fly boat came with a double bench seat, complete with a reversible backrest and an 80-litre cooler box below, you do have the option of other seating styles.
Elsewhere in this magazine, Mike Rose has put together a feature on power cats and he talks about the advantages catamarans have over monohulls. The main benefits are a softer riding hull, more stable at rest than a comparable-sized monohull and as much as 40% more interior space than an equivalent length monohull would give you. Now all that is very impressive, but despite the benefits, trailerable power catamarans are not as popular as you would think they might be.
I have had a lot to do with cats over the years, from specialist offshore race boats to running a Shark Cat 17 for a season and later a Robson designed Kona cat. If there is one thing I remember, it's just how smooth and soft riding they were and what great fishing platforms they made….well maybe not the race boats in the fishing department! There are two hull forms used for power cats, asymmetrical or symmetrical.
Maverick is an asymmetrical planning catamaran, which sees the hulls perpendicular (flat) on the inside of the hull, but curved on the outside. Effectively there is a tunnel running between the two hulls (called sponsons).
The faster the cat goes, the more air can enter the tunnel. This mixes with the spray from the hulls to form a cushion of foam and air. This gives the hull lift and reduces the area in contact with the water surface. A cat's hull displacement spans less than one-third of the beam, allowing it to slice through the water easily.
The two hulls sit down in the water when the boat is at rest, providing an exceptionally stable platform for fishing, as I found out on Lake Rotoaira. Three anglers on one side make virtually no difference to the boat's stability. The broad floor area and super stable bow casting platform have all been designed with fishing in mind.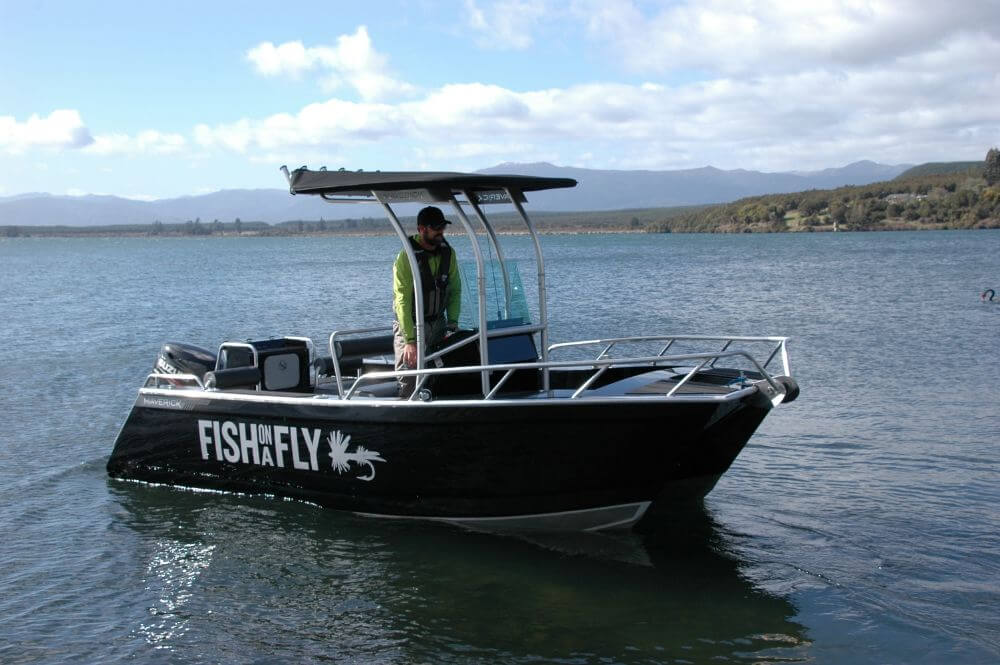 Safety is another huge aspect of the Maverick power cat, with a free draining deck that ensures any water that comes aboard can quickly drain away. There are also several watertight compartments built into the hulls giving it positive buoyancy. When you add to that over 1600 litres of reserve buoyancy, you would be hard pressed to sink a Maverick.
The Maverick 500 is suitable for single outboards, 60-90hp, with Fish On A Fly powered by a Suzuki 90. Top speed was 22.1 knots (25.5mph) @ 5000 rpm, with a maximum fuel usage of 25.3 lph. Interestingly when you bring the rpm back to 4500, the speed only drops 21 knots (24.2 mph), but the fuel went down to 15 lph.
Driving a power cat is quite different to driving a monohull, especially in the turns. The Maverick 500 leans outwards, so you need to be conscious of just how the hull is going to react. It's no problem but does take some getting used to. Also, trim is critical and the Maverick seems to like plenty of it. Too much in-trim and you get bow steer, but a flick of the trim switch upwards will quickly eliminate that. The Suzuki 90 was also fitted with a Permatrim plate, which I think certainly attributed to the smooth and low entry onto the plane. There is very little bow up-angle, from either a slow or full power take-off.
The lake conditions were short, white capping and very windy…did I forget to add cold! Running with the waves, the Maverick romped over it and gave a smooth cushion effect ride. Turning and running into the white capping waves, the wind under the tunnel helped give the boat lift and apart from some wave slapping on the tunnel, ran well. There is certainly no hull noise otherwise.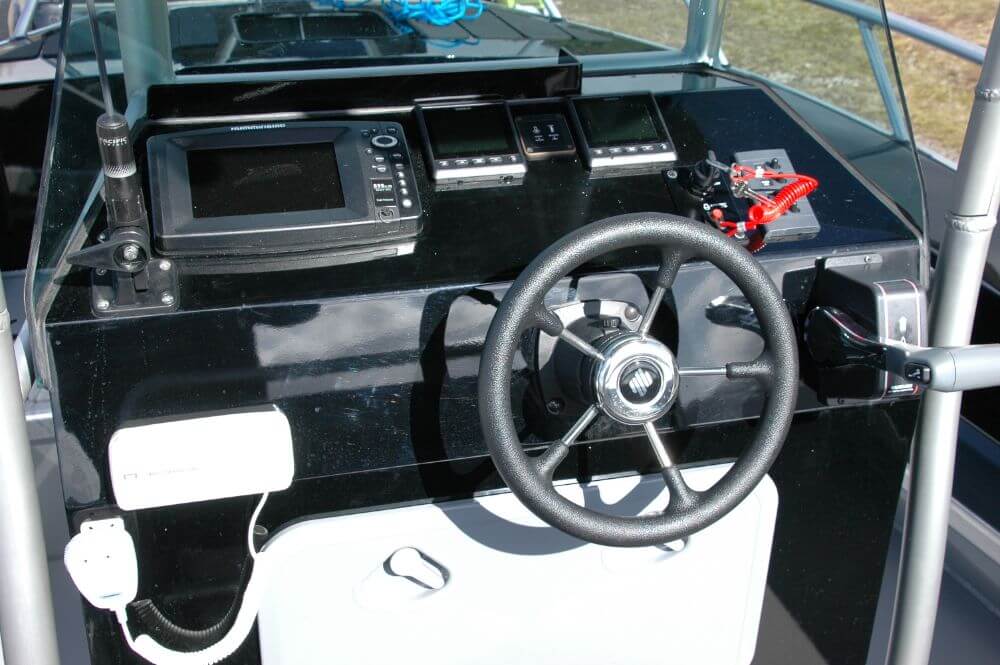 If you are in the market for a stable platform for your fishing fix and want a small easily handled boat that has a better than average performance, a great ride in choppy water and loads of space, then the Maverick 500 power cat is worth a look. You may not be a catamaran convert, but you soon could be.
Model: Maverick 500
Designer: Hall Marine Design
Type: Power Catamaran
Construction: 4mm Alloy
LOA: 4.93m
LOH: 4.50m
Beam: 2.27m
Deadrise: 20.5 deg
Test Power: Suzuki 90
Propeller: 18" 4bld S/S
Top Speed: 21.1 knotes (25.5 mph)
Power options: Outboards 60-90hp