PUNCHING ABOVE ITS WEIGHT
The McLay 661 CrossXover is a fantastic reimagination of two of McLay Boats top sellers. It has been designed to fit nicely in the 6.5m boat range that is the holy grail of kiwi boating. Its large enough that it can handle most weather conditions that many kiwis choose to go boating in yet small enough to keep at home and trailer around the country without needing a Mack Truck. Richard Milner headed to the beautiful Lake Wanaka to check it out.
First Impressions:
At first, I have to admit I mistook the boat for another McLay at the ramp in Wanaka as the McLay brand certainly has street or perhaps I should say ramp appeal. But a moment or two later it became apparent that the McLay 661 CrossXover was the boat standing proud on the jetty presented in a beautiful blue.
The 661 CrossXover is an aluminium hardtop boat that is finished to a great standard. There are no strange welds present that were left because they couldn't be bothered, no loose ends or unintentionally bare alloy. This alloy boat has the finish that many glass boaties would be proud to show off at the ramp or to their mates.
It struck me early on how carefully thought out the McLay 661 CrossXover is. Its wide, heck its impressively wide and the concern grows quickly that it might handle like a barge. I'll stop you in your tracks here – It didn't and more on that later.
We quickly got on the plane with plenty of power and without the tabs the boat rides slightly bow up but not uncomfortably so and a touch of tabs had the pointy end set dead on its target at the other end of the lake. We wandered out way up the lake sorting out fuel figures and I was quite happy to let someone else drive for a change and it really let me get a sense of the boat.
It appeared at this early glance to have all the parts in the right places, heaps of space and gave me the impression I was in for a treat. Lake Wanaka also turned on yet another stellar day. What I mean is these boat tests I keep doing are rarely on snotty days. I need to speak to mother nature about this.
Power and Performance:
We started out heading away from the Ramp with Steve on the helm and man he doesn't hang about. Man after my own heart. The McLay 661 CrossXover was powered with a Mercury 175 which at first glance appeared a little small. Indeed, my glass 6.5m had a 175 on it when I bought it and while it was ok there was but one speed as it was underpowered. Would this be the same I wondered? Steve assured me that the boat would soon to be repowered with a Mercury 225, but with the stock shortages around this engine, the Mercury 150 was used as a starting point.
We quickly got on the plane with plenty of power and without the tabs the boat rides slightly bow up but not uncomfortably so and a touch of tabs had the pointy end set dead on its target at the other end of the lake. We wandered out way up the lake sorting out fuel figures and I was quite happy to let someone else drive for a change and it really let me get a sense of the boat.
With the Mercury 150, we topped out at just on 33.5 knots and the boat felt nimble yet planted in the water. A happy cruising speed of around 25 knots gave great performance and still meant we got from A to B to J with minimal fuss.
Shortly after returning to the factory at Milton, Steve was able to replace the Mercury 150 with a Mercury 225 Pro XS V8 and what a difference. The top speed increased to just shy of 40 knots and the best cruise speed to 31 knots. The V8 is an incredibly smooth, quiet and responsive engine that delivers exceptional fuel economy. The V8 has impressive torque throughout the range and at slow cruise the fuel consumption is not much more than then V6 150. At WOT the Mercury Smartcraft indicated 80.5 lph, but when you drop the rpm back to around 4500 rpm that halved. Trolling speeds is around 10 lph. In my opinion the higher 225hp is the better match and lets you get the best out of this great hull.
THE DRIVING EXPERIENCE:
Enough of being chauffeured around it was time to have a play. On the helm it immediately struck me that it felt like we were on a much larger boat the low dash and rounded hardtop window made the helm area feel expansive.
I wasn't squashed in between the chair, the steering wheel, and my face against the glass like many boats of this size. No, instead there was plenty of room. Naturally I favoured the standing position leaning against the seat.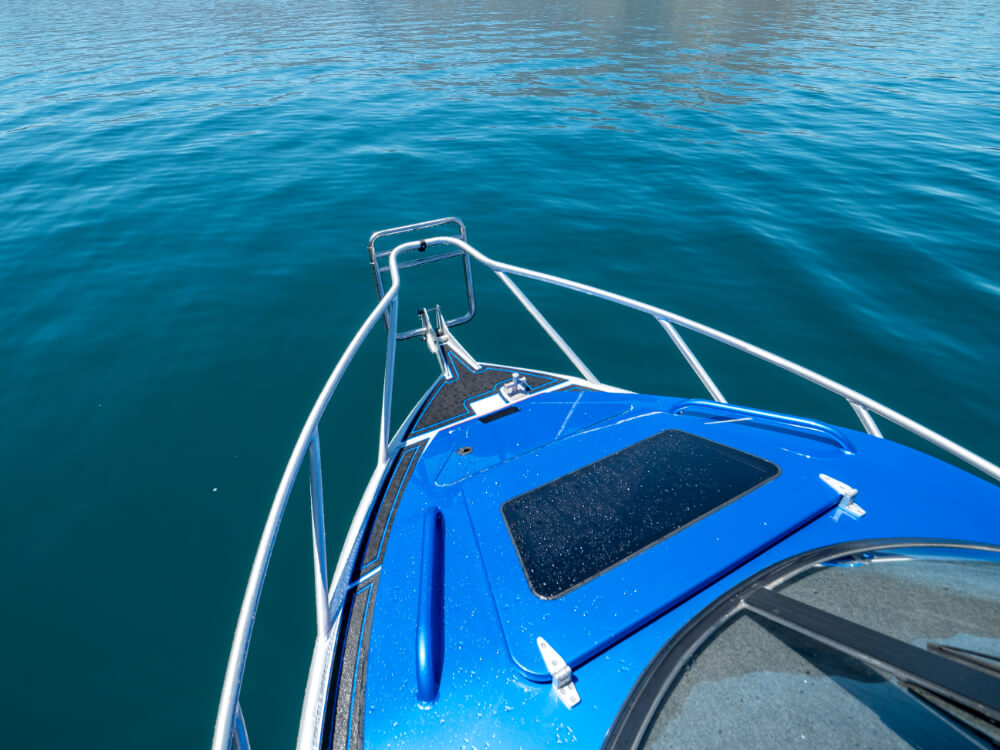 The throttle was sensibly located, and the wheel was comfortable and light. It was apparent that thought had gone into this design. The helm itself was simple with a large MFD, tabs and switches. VHF and stereo are placed in the roof section which makes it easy to locate and allows the whole boat easy access.
The overhead configuration isn't my personal favourite and Steve happily said that being a manufacturer that prides itself on working closely with its customers, anything is possible and there is certainly room on the helm area to tuck these items away.
I admit I had to sheepishly check that the Mercury was in fact running. Damn these engines are quiet at idle. In my typical fashion it was from zero to WOT and the Mercury 175 accelerated smoothly, and the boat jumped out of the hole in a good time. I do feel slightly more power is needed. Up on the plane with the water about my feet she felt the business. I had earlier concerns that the boat would drive like a barge and handle like a tank like many wider pontoon boats but not the McLay 661 CrossXover. It sat flat in the water but in the turns didn't hesitate to sink the chine in and corner nicely. For a change this boat felt great at the cruising speed and didn't give me the desire to constantly put the hammer down. I feel the nice combination of a pleasant helm area, great visibility and a sense of freedom helps this sensation.
COCKPIT AREA:
Right down to the working end there is plenty of space for your fishing gear. The side stow areas will tidy those rods away as will the rocket launcher on the top. There is space in the King/Queen Seats for your tackle or tucked away in the bait board drawer. I could tell the pedigree of McLay Boats has all about fishing.
Ok so you don't fish – no matter, as the large hardtop has ample space for a small soft bottom dinghy or the water toys. The huge cockpit area has plenty of space for entertaining, taking the kids, cuzzies and half the neighbourhood along to boot. The McLay661 Cross Over is over 80mm wider than its predecessor and this small, yet critical change has made the cockpit area rival even a 7m plus boats. It's truly fantastic.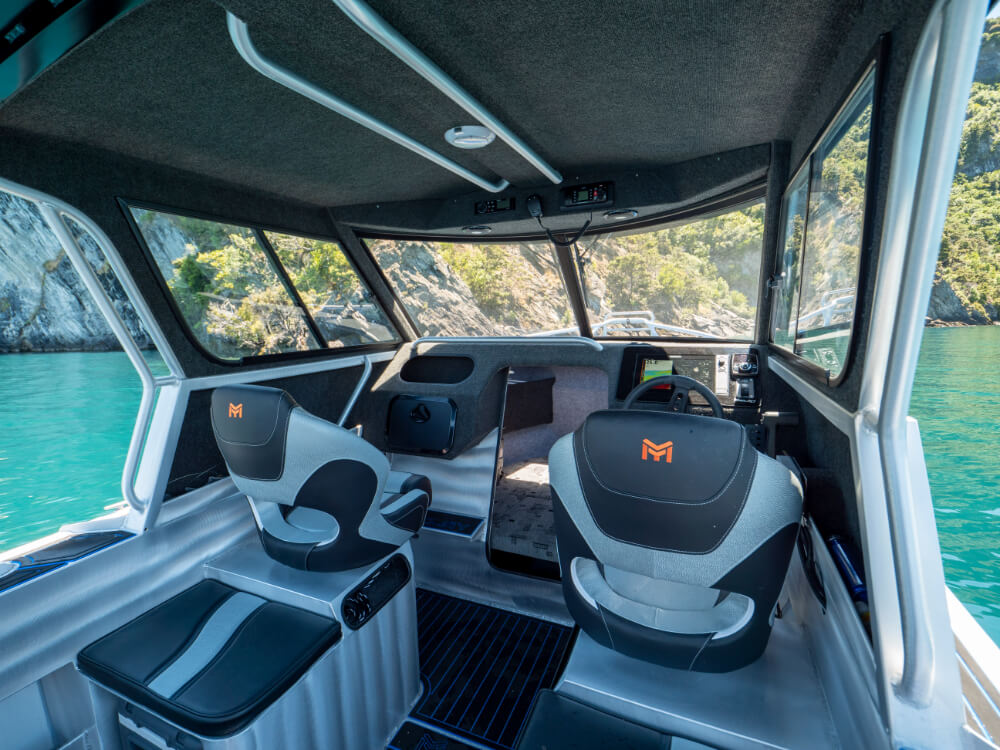 The King /Queen seat arrangement in this boat had a chilly bin tucked away under the port side and a box storage area on the starboard side. Steve tells me that a small cooker arrangement could be added here. The aft bench seat folds down or can be tucked away when using this space. All the electrics are out of sight but with easy access and off the floor which while simple by design so many get this wrong.
The electronic s package was very extensive with Simrad NSS EVO3 with 1kW thru-hull transducer plus a Structurescan transducer. I was impressed with the clarity of the Simrad which showed a clear image all the way to the bottom at 250m. The 661 dash is a urethane pan; with everything a nice flush fit, with controls all easily at hand.
There are plenty of hand holds all over the boat so you will never be short of somewhere to hold on.
On the transom there is ample space with a shelf that runs all the way across. The outboard doesn't get in the way, there is a ladder and neat handhold to help you get out of the water. A wrap around railing is available which would add another two fishing positions to this already large dimension mid-sized trailer boat. There is a port sidewalk through with live bait tank underneath and a tidy placement for the walk-through infill.
SUPER STABLE
The McLay 661 CrossXover is a pontoon boat. McLay have managed to build that pontoon D-cell into the hull hiding it away yet benefiting from all the pros of the pontoon design. Added buoyancy, handling in the rough and most importantly stability that no normal boat of this size that doesn't have tubes or pontoons can offer. Without being rude, two of the three of us on the review were not skinny runts. With the three of us on. one side the boat retained exceptional stability without excessive lean. Yet another reason this McLay 661 CrossXover punches well above its weight
INSIDE
The forward cabin at first glance seems a touch tight but there is enough room for the average Kiwi bloke to be comfortable lying down. There is an infill squab for a cuddly couple or somewhere to send the kids when the fishing is hot, and the whining is hotter. Side windows are large enough to provide some natural light.
For the self-aware there is a loo downstairs plumbed in as well. There is a hatch in the roof for air and for forward access. In yet another stroke of genius there is another window in the hatch that provides a good amount of natural light. A lockable sliding door finishes it off. It really is quite the package.
In the forward deck area there is a step-down ladder arrangement for the lake and river boaties and to be fair I'd like to install one on my boat for the Gulf too. There is room for a drum winch in the anchor locker. The side decks have a sensible amount of space to walk around from the cockpit and even with my large feet this was no problem. The light bar was a nice touch and I imagine for late night adventurers this makes the typical 4 LED light quiver in its boots. Like everywhere else it all makes perfect sense. Yet again it proves that McLay has been around the traps for some time.
WHAT DO I REALLY THINK
Since I own a 6.5m boat and most of my family boating has been done in this range it's a little unfair to have me test this boat. It means I have quite high expectations. Steve can rest easy as I can say I'm suitably impressed. The finish is good, there is carpet and deck tread where it is meant to be. Fittings aren't carelessly added over these surfaces. Equipment is where it should be. The helm and its curved windscreen are a real winner for me.
The hard top pillars aren't enormous and don't take away too much vision. The helm is functional. I like that.
With the 175hp outboard this McLay 661 CrossXover is a good fit. It has enough power, economy and get out of jail performance. I do feel however that going to the 225 hp V8 is the right option and is a perfect marriage. That extra power enables the boat to lift its bum and let all the others in its class know who is boss. The cockpit area is large it's very large and very usable.
If you are fishing, exploring our great marine playgrounds, using it for work or towing water toys, the McLay 661 CrossXover should be a must on your shopping list.
Model:  McLay 661 CrossXover Hardtop        
Year Launched:  2022               
Priced from:  NZ$111,300 with Trailer & 150 Mercury
Price as tested: NZ$155,100 with 150 Merc
Price: NZ$171,600with Merc 225 V8
Type: Hardtop 
Construction:  5mm/4mm Aluminium
LOA:  6.65m
Beam: 2.33m
Deadrise: 18 deg
Height on trailer: 2980 kg
Trailerable Wgt: 2100kg
Power:  Mercury 150
Top Speed: 32.6 knots
Power options: Outboard only 115-225hp
Propeller: 15" Enertia for 150 Merc 16" Enertia for 225 Merc
Fuel capacity: 220 litres
MFDs:  Simrad
Flooring:  U-Deck
Drum Winch: Savwinch
Entertainment:  Fusion
Trailer:  Toko Trailers
Manufacturer:  McLay Boats
PERFORMANCE & FUEL DATA – MERCURY 225 V8
| | | | | |
| --- | --- | --- | --- | --- |
| rpm | knots | L/h | L/NM | range (NM) |
| 1500 | 6.2 | 7 | 1.1 | 132 |
| 2000 | 7.2 | 11 | 1.5 | 97 |
| 2500 | 9.2 | 16 | 1.7 | 88 |
| 3000 | 7.1 | 11 | 1.5 | 96 |
| 3500 | 22.2 | 23 | 1 | 143 |
| 4000 | 26.6 | 33 | 1.2 | 120 |
| 4500 | 31.1 | 43 | 1.4 | 109 |
| 5000 | 34 | 49 | 1.4 | 103 |
| 5500 | 38.2 | 70 | 1.8 | 81 |
Note: Range is based on 90% of fuel capacity, in calm conditions.
PERFORMANCE & FUEL DATA – MERCURY 150 V6
| | | | | |
| --- | --- | --- | --- | --- |
| rpm | knots | L/h | L/NM | range (NM) |
| 1500 | 6.6 | 5 | 0.7 | 196 |
| 2000 | 8 | 8 | 1 | 152 |
| 2500 | 12.5 | 13 | 1 | 144 |
| 3000 | 18.5 | 16 | 0.8 | 175 |
| 3500 | 22.6 | 20 | 0.9 | 171 |
| 4000 | 22.3 | 28 | 1.3 | 118 |
| 4500 | 26.3 | 34 | 1.3 | 115 |
| 5000 | 29.5 | 43 | 1.5 | 101 |
| 5400 | 32.6 | 54 | 1.7 | 89 |