The Cruiser Hardtop 701 Gen2 is the latest addition to the growing line-up in the Cruiser Series for McLay Boats. Barry Thompson went to the picturesque Lake Wakatipu to check it out.                 
Over the years I have reviewed a lot of McLay Boats and what always impresses me is the variations and innovations that the company manage to put into ever new model. Just when you think they have their model range sorted, they go and add something else.
Steve McLay, owner, designer and a genuine nice guy has an affliction when it comes to wanting to produce something new and has never been content to sit back and just market and sell what he has.
The Cruiser range has been around for some years now and although they have had several updates and more options added during this time, they were essentially the same hull and although they performed well they were started to look a little dated in Steve's opinion. He also felt there were too many models that sometimes caused confusion with customers.  The range started at 671 and then went to 681, 721, 751, 771, 811 and 931. Except for the 931, all these models have been superseded by the Gen2 models, apart from the 751 for export markets only as it fits into a 40HC container whereas the 751 Gen2 is too wide.
"Having recently released the 651 crossXover hardtop the plan was to have hardtop models available in half metre increments and this is what we have now achieved with the new cruiser Gen2 range", says Steve.
The McLay 701, 751 and 801 are also all badged Gen2. These Gen2 Hardtops are built on a new hull that is wider at the waterline than previous models, giving even better stability, yet maintaining the great ride and handling McLay Boats are renowned for. The raised shear-line hull shape gives a whole new streamlined look combined with more internal space and loads of new features.
While the 751 Gen2 has proven hugely popular, there's always someone that wants something a little smaller, cheaper and requiring less horsepower. This where the new 701 Gen2 slots in. While the layouts are much the same and essentially the same hull design is used, the 701 is 7.10m overall length (400mm shorter than the 751 Gen2), slightly narrower in the beam at 2.35m (2.45m for the 751 Gen2) and weighs in at 1150 kgs, 150 kgs less than the 751 Gen2. The coaming height of 800mm remains constant in both boats.
While both can be outboard or stern drive powered, the 751 Gen2 is rated 200-300hp and the 701 Gen2 150-250hp. They are both available in twin or single outboard configuration. Price for the standard boat only is $NZ63,695 for the 751 Gen2 and $NZ58,305 for the 701 Gen2, a saving of $NZ5390. You can buy a load of electronics and fishing gear with that!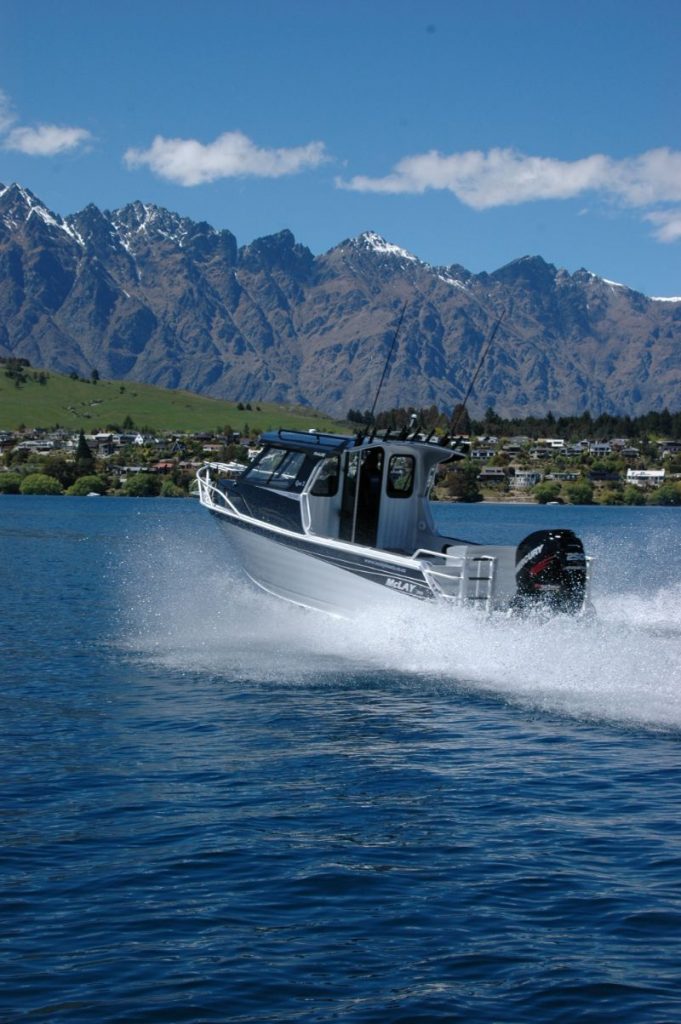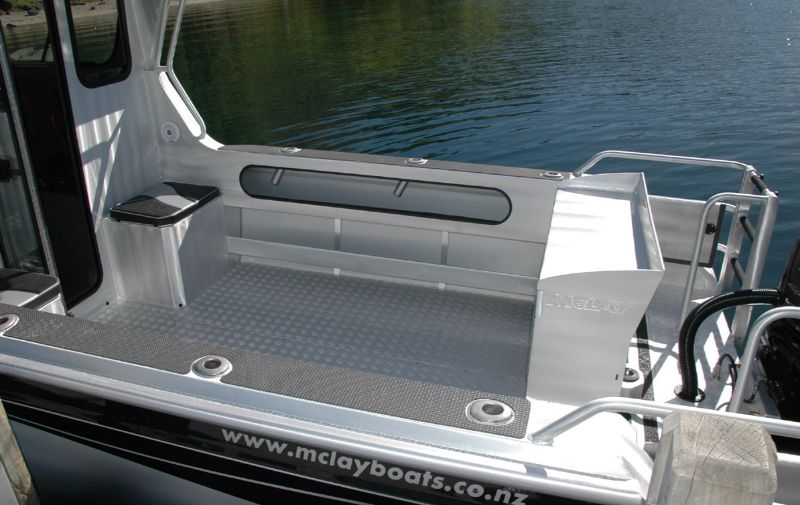 The new 701 Gen2 replaces the 671 and as mentioned with an entirely new hull has more area in the cockpit. It's wider and the roof overhang has been extended further aft. This provides more shelter from the elements without getting in the way of your rods when fishing. This is a boat that you can comfortably fish four anglers without getting in each other's way…unless you do a quadruple Trevalli or Kahawai hook up!
The transom area is unquestionably dedicated to fishing, with a full-width boarding platform surrounded by a seriously solid cage and twin drop down ladders. The ladders fall deep into the water and along with the large treads and well-positioned hand holds, access back to the boat with your SCUBA gear on is an easier task.
Access to and from the cockpit is made easy with a walk-through either side of the huge central bait station. These come with drop in panels so if you are backing up on a gamefish, most of the water isn't going to slop inside. However, if it does, the 701 comes with a deep sump and auto bilge pump.
McLay builds a superb bait prep area, with a large cutting surface complete with tackle draw. There's also plenty of space to mount rod or drink holders. Below is a dedicated locker for the batteries, so nothing is on the cockpit sole. However, if this isn't what you want, then McLay can customise the transom area to suit your needs.
The two aft steps can double up as seating, although you can add a removable padded bin which works just as well and gives you extra storage space for bait or your catch. Being a fishing orientated boat the cockpit is clinical and clean with a chequer plate floor (carpet or tube matting is optional), deep toe kicks either side and twin rack storage shelves. Underfloor is a 230-litre fuel tank.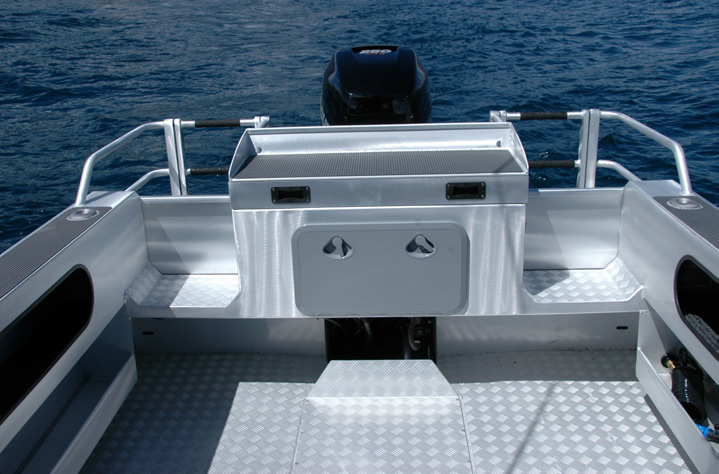 There is also an overhead rocker launcher with eight-rod storage, plus a towing eye for water toys and a handrail across the trailing edge.
The 701 Cruiser Gen2 first released at the 2016 Hutchwilco NZ Boat Show, was the open hardtop version, with no rear bulkhead and an entirely different seating arrangement. Without the bulkhead, you can have twin swivelling buckets with bench seats aft. Both provide storage under, with the port side area dedicated to a pull-out chilly/isky bin.
If you go for the fully enclosed rear bulkhead, then cockpit seating is restricted to a padded bin seat either side. These can double as gas bottle storage or even another fridge/freezer.
The bulkhead is optional with drop down glass windows either side of a central bi-fold door. This is available in either aluminium or glass. Personally, I would opt for the full bulkhead as it's all about comfort and weather protection and having a hardtop without a bulkhead is like having only half of the benefit.
One of the big changes from the 671 is in the wheelhouse, which is larger. The rear bulkhead has been moved back 75mm, which gives you more space to stand when driving and a very comfortable position when seated. In conjunction with that, the screen has gone forward a similar distance, which places the eyebrow in the roof line further forward. The benefit here is that you have a better chance of not hitting your head on it when standing to drive. The Fusion stereo and GME VHF are both still easy to reach.
The dashboard is very customised and it all starts with the size of MFD you want. Everything else such as gauges (if you have any), controls, switches and other electronics can be placed all around. Plenty of real estate to work with and McLay can change the shape to suit all your extras. Our boat was running a Simrad 12" MFD, with Mercury Smartcraft gauges, flanked by controls for the Maxwell winch and Zipwake.
Twin seats in the wheelhouse are standard in the 701 Gen2, but these can be transformed into a full-width bench seat if the crew all want to come inside on the trip. Simply close the rear door, add a couple of infills and the two seats turn into a four seater. Plus, it doubles as another adult size single berth.                                                            
While the 701 hasn't been set up as an overnighter, if you tick the extras list and add a toilet, handheld shower and maybe a rod mounted bbq, you can turn this into a very cosy boat for overnighting.  The approx 2m long squabs are very comfortable and with a centre squab, you can transform the entire forward cabin into one large berth.
There is storage under the squabs and on side shelves, and as in our test boat an optional pipe berth, which is another great place to stow gear, although a little short if you are my size to use as a berth.
One particular feature I liked in the 701 Gen 2 is that it is fully lined inside, even to the extent of covering the handrails with fabric. This provides a warm feeling that you can't get if you are exposed to a raw alloy finish.
McLay, like most South Island alloy boat manufacturers offer a drop down alloy bow ladder, which is great for beach access. With this in mind, they also make sure the deck hatch is extra large, so you are not pinched for space when moving from the cabin to the foredeck. As standard the boat comes with a Sav drum winch. The owner of the test boat opted for a Maxwell RC-8 instead.
McLay rate the 701 Gen2 Cruiser from 150-250hp and with either inboard sterndrive/jet or outboard. On the calm waters of Lake Wakatipu, we ran a Mercury Verado 250 Pro, one of the new generation engines from Mercury.
This supercharged 2.6 litre inline six cylinder engine runs out to 6400 rpm, which is 200 rpm more than the standard Mercury Verado 250. It which comes with fly by wire controls, power steering, a 70 amp alternator and is compatible with the Smartcraft digital technology.
Top speed on the lake was 40.5 knots @ 6500 rpm. Drop that back to 5000 rpm and the fuel consumption falls to around 52 lph, a speed of 30 knots and range of 105 nm.
If you plan to use the boat for trolling, then the benefits of the 4 stroke are obvious and the fuel economy is excellent. At  1500-2000 rpm the fuel flow drops to 6.5-9.5lph and the range jumps to 130-150 nm. That's Auckland to the Bay of Islands with maybe a marlin at Cape Brett on the way.
While I didn't need to use the Zipwake interceptors much, due to the very calm lake conditions, when I did I could certainly feel them working. They are especially good in turns and assist the boat in staying level.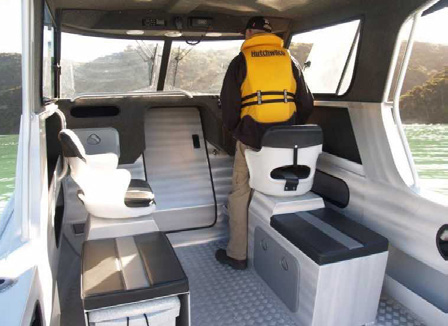 Having spent the best part of a morning running not only the 701 Gen2 Cruiser, but also the 651 CrossXover (see review in Issue #10 Alloy Boat Magazine), it's not hard to understand why people like McLay boats. The company has come a long way from those earliest models and are not afraid to make changes and listen to their clients.
With such an extensive range now of 21 boats, from 4.4m tiller steer dinghies to 11.4m hardtops, you might think that Steve McLay would be content with what he has. Yeah right! I would not be surprised to see a few more new models at this year's Hutchwilco NZ Boat Show. Watch this space.
Model & Model: McLay 701 Gen II Cruiser
Priced from: $NZ99,500
Price as tested: $NZ
Type: Hardtop
Construction: Alloy
LOA: 7.10 m
Beam: 2.35 m
Internal Beam: 1
Deadrise: 18 deg                       
Trailerable Wght: 2,250kgs Full of fuel
Height on Trailer: 3.1 m
Test Power: Mercury 250 Pro
Power options: Outboard only
HP Range: 150-250 hp
Fuel capacity: 230 litres
Trailer: Toko Trailer
Notable Options: Savwinch Drum Winch, Fusion MSRA70 stereo, GME VHF, Hella Lighting, Painted hull, Simrad 12" MFD, Zipwake Tabs.
Contact: McLay Boats, 299a Union Street, Milton, Otago, New Zealand | Ph +64 3 417 8135 | E: [email protected]  | www.mclayboats.co.nz
FUEL & PERFORMANCE DATA

McLay 701 Gen II Cruiser

Fuel capacity:

230

litres

RPM

Knots

L/h

L/NM

Range (NM)

1000

4.3

4.1

0.960

210

1500

4.8

6.6

1.400

140

2000

5.9

9.5

1.700

120

2500

7.0

14

2.000

100

3000

13.5

17.7

1.400

140

3500

17.2

28

1.700

120

4000

20.0

39.5

2.000

100

4500

22.7

50.1

2.300

90

5000

27.7

52

110

5500

32.4

69

2.200

94

6000

36.7

90

2.500

82

6500

40.5

97.5

2.500

82