MAKING BOATING EASY
The McLay 741 Raptor brings a whole new dimension to amphibious boats and has some very unique features that distance it from its competitors.
We all know that amphibious boats are the answer to anyone living close to the water and wanting a quick and effortless launching of their 'trailer' boat. Turn on the drive system and your wheels take you to the water, where you raise them and then carry on boating as normal. It's the same coming back. No trailer, no tractor or tow vehicle on the beach. Simple, easy and a mode of transport that has been perfected in New Zealand!
The newest player on the market, Tectrax, offers something very different from its competitors, being 100% electric with a number of features not possible on hydraulic type systems according to Tectrax. At the recent Hutchwilco NZ Boats Show two boats were displayed with the new Tectrax AWED system, one being the McLay 741 Raptor.
Considering the word raptor is derived from "rapere," a Latin word which means to seize or capture, the new amphibious McLay is aptly named. After all what happens to the front wheel when you enter the water? It is seized and captured inside its own hidden compartment. Probably not the reason Steve McLay, the designer of the Raptor chose the name Raptor, but it works for me.
Based on the 701 Cruiser, the Raptor does have a number of significant differences that sets it apart from the model it has its roots in. Obviously the Tectrax system is the biggest change, but the hull has seen some small changes also. While the 701 Cruiser comes standard with a 5mm hull, the 741 Raptor is 6mm hull bottom. This was done to reinforce the structural integrity of the boat due to the extra 580 kgs which is carried over the bow and stern areas.
The gullwings either side have been extended 20mm, which gives wider flat areas aft to handle the extra weight. The rest of the running surface has remained unchanged apart from the pod extension which is now an integral part of the hull. This has increased the buoyancy at the stern to compensate for the extra weight of the two wheels and Tectrax operating gear.
The profile of the boat above the chine remains unchanged and in fact if you were to put a 701 Cruiser alongside on the water you would not see any difference. And that is what is so special and unique about the 741 Raptor that sets it apart from all other amphibious boats.
"When I decided to build an amphibious boat, I needed a point of difference and right from the start I wanted to hide the wheels from sight when not in use, be it on the water or on a trailer, so it retains the great looks that the 701 is renowned for", says Steve McLay.
Also Steve wanted to have an amphibious boat that eliminated the risk of fishing lines getting caught around the wheels as well as the anchor getting caught around the front wheel and that the front wheel had to have no effect on rough water handling ability or spraying water everywhere.
He adds that he approached Tectrax early on in the programme because he liked the fact they had a totally electric system and were happy to supply the system to builders. However, it was a close collaboration between Steve, Tectrax engineers and an ex-Team NZ designer who was involved with the foils on their AC cat, that were required to sort out all the complex technical aspects of the retractable bowdoor.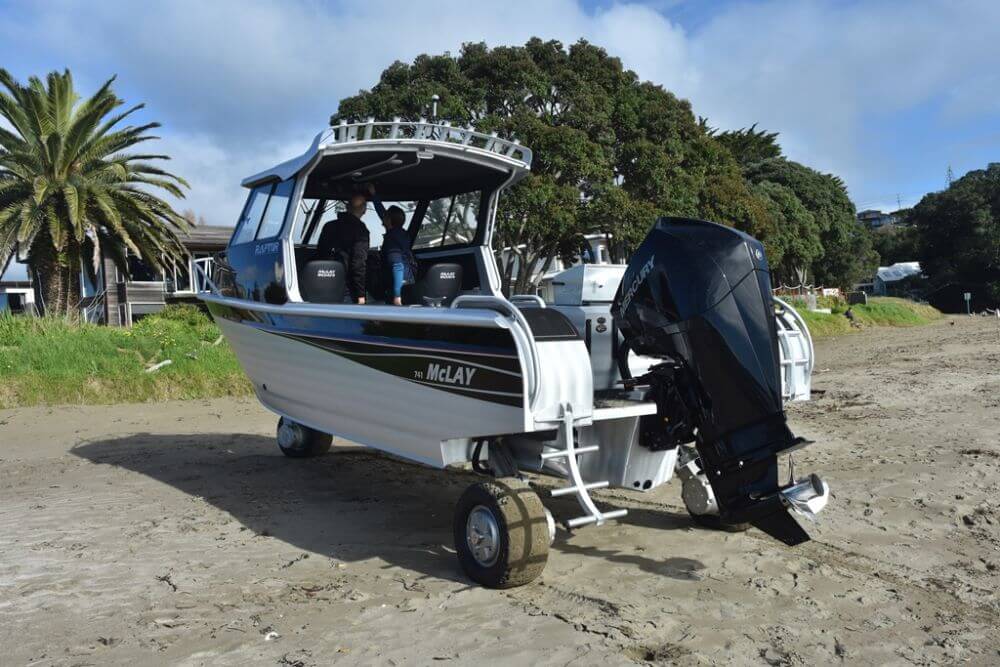 "It wasn't a simple thing to do and took a lot of thought between us all, but eventually, just in time for the release of the boat at the Hutchwilco NZ Boat Show we got it right", says Steve.
After the wheel is retracted, the 'bomb bay' bow door closes with the help of an hydraulic ram and locks the door in place. It takes less than 30 secs from the time you start retracting the wheel till fully closed. Residual water that remains in the enclosed space quickly drains out through a venturi. All the Tectrax's system is covered with an IP69 ingress protection rating.
The rear wheels retract up into a recessed wheel pod and are also completely hidden from view. Steve adds that the retractable bow door is a pivotal point of difference that sets them apart from all other amphibious boat manufacturers.
One of the downsides of having the retractable front wheel is due to the enclosed wheel housing there is now less space in the forward cabin. While the prototype model I tested still had a couple of short quarter berths, plus storage spaces beneath, all this can be changed.
While the central position of the wheel housing cannot be altered, the rest is customisable.
The Raptor is available in a sleeper version, that has the cabin bulkhead and wheelhouse back 400mm . This gives you space for two full length berths and even an enclosed head. So while the wheel enclosure looks intrusive, there can be plenty of available space made if you are overnighting.
When it comes to the seating layout it is very much the same as the 701 Cruiser with plenty of options. Our boat had two swivelling bucket seats with alloy box bases, with storage draws  and rear cushions with a live bait tank to starboard and a kill tank to port. Due to the extra on-board equipment needed to run the Tectrax system, there was no room for the live bait tank in its usual transom position.
"Seating is completely optional and we have even had a request for a ramp and wheel chair mount so nothing is impossible", says Steve.
While I would have expected a lot of extra controls on the dash for the Tectrax system, not so. There is just one display panel which includes the rocker switches for the wheel functions and a joy stick for forward and reverse operation. Tectrax are in the process of developing the intergration of their system with the various chart plotters available.  Alongside the Simrad MFD is space for whatever else you need, such as our Lectrotab trim tabs (interceptor style tabs optional) and Savwinch winch controls.
Fishermen will appreciate the short hardtop complete with rocket launcher that offers weather protection but doesn't impose into your fishing room. The 741 Raptor has plenty of that with 3.6 sqm of workable cockpit from the seats to the transom, so you and three mates can fish without encroaching on each other's space. From the inside of the transom to the forward cabin bulkhead it's a full 3.4m long, with 2m headroom under the hardtop. There is an extended soft canopy available if you want more weather protection and even a full camper pack if you are serious about overnighting. An enclosed rear bulkhead for the wheelhouse is also available.
Storage is provided in wide side shelves which can handle dive bottles and in rear lockers. There are no storage lockers under foot as all the space under the U-Deck covered cockpit sole is taken up with a 220 litre fuel tank and for buoyancy.
Apart from being very quiet, one of the other advantages of having an electric amphibious system as opposed to hydraulics is there is no negative impact on deck space with all components tucked away neatly. All the components; 72 volt Lithium ion battery, a pair of electronic boxes, outboard and house batteries, are under the aft deck area so there is nothing to take up any floor space.
Compared to the 701 Cruiser, the 741 Raptor is around 600 kgs heavier so you would expect a drop in overall performance. However, it was less than I expected. Top speed is still a very respectable 32.5 knots (37.4 mph), with the Mercury 200hp V6.
While you may drop a little in top end speed, what you gain is a boat that rides even better in the moderate to rough water due to the extra weight. Also it is extremely stable and with four on one side the heal is very minimal.
While the boat is rated to 250hp, I don't think you need it as the Mercury 225 provides plenty of power. It's a quick boat to plan and took just seconds from 0-50km/h and had great low power through the range, all the way to 6000 rpm.  to reach the maximum speed of 32.5.
I not only ran the boat in the calm waters off Manly Beach on the Hibiscus Coast, Auckland, but also took as run in some really confused sea up with up to 1m swells, with a 25 knots of NE breeze. Even Steve commented how well the boat rode with the extra weight. 5000 rpm @ 50 km/h all the way from Manly to Mahurangi and back. An impressive ride all the way.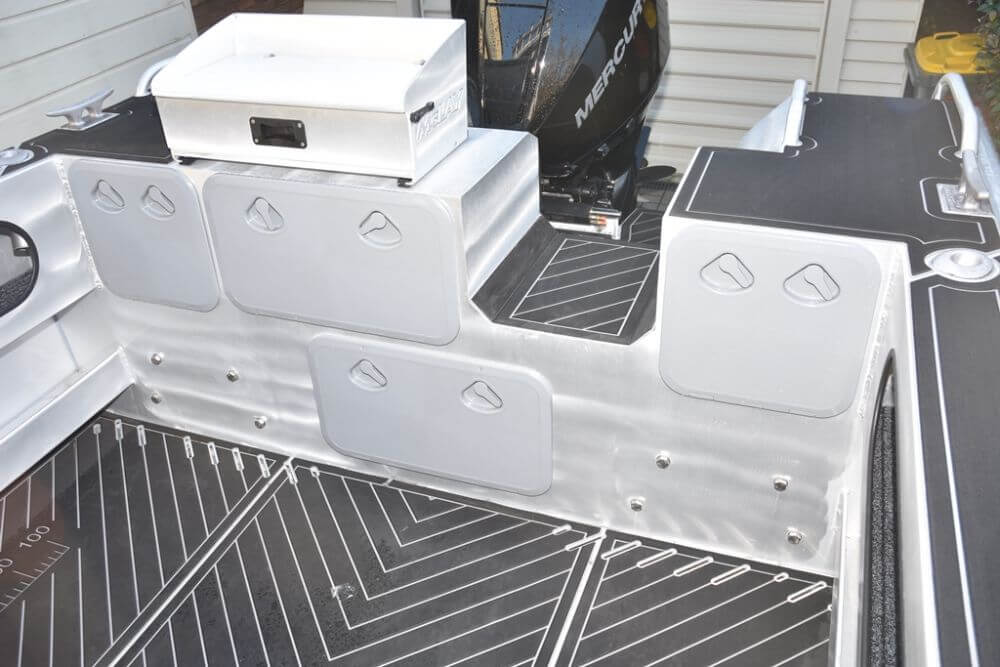 The McLay 741 Raptor is certainly an amphibious boat like no other and offers a unique alternative to a well proven system. By incorporating the Tectrax all-wheel drive system into one of their standard hulls, McLay have turned an already great boat into something even better. Certainly Kiwi ingenuity at its very best.
It was also great to hear that there is already a second and larger model in the pipeline and even talk of a couple of smaller model Raptors. Love to see my McLay 4.8 Fortress with legs. Might even sell my trusty Nuffield 1060. Well maybe!
Model & Model: McLay Raptor 741                              
Priced from: $295,000 (incl gst) (less trailer)
Type: Amphibious Hardtop  
Construction: 6mm Aluminium
LOA: 7.40m                         
Beam: 2.35m 
Height on Wheels: 3.0m
Height With Wheels Up: 2.7m
Deadrise: 18 deg
Propeller: 15.6 x 13 Inertia
Amphibious System: Tectrax T3000 AWED                         
Trailerable weight: 3150 kg          
Test Power: Mercury DTS 225hp   
Power options: Outboard
Trim Tabs: Lectrotab
HP Range: 225-250hp                  
Fuel Capacity: 220L
Winch: Savwinch
MFD: Simrad NSS Evo
Entertainment: Fusion MSRA55
VHF: ICOM
Decking: U-Deck
On Land Engine Power: 12.96 kW                     
Max on land speed: 8 km/h (5 mph)
Manufacturer: McLay Boats   
TECTRAX – Another Amphibious Alternative
Released at the recent Hutchwilco New Zealand Boat Show, Tectrax's is a unique and revolutionary electric amphibious system driven completely by batteries as opposed to hydraulics used by other amphibious system manufacturers. The All Wheel Electric Drive (AWED) powers your vessel quietly down the ramp and into the water using the very latest in battery technology and fly-by-wire electronics.
A Kiwi innovation, Tectrax's systems are produced in Taupo, in the centre of the North Island of New Zealand and is the brainchild of Rob Gower, who along with a team of really talented  engineers from various disciplines have developed a genuinely remarkable alternative to the amphibious boat market.
While Tectrax has its roots back to 2003, it took a number of years to achieve the result he wanted. Whilst completely different to his initial concepts, the final Tectrax product was only made possible with the recent advancements in battery technology. After modifications and refinement, Gower protected his ingenious ideas, took out patents and then in 2015 put together an expert team, creating a new and revolutionary electric hub motor driven amphibious system.
This fully electronic system is reliable, quiet and low maintenance with no annual servicing required while supported by an industry leading warranty.
There are currently four models within the All wheel electric drive range (AWED), that can be fitted to boats displacing under 2,500kg, and up to 4,000kg. The T2500 and T3000 models are suitable for boats under and between 2500-3000 kg, (6.5-7.5m), with the T3500 and T4000 designed for boats from 7.0m to 8.0m+ and all up weight of up to 3500kg-4000kg respectively.
The Tectrax system adds only 580kg – 602kg to the vessel depending on battery options chosen. Standard on all models is the AWED, ABS, Fly by Wire/Traction control and with high torque motors are designed to drive on a gradient of up to 22%.
Tectrax use a modular Lithium ion battery system that provides a wide range of configuration options to meet your run time preferences. Start with the standard battery package for 35 minutes of drive time at up to 8km/h, or you can simply add more batteries if required. Once back at home, you only need to plug into a standard wall socket and recharge. Charge time from a domestic socket is two hours for the T2500 and T3000 and four hours for the T3500 and T4000.
Tectrax is designed for boat builders to fit during the build stage, with a growing number of New Zealand aluminium trailer boat manufacturers, such as Senator and McLay already doing so. The modular battery system allows for flexible component placement to optimise sea-keeping performance, while electronics and hydraulics are installed below decks to preserve valuable deck real estate.
The Tectrax system carries an IP69 (water ingress) rating for its motors and in water equipment. It has a one-year commercial and government warranty and a one-year recreational warranty on the hub motors, electrics, electronics and hydraulics and a two-year warranty on the batteries and mechanicals