With outboard technology racing ahead it's hard to keep up with all the changes. Every season we are bombarded with new releases by all the major manufacturers and we wait in anticipation for what's coming next.
In the area of 4 strokes the trend is not so prominent in the horsepower race, as it is in producing the most refined, fuel efficient, lightweight and cost effective engines.
Honda, who only produce 4-strokes, has a full range from 2hp through to 130hp. Yamaha recently released a 4-stroke 100hp to head their growing range and for 1999 OMC have rebadging their 4-strokes all Evinrude. Mercury have a range now extending from 5hp-100hp and Suzuki recently released their new generation 40-70hp 4 stroke models.
We decided to take two entry level boats, bolt on a couple of mid range 4-strokes and see how they shaped up. The choice was a Mercury 4700 with a Mercury 50 and for something completely different, a McLay Softie with Suzuki's hot off the assembly line 40hp.
The idea wasn't to compare the two, as they are very different packages, rather to look over both of them as ideal entry level rigs. The McLay/Suzuki and Mercury/Mercury have the common criteria of family boating with a certain emphasis on fishing, being light to tow, easy to maintain and well priced.
They call them softies and they come in three colours, rescue orange, mid blue and white. Closed cell foam is glued to the face of the C-section shaped side of the boat and then urethaned top and bottom. The whole lot is totally encapsulated from alloy to alloy by spraying on a polyurethane finish which is topped off with a colour and UV resistant topcoat.
The foam is almost impossible to tear off the hull, doesn't absorb water, is impervious to petroleum based products, extremely resistant to cuts and abrasions and easily repaired should it get damaged.
The concept is the brainchild of Christchurch based boat dealer John Butler who was looking for a soft sided dinghy that didn't suffer from some of the problems experienced by owners of conventional ribs and hard hulled pontoon boats.
 "There was a need for something that gave all the benefits of the pontoon design such as low freeboard, lightweight and stability, but could take the knocks and abuse without sacrificing a soft ride", said Butler.
After extensive research -namely using specially shaped buffer pads on the Lyttelton wharves as a test bed for 250 ton ships to play bumper boats with- Butler decided to go ahead with the project and in an exclusive deal with McLay boats released the first McLay Softie's in early 1998.
Butler had initially only been looking at dinghies but the range now extends from 2.5m through to 6m in everything from open, centre console, cuddy and cuddy cabin style. I had the opportunity to take the McLay 460 Softie for a run on Auckland harbour, along with an exclusive look at the first -and only- Suzuki 4 stroke 40hp in the country.
The hulls for the 2.5m to 4.6m Softies are all new and it's only the 540 and 6m models that utilise existing McLay alloy hulls. Compared to a conventional rigid buoyancy boat the Softie is more expensive, but it's cheaper than a similar sized inflatable. Weight wise there's not a lot between the standard 4.6m alloy cuddy cabin and the 4.6m Softie, so performance with matched horsepower is also similar.
Due to the huge increase in buoyancy and flotation, the larger Softie hulls have a more pronounced variable degree vee than the normal McLay.
Basically the Softie is just an alloy boat with a whole lot of shaped foam around the hull sides. This same idea has been used on a 40ft Salthouse hull being used by Young America as an America's Cup tender.
Our test session was carried out with a PowerTech 11 1/2 x 13" stainless propeller (courtesy of Dunrite Propellers) and with two aboard, the Suzuki fully trimmed and a single 25 litre tote tank, we recorded 27 mph @ 6000 rpm on the Eagle GPS. In similar trim with one aboard, that crept up to 29 mph. Nicest cruise on the calm water was around 5000 rpm @ 21 mph.
Interestingly early tests with a standard 11 1/2 x 13" aluminium prop achieved exactly the same results. The noticeable difference with the cupped stainless steel prop was a marginally quicker acceleration and more bite in aerated water, with the ability to hang on better in sharp turns.
The Powertech prop bites hard and the boat rockets to maximum rpm very quickly, with no obvious flat spots on the way. In turns the hull hangs on tight with the wide foam hulls holding the boat level. The full-bodied bow sections and wide sponsons dissipate the spray and keep it low and flat. In a short harbour chop I was impressed with the softness of ride and the quietness of the hull. It's a boat that feels very stiff and there's no noticeable hull slap. The deeper vee and heavier aluminium hull sections all help, plus the natural shape of the tubes mean there are no hard chines to land on when the hull enters the water. Stability at rest is amazing and this has to be a major selling point for divers and fisherman alike. The low freeboard will find favour with fisherman but may be a downside for boaties with small children.
The Suzuki DF40 (and the DF50) is based on the new generation three cylinder 660cc automotive engine that has been bored and stroked to 815cc. The distinctive cowl styling is the same as found in the DF70/60 and features a split lower pan for ease of maintenance and repairs. Both models also except a centre tiller handle and a gas assisted tilt mechanism.
The DF60/DF70 were the first four stroke outboards to be equipped with multi-point sequential electronic fuel injection of the speed density type and that system is carried down to the DF40/DF50.
The ECM (Engine Control Module) system controls the engine's ignition system and provides an ideal fuel supply under all running conditions.
In addition to a dual overhead cam, 12-valve powerhead, the new generation 4 strokes are the first to be equipped with a timing chain and automatic hydraulic tensioner.
Suzuki rate the fuel consumption of the DF40 as 40% better at idle over the DT40C 2-stroke and at maximum performance levels consumes 30% less than its 2-stroke counterpart. The DF40 4-stroke has better horsepower and torque performance in the low to mid range area, but once over 4800-5000 rpm it's an even match with the DT40C 2-stroke. Mind you, you pay a price for all this new technology, with an expected upcharge from the 40hp 2-stroke to 40hp 4-stroke of over $2000.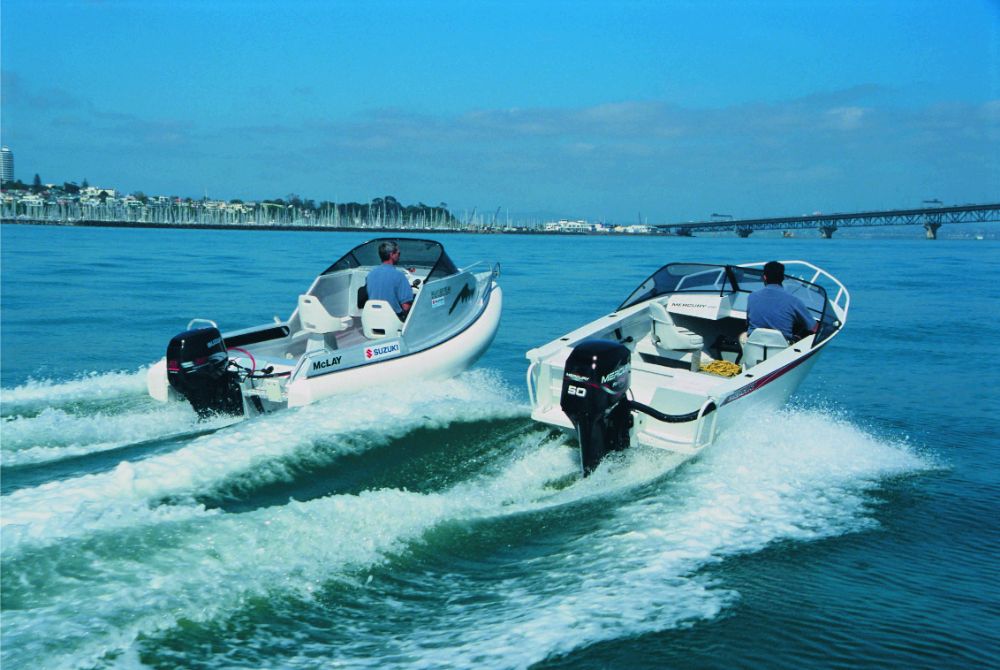 The McLay 460 Softie is one of those boats that surprises you with just how much space it really has, From the cavernous cuddy cabin to the large cockpit, there is a lot of room to do a lot of things. Primarily this is a good all round fishing boat, with a cuddy cabin that in its standard form is no more than a place to toss all your gear.
A high upstand stops anything rolling back into the cockpit and via the large overhead hatch you can perform all your anchoring duties without stepping onto the foredeck. The anchor locker is internal and between the bollard and fairlead there is space for a small anchor capstan.
Standard cockpit seating is twin swivelling bucket seats on aluminium pedestals; although if you want more, the optional centre mounted padded top fish bin ($540) is a good addition.
Storage requirements are taken up in the cockpit with a couple of side shelves and rods can be either stowed in the optional rocker launcher ($620) or in side mounted rod racks. The flat side and aft decks offer extra areas for flush mounted rod holders.
The steering position is good, with a small upstand for your feet and a screen that is sensibly positioned so it works to keep wind and spray off your face. I found when standing to drive, the seat base a little far forward but that's a personal thing and could be rectified with the aluminium seat base mounted about 300 mm aft. A solid extrusion around the screen doubles as a handhold and I found myself hanging onto it a lot when driving.
If you want more than the regular tacho, speedo, trim and battery level instruments on your dash, then there is space for a small flush mounted gps/plotter if you juggle everything around. However with so much space below the screen, deck mounted electronics on brackets would probably be easier.
The cockpit is finished with a fully welded 4mm tread plate floor giving sealed under floor buoyancy and large scuppers with duck bills to take care of any water sloshing around your feet.
I liked the off the floor mounting for the battery and the fact that even with scuppers there was still a bilge pump fitted. Either side of the battery there is space for a couple of tote tanks.
The outboard is mounted on an external bracket, with boarding platforms either side, an outboard auxiliary bracket and ladder.
Overall the McLay 460 Softie is a boat that offers a lot in a small package. It may not appeal to everyone and it certain offers an alternative in the pontoon boat market. Depending on your power option you can get the boat on the water for under $20,000, which makes it good buying. The handling and ride is better than most conventional aluminium boats in its size, but not unlike some of the better rigid buoyancy boats and RIBs.
The D shaped closed cell foam tube (400 x 250) allows for maximum use of space within the hull dimensions and has the bonus of the inherent stability and handling of a tube boat. Although the 40hp was a reasonable match, I would like to try the McLay 460 Softie with more horsepower. I'm confident it would handle it with ease.
Model: McLay 460 Softie
Price As Tested : $
Price Boat Only: $12,200
Designer: McLay Boats (hull) John Butler (Pontoons)
Materials: aluminium hull / foam tubes
Type: cuddy cabin
LOA: 4.6 m
Beam: 1.88 m Hull Configuration medium vee
Deadrise at Transom: 16 deg
Trailerable Weight
Engine Capacity : 40-85 hp
Power Options: outboard only
Fuel capacity: Tote tanks
NOTABLE STANDARD EQUIPMENT
Dive ladder, bow spit, self draining cockpit, battery storage, ski tow.
OPTIONS ON TEST BOAT
Rod holders, auxiliary outboard bracket
Make: Suzuki HP40
Model: DF40T
Cylinder Type : 3 cyl
Max RPM: 6000
Propeller: 11 1/2" x 13" Powertech
Retail Price: $
Make: Toko
Model: Softie
Braked: No
Suspension: springs
Rollers: keel/multi
Features: submersible lights
Price: $1837