Mercury Racing has announced its intention to develop an electric powertrain in partnership with the E1 Series powerboat racing championship.
The UIM backed E1 Series is expected to take its first green flag in early 2023. Victory Marine will manufacture the boats in the UAE.
Mercury Marine becomes the official propulsion and propeller partner of the E1 Series, which is expected to field twelve teams racing on a closed, technical course. The E1 Series has unveiled the first full-size model of the electric RaceBird powerboat that the pilots will race with in the world's first electric powerboat championship.
Only one year from the series launch, the unveiling of the full-scale model marks a significant milestone for the championship as the E1 Series moves closer to putting the RaceBird on the water and the start of prototype testing early next year.
Earlier this year, the Public Investment Fund (PIF) entered as an investor in the E1 Series. The partnership with the PIF represents a significant step forward in the long-term development of the Series. It provides a solid foundation to accelerate the development of RaceBird technology.
Mercury Racing will work closely together with SeaBird Technologies and Victory Marine to support the development of the outboard motor for the RaceBird. Navico is coming on board as a partner to provide specialist navigation and marine electronics for the RaceBirds and support craft at race events, integrating Simrad's latest technology into the cockpits and C-MAP's digital cartography and mapping technology for teams and race management.
In the coming months, the RaceBird engineers will focus on integrating the battery and controls systems and how they work together with the powertrain. After which, the engineers will incorporate the propulsion architecture to the platform, ready to hit the water.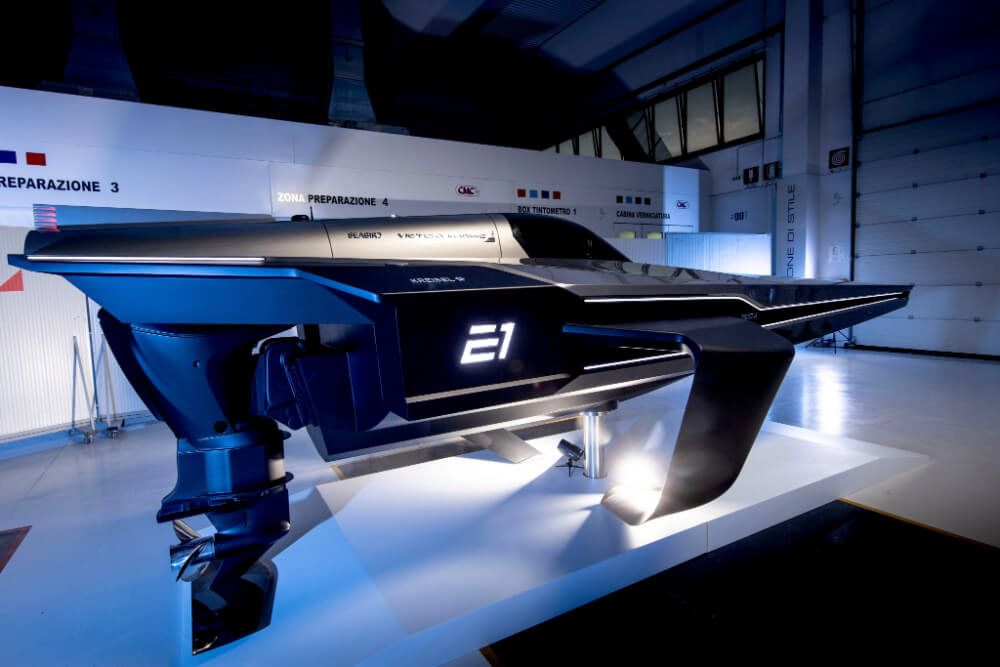 The E1 Series is designed to create the world's first Union Internationale Motonautique (UIM) sanctioned electric powerboat racing championship, with the competition held close to shore in urban areas using the RaceBird, a hydrofoil-type boat now under development by SeaBird Technologies and Victory Marine for use in the Series. The RaceBird features an electric outboard motor, enclosed safety canopy and hydrofoil technology.
The boats will be powered by a 35kWh battery from Kreisel and a motor with 150kW peak power output, with a projected top speed of 58 mph. The RaceBird powerboats will rise high above the water's surface using innovative hydrofoil technology, allowing for minimum drag and maximum energy efficiency.