Meridian Yachts is one of North America's fastest growing flybridge boat manufacturers and each model in its four-boat range is designed to deliver liveability, cruisability and manoeuvrability at an exceptional value. The four-model sedan line-up ranges from 10.4m (34') through to 16.2m (53') in length.
The company's headquarters are located in Knoxville, Tennessee. Meridian Yachts is a component of the Sea Ray Group, an operating unit within the Brunswick Boat Group and is represented in New Zealand and Australia by Sports Marine Ltd, with offices in Auckland, Christchurch and Sydney.
Sports Marine have sold eight new Meridians since taking on the brand with the most recent being a new 441 delivered to Fiji In December. Sports Marine's Scott Williamson says the Meridian range has established a good following on both sides of the Tasman and around the Pacific Islands, with the new 441 Sedan fast proving to be one of the most popular models.
In designing the new Meridian 441 Sedan, Meridian's team of naval architects developed a new hull, deck, bridge and sheerline. This all-new design features a more aggressive profile and new hull-side windows for the guest stateroom, easier bridge access, better topside accommodations, and more natural light and woodwork in its interior living spaces.
The 441's wide-open floor plan ensures smooth flow and unbroken lines of sight between the saloon, the yacht's dedicated dinette and the full-service galley. What's more, Meridian has further enhanced its signature integrated two-tier window system to ensure improved visibility from all these interior areas. A lower helm station is available.
Meridian Yachts is a fairly new player in the yachting arena but it is fast becoming a major force, mostly due to its continual desire to upgrade its quality year after year. We're not talking about the hull integrity or seaworthiness, those are ready well figured out… but "quality" in liveability and design aesthetics are where others often seem to not get it right. Even Meridian's smaller yachts have eye appeal that others seem to lack. In our opinion, its mid-range yachts have really nailed down the combination of comfort and style that add so much to this brand's growing popularity.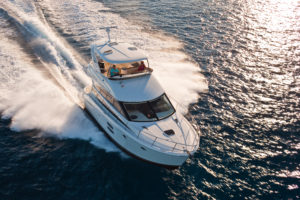 Capt. Steve says, "Being an operator, my first tendency is always to head to the helm. Everyone wants to be where the action is, and when underway, that's at the helm. Thus, the bridge deck is laid out to accommodate the full complement of passengers, and allows for conversation and entertaining – a feature that seems to escape some builders in this area."
He adds, "Inevitably, people end up in groups, whether it's the men in one spot and women in another, or whatever – there are always separate cliques. The 441's designers seem to have realized this and have accommodated it naturally."
A large seat aft curves around a table, and forward, there are forward facing seats for joining the captain in watching what's ahead – and an extra set of eyes is always welcome. An entertainment centre with sink and optional electric grill separates the two areas. An optional refrigerator is to starboard. This model also had an optional 23" LCD TV with DVD over the starboard fridge but that didn't sit too well with me… kind of like smoking a cigarette on the beach. We're here to enjoy the outdoors and fresh air. In my opinion, if you want to watch TV, stay home!
The helm has a single bucket seat that reclines (I'm not kidding) and the panel leaves plenty of room for the nav. package of choice. The standard controls are digital, so a delicate touch is required here. Each Meridian helm is designed to easily accommodate a selection of Raymarine digital displays, specially sited for optimal readability. An engine synchronizer is standard. For close quarters manoeuvring, Meridian Yachts' exclusive "Docking on Command" feature links the bow and stern thrusters into a single control. But this boat has manoeuvring controls that are even more sophisticated.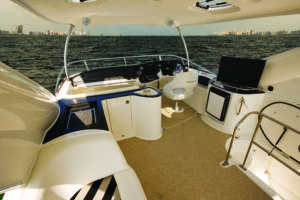 Called Integrated Vessel Control (IVC) it's got the same features as Docking on Command, but adds the functionality of controlling the transmissions as well. So where you would have previously manoeuvred sideways and added forward or reverse to move in the diagonal, IVC does it for you with that single control. Very cool! IVC is available on Meridian 341, 391 and 441 Sedans featuring twin inboard engine configurations coupled with bow and stern thrusters. (IVC is not available on models equipped with Zeus pod drives.)
IVC takes any complexity out of directing thrusters simultaneously. Through a helm-mounted control shaped to resemble a boat, IVC interprets the captain's movements and instantly translates them into separate instructions for the bow and stern thrusters. The experience is fully intuitive, regardless of which direction you face; push the control left, and the vessel slides to port; twist it clockwise, and the vessel rotates clockwise.
A seasoned captain who is accustomed to performing slow-speed manoeuvres with his or her boat's thruster controls will have no trouble making the transition to the new interface. You simply push the IVC control in the direction you want to go. "IVC is a robust, rock-solid technology that Meridian owners can rely on," says Kevin Shaw, an engineering manager at Meridian Yachts who helped develop the docking system. "We deliberately kept the system streamlined to provide dependable control. IVC gives captains the subtle touch they're after, plus they can still choose to operate the thrusters independently."
A Bimini top is standard, but I would opt for the hardtop. As this is the only helm on the boat unless you choose the lower helm option (which I think is a waste of space), the isinglass enclosure is going to be a mandatory option. By adding a hardtop and isinglass you have the best of both worlds – a flying bridge in the air, or a snug "sky lounge" helm when it is cool or rainy. Also, this is the most cost efficient way I can think of to add "living space" to the boat.
If the bridge left any doubts about Meridian's dedication to space, the saloon will leave none. Large sliding doors give way to a spacious saloon that's separated from the forward galley with a single step, giving you an open, uncluttered view of the layout. The sofa lies to starboard and directly across are two chairs separated by a small table and lamp – perfect for resting the cocktails on. This layout keeps the occupants facing each other, so everyone is involved in the gathering without having to turn their heads all evening. 
Large windows not only let in lots of natural light but, as they are low enough, give a view of the horizon as well.  This has the surprising effect of reducing motion sickness for your more land lubberly guests. Moving forward, we step up into the galley. A settee is to starboard, and to port is the galley itself. It's not huge and doesn't need to be. This isn't a long range cruiser, so we don't need to allow for five-star meals. Keep it simple and save the space for where it's needed. Good thinking on the part of Meridian's designers. But even for its size, the galley is well equipped: a full-height refrigerator/freezer, double sink, convection microwave, high gloss cherry cabinetry, three-burner stove, and Karadon countertops throughout.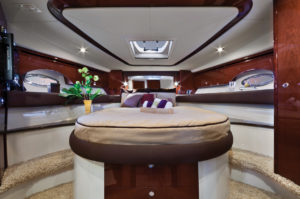 In my opinion, Meridian got the labelling of its staterooms backwards. Midships is the guest stateroom and it's pretty nice for being just for guests. It spans the yacht's full beam and features a double sized island berth, built-in chest with three drawers, cedar-lined hanging locker, a desk with electrical and phone jacks, and a vanity with flip-up mirror and stool. There are four hullside portlights bonded into the hull, so leaking and creaking are not a factor. The guest head doubles as a day head.
The master stateroom is forward. The island berth is queen sized, deck hatches are above, there are portlights to either side and there is a head in the ensuite. All of this is pretty standard on most boats as there really is not much else that can be done in the bow. If this were my boat, I think I'd make the midships stateroom my "master." It has more room and amenities and a midships location is more comfortable.
The engine room is accessed by lifting the stairs to the bridge and it's clean and roomy. Standard power is twin 380hp QSB Cummins electronic diesels. Two upgrade options are available. First is the 425hp QSB CMD engines with straight shafts. The second option is a pair of 480hp QSB CMDs. A further option with both of the larger engines is a Zeus pod drive propulsion system. This boat had the optional engine oil changing system and fuel transfer pump – two options I recommend.
There is also plenty of room to accommodate the 11.5kW Onan generator and sound shield. Meridian's Smart Battery System knows which batteries need charging and how much cycle time each needs for maximum battery life. If the house batteries become depleted, the Smart Battery System will take power from the cranking batteries, but not below the level required to start the engines. Brilliant!
The reinforced engine mount system found in every Meridian anchors each power plant to the hull, reducing vibration for more comfortable cruising. Less vibration in turn reduces stress on the entire propulsion system, minimizing excess wear and the need for repairs.
Previously we had tested the Meridian 441 with straight-shaft twin 425hp diesel inboards and noted her performance numbers. Some among us, including Capt. Steve, thought that the boat was slightly underpowered, but that is sometimes the case with brands that are trying to come in with as low a price-point as possible. Instead of simply putting a higher horsepower engine in the 441, Meridian went one better and put in a 480hp Zeus pod drive propulsion package. Here is the comparison of the two different drive systems.
Meridian engineers use a computerised five-axis milling machine to create every mould. This machine matches specs to a tolerance of 0.6mm – achieving amazing consistency in the shape and contours of the mould, which is certainly reflected in the finished product. The deck, cabin ceiling and cockpit are fabricated as a single component, which reduces flexing and increases the strength of the integrated yacht framework.
Meridian is arguably the largest builder of sedans in the United States now and is working hard to make handling a large boat easier, with new technology. Its designers and engineers are drawing on the industry's best practices to incorporate as much as they can into large motor yachts at an affordable price point, and the lines and styling of its boats are attractive. The 441 Sedan is an extremely comfortable yacht, and rewardingly functional as well. Throw in Meridian's best-in-class warranty and you have a combination that not only deserves your attention, it demands and keeps it. But don't take my word for it – you need to see it for yourself.