They say the perfect boat has never been built! Not according to Caloundra's (Qld) Dale Murray who believes his Moda C-8000 is his ideal aquatic escape machine. He's not looking through rose coloured glasses either, Dale has now been enjoying his beautiful catamaran for over two years and the love affair hasn't faltered.
I must admit that I was filled with my own nautical lust from my first glimpse of this full bodied, hot blooded temptress with her curvaceous lines, flowing design and enticing aesthetics, plus an internal appeal that lures you to her clutches like a mythical siren. Let's face it, there aren't many alloy cats in the world that you could call "elegant" or "sexy" like this un!
Whilst the C-8000 is easily trailered with its 2.5m beam, Dale lives on a waterfront property on the Caloundra canal system and moors the boat on an inflatable berth. He's an avid fisherman who loves the seafaring ability of the tough plate aluminium hull for a number of reasons.
The Caioundra bar is often shallow and quite treacherous yet the Moda confidently takes it in its stride whether running into the swell on the way to sea, or back in over the shallow sandbars that often seem to emerge from the depths like some mythical Kraken reaching upwards to engulf unsuspecting prey.
The twin hull gives a smooth and highly predictable ride jumping easily onto its cushion of air with the grunt of twin Mercury Verado 150hp engines that power the package up to a very respectable 64kmh at 5700 rpm. The combination gives the immediate power, plus the torque needed so often in bar crossings.
It's a long way to the shelf yet the Moda is a very capable armour plated battlewagon that tames the long journey through the slop and swell. It sits high and proud planing easily across the fray with its stable footing and air cushioned tunnel creating an exceptionally soft ride that tempts you to travel further, and often faster than you ever dreamed.
There is no hint of the forward body slam that often grips many competitors with its proud bow riding with a truly confident, slightly nose high seafaring attitude. Whilst the concept is purely Moda, the hull design is true Kiwi with renowned marine architect Scott Robson refining the concept with a unique design that certainly sets a premium standard amongst the field of ocean capable catamarans.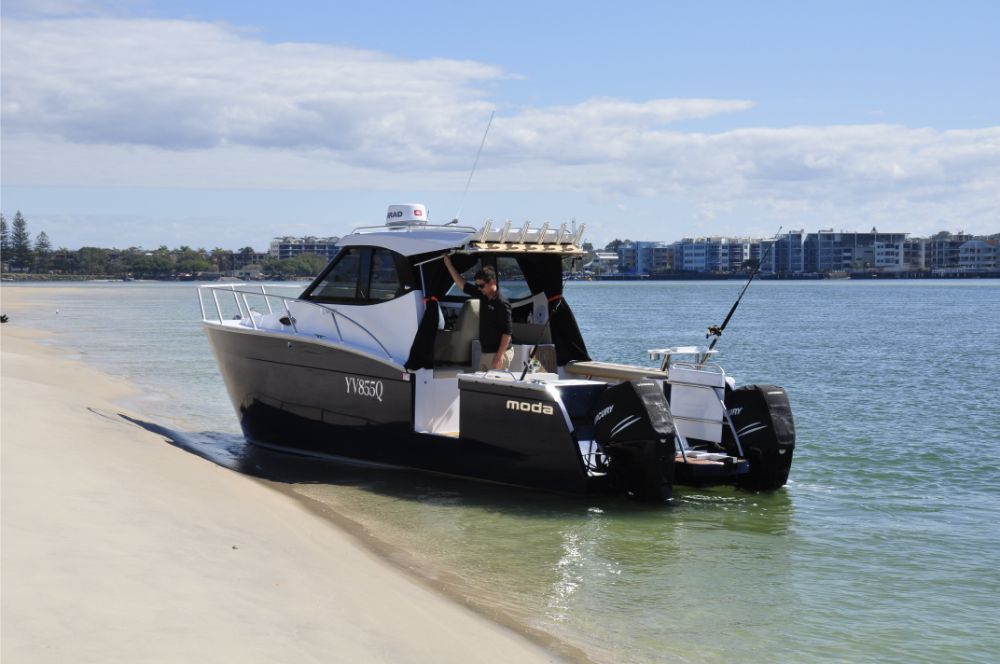 The strong hull has a bullet proof 6mm bottom and unique sponsons with wide chines designed to create the beam and planing surface of a much wider boat. She pops the hull to plane very quickly with almost unnoticeable transition and very minimal bow rise. The C-8000 has a most unique tracking ability that turns easily without the outward lean that can scare the hell out of you in many opposition twin hull designs.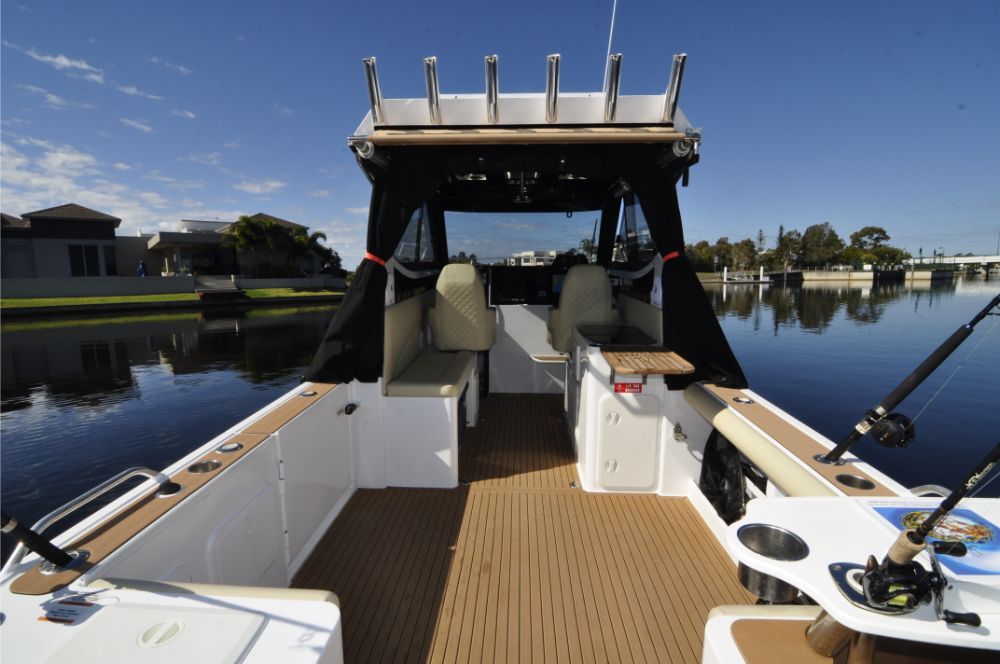 Comfortable Accommodation
Yet the Moda offers Dale a number of other advantages. He's a busy professional who loves his quiet time often choosing to nose the boat up onto a white sandy beach or overnight mooring in the extensive tidal estuary to enjoy the serenity of his idyllic surrounds. He has all of the facilities for comfortable accommodation with a large double berth in the wide forward cabin. There's not a huge amount of head room due to the upward curvature of the tunnel at the bow but the design is quite adequate and very comfortable for an eight metre cat. The cabin volume is enhanced by the cat's full beam all the way to the pickle fork bow.
Moda have designed a compact but very workable head with hot/cold shower located immediately as you step down into the deep sponson on the port side. It has a simple clip-in spray screen that keeps the rest of the cabin dry, and a drain in the floor. There's a tonne of storage under the double berth as well as sensible LED lighting plus a large forward hatch and twin fans for ventilation.  This one isn't a lock up cabin but it does have a soft privacy screen as a doorway. Moda offer a number of optional cabin and access layouts.
Another strong pre-requisite for Dale's selection is the huge amount of deck space inherent to the catamaran design, plus the immense stability. This factor is highly relevant to any would-be purchaser, but perhaps far more-so in this instance as his son is confined to a wheelchair. Moda designed and constructed a wide, hinged side door and ramp from the mooring pontoon, and they are currently discussing a further davit style system to make life even easier.
The extended hard top is an absolute must in the harsh northern sunshine and Moda fitted a SureShade wind out extension awning that covers the expansive cockpit. I have seen all sorts of concoctions for extended awnings and in my opinion this one is by far the best.
Dales C-8000 has been fitted with imitation teak SeaDek throughout, including the combings and internal floor. It provides a very manageable, easily cleaned surface that is soft and comfortable underfoot in all weather conditions. The visual appeal of the SeaDek enhances the air of premium quality when teamed with the midnight blue hull and polar white decks. Plus it drastically reduces glare and reflection, and is cool in summer and warm in winter.
The internal layout is attractive, functional and spacious blending a long list of sensible fittings and accessories. The helm is a skippers dream with panoramic vision through the chic and highly dignified one piece curved windscreen. I hate to imagine the cost involved in this little piece of opulence but it certainly adds to the overall appeal, vision and refined aesthetics.
The dash is a relatively simple affair but one that ticks all of the boxes. There's a large horizontal section for keeping those nick knacks that need to be close at hand such as telephones; and I find it a terrific place to quickly throw lures, traces, tackle and terminal equipment when the excitement explodes on the trolling rods.
From a skipper's perspective the helm is comfortable either seated or standing and the array of gauges, electronics and instruments are immediately at hand. This craft was fitted with one of the first Simrad NSS-16 multi-function displays including radar and a 600watt through hull transducer that has performed faultlessly. The unique sponson design with its fine entry is stepped below the stem before forming quite wide running planks that taper toward the stern. The flat running surfaces reduce the cavitation that can create problems for transducer mounting in others.
Other features include Lewmar capstan winch controls, Mercury VesselView 7" display, auto-pilot, switch panels, fuel gauges and twin binnacle electronic controls for the Verado's. Note Moda will fit nothing but electronic, "fly by wire" engines recognising their superior control, fitting and maintenance features.
You will love the level of comfort from the superb beige leatherette upholstery including the helmsman style skipper and passenger seats. There's a really smart side lounge with a large Waeco fridge/freezer on sliding tracks below. Premium craftsmanship abounds throughout but is particularly evident in the aluminium construction including welding, finish and rolled corners especially in the internal cabinetry. I believe the level of alloy manufacture to be some of the highest I have witnessed.
To the starboard is a functional kitchenette complete with a Dometic 3 burner gas stove, pressurised sink with hot and cold water and a large amount of storage with preparation bench. Some may call it a weekender but I could be comfortable for months.
Moda haven't just created a large, functional deck area, it's a virtual dance floor! The layout will please a tribe of offshore fisho's, a gang of divers or quickly convert for an evening chardy cruise with the pop-up rear seats extended the seating for up to six passengers. You can be sure that you won't spill your drinks with the maximised stability.
Dale's boat also features padded combings throughout and a nifty removable rear doorway that flows through to the platform between the engines with its drop down boarding ladder. There's a cutting board to the port and plumbed live bait tank starboard as well as properly placed rod holders and a rocket launcher overhead. Under floor are twin 200 litre fuel and a 100 litre water tank with full foam filling throughout. The only difference between the recreational and commercial build is the inspection process during construction and upgraded survey accessories.
I asked Dale what he likes most and least about his Moda C-8000. His answer was, "I use my Moda regularly so even with the economy of the engines combined with the efficiency of the hull I find myself regularly carting jerry cans to the boat as there is no on-water fuel at Caloundra. The best part is that the C-8000 is the ideal size and layout for all of my family, friends and fishing adventures with efficient power and seafaring ability to get me through the bar safely. But perhaps even better was the close and friendly relationship forged between myself and the small but professional team at Moda who built my boat to exactly fit my demands. We remain great friends and applaud their professional after sales service some two years on."
Say no more – this is a refined, premium quality cat that ticks all of the boxes!
Model: Moda C-8000 
Designer: Scott Robson         
Priced from: $AUD225,000
Price as tested: $AUD275,000
Type: Catamaran Hardtop
Construction: 6mm alloy
LOA: 8.00m
Beam: 2.50m
Power: 2 x Mercury Verado 150
Propeller: 17" Enertia
Fuel capacity: 400 litres
Water Capacity: 100 litres
Trailer: Optional
FUEL & PERFORMANCE DATA

RPM

Knots

L/h

L/NM

Range  (NM)

3500

16.0

36.6

2.300

150

4000

20.0

47

2.400

150

4500

25.5

56.6

2.300

150

5000

29.0

81.6

2.900

120

5500

32.5

110

3.400

100

5700

36.0

110

3.100

110