When Montebello commenced business 'way back' in 2008 its simple philosophy was to give its respective owners exactly the boat they wanted, whilst still embracing the cost-effective parameters of a production vessel. As such its boats would be different, individualistic and perhaps most important of all, timely. The latest offering from the Gold Coast manufacturer, the Montebello 12.5 Coupe, is surely evidence that it is adhering rigidly to that fundamental recipe for success.
The most refreshing aspect of this Montebello design was that unlike most manufacturers who simply chop and change the one design to satisfy that particular sailing or power market, in each instance the fledgling catamaran manufacturer has commissioned its catamaran designer of choice, Roger Hill, to produce a stand-alone hull design for each guise; different characteristics for underwater shape, internal design and for the deck and cabin-top layout and profile.
My very first impressions of this Montebello were of a vessel completely in proportion from an aesthetics perspective. Well documented is the fact the company always intended exploring every layout and configuration option within the parameters of the 12.5m size range so having commenced in 2008 initially with the sailing version, followed by the flybridge option, the natural all-encompassing progression was seemingly always going to be the single-level sedan layout which would satisfy not only the canal-domiciled brigade but also the long-range cruising boater.
This particular configuration of vessel perhaps more than any other can make or break a designer or indeed a whole boat range, but in this instance the practicality of the design has been judiciously intermingled with visual appeal and styling – in short it is a boat which looks good on the water. It will immediately endear itself to an audience who hitherto may well have been considering a flybridge power version!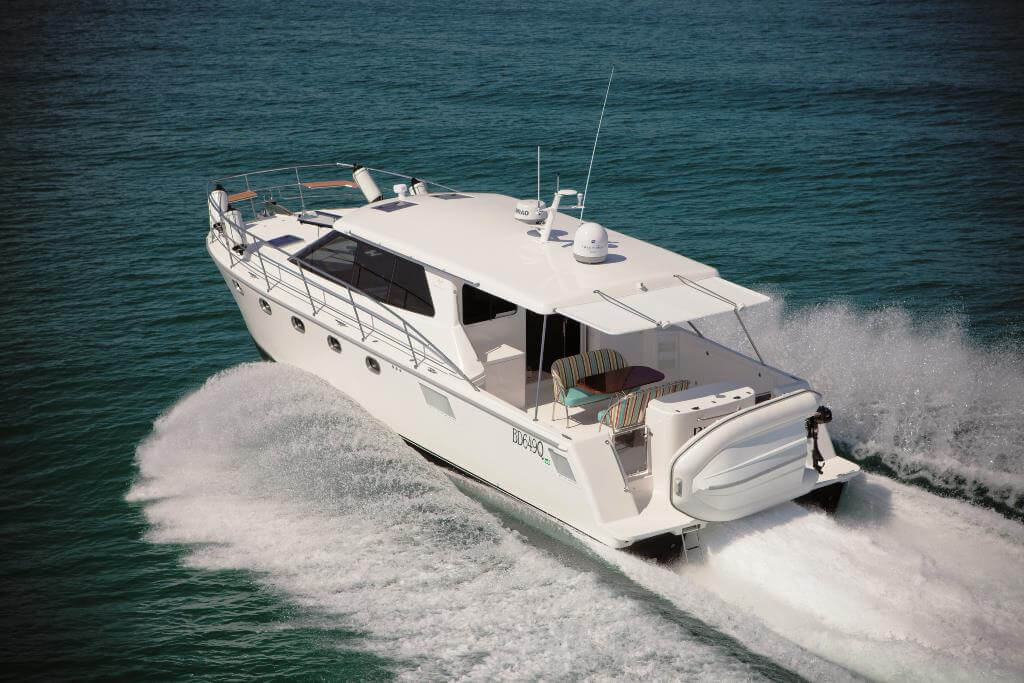 Step aboard and you quickly appreciate that while this particular craft does in fact follow the basic parameters of the sedan configuration, the artistic temperament of the designers and builders very obviously shines through for it is a very individual, very different boat both in terms of layout as well as integral features. What else would you expect, from a managing director (Gary Zamparatti) who over a considerable number of years has seen boats from every perspective; a builder, a skipper, a charter operator, a broker and a fisherman – you get to know right from wrong, user-friendly layout and features, and generally what people expect in a boat!
Generous Cockpit Dimension
Accessed via a sensible-height and sensible-area boarding feature, the cockpit was just one aspect that was 'different'. Huge is a better word, for in this particular instance where the lady of the house would far rather be outside than in, the soon-to-be-installed permanently mounted table and chairs feature and the overhead fabric and stainless steel roof extension, will provide the perfect outdoor setting. Sensibly because this setting will occupy a reasonable percentage of the centre of the cockpit, the rest of the area is in a word, uncluttered.
The deck-wash hose and outlet, plus ropes and wet gear, were all stowed in the shallow side lockers each side, upright steps to the walkways to the bow were recessed into the cockpit sides, and the outdoor living aspect would surely be enhanced by the transom module complete with S/S and glass gates either side, which separated the boarding feature from the cockpit. This typically-Montebello central module featured under the top-opening lid, a pop-up S/S gas BBQ with to either side of this a sink and running water, and a cutting board. There were storage cupboards either side on the forward cockpit side of this module and with safety in mind the gas bottle was properly mounted in a cupboard on the boarding platform or ocean side – outside the immediate 'inhabited' confines of the boat.
I should further comment on the walkways to the bow, for while adequately wide they were also made very safe thanks to a sensible-height bow-rail which extended aft to the cockpit, and grab rails both up the back face of the cabin coaming and horizontal, just below roof level. There was even a clip-on S/S ladder, stored when not in use in special brackets within the side lockers, which offered good access up to the roof proper. It is surely the thought and extra effort with features such as this, which make a boat a good boat!
All the mechanicals were well secreted beneath floor hatches in what were huge engine rooms each side. To portside and easily accessible were the two 24-Volt AGM deep cycle 200Ah 'House' and one 120Ah 'Engine' batteries (each side), the 3kW Xantrax inverter for what is predominantly a 24V onboard power, the Aquabase 120L/h desalinator, the 9.4kW of Coolmar air-conditioning and of course the engine. The latter in fact was our first 'eye-opener' for in an Australian first for a catamaran manufacturer Montebello and the designer Roger Hill had worked closely in tandem with Volvo Penta design personnel to graft a pair of 370hp IPS500 drives into this lightweight (9500kg heavy ships) yet exceptionally strong and rigid FRP composite (Divinycell foams, FRP cloths and vinylester resins – all resin infused) package.
The drive system was the very first stipulation by these particular owners and certainly gave some hint as to the lengths they had gone to, to acquire a package directly suited to their requirements. The other hint as to their expected end usage – live-aboard living/cruising – could be gleaned from the appointments within this (cockpit) area alone, with house-size features such as the 200-litre eutectic refrigerator/freezer, the Ariston washer/dryer opposite, and the mechanical peripherals such as the water-maker and for its size, the effective air-conditioning system.
Lifting the duplicated cockpit engine hatch on the starboard side revealed the second bank of batteries, a 7.5kVA power generator and of course the second 5.5-litre, in-line 6-cylinder, 370hp turbocharged and after-cooled Volvo Penta diesel power plant hooked up to the IPS500 drive system. It was with interest that I noted at the time that these were only the 370hp IPS500 power versions, really the first time I had experienced anything other than the IPS600 option.
I initially pondered if it would it be enough power – a mind-set which lasted only as long as it took to fire up the engines, idle out into the bay and then apply the throttles. Scraping myself off the aft cabin bulkhead I decided that yes, it definitely was enough power, which would lead me to suggest with the most efficient cruising speed of 25 knots, that it also had the prescribed economy to match. Top speed was equally as impressive, a two-way reading on my GPS revealed a speed of just on 33.6 knots. Not bad considering we were 200rpm short of the maximum 3600rpm anyway; the Duoprops were to be changed to a lower pitch, the next day.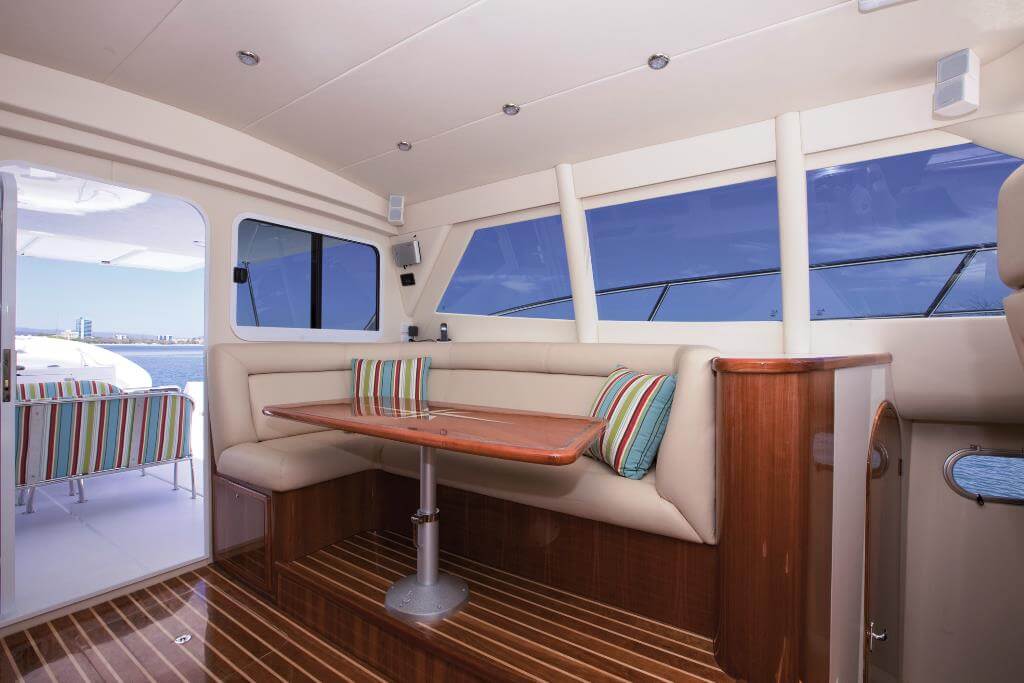 Generous space devotion in the cockpit often equates to a smaller internal saloon and accommodation level so I was again pleasantly surprised to see the saloon space had not been compromised. Entering through an impressive rather unusual aircraft-standard bi-fold alloy and glass door, first impressions in here were of a genuine attempt to present this area in a luxurious and opulent fashion. This room had real ambience, courtesy of the subtle contrast of the leather lounge, the cherrywood trimmings, the plush vinyl wall and roof panels and the spectacular padded mullions and side-window frames.
Very easy on the eye and definitely complementing the comfort level of the room on what was a very hot day, were the overhead Goiot hatches, the sliding aft bulkhead windows and the outer 'opening' windscreen panels, which provided a great cross-draft system for ventilation. As any manufacturer will attest to, getting windscreen panels to open wide enough to be of practical use, to seal properly and to be strong enough to address survey criteria, is an art-form in itself. Great effort!
As expected in a typical single living layout the helm, galley and dining 'areas' were all in the one room. Subtlety comes into play big time, so no one facet ever over-powers the rest and here again Montebello appeared on first glance to have 'walked the tight-rope' rather successfully. The portside four-person dining setting, with a table incidentally which lowered to form a single berth should extra accommodation be required, sat opposite what was a most comprehensive galley.
Within this feature generous cupboard space, a decent-sized sink, a two-burner electric stove-top, a separate oven, the side-by-side refrigerator and freezer and a huge Corian bench-top complete with fiddle and up-turn at the back, all ensured meal preparation features were in keeping with a genuine live-aboard cruising-style vessel. The mandatory television, a Trac-Vision satellite system, was a pop-up version recessed into this Corian bench-top; and there was even an Internet facility above the dining setting, to appease the owners' penchant for the little black box!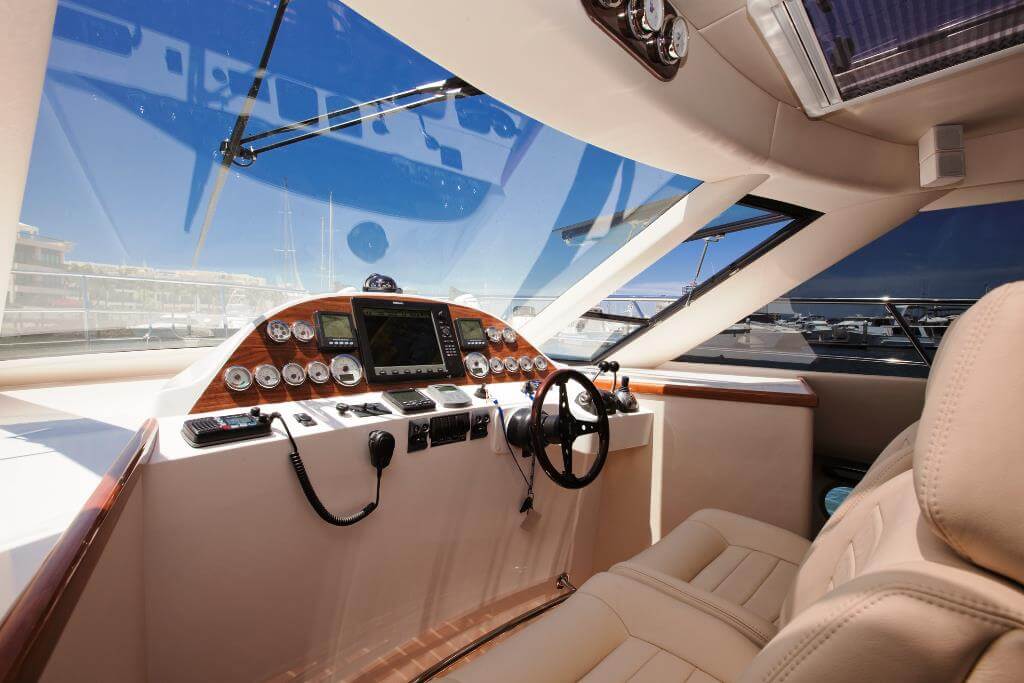 Typical of the sedan style of configuration, the helm was against the front bulkhead of the saloon, in this instance centrally placed and 'scalloped' into the face of this bulkhead. Well equipped with all the ancillary Volvo Penta instrumentation, remote throttles and of course the IPS joy-stick, again the 'seriousness' of these particular owners was evident with the electronics specification' – the very latest integrated Simrad NSE-12 Nav Station system complete with 24NM broadband radar. As in the case of the cockpit table and chairs, the two Chris Melphi 'skipper' chairs which would sit atop the 'bar essentials' wooden base, had not unfortunately arrived in time for our test.
Innovative Approach to Accommodation
The cockpit was huge in floor dimension, the saloon was accommodating and so the space 'trade-off' had to be below decks, up for'ard in the accommodation area. To sound very vague, yes and no! Firstly, in keeping with Montebello tradition this area too was again very different in approach, innovation and layout. Originally there were two two-cabin versions available, with off the portside athwartships queen-size room a generous-sized aft ensuite consisting of vanity and separate aft head and shower ensuite. Aft of the starboard side twin-berth cabin was a smallish utility storage room in under the BEP AC/DC switch panels.
Murphy's Law – along came these clients and unfazed by re-sale or any other preconceived negativity, categorically insisted on the one full-beam forward cabin. Propping himself up again, after that request, Montebello MD Gary Zamparatti was quickly on the phone to designer Roger Hill – can it be done? "No problems," Hill insisted, and by shifting weights around a little (Hill is very fastidious about weight distribution) and changing the layout only slightly he was able to provide a tasteful cherrywood, carpeted and vinyl-panelled genuine master stateroom.
Appointments included features such as 'his and hers' hanging wardrobes, a centrally-mounted queen-size berth, a vanity setting complete with drop-down seat, a wall-mounted television, layered access steps, side and deck hatches each side, a full-height linen cupboard and generous storage provision for clothing. "Ironically," Zamparatti explained, "we have shown a number of other prospective clients this particular layout and all have said this is what they want if they go ahead with purchase. An idea that came from left field initially has proven to be an absolute winner – especially with the ladies!"
Dare to be different. Montebello has approached boatbuilding in an entirely different/ proactive manner and the results speak for themselves. In an industry sector where traditionally more emphasis is placed on performance and efficiency than actual aesthetics, it is indeed refreshing to find someone who embraces all three aspects. In my opinion the profile of this 12.5 Montebello coupe is one of the best looking I have seen and when you couple that with the attention to detail, the specification, the build quality and all the user-friendly features which so often go unnoticed – surely you have a winner. Add to that the performance and economy plus the new-found berthing freedom now available with this Volvo Penta IPS drive system, and it is not hard to work out why this manufacturer has been busy all year, satisfying orders in what is supposed to be a depressed market.
Design Name: 12.5m Montebello Coupe
Year Launched: 2010
Designer: Roger Hill
Interior Designer: Montebello Yachts
Builder: Montebello Yachts
LOA: 12.5m
LWL: 10.70m
Beam:  4.48m
Draft:   1.08m
Displacement: 9500kg
Max Speed: 36 knots
Cruise Speed:  25 knots
Construction:   FRP composite /Divinycell, resin infused
Fuel Cap: 1400 litres
Water Cap: 600 litres
Engines Make:  Volvo Penta IPS500
Drive Train: Volvo Penta IPS
Propellers: Volvo Penta IPS
Generator: Westerbeke 7.5kVA
Base Price of Boat: $A750,000 +GST ($A825,000)
Price As Tested: $A810,000 +GST ($A891,000)