Monterey is an American brand that hasn't had a significant presence in the New Zealand market over the last number of years, but now with a new agent in Auckland, the brand will look to have an increased presence. Freddy Foote takes a look at one of the sportier models in the Monterey line-up, the 217 Blackfin.
The Monterey brand is distributed in New Zealand by brokerage firm Pinnacle Marine and Automotive, who are also the agents for Azimut Yachts, Elan Yachts, Impression Yachts, Agapi and Nacra Racing.
"We wanted a smaller high-quality entry level range to compliment the rest of the brands that we distribute," says Monterey Brand Manager, David Hawke.
"I think for any imported brand to have success, the distributor needs to be prepared to bring in some stock boats, which is the only real way you can showcase a new brand. The Monterey 217 Blackfin is the first model we've brought in, and we have other models in different configurations including cuddy cabin versions arriving October."
Monterey is a privately owned manufacturer, producing around 600 boats a year. They have an extensive model line-up and with models like this 217 Blackfin, that David says will appeal to the kiwi boatie.
"Over the years, we have tested a lot of the American manufactured bow riders and one continual observation that we have made is that while they are very well appointed and comfortable boats for water sports, they have not catered for fishing. Until now", says David The Blackfin range is a popular segment in Monterey's extensive model line-up. There are two models, the 6.3m 217 Blackfin and a smaller 6m 197 Blackfin model – both only available in an outboard configuration.
What makes the Blackfin range unique is that they are an all-rounder, able to suit the traditional water sports segment but also able to appeal to the casual fisherman. The 197 and 217 Blackfin are available with an optional fishing package which includes a GPS fish finder, live well with LED light, bow filler fishing platform, and stainless steel rod holders aft.
Up in the bow, there is reclined seating for two, which can be extended to three with the addition of the infill. There is abundant storage underneath both of the seat squabs, and the bow area is complimented with a handrail for each passenger, two stereo speakers, and two drinks holders. If you are into soft baiting, then you will like the infill for the bow that when added forms a fishing platform.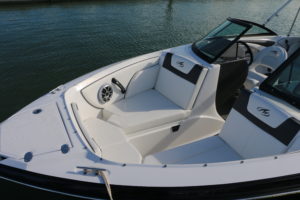 Forward there is an anchor locker of sorts, and while there is no fairlead, you could get one fitted easy enough. While I would like to see a dedicated anchor locker with all the features to secure properly and stow the warp and anchor, there is plenty of room in this compartment to get all the ground tackle in and out of when needed.
At the helm, there's the tilt wheel that provides an excellent range of motion and settings to accommodate the skipper. The helm bucket seat has a bolster that when raised up, elevates the skipper above the windshield for extra visibility. Something you would use if the conditions were a bit rougher, or to see a better with the glare of the sun against the water. The helm seat and all the seats on the boat are well padded and made of a stain-resistant vinyl.
Seating aft consists of a lounge style configuration with storage underneath for additional infills and a chilly bin in the centre. Access to the boarding platform consists of a walk through in the starboard corner. An infill is also available to go here to provide an extra seat.
The entire cockpit if finished with an optional removable saltwater proof purpose developed woven mat, that you can easily remove to dry after a day on the water. A cockpit table is also available as an option and fits into place immediately in front of the lounge seat aft. Passenger handrails and Fusion stereo speakers are plentiful around the cockpit, as is LED floor lighting. The cockpit sides also feature recessed rod storage – a great feature.
Across the stern, there is a full width-boarding platform that allows you to navigate your way fully around the outboard. A ski pole can be mounted in the centre and to starboard is a wet locker that also allows the telescoping boarding ladder to be stored away. Opposite on the port side is a fully plumbed live bait tank complete with LED light.
The 217 Blackfin comes in a single outboard configuration only with a rating from 150hp through to 250hp. Our test boat was fitted with a Yamaha 200hp 4S outboard with a 19" Reliance stainless steel propeller.
Our test day conditions were quite blustery on Auckland harbour, so we struggled to find some nice clean water to get some solid performance figures. But we did manage to squeeze 40 knots out of it hitting around 5500rpm. The boat is capable of more and will hit 44 knots at wide-open throttle.
A cruise speed of 22 knots will see the 200hp Yamaha use around 26L/H of fuel. I felt the 200hp Yamaha four-stroke was the ideal match for the hull. It provides more than enough grunt out of the hole, and the mid-range torque was superb. It gives you a healthy top end speed should you need. It will also be the ideal set-up if you're looking to do single ski water starts with adults.
Underneath, the hull of the 217 Blackfin has an 'Air Step' in the outer chine. The idea of this is to trap air underneath, provide lift and reduce drag. Difficult to notice in the choppy conditions we experienced on our test day but is certainly noticeable when the water is calm.
Underway the seating position is excellent. The single pedestal allows you to sit low enough to be well protected by the curved windscreen in front, but also high enough that you have good visibility forward.
There is a footrest in front of you to brace yourself against, and the throttle was within easy reach to trim the motor when needed. There is an array of instruments immediately forward in the well-designed dash, with all switches and controls within easy reach while underway. Despite being an open boat, wind noise is minimal, and two of us were able to converse normally without having to raise our voices.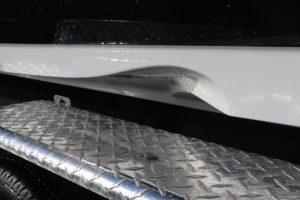 Launching and retrieving of the 217 Blackfin is the only negative I can comment on. Like the vast majority of American manufactured boats, they come on a bunk style trailer which is excellent for launching at the steep launching facilities in the US; it doesn't suit the Kiwi style of boat ramps. A multi roller trailer is the only way to go.
Overall, the new 217BF is ideal for wakeboarding, skiing, swimming, diving and fishing. Should you wish, an optional wakeboard tower can also be fitted.
Kids will love the aft boarding platform, and onboard there is more than enough storage for all the gear the family requires. With a few of the fishing features fitted on our test boat, there is no reason why the family can't try and catch a snapper or two on the way home after a day of tubing and skiing. I loved it. It looked great, goes great and has some superb features. One of the better American import models I've tested for some time and I can see it being very popular amongst Kiwi boaties.