The company started as Maritimo Service in 2005 and about 18 months ago the company name was changed to Motor Yacht Service Centre. This was done to better reflect the services offered by the company, which in the recent downturn in new boat sales meant they could no longer totally focus just on the Maritimo brand.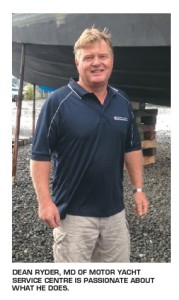 "New boat sales were down and our business was shrinking overnight as people thought that all we looked after was one brand, so the name change was important to reflect the fact we will look after any brand of boat", says Dean. The original company was set up to look after all the warranty and service work on the then recently introduced Maritimo range of boats from Australia and although they have since diversified there is still a certain amount of Maritimo business that comes to the yard. "We started with two Maritimo 60s and then it just spread from there as approximately 40 new boats were sold to local buyers most of CompanyProfi le> Motor Yacht Service Centre whom engaged our annual service program", says Dean.
Prior to setting up Maritimo Service, Dean had been working for Riviera doing similar service and maintenance work, so when the opportunity came to start in business with the Maritimo contract, it was a perfect move. "Even though I moved from Riviera, I am still very passionate about the brand and Glynis and I now own our seventh Riv", said Dean. Motor Yacht Service Centre, as the name reflects, predominantly looks after service, but there's more to that function than simply carrying out repairs. The company offers a comprehensive service plan for owners, so they can enjoy maintenance-free cruising on their boats. These are tailor-made for each boat and cover everything from regular maintenance to haul-out schedules and full engine servicing and replacement.
The service programme was introduced as we could see the benefits to vessel owners who are extremely busy and wanted the freedom to just jump onboard their boats and head off without any worries.
We have a team ready to step on board and assist 24/7 anywhere in New Zealand. On the question of 'grey imports', Dean is reasonably philosophical; "The market's changed a whole lot in the past few years and we have to accept that the new boat market will never be what it was, while there is such a huge range of good used boats available at fire sale prices overseas. This will of course eventually taper off as newer boats availability diminishes overseas" It also means great business for Motor Yacht Service Centre and Dean is the first to admit that working on the imports makes up a huge percentage of his business.
The company is set up to do just about any function in-house, from cabinetry, upholstery, electrical, engineering and fabrication. Motor Yacht Service Centre also recently installed its first Seakeeper gyro in a Riviera 43, something Dean is very enthusiastic about.
One of the more recent diversifications for the company has been hull extensions, something that for the past 12 months at least has been the mainstay of the business. "Owners are often very passionate about the boat they own and upgrade what they have already and in our case has meant adding a few metres on the transom and other exciting additions.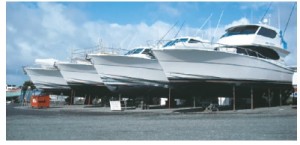 "They get a bigger boat that offers a few more advantages, both in space and performance at a fraction of the cost of buying something of a similar size new", says Dean. Motor Yacht Service Centre has extended nine Maritimo 60s, plus a couple of smaller Rivieras. However, things didn't stop just at hull extensions, as owners came along and wanted bigger cockpits and more changes.
One Maritimo 60 owner wanted more of a sportfishing cockpit, so it was decided to take the transom right out to the back of the extension so it required Dean and his team of craftsmen to remodel the whole cockpit. This increased the LOA to 68ft, which actually doubled the useable cockpit space.
"It is important to add that we are always mindful that we are modifying a Maritimo and it still has to look like a Maritimo when we're finished". Currently, Motor Yacht Service Centre is completing a hull extension to another Maritimo 60 for a local owner and is also in negotiations with owners of Maritimos, and other brands, for further hull extensions and other alterations and upgrades.
"We are finding that a lot of these owners love their boats and don't want to exchange them and would like to customise their boat to suit their needs. "that's where we come in", remarked Dean. MYSC have experts on hand to install and service a large range of aftermarket items; Extensive electronics packages, watermakers, Gyro's, new engines, bait tanks, flake ice systems, and custom designed fibreglass items—we have an electric game rod storage locker under construction at present.
Dean adds that 2012 and 2013 so far has been the busiest period since they have been in business and he sees a lot of positive signs for the future. The Ryders renowned high standard Annual Service Plan is certainly proving beneficial and cost effective for their participating customers ."Dean says we effectively stop problems before they occur for the owner Motor Yacht Service Centre is delighted to be also an authorised warranty agent for Back Cove Motor Yachts and Grand Banks Motor Yachts. www.motoryachtservicecentre.co.nz