Dutchess, a new 23.4m motor yacht built in Holland for Auckland based businessman, Tony Mair is a true passagemaker in every sense. Constructed by Mulder shipyards this is the first of its kind to arrive in New Zealand and is destined to be the first of more vessels from this quality Dutch yard.
Having owned many different vessels and knowing he needed a reliable builder, Tony did a lot of research before finding Mulder and he was immediately impressed by their long track record building and designing semi production vessels. Having been impressed by the entire Mulder range Tony has even taken on the agency for the South Pacific taking enquiries at his home port of Orakei Marina.
Approaching her from floating pontoons at sea level, her bow hanging high over the walkway, gives the feeling you are coming upon a ship too big for the berth. It's hard to believe she is just 76ft with beautiful lines and a swept back windshield more commonly found on a superyacht in the Mediterranean. Interestingly enough, this is just where Dutchess has come from.
Her initial sea trial was across the North Sea, into the English Channel, up the Thames to London and then back to Rotterdam. Not a bad sea trial considering this is some of the busiest and most treacherous sea in the world and I'm told she fared well. After her hand over in March 2007, Tony and his wife Sue said good bye to Holland and headed south for Valencia and the America's Cup, while mid 2007 saw them entertaining family and friends through the Balearics, Sardinia, Corsica and then up through the Cote D'Azur (French Riviera).
After a good year ticking another lifelong dream off his list – cruising the Mediterranean on his own vessel – Dutchess spent 6 months in the capable hands of Dockwise yacht transport and arrived in Auckland, New Zealand in early February 2008.
At just under 100 Tons, Dutchess is a small ship and has transcended the realm of a big boat! As I walked down the finger that ran the length of her to reach the stern, I knew there would be a lot of volume to this vessel. The height of her bow and freeboard, coupled with a 6.45m beam was going to make for an interesting review, the sheer volume this would yield had me intrigued.
Once up the back steps and into the stern cockpit there is a stunning, 180 degree, unobstructed view out over the breakwater to Rangitoto and up the Harbour. The stern deck has been kept simple with a large 'moon' shaped settee around a highly polished oval dining table sitting around 8 people comfortably with more seating available in front. Opposite this sitting area is a sliding door entry to the saloon and the wet bar to starboard which was a must have for the Mair's as they are avid entertainers. On the port side there are teak laid steps leading to the flybridge with a full length deck hatch to cover the stairs and keep out the wind and rain when the weather closes in – A very handy feature for New Zealand!
Up top on the flybridge is a Jacuzzi, lounge seating, BBQ and helm station, making an ideal setting for entertaining and taking out large groups. The area is huge boasting a good 45 by 20 square foot deck space and at the aft end are two Aquapro tenders with Yamaha outboards and Marquip davit for launching.
On deck, there is just the right balance of bright work to give this vessel a classic feel. The entire length is lined with polished stainless steel hand rails and high gloss timber cap rails from the stern all the way to the bow. Even the anchor winch, rubbing strip, fairleads and bollards are highly polished.
As we walked around Dutchess, Tony often spoke quite highly of Dutch workmanship and especially their painters. He has boasted that "Mulder use the same painting contractors as Feadship", an internationally renowned Dutch superyacht builder, and I can believe this, as on close inspection every fine detail down to the scuppers and bulwarks have been finished to a high gloss.
On entering the saloon, I was immediately impressed by how homely it felt, designed to the specifications of Tony's number one interior designer- his wife Sue. "If you wouldn't find it in a house then it doesn't belong on a boat" was Sue's criteria that she stuck too and what she has achieved feels really good. From the warmth of the shag pile carpet to the convenience of the furniture in the adjoining lounge and dining rooms there is no compromise here at all.
The greatest feature in my mind, giving an open plan feeling, is that the whole deck is one level from the aft cockpit, through the saloon, lounge, dining, galley and up forward to the bridge, kept open but still affording numerous separate areas to relax in.
The galley is neat and compact, found adjacent to the lounge and dining room and containing all that is needed for a comfortable dinner party. With Miele dishwasher, oven, ceramic hobs and range hood and even a full sized, double door, Bosch refrigerator with ice maker and water dispenser.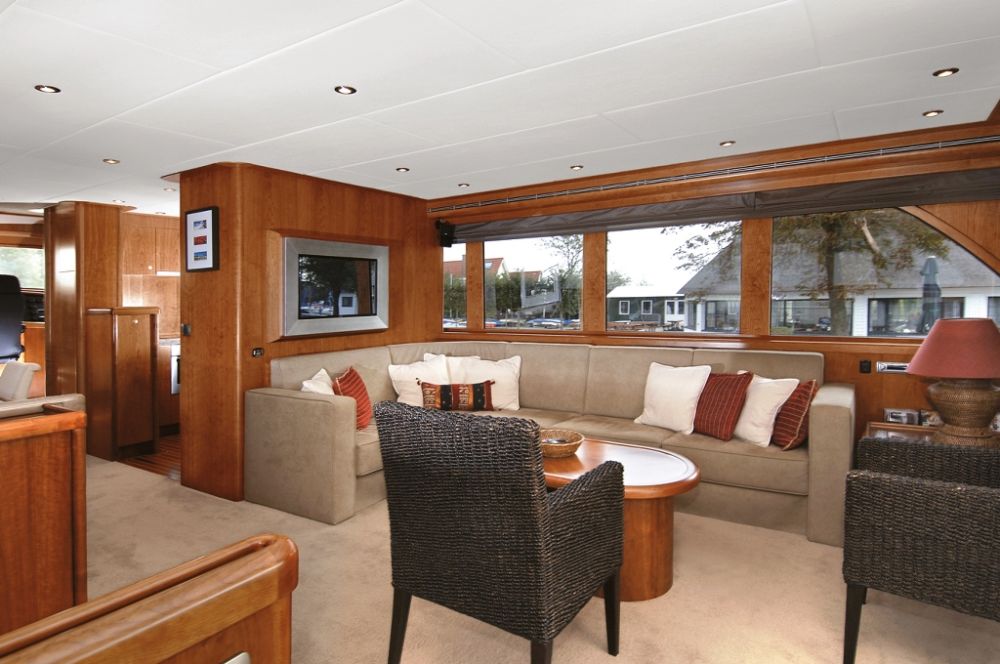 The bridge is nicely partitioned from the saloon but still joined by a good sized passageway; it has all the right navigation gear for going offshore. Decked out in Furuno style with three Navnet Vx2 displays, Fi-30 Instrumentation, VHF, SSB, radar sounder…you name it, she' got it. And to top it all off an essential item to finish the bridge, the leather racing bridge seats from Ricard at a cool 6,000 Euro each!
There are two downstairs living areas on Dutchess, one up forward accessed from the bridge and the other is down aft accessed from the saloon. Up forward is the master cabin located amidships just forward of the engine room. The master cabin is nicely appointed and easily the largest cabin on board with a full sized ensuite containing bath, shower, head and Vanity and plenty of cupboard space.
The forward cabin is similar with full queen size bed and ensuite, excellent storage space due to the huge beam of the boat making for symmetrical cupboards, beds and bathroom fittings. No need for custom made marine fittings requiring a compromise on usability.
Giving up a little extra bathroom space, Tony had a full 200 bottle wine cellar fitted into the joinery between the master and guest suites, complete with racks, it's own dedicated door with wrought iron trim and completed with a fine layer of dust that is not to be cleaned away under any circumstances! The wine cellar makes an interesting focal point as well as a tempting place to spend a few moments pondering where he picked up each of the labels.
The aft sleeping area is accessed from the saloon and has two cabins with twin beds, one of which is a double size with ensuite. The fourth cabin's head is across the hallway and shared with the captain's cabin so it can be either for guests when a single crew member is used or for a second and third crew member.
The engine room is also accessed from this aft accommodation space with the twin Scania continuous duty marine engines dominate the centre of the engine room. Maximum speed of Dutchess is 12 knots, with a cruise of 10 knots.
Auxiliary appliances in the engine room are neatly situated and include a Max – Q Watermaker, capable of 1800 gallons of fresh water per day, 2 Onan generators, delivering 17.5 kw each, Heinen and Hopman 'Marine Air' air conditioning, and an array of Jabsco pumps. Gel type deep cycle batteries are used in all banks delivering 24V, and Master volt chargers and inverters keep them topped up and delivering.
There is an enormous lazarette locker and huge bow locker both requiring hydraulic operated lifting doors. The hydraulic pack is located in the engine room and engages into action when any door is operated but when the engine is running the power take off pumps take over. Also operated by hydraulics is the bow thrusters and steering gear. Stabilisers are independent of the hydraulic system.
The Mulder 76, Flybridge also comes in 72, 82, 88, 92 and even a 105 foot model so for all the space and comfort of Dutchess she actually isn't the biggest of the range. Her hull is steel and superstructure is aluminium making for a sleek modern look with the comfort of a stable hull. With a displacement hull she is also very efficient burning through just 4 litres per nautical mile at 8.6 knots. That is 28 litres per hour as both engines are low revving making for good efficiency at constant speed. With the size of her tanks and fuel economy, Dutchess could make it to Fiji and back three times without refuelling!!!
The owner chose Mulder to deliver his vessel because of "their long standing history producing good quality vessels, delivered on time and on budget". Dutchess was hull number 568 to come from Mulder Shipyard since their opening by Dirk Mulder senior in 1958. The early days of the Mulder family business saw construction of mainly timber sailing vessels, often thought of as the foundation of an excellent boat builder, the yard switched solely to motor yachts in the 1970's and by the 1990's vessel construction materials had moved on to aluminium and steel.
All told, I was thoroughly impressed by the Mulder. She's not the biggest boat but she is definitely an ideal size for versatility, comfort and the convenience to go offshore. I have heard it said a number of times by some prominent businessmen that the Mulder 76 Flybridge model is "the perfect size for New Zealand".  Dutchess is small enough to fit into the smaller marinas, while still being able to cross the Atlantic, or cruise the South Pacific. A great all rounder.