Six of One……. Half a Dozen of the Other
Mustang Pleasure Boats has always had a range of serious offshore fishing-orientated models, and latterly the Clubsport range has been developed to satisfy the 'overnighter' market. The logical solution when embarking on the next model in Mustang's all-encompassing game-plan was to develop something in between the two very contrasting ideals. The 2000 Bluewater model was introduced two years ago and now, right on schedule, is the Mustang 2250 Bluewater.
Following on from the success of this 2000 Bluewater model, which was awarded Boating Family Boat of the Year in 2004, Mustang has released this larger, more voluminous and certainly more luxurious model to even more seriously appease the appetites and criteria of the discerning family buyer – from both his and her perspective. Specifically designed for the Australian market and more importantly for Australian boating conditions, this multi-functional vessel with sleek appealing lines caters for a typical family's boating needs as a family overnighter, a day cruiser, or as a serious offshore fishing rig.
And that, says Mustang directors David and Paul Hancock, is the whole rationale behind this model. "This model evolved through two very influencing factors," they explained. "Firstly, our previous 2250 Walkaround satisfied a very captured (dedicated fishing) market, and as such there were a lot of sales situations we encountered where dad loved it but mum simply couldn't get around the fact there was only a very basic cabin, and little or no genuine family-friendly features – from the female perspective. Our Clubsport range was the exact opposite, an overnighter 'Sports Cruiser' range with great handling and performance features, that simply was ill-equipped for the fisherman, but the ladies loved it. This Bluewater alternative now provides a good balance between the two ideals."
Ostensibly this Bluewater version is simply a cabin (and not a 'caravan') or 'family day boat' version of the 2250 Walkaround. Yes, it utilises the 2250's underhull shape, and yes, it still has a deceptive amount of fishing refinements, but from there the similarities cease. Most obvious was the sheer volume of this model, alongside the earlier 2000 model that is in effect only 620mm shorter; and the new topsides and cabin design that provide a deeper freeboard and a self-draining non-skid cockpit.
Stepping aboard this 2250, immediately noticeable was the different approach that has been taken with the transom feature. The Hancock brothers (Directors) wanted the design to include all the fishing functionality synonymous with 2250 Walkaround but at the same time include those features which also make it the ideal family boat.
So yes, there was a nice platform on the port side to aid entry through the transom cut-away and folding door feature, complete with recessed folding ladder (so lines didn't get snagged!) and grab handles, and yes there was a transom shower as well as ski-hooks each side on the transom face – but there were no marlin boards to snag lines on, and the starboard side of the engine was a feature that extended right aft of the actual transom, that Mustang affectionately referred to as a 'boot'. In addition to a 60-litre live-well that was also on the top of the transom upright, this was a brilliant use of space for large and awkward items such as fenders, or indeed even your fish.
Put simply, it was a nice 'clean' bum, and the theme certainly prevailed in the cockpit also, where a fold-down _ rear lounge, a bait station aft enough to be out of the way of seated rear passengers, a fold-down queen seat to starboard, recessed side panel rod lockers, and recessed coaming-top grab rails – left the self-draining cockpit liner/module completely uncluttered and 'workable'. You could fish right against the sides or transom tops and such was the exact right topside height, it was most comfortable to fish from.
If you felt so inclined, a moulded step by the back of the helm seats each side, stepped you up onto coaming top walkways that provided adequate access to the foredeck. The bimini and Targa assembly was sturdy enough that it provided something to hang on to and the bow rail then provided help for the rest of the trip to the bow. If it was me though, I would simply stand up through the generous sized foredeck hatch and attend to whatever was needed, from there.
Cockpit aside, the helm and cabin features were what would genuinely entice the rest of the family aboard, from here forward it was every bit the consummate cruiser. On the port side we had the king/queen seating arrangement, and by lifting and folding forward the adjustable and swivelling king bucket seat, we found this box base was utilised as a large ice-box. It could be a freezer too, or a refrigerator could be fitted into the face of it, or it could house a single-burner stove – good efficient use of space.
Side pockets were recessed into both the port and starboard helm sides, and above the starboard side pocket was even a recessed tackle locker. While the starboard seat base was a GRP module, the driver's side base was an open stainless steel frame that secured, out of the way, a large portable Esky – American style. Between the two seat bases was a huge 190-litre kill tank, entirely suited to a bluewater fishing situation.
The helm itself, well protected by the stylish windscreen and the overhead Targa and bimini assembly, was comfortable, and yes, appealing. There was a reverberating realisation as I looked about this boat in fact, that it was very 'American' in both its styling, and its specification. A manufacturer can either drop its price to match the imports, or match the décor and presentation, the features, and I think Mustang has done a good job in this department by providing a package that will appeal to the fisherman, as well as to the family. The dash was a typical example in fact, with plenty of shapes and scallops, a deep wood-grain instrument facia with matching sports wheel, throttle out of the way, well-placed footrest below – and into the bargain it had something most American boats don't have, appropriate room for a decent electronics package.
Okay, so we had a good-sized cockpit, plenty of room in the helm area, so how I wondered would we fare when stepping below, into the cabin or family room? Sliding (easily) the lockable polymer door across and well out of the way into the recess, I discovered a room that appeared acceptable, size-wise. It was only when I actually stepped down into this cabin however that I truly appreciated the size, or should I say volume, in there. Lined and carpeted, well lit and ventilated by side and overhead opening port-holes and hatch, it was also presented very well – homely was an ideal that sprang to mind.
The main features in here, apart from the almost stupendous amount of head and leg-room, were the two modules against the helm bulkhead, a sink and hot and cold water feature (with storage cupboard below) to port, and to starboard a 'servery' module again with storage below, that would ideally double as an alternative place to fit a one- or two-burner stove. Being as this was the first 'prototype' model, a table had not quite been finished in time for the test, which would lower to become the infill for a huge vee-berth. Such was the seating space and leg-room available in there, there was room to easily seat five around this table. And to really keep the ladies happy, the rear of the two centre squabs up front lifted to reveal a head – in this instance a porta-potti version, but there is an alternative electric version available, with holding tank.
At this stage the Mustang 2250 Bluewater has been developed in an outboard guise, with a power range of from 175 to 230hp. The big-cube 3352cc 4-stroke, 24-valve, DOHC, EFI, 60-degree V6 F225 AETX Yamaha on our test boat was right at the top end of the power scale and as such was a refreshingly agile and energetic performer that pushed our combo to a top speed of 48.4mph at the maximum 6000rpm. Given that it was a new and therefore 'tight' engine, and that we were running a relatively 'standard' 19" pitch 3-blade S/S propeller, I felt that was more than respectable for a boat of the size and volume of this Mustang.
We have come to expect appropriate bluewater handling in Mustangs over the years, and being as they have unashamedly utilised the popular 2250 Walkaround model's underhull shape, the performance and handling attributes were as good as I expected. Better in fact, for although the rear deadrise was 'modest' at 18-degrees, the extra weight of this hull appeared to have softened the ride somewhat, which is important in a family situation, for while little bothers a fisherman (as long as they get to their fishing spot in the shortest possible time), it is important to a family who like to perhaps 'enjoy' the occasion a little more. Stability was another key attribute of this underwater shape (both at rest and underway), as was the obvious efficiency of the hull.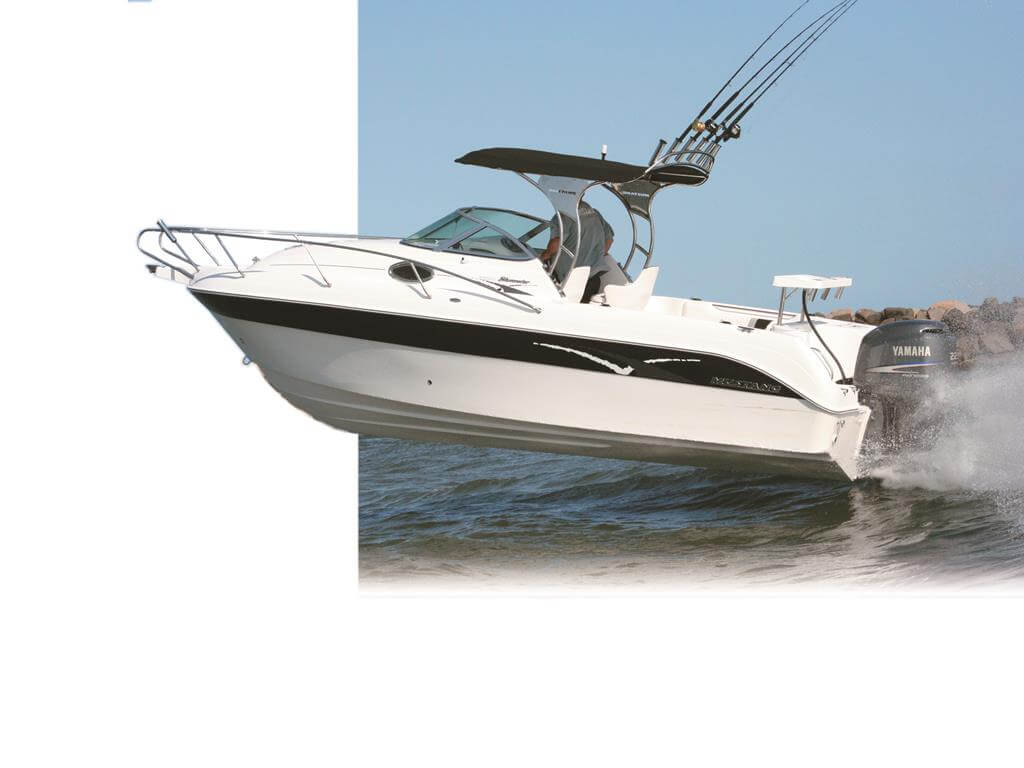 Out in the big stuff, real bluewater conditions, the hull was certainly energetic when in a 'swell with waves' situation, but it was entirely predictable, it didn't reach for the heavens, there was little actual harshness when bouncing around, it dug itself out of swells nicely, it responded well to the wheel, and best of all even in those seas, the ride was surprisingly dry. As I noted earlier, I believe the extra weight has made a good hull even better – turned a performer into a docile performer!
If Mustang has purposefully set about matching the opposition rather than complaining about the price of the imports, then I feel it has done a very good job. Buyers love the glitz and glamour if you like, the level of specification of the American style of boat, and if they can't buy it locally, then they are surely going to buy an equivalent product from the USA, France, Italy, NZ or wherever else. Only difference in this instance however, is the fact this is an Australian designed and built hull, designed specifically for our conditions, and if you had seen what our very capable driver (of the Mustang, during our photo shoot) was putting the  boat through during the course of our photo session, in what was a decidedly angry, seaway entrance – then you will know exactly what I am getting at. This 'fishing' boat is good value for money, make no bones about it, for the 'family' is able to enjoy it equally as well!
Model: Mustang 2250 Bluewater
Price of std BMT: $80,900
Price as Tested: $84,190
Designer: Mustang
Material: GRP
Type:  Cabin
LOH:   6.87m
LOA:   7.35m
Beam:  2.44m
Rear deadrise: 18 degrees
Hull configuration: Medium Vee
Trailerable weight: 2400kg approx.
Engine capacity: 3352cc
Power options: 175-230hp
Fuel capacity: 300 litres
Engine: Yamaha F225 AETX