Amazingly spacious and light and airy, Absolute Yachts' new Navetta 64 is a stunning combination of luxurious features, practical innovations and value for money.
With a wide and uninterrupted side glass window (running all the way from the aft mirror right up to the windshield), large bow windows, open side gunwales in the cockpit and a huge Beach Club transom, the Navetta 64 creates stunning all-round panoramic views and a closeness-to-the-water feel.

Add in exquisite Italian design, the generous use of cavity sliders, clever innovation and those large mullion-free windows and Absolute has created a wonderfully-uplifting feeling of spaciousness everywhere on board.
Nowhere is this more evident than in main saloon. Frameless glass side windows, combined with a unique 3m-plus curved and frameless windshield create an almost unbelievably light and airy space, along with those absolutely stunning views. With superbly comfortable sofas, a large dining table, an ultra-modern entertainment centre and a fully equipped galley that also opens into the cockpit, the result is an onboard space unlike any other.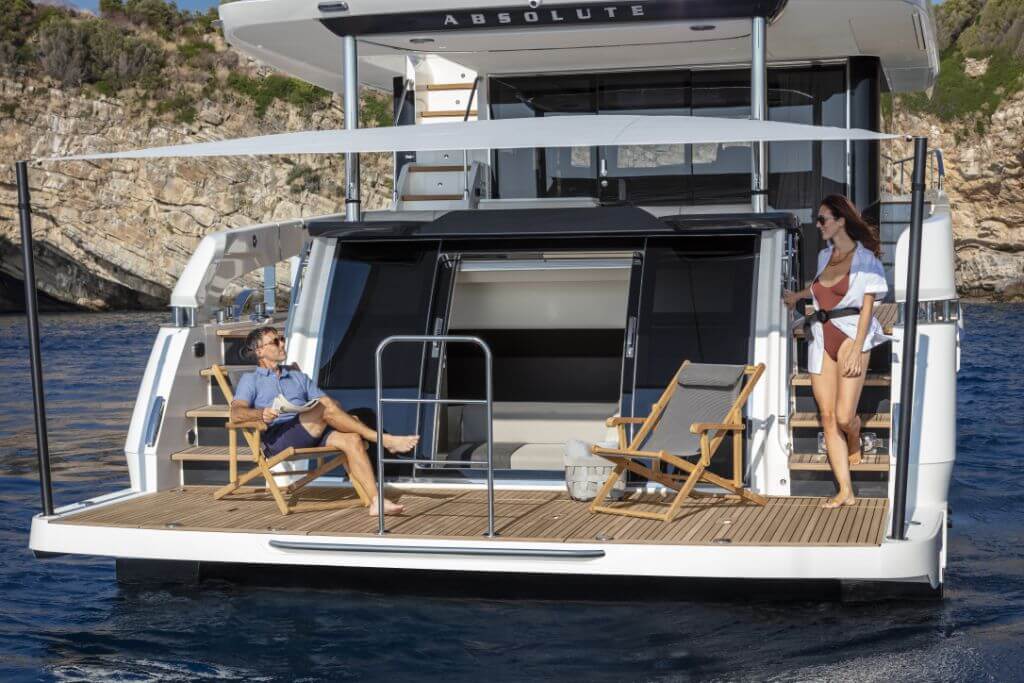 To ensure the skipper and guests can always enjoy each other's company, regardless of the weather, the Navetta 64 boasts twin steering stations: one in the main saloon (complete with handy side door for instant access outside) and the other up on the spacious flybridge. The latter, thanks to its incredibly generous beam, is another exceptionally spacious area in which to relax, entertain and watch the world go by.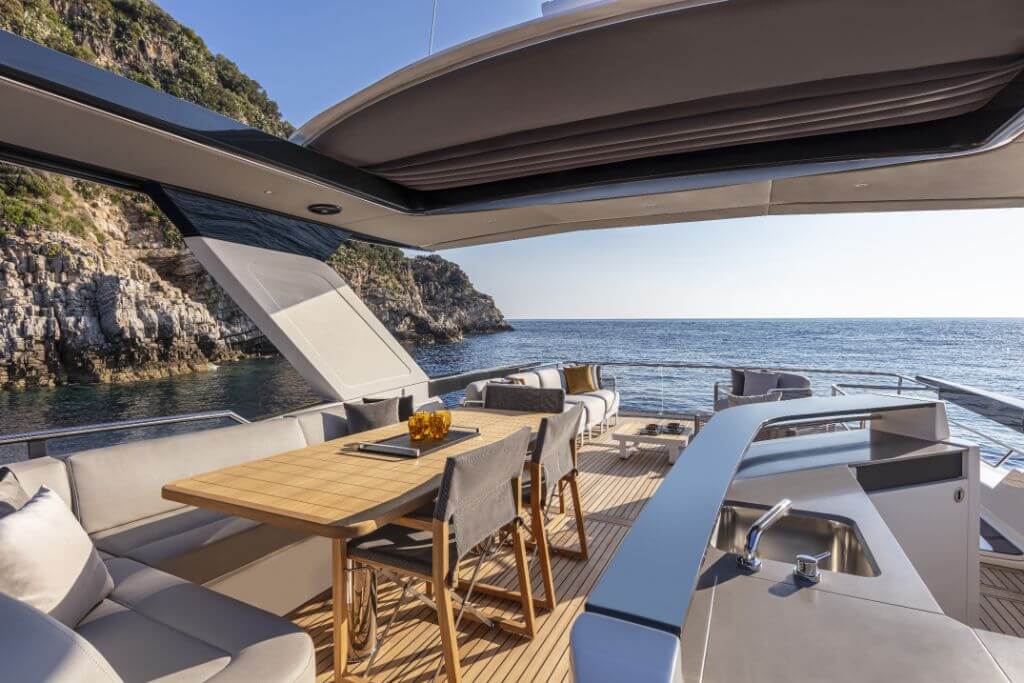 One of the Navetta 64's most popular features is its innovative Beach Club, a huge aft platform that gives access both to the sea and, through a fully glazed watertight access door (with certified watertight seal), to a VIP cabin, complete with en suite, right on the waterline!
Perfectly positioned in the bow, and boasting more stunning views from both the cabin and the full beam ensuite, is the Navetta 64's master stateroom. Complete with luxurious king-size bed and very classy, elegant furnishings, it offers complete privacy and a welcome degree of separation from other guests.
Absolute has equipped the Navetta 64 with a pair of Volvo Penta IPS1350 drives that enable the Navetta 64 to cruise 19 knots while using just 12.5l/nm. For those in more of a hurry, they are also capable of quickly reaching a top speed of around 27 knots.