Leading Kiwi powercat designer Roger Hill has announced two new designs, an 18m semi-displacement powercat and a 12m full displacement powercat.
18M SEMI DISPLACEMENT POWER CAT.
This new 18m power cat is similar in hull form to that of 'Bajaca', an 18.7m semi-displacement power cat featured in this magazine and built by Julian Griffiths in Noosa. Although a small amount shorter than Bajaca, it has a longer waterline with a contemporary bow profile and a finer underwater shape forward. The client went through a detailed sea trial process and comparative analysis with our 18m foil assist high speed planning cat design before concluding that the semi-displacement hull form would best suit his intended use.

In 'light ship' mode, the top speed will be close to 30 knots. General half-load mode top speed will be in the more typical 25 to 26 knots, which should be expected with this type of cat hull. Motive power will be a pair of the new Yanmar 6LF 550 hp diesels, an ideal match for this mid-size cat. The styling is a bit edgy. The main cabin's feature is the amount of glazing and visibility out from any sitting or standing position in the saloon. Construction will combine standard fibreglass and carbon fibre with foam cores with the high modulus material utilised to optimise stiffness, strength and lightweight. The boat will have a large dinghy locker under the cockpit sole access through the aft cockpit cabinet and launched off the carbon fibre hydraulic centre platform that will go down and under the water for the dinghy to float off. This can also be a large entertainment area for swimming and diving off, and pushing off the other water toys stored on the upper deck. This boat will be built in NZ and launched mid 2022.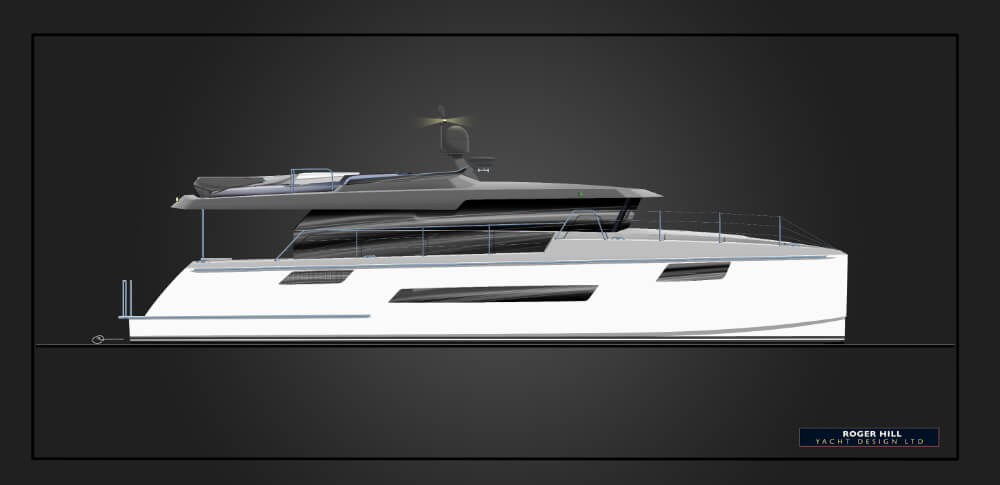 12M DISPLACEMENT POWER CAT.
This 12m outboard-powered cat is underway for an existing owner who was my first client when I started my design practice 25 years ago. Their first RHYD design was an 11.9m cruising yacht, which they still own and have used extensively since launching. It has been kept and maintained in immaculate condition and is ready to go another 25 years with a new owner. When we did our first pure displacement hull power cat designs 18 or 19 years ago, I thought they could be accurately described as a sailor's powerboat for their sea keeping ability and excellent economy. Most people coming out of sailing monohulls for most of their yachting life are more than happy to be power cruising at 10 or 12 knots. This is 50 or 60% faster than what they have become used to for a long time, so it seems quite fast, and the ride comfort, stability, and low fuel consumption is a big attraction. The smaller 9 or 10m boats with a pair of small outboards cruise at around 14 or 15 knots and have a top speed of 20 to 21 knots; this 12m will have a top speed of 25 knots. They are scuba diving enthusiasts, and the aft platform will articulate down into the water, transforming from a flat surface when fully raised into a set of easy steps down with a broader bottom step for sitting on, getting into and out of the water with diving gear on and general swimming. A small, lightweight tender will pull up into the cockpit after being lifted by the platform being raised. Construction is standard fibreglass, foam cores, and epoxy resin and the internal layout is optimised for two people to cruise in comfort with an occasional guest.