OFFSHORE RACERS TO CRUISING CATS
Over the company's 25-year history, Nic de Mey Yachts has become one of New Zealand's premium boat-building companies. With a committed team of passionate boat builders and top-quality facilities in his Tauranga-based workshop, Nic de Mey builds world-class boats for clients worldwide.Currently completing two 60ft powercats, plus an order book full of ultra-fast ski boats, owner Nic de Mey is one of the busiest custom builders in the country and talked to PPB about his growth, success and future goals.
WHEN DID YOU GET INVOLVED WITH THE MARINE BUSINESS?
I am a qualified boatbuilder and started my career with an apprenticeship at race and luxury yacht builders Marten Marine Industries. I trained under specialists in advanced composite construction. I worked on boats for America's Cup and Whitbread / Volvo Ocean Race boats before working on superyachts and all the systems and finishes they entail. I am very keen on any form of boat racing, from yachts to powerboats. Since 1994, I have ski raced competitively on the New Zealand water ski racing circuit and have represented NZ at World Championship events. I started my boat-building business in Auckland before moving the company and family down to my hometown of Tauranga. When not building boats, I love enjoying the great NZ outdoors with my family – mainly getting out on the water to fish, dive and water ski."
WHEN DID YOU START ON YOUR OWN?
1994, I had the support of my then boss Steve Marten who fed me work to get me started; it was something he didn't have to do. It's something that I've been extremely grateful for, and he's been a friend and mentor to this day. He had me building carbon rowing skiffs, weapon systems for the Australian Navy, and carbon booms for Superyachts. He would come around to my small factory and hang out. I get what that was about now, having about 30 staff and a big building around my neck. Our first custom yacht build was a sailing cat called Silver Raider, built in 1995, which dominated the Auckland multihull scene for many years. It progressed into larger and more complex vessels, utilising advanced composite construction. The largest project to date is U21, a 21m foiling catamaran for renowned NZ businessman Graeme Hart, who is very passionate about the process of designing and building boats, a great guy; the world needs more of them.
HOW HAS THE DIRECTION OR FOCUS OF THE COMPANY CHANGED IN RECENT YEARS?
It's been an exciting progression, not without its failures and sidesteps; when I first started, due to my training, I could only offer boats built out of advanced composites; there weren't too many clients wanting cruising boats built like an Americas Cup Boat way back in the early 2000s, so work was very up and down. There was also a vast amount of work we couldn't discuss or show people. It was also before social media, so getting my name out there was tough. One minute we were doing 80-hour weeks; the next, I let people go, struggling to make ends meet. There were tough times that I wouldn't want to repeat. It was about 2010 when I noticed a distinct shift towards "civilian" projects becoming very focussed on building lightweight, stiff boats, particularly power catamarans; I had invested heavily in perfecting the enclosed moulding technique, which is just a superior way to build a boat, all of a sudden. I was one of the few that could successfully pull off big projects that were technically challenging to build. The phone started ringing and hasn't stopped. The business has moved from race boats and parts to building highly advanced composite luxury boats.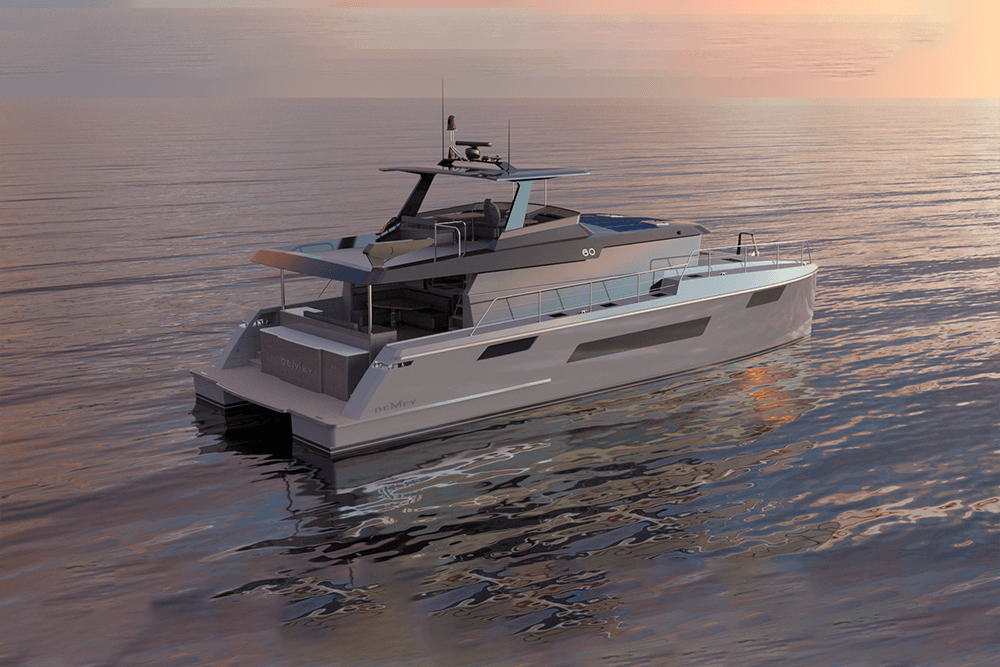 The way we have embraced technology in general, from in-house design to CNC and 3D printing, has separated us from our competitors; We would be dead in the water without computers and CNC machines. I don't know how other builders do it sometimes. We are very team-focused nowadays; it's not all about me; I'm a very small part of it now, and my role is split between quality control and build details, design and sales. The team I'm surrounded by is fantastic, and they deserve credit for what we achieve. I'm very grateful for all of them.
IS CUSTOM BUILDS A MAINSTAY OF THE COMPANY?
They always have and will be very important to us. Every customer gets involved in the build process; I would say every customer we have had has enjoyed the construction process just as much as actually using the boat once it's in the water. However, some customers don't have the time or the inclination to go down the custom-build route; it can be initially very daunting and perceived as risky. That's why we are offering the Spaceship 60 Explorer catamaran as a semi-production boat, a very high-end cruising power cat, as good as any custom build, the difference being that we can walk them through a Spaceship, take them for a ride and then give them a fixed price and delivery date. They know exactly what they are getting, all of the problems have been solved, and they know what it's going to cost. This is the advantage production builders have over custom builders, a fixed price, demo models and an early delivery date.
WHAT IS HAPPENING WITH PHANTOM BOATS?
We have just launched our new model, Phantom F2, which I've been told they're more a work of art than a race boat. I got a little carried away with how good they are, they're definitely a passion project more than a commercial exercise, but they symbolise what we can do as a company, so they have to be much better than just good. The initial plan was to design and build a boat that dominates races, a level of build and design that others couldn't match easily; there were numerous design iterations, before we settled on what it is now carbon with a foam core, infused, no expense spared. If you had told me twenty years ago that's how I'd be building ski race boats, I would have laughed.
WHAT IS THE INTEREST LIKE WITH THE DEMEY 60 SPACESHIP?
The marketplace has nothing like it, so the phones have been ringing. It's usually someone looking at a Fleming or Nordhaven-style explorer yacht, so the conversation always starts with litres per nautical mile and range; customers are beginning to think about fuel and servicing costs, along with going on long cruising expeditions. The powercat explorer yacht market has taken off, and it's a market that's got huge potential. It also is a semi-displacement hull form, which lends itself to having a hybrid power train. We are very interested in pursuing it but don't believe fully electric is the answer and won't be for some time yet.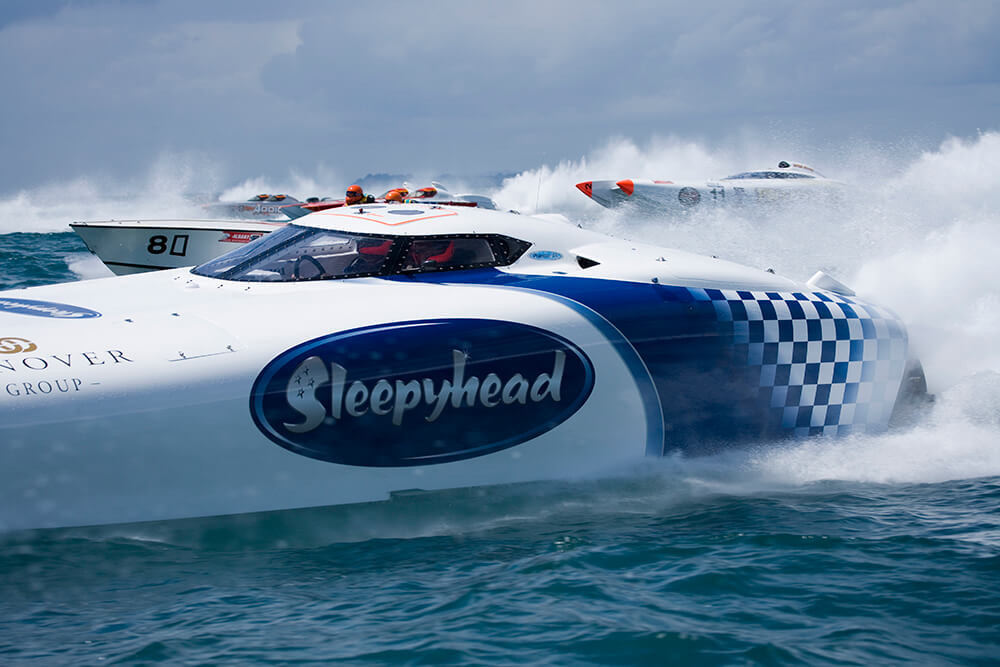 AFTER THE DEMEY 60S GET LAUNCHED, WHAT NEXT?
I'm a custom boatbuilder, so this question always fills me with dread. The plan is to build another Spaceship, plus we are also working with Roger Hill on two bigger projects.
DO YOU HAVE OTHER BUILDERS BUILDING TO YOUR DESIGN, OR IS ALL THAT IN-HOUSE?
Design has always been a huge part of the business. But it's always something we need to be conscious of regarding getting offside with designers that may be looking at us to build a boat but think we are going to steal all their IP. We have an excellent relationship with Roger Hill, the designer of the Spaceship '60s, and we work very well together. It has become a very symbiotic relationship. But the reality is we do a lot of design work for other clients, such as the latest Haines Hunter 635 and a 16.5 mt semi- displacement powercat being built in Tauranga by Craig Wild. It's an exciting project as designer Ron Given asked us to design the boat using his hull form ideas, but sadly Ron just passed away before seeing the finished design, which is due to be launched in early 2025.
HOW DO YOU SEE THE MARKET TRENDS IN THE FUTURE?
Semi-displacement and foil-assisted catamarans are just starting to become popular along with explorer yachts, with this market growing exponentially in the next ten years. Production boatbuilders such as Riviera and Maritimo are attracting a whole new customer base to boating. Once experienced, a few will ring when upgrading to the next production model can't achieve their wish list. Hybrids will become popular, solely electric will be great for ferries and dayboat situations. On the construction and design side, technology such as VR to not only design boats but also show customers what they are getting will be a must; being proactive with things like printing and CNC machines will be crucial.
WHAT OVERSEAS INTEREST DO YOU HAVE?
One of our current Spaceships under construction is for a Sydney client and 80% of our enquiries are from overseas; the catamaran market in the U.S. is just starting to take off, for instance.
IS THERE ANY PROJECT YOU WOULD LIKE TO START IN THE FUTURE?
I'm open to all projects, race and pleasure. For me, it's more about working with clients with a boat they want built after years of boating and working bloody hard. They come to me to now bring that dream to life. It's a huge responsibility, and these are the best builds to be a part of. We have two happening right now, and it's happy days.
WHAT IS YOUR BUILD CAPACITY?
Depending on the size, currently, we can and are building two 18m catamarans simultaneously. It would be nice to get a stagger happening and launch one every six or so months. We have a five-year strategy that involves growing in size. What Ian Cook from YDL has achieved is a huge inspiration and something I aspire to. I cold-called Ian ten or so years ago and asked his advice on what I was I was doing right and what I was doing wrong. It was a humble sit-down conversation where I walked away with an extensive list of wrongs; I'm crossing them off steadily. I still got a few to go, but I'm getting there.