While the Swedish Nimbus brand is 50 years old, it is only in the past 18 months that Kiwis have been exposed to new models. Such has been the response, that twelve new Nimbus have been sold in that time, and the 405 Coupe is one of the latest.
Scott Williamson, Managing Director for Sports Marine, importers of the Nimbus brand, says that while the bulk of the sales have been for the 305 and 365 Coupes, there is a lot more interest in the 405 now that there is one for clients to view locally.
I have had the privilege, and I say privilege of reviewing both in print and on video, the 305 and 365 Coupes, so when Scott rang me to say he had a 405 ready for a review and video I couldn't get to the marina quick enough.
The Swedes have a reputation for conservatism and don't rattle too many style conventions. I used to own a Volvo 740 'flying brick', stylish …yeah right, but the safest car I have ever driven. Down under we know Sweden for their cars, Nobel awards, Volvo Penta marine engines and of course ABBA. But it is only recently that we have been exposed to Nimbus, and it's a shame it has taken so long.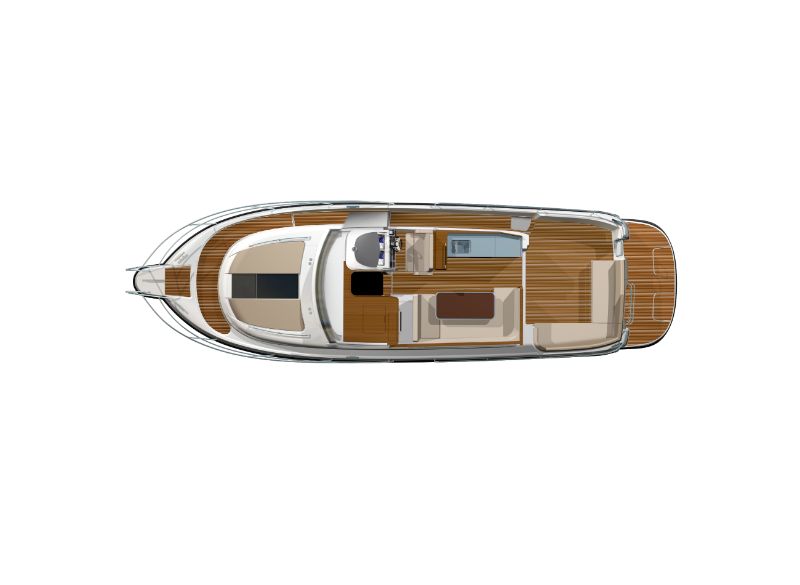 Nimbus describe the 405 Coupe, the flagship of their Coupe fleet as a boat with timeless, beautiful lines that meet strict design and clever functionality. And I reckon that really sums the 405 up perfectly. Like the 305 and 365 Coupes I couldn't fault the 405 in any respects, be it construction, finish, layout, appointments or handling. This is damn near a perfect boat! Yep, you got it in one. I loved it and even more than I did the 305 and 365, just because it was bigger and presented the layout even better.
The Nimbus 405 Coupé is the largest and latest in a three-boat line up of comfortable coupé cruisers from the Scandinavian builders and has distinctly European lines that are both modern and classic. Like the smaller coupes in the range, a key part of the boat's appeal lies in its asymmetric deck design which sacrifices the port side deck for the full walkaround deck to starboard.
Nimbus call it "Sidewalk" and not only does it allow freedom of movement to and from the bow along the starboard side, but it also gives maximum use of the interior volume, allowing the cockpit, saloon, lower deck and cabin to be larger than would otherwise be the case in a boat of this size.
An important feature of the Nimbus sidewalk concept is the large flush fitted sliding door to starboard. The sliding door provides access for the skipper when laying alongside and enables manoeuvering the boat from a standing position on the side deck.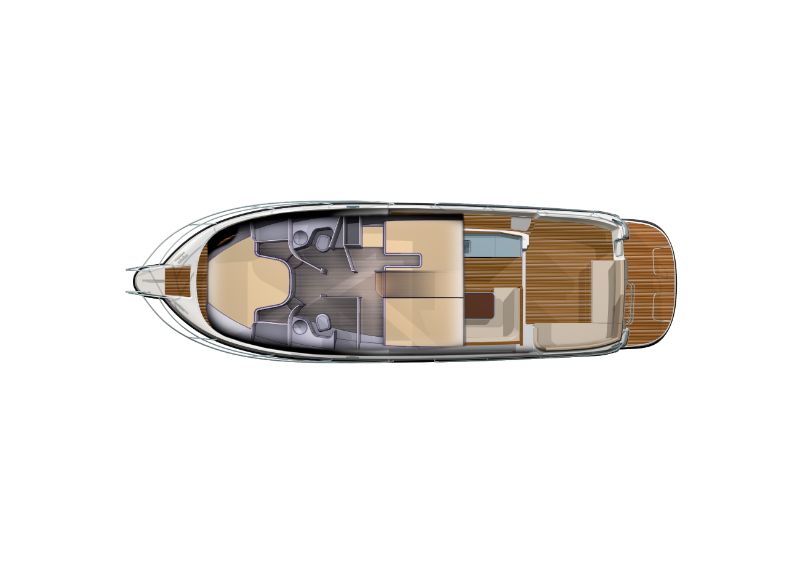 When you first see the boat, you may think from its style that it is a slowpoke. Not so, the 405 is based on a full planning hull that is designed to go fast and handle well. It provides sports boat performance and handling in a plain package. It's hard not to use the adage ' a wolf in sheep's clothing', but that is what the 405 Coupe is.
While the 305 Coupe is a single engine boat and the 365 a single or twin, the 405 is strictly twins only. There are three standard twin engine packages available, and all are shaft driven with the low angle straight drive shafts in tunnels. No pods or stern drives are available. Our boat was powered with a pair of Volvo Penta D4-300 which gave a maximum speed of 28 knots. A couple of Volvo Penta D4 225s will touch around 25 knots, and twin Volvo Penta D6-370 will send the Nimbus 405 along at a slippery 32 knots. Sports car performance from a family saloon.
Included in the standard package is a pair of Volvo Penta BTS tabs, but we had the optional upgrade to Humphree Interceptors which are a fantastic system that looks after the trimming for you, especially when climbing onto the plan from idle. The transition is quick and the bow angle low. Set on full auto, they help keep the boat in optimum trim for the sea state. However, if you are a bit of a traditionalist and like doing things yourself, you can switch them into manual mode, and the rest is up to you.
Our run on Auckland Harbour was calm, and while this isn't a boat that you toss into hard turns and do doughnuts, it can handle all that and more. I found it was comfortable at around 3000 rpm @ 22 knots, which is a reasonably high cruise speed. This returned a fuel figure of 95.9 lph and based on the 1000 litre fuel tank, a range of 200nm.
Like most Kiwi cruisers setting the speed to around 17 to 20 knots, where it still burned fuel fairly efficiently was perfect. 22 knots see you at Great Barrier Island in 2 hours from Auckland on a Friday affo.
With the engines set back under the cockpit and a good spread of engine room insulation, the sound levels were low at around 70-72 dB at the helm @ 3000 rpm and down to 52 dB @ 700 rpm.
The 405 Coupe is built strong with all laminate in the boat vacuum injected at the Nimbus boatyards in Mariestad, Sweden. That includes everything from the hull, deck, superstructure, interior laminated surfaces and hatches. Divinycell is used in the sandwich laminate, providing excellent insulation properties from both heat and cold and transports condensation away very efficiently.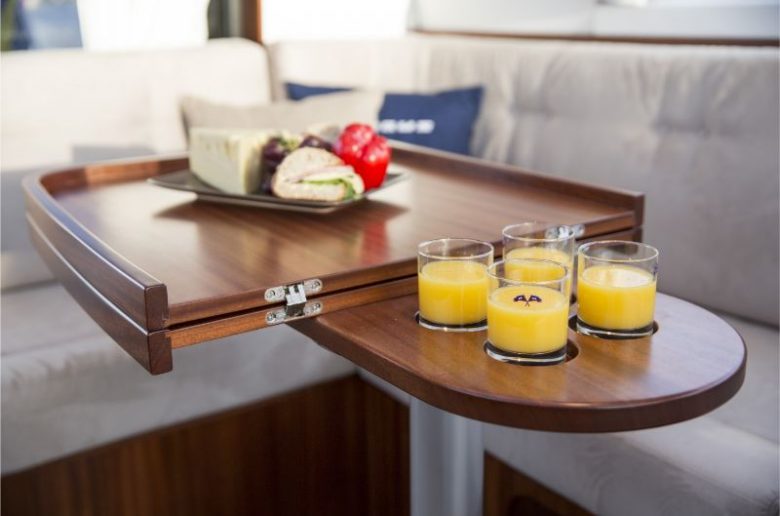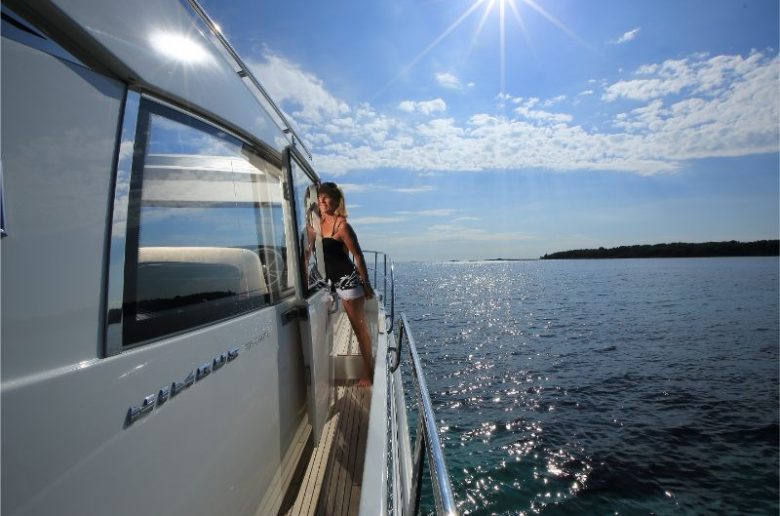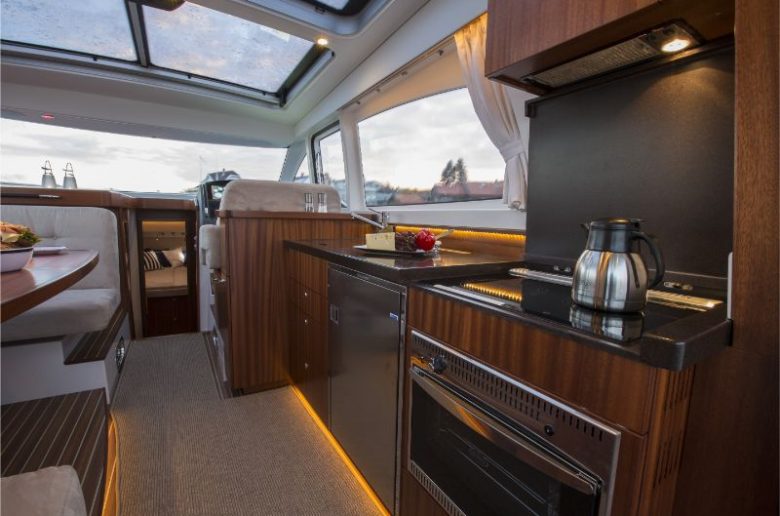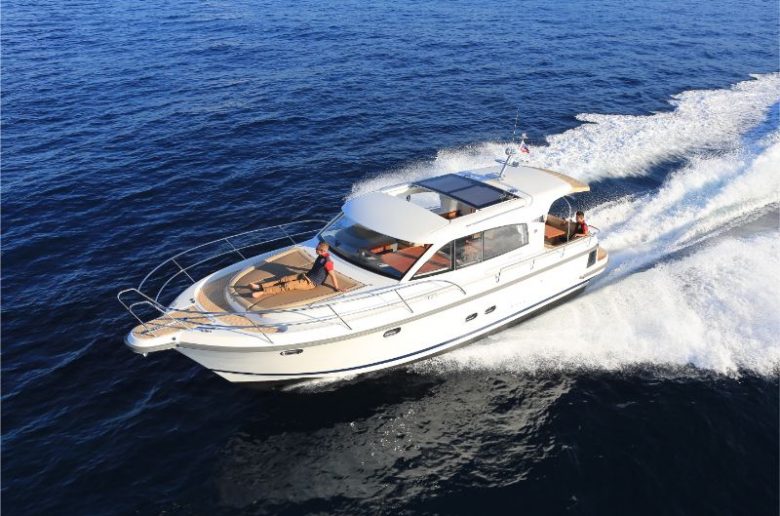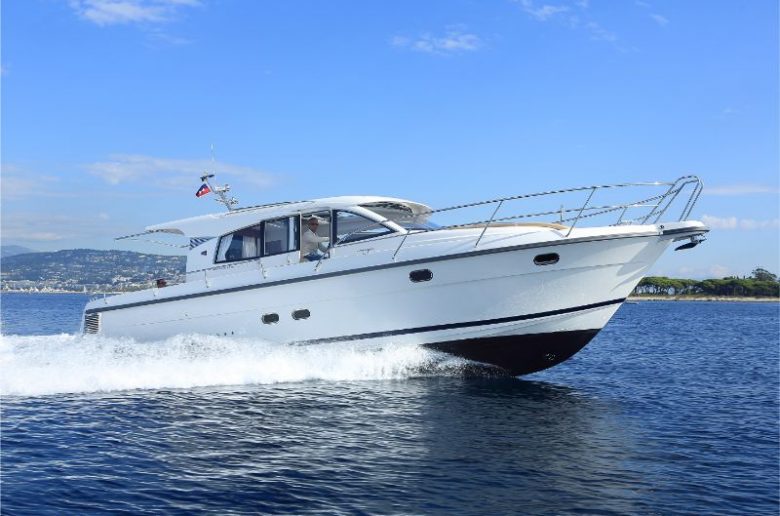 The boat has a feeling of solidity with a real cruising attraction, and I would imagine that the majority of owners of a Nimbus 405 would use the boat for a  multiple of reasons, from bottom fishing and diving to extended cruising. This is a boat that gives you enough for just about any of your boating pleasures.
Stepping aboard from the marina one of the first things that impressed me was the generous size cockpit and how the L shape settee takes full advantage of the beam offered by the lack of a port side deck. The result is maximum use of the cockpit space, seating for eight around an adjustable coffee/dining table, to enjoy cocktails and hors-d'oeuvre in the evening.
The table drops down and with some infill cushions make an excellent sun pad or an extra berth for guests. By hanging side clears off the cockpit overhang, you can transform the cockpit into an extension of the saloon and increase your closed in space. 
Kiwis love their fishing, and the Nimbus 405 will not disappoint. The spacious swim platform makes the perfect fishing workspace and with the addition of some stainless rail stables to mount a bait station, rod holders and maybe a bbq, you can be well set up. It's also got space to stow a tender and access to a built-in fender rack in the stern bulkhead. There is also a built-in ladder, and shore power stowage included.
A sliding door opens into the saloon, which has a starboard side aft galley, lounge and dining area opposite and forward helm and seating. It's very roomy, spacious and practical, with plenty of light and a cosy ambience. Winter or summer I would be very happy to spend a few evenings enjoying the comfort and mood of the Nimbus 405. An Eberspacher heater is offered on the options list.
The Nimbus 405 features a large and uninterrupted windshield with high profile side windows and a full glass sliding aft door. Overhead is a combination fixed sunroof panel aft and a forward panel that retracts to allow plenty of fresh air to circulate through the saloon. An excellent blind system enables you to control the light ingress from above.
It's not a huge galley, but considering you will probably mostly only have four – six aboard, it is more than adequate. Under the composite counter is plenty of storage, convection oven, plus refrigeration and set into the surface a 3-burner induction cooktop.
There is a U shaped settee/dining area to port and as expected this can be dropped to form yet another accommodation space. The table has a forward section that transforms from the dinner table to cocktail table, complete with cup holders.
A neat feature is the convertible forward passenger seat that can be flipped down to form either part of the lounger or up to provide a double passenger seat. There's even a pop-up TV built into the forward cabinetry which can be viewed throughout the saloon.
The helm has recently been remodelled and now takes twin 12″ MFDs, such as the pair of Garmin MFDs we had on our boat. All controls, switches and instruments are well placed for easy use or viewing, and the helm seat is positioned at a perfect height when seated or standing…well for me anyway.
The side door gives easy access to the extra wide starboard walkway, and when standing, I was able to pop my head out through the sunroof opening and get a clear view of what was ahead.
The main difference in the accommodation is that while the 305 and 365 were two cabins, the 405 is big enough to offer three and two bathrooms. Forward is the master cabin with a strategically placed double berth that provides reasonable access with either side. There is plenty of storage provided in shelves and hanging lockers.
Having two bathrooms in a boat this size is another plus, with the owner's cabin having an en-suite complete with a full stand-up separate shower cubicle. The other two cabins share the second bathroom which is also used as the day head. Plenty of light and ventilation streams in through opening side ports and deck hatches.
The two guest cabins are side by side under the saloon sole with the starboard side providing twin singles and the port cabin a large double. Another very Scandinavian feature is the wet hanging locker between the staterooms, which allows you to hang your damp gear over a surface designed to allow for drainage.
I can't say enough about how good the Nimbus Coupe range is and now having reviewed all three I am still super impressed. The quality is exceptional, the handling and ride excellent and for a full production boat from the other side of the world, excellent value for money.
Nimbus also offers the 405 in flybridge mode, but for me, I wouldn't change from the Coupe. It's darn near perfect!
Boat Design Name: Nimbus 405 Coupe               
Year Launched: 2018              
Builder: Nimbus
LOA: 13.33m
LWL: 13.16m
Beam: 3.95m 
Displ (Dry): 8.55 tonnes
Max Speed: 28 knots
Construction: GRP
Fuel Cap: 1000 litres           
Water Cap: 400 litres                    
Engine Make: 2 x 300hp Volvo Penta                       
Drive Train: Shaft               
Generator: Fisher Panda
Thrusters: Sidepower SE80
Tabs: Humphrees Interceptors
Anchor Winch: Lewmar 
Heater: Eberspracher D5
MFD: 2 xGarmin 12"
Entertainment: Fusion             
Priced From: $NZ 985,500
Contact: Sports Marine, ChCh – Ph 03 379 9208 | Auck – Ph 09 274 9918| [email protected] www.sportsmarine.co.nz
FUEL & PERFORMANCE DATA

Volvo D4 300

Fuel capacity:

1000

litres

 

RPM

Knots

L/h

L/NM

Range  (NM)

90% Capacity

700

4.9

3.1

0.6

1400

1000

7.3

6.5

0.9

1000

1500

8.5

21.8

2.6

340

2000

11

43.6

4.0

220

2500

17

74.1

4.4

200

3000

22

95.9

4.4

200

3500

27.5

133.2

4.9

180

L/NM is calculated to two significant figures and rounded up. Range is calculated to two significant figures and rounded down.