The Nimbus C9 is the third boat of the stylish nine-metre series introduced by Nimbus in 2018 with a style that is very different from what Kiwi boaties are familiar with. Barry Thompson checks out this very distinctive Swedish mästerverk. 
Nimbus boats have a boat-building legacy that stretches over 50 years, so to celebrate their 50th anniversary they developed an entirely new series that sees each model designed with a specific purpose and target audience.
First released in New Zealand at the 2019 Hutchwilco NZ Boat Show, the very distinctive styling of the Nimbus C9 caught the attention of show patrons. Some loved the vertical wrap around wheelhouse screen and the plumb bow, and others weren't so sure. Even I had a double-take, and my first impression was one of caution. It wasn't until I stepped aboard the Nimbus C9 that I started to appreciate the unique styling of the boat. 
The C9 (C standing for commuter) is the third in the new 9m Nimbus series following the W9 (Weekender) and T9 (Tender) models. Nimbus describes the C9 as a purpose-built, rapid commuter vessel, constructed to equally meet the needs of year-round commuters, active day-trippers or those planning longer, staged journeys with overnight stays.
Now, all that may be fine if you are in Sweden, where the boat is built, but does it work for a Kiwi owner. After spending a few hours aboard, I would have to say yes. Most definitely. Okay, it is very different from the style of boat we are used to, but then what's wrong with that, as long as it all works well. The vertical windscreen allows you to maximise the space inside, is a perfect barrier for glare reflection and also gives you extra space on the foredeck for a sun pad. Driving visibility is exceptional, assisted by the large windows on either side of the wheelhouse.
Another point of difference is there is no rear door to the cockpit and reflecting it's commuter styling, there is a full with after bench seat with a large dining/coffee table blocking off any possible access aft. The Nimbus C9 instead has an extra-large sliding door either side with passages through which two people can pass in comfort.
The saloon is more a large wheelhouse with a starboard side helm with twin chairs and accommodation access forward. The helm can be equipped with one large 16" or two smaller 12" MFDs. Plus there is plenty of space for all your other electronic and navigational aids and controls. There is splendid natural light, with a large, sliding glass roof hatch plus the glass windows all around. Close everything up and turn on the heater and you have a very cosy space for your evenings away. Or if you are in Sweden, that's probably at lunchtime!
In place of the glass roof (fitted as standard), the boat can be equipped with an electronically opening canvas canopy, ideal for those wishing to optimise the airy feeling on warm summer days.
The swivelling cockpit chairs provide ample space for four people to dine at the aft table or space for five people in total. The cockpit passenger sofa converts easily into an extra bed for two children or one adult. 
The Nimbus C9 is a one cabin/one bathroom boat, with a forward cabin that has a double berth with separate toilet/shower and an optional kitchenette. If you don't have the small galley, then your best option is a rail mounted bbq in the cockpit. This is where the weekender aspect comes in for Kiwi buyers, who will find it comfortable and well-appointed for those overnight stays.
The Nimbus C9 prioritises spaciousness, surfaces and functionality to provide the best possible use of space. Like I found when reviewing previous Nimbus boats, the company makes use of every available space, without compromising working and accommodation areas.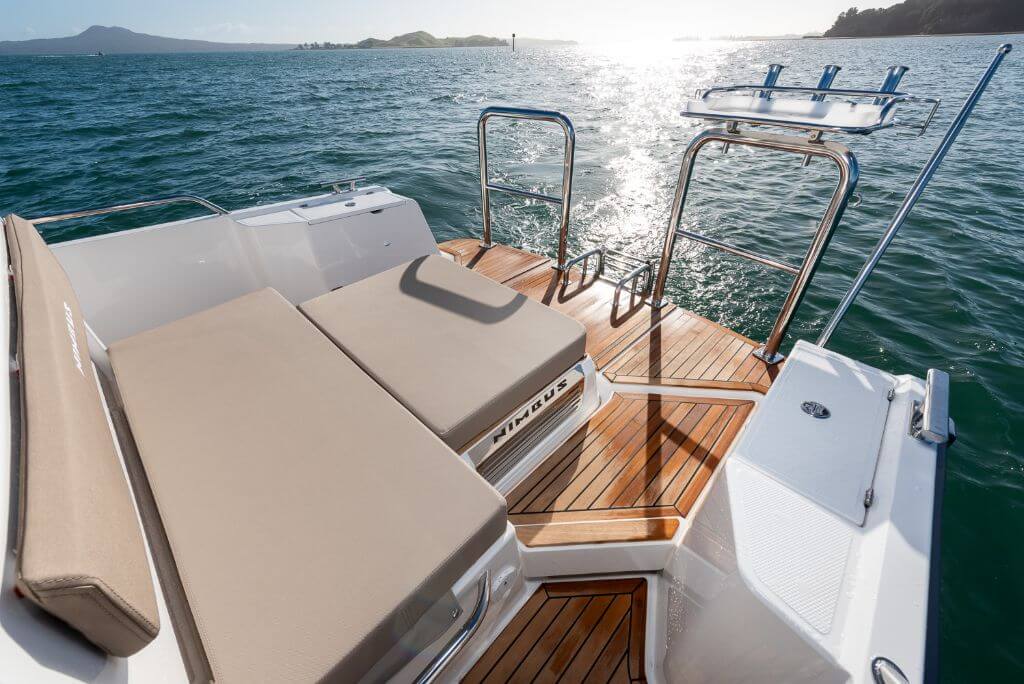 Power options for the boat are a single Mercury outboard or a Volvo Penta V8 300 hp petrol sterndrive. In our case, it was the Volvo Penta 300, which was done for a reason. Importers Sports Marine wanted to be able to offer a functional Kiwi fishing area to the boat, so by having the sterndrive, all the aft platform space is available for fishing. This has had a rail, bait station and rocket launcher added, something that Kiwi buyers will appreciate. You can still fish from the outboard version, but there is not anywhere near the same working space available.
 As the C9 can be equipped with an outboard or inboard engine, the cockpit layout alters depending on your engine option. With the inboard version, there is the ability to convert the bench seat into a sunbed.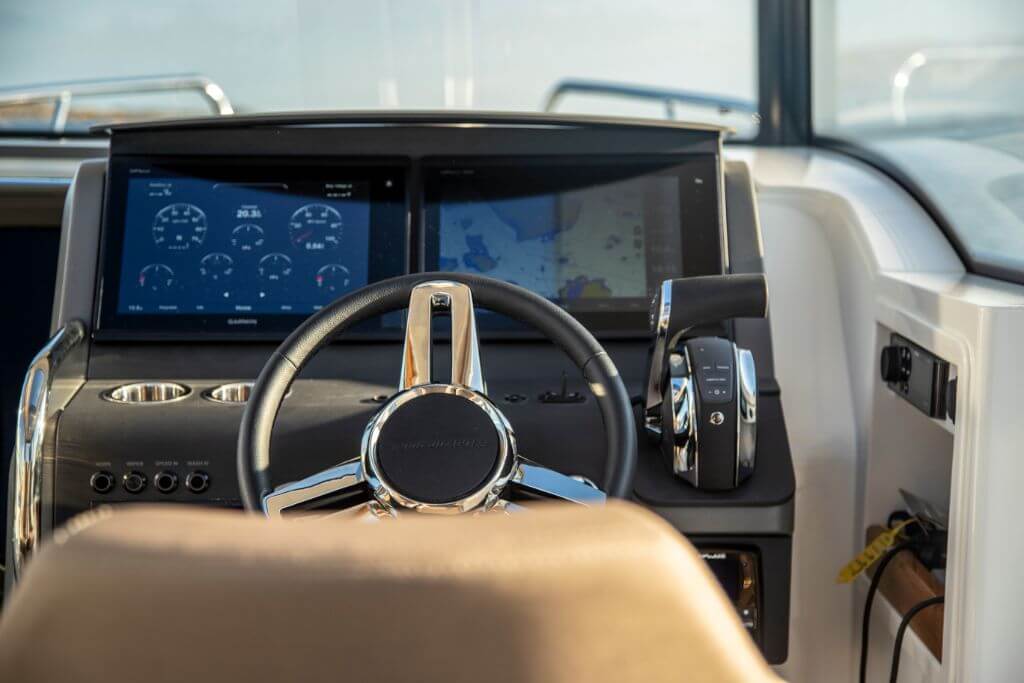 The foredeck houses a large loading hatch with access to the fore-cabin, as well as a sun divan that creates extra seating for four people complete with table. The flat bow section is perfect for one of those South Island bow ladders, that are commonly used around the Southern Lakes and the Marlborough Sounds.
Equipped with either outboard or inboard engines, the C9 can reach a top speed of over 40 knots. Thanks to the sharply cut bow section it has a minimal glide threshold and thanks to the stepped and air lubricated hull design the C9 offers excellent manoeuvrability and seaworthiness.
The hull shape is hard chine with concave cross-sections. The transom is lifted with a propeller tunnel that kicks upwards at the transom. Above the chine, there is an additional chine to offer extra stability but also for better spray deflection.
The hull is relatively deep to avoid the need for additional keel and to give good sea keeping behaviour in a head sea and excellent manoeuvering performance in low speed. (3-5 kt). Around midships the hull is 21.5 deg, but towards transom, the hull flattens out to reduce resistance.
Driving the boat on a calm Auckland Harbour, it was very obvious when the steps in the hull came into play, as I could feel the boat 'step up' at less than 20 knots. This is not only designed to make the hull slippery through the water but also reduces the wetted surface. 
With an overall length of 9.35m and beam of 2.95m, the Nimbus C9 is technically still trailerable; albeit you will need a reasonably serious vehicle to tow it as on the trailer, it's going to exceed 4000 kgs.
Nimbus describe their C9 as a boat for connoisseurs of contemporary Scandinavian design for those who appreciate well-thought-out solutions and smart functionality. Like all the Nimbus boats I have previously reviewed, they have certainly ticked every box and got it right. Will Kiwi's warm to this new look, only time and sales will tell. 
Boat Design Name: Nimbus C9
Year Launched: 2019
Builder: Nimbus Boats           
Designer: Joacim Gustavsson
LOA: 9.35 m   
Beam: 2.95 m                        
Displ: (Mid): 3170 kg
Max Speed: 40 knots
Construction: GRP             
Fuel Cap: 320 litres
Water Cap: 80 litres