Computational fluid dynamics analysis (CFD) was undertaken to optimise the new hull, appendages and totally new spray strake geometry.
"There is No Xcuse for Good Newz"!
In the November/December 2019 edition of Pacific Powerboat, we featured a somewhat radical refit underway at McMullen and Wing's Mt Wellington yard in Auckland that involved major surgery to the Formula Icon 60, No Xcuse.  

In 2019, the owner approached Auckland based naval architects LOMOcean with a simple idea; remove the existing triple Cummins engines and Zeus pod drives on the Formula, and replace them with twin diesels on conventional shafts that needed to be protected from the floating logs and slash encountered in the boat's home waters around the East Coast of the North Island.
Oh – and the boat had to carry 50% more fuel, run at a flatter trim angle, cruise faster too and don't forget ensure the boat consumes less fuel.  To many the brief would be seen as an almost unsurmountable challenge with a high degree of difficulty involved. 
The design, boat building and repowering process featured in our earlier story serve as a great example of the use of modern technology to achieve the desired outcome accurately and efficiently.  Due to unavailability of 'as built' drawings of No Xcuse, laser scanning was employed to create a true 3D computer model of the existing hull, cockpit and other regions near the intended cut line. The laser scan was used as reference allowing the very different new aft one third of the boat's hull to exactly fit the remaining original forward section.
Computational fluid dynamics analysis (CFD) was undertaken to optimize the new hull, appendages and totally new spray strake geometry.  There were also extensive systems integration and novel structural engineering solutions required to allow the new machinery, driveline, steering, tankage and freezers to be shoe horned into a space they were never originally intended for.  McMullen and Wing's project team, led by Craig Sutherland, were faced with an incredibly accurate build and installation requirement, but the use of inhouse CNC machinery and their usual high level of professionalism, perfectly matched new to old after the major surgery removed the aft 30% of the hull containing all of the old propulsion machinery. The collaboration success is borne out by the top quality presentation of the re-born boat.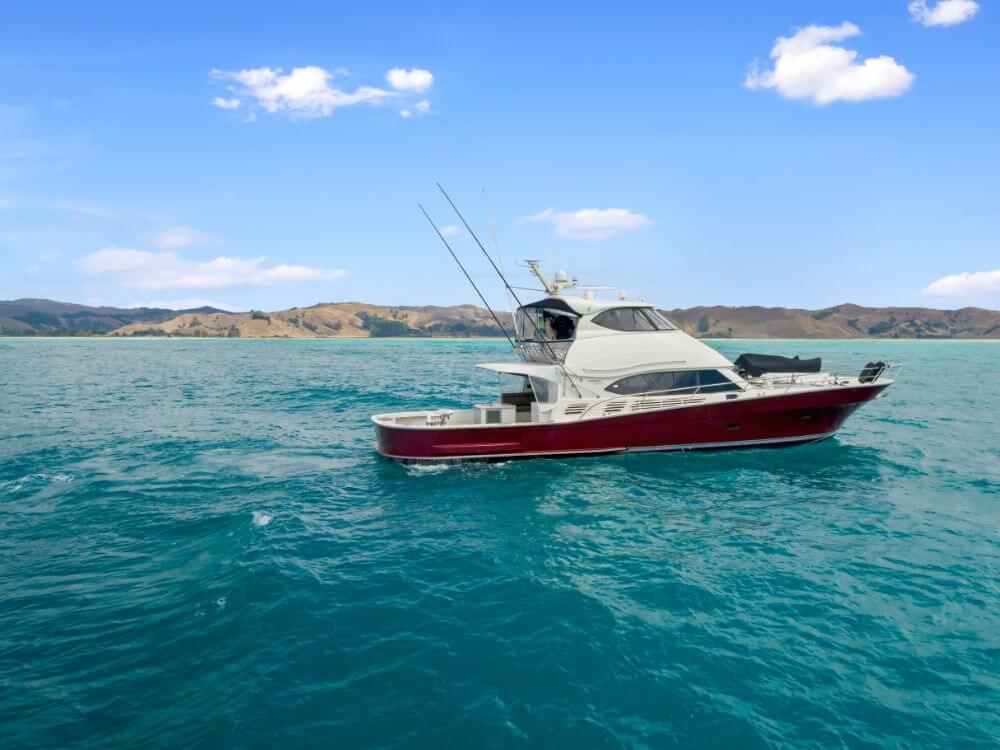 It is fair to say that the complexity of the re-fit and the increased scope of work over that originally envisaged pushed the completion past the expected re-launch date, well into 2020. Exacerbated of course by Covid lockdowns, freight delays on new equipment and the New Zealand border closure preventing engineers from Australia crossing the Tasman to commission the ZF Joystick Manoeuvring System (JMS) and the fly by wire, electric SteerCommand rudder actuation equipment. The system provides a compact, easily fitted package without the usual added complications of installing hydraulic lines and associated equipment.
No Xcuse was finally re-launched into the Tamaki river on a grey, chilly July morning in 2020 in front of an expectant audience and re-christened Good Newz.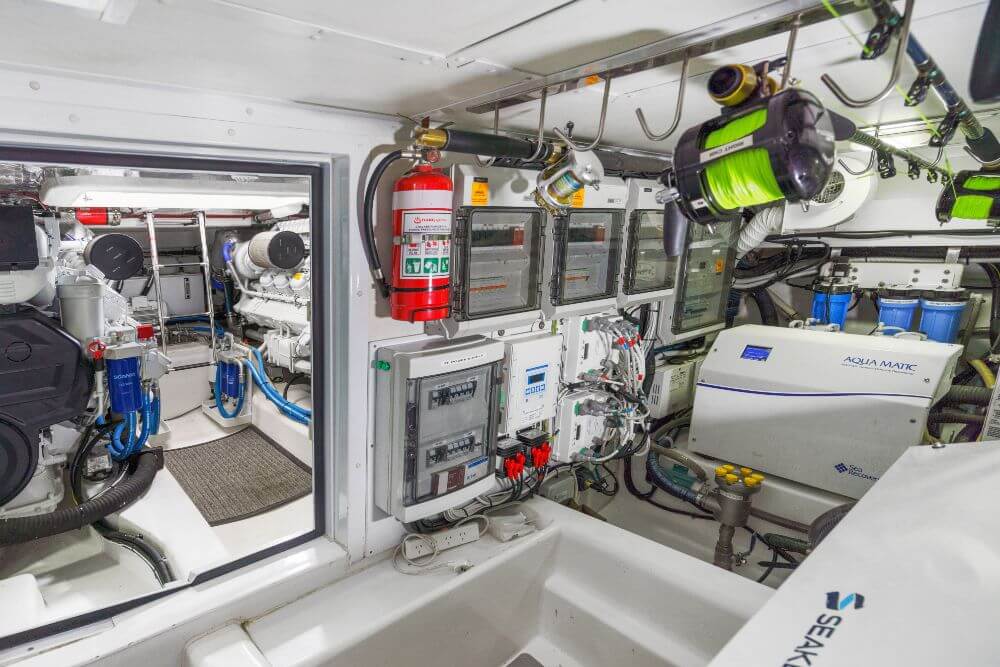 For LOMOcean's Craig Loomes, sea trials brought the first opportunity to assess the accuracy of the extensive computational fluid dynamics simulations undertaken before the refit, using GPS speed and the Scania engine electronic fuel burn data.  Of particular interest was the influence of high drag items such as the sizable twin skegs designed to protect the propellers and shafts, and their interaction with the large propeller tunnels.  The tunnels minimize draft, whilst making it possible to swing large diameter propellers that maximize driveline and fuel efficiency.  
The first sea trial happened on a sullen, rainy winter's day, blowing 25-30 knots, with sloppy seas stood up by the tidal flow in the Rangitoto Channel.  Such conditions are not generally considered ideal for a first run on a 'new' boat, but they quickly proved the sea kindliness of the modified hull, with the propeller tunnels, skegs and strakes combining to offer remarkable dynamic stability.  The reduced running trim angle also allowing the bow to work through oncoming waves with less slamming and spray than previously.


It was a case of good news for Good Newz on fuel burn too – trials indicating massive improvements in fuel consumption even though the boat is now many tonnes heavier. The diesel burn figures tumbling from around 16 litres per nautical mile at 20 knots with the original engines and driveline, to just 10 litres per nautical mile on the new combination.  
She now has the capability to cruise at 24 knots pulling 1800 rpm whilst carrying 5000+ litres of fuel, with the fuel burn a mere 12 litres per nautical mile. With her increased fuel tank capacity and efficiency, Good Newz has the capability of making the 2125 nautical mile passage to Papeete with no need to refuel on route.  The Humphree interceptors also proved beneficial, reducing trim angle and fuel burn at hump speed between 10 and 18 knots with diesel consumption reductions peaking at close to 20% at 14-16 knots. Sprint speed topped out at 33 knots, so gratifying indeed for all involved.  


Good Newz didn't hang around Auckland for long after commissioning trials, heading first to Great Barrier island, then south and around East Cape to her home port of Gisborne, but not without stopping to catch some fish on the way – and to sink some celebratory beers.  And now, some six months after launch and with more than 300 hours on the Scania's clocks, her owner and skipper are delighted with the re-born boat;  Captain Simon Mills in particular commenting that the big Formula was "originally a bloody good boat, but now she is simply exceptional – something special". 

Mills offers an excellent perspective on the changes made in the transformation from No Xcuse to Good Newz; he's operated the boat for a number of years and knows it inside out.  He had significant doubts about the ability of the ZF JMS to control the engines, transmissions, steering and the new 25hp Trac bow thruster to keep the boat on station and pointing in the desired direction as well as the original pod drives could.  He's now happy to admit he was wrong – loving the precision and accuracy that he can achieve – and reckons the system has more than exceeded expectations.  And whereas the pods were always 'busy' when holding station, the new set up is smoother, quieter and simply less intrusive in the way it performs it's magic.  
Interestingly, Mills reports that other elements of the boat's behaviour have also improved.  The prominent skegs that serve to support the propeller shaft and protect the propellers and rudders from impact with floating logs, result in a rock solid, wander free course, the boat running as if on autopilot, but still highly responsive to the helm with the ZF electric actuators reacting quickly to input and offering haptic feel to the operator through the wheel via electronic force feedback.  The skegs have also proven to serve as highly effective roll dampers, so much so that the gyro stabilizer on board is seeing less use.
They say you can't teach an old dog new tricks, but the No Xcuse/Good Newz transformation proves the old adage wrong.   It hasn't been an inexpensive exercise and at times it seemed like it may have simply been better to start afresh with a new boat.  But, the owner had much to like about No Xcuse and for him, the shorter turnaround time of the refit and the ability to take an already good package and make it better made perfect sense.  And his faith in LOMOcean, McMullen and Wing along with his willingness to adopt new technology & thinking has paid off.  Good Newz indeed.


Boat Name: Good Newz 
Year Launched: 2020
LOA: ?
Beam: ?
Displ: (loaded) 36540 kg
Max Speed: 32.6 knots
Construction: GRP/Composite
Fuel Cap: 7300 litres
Engines: 2 x Scania Di 16/1184 hp
Gearbox: ZF 2000A
Controls: ZF SmartCommand / JMS
Propellers: ZF 36 x 52 5 blade                                          
Interceptors: Humpree
FUEL & PERFORMANCE DATA

Good Newz

Fuel capacity:

7300

litres

 

RPM

Knots

L/h

L/NM

Range  (NM)

600

6.6

14

2.200

2900

1028

11.6

78

6.800

960

1345

16.1

136

8.500

770

1450

18.0

158

8.800

740

1550

20.0

187

9.400

690

1645

22.0

220

10.000

650

1748

24.4

262

11.000

590

1860

26.4

299

12.000

540

1985

28.1

330

12.000

540

2100

30.0

374

13.000

500

2150

32.6

434

14.000

460
ZF MARINE PROPULSION SYSTEMS
A trans-Tasman collaboration has resulted in New Zealand sport fishing boat Good Newz being the first vessel in the Southern Hemisphere to be fitted with the full suite of ZF Marine Propulsion Systems.
Delivering power from the twin Scania 1,180bhp engines are ZF 2000 A transmissions, shafts and propellers, as well as the full control system, including ZF SmartCommand, ZF SteerCommand, and the ZF Joystick Maneuvering System (JMS), which enables the iDrift and iAnchor functions.
Good Newz is the first vessel of its kind to feature an entire driveline and control system sourced from ZF locally, with the SteerCommand electric steering system the very first installation of its type in the Southern Hemisphere.
Allowing for more precise steering, and ultimately safer operation, SteerCommand features a patented reactive force feedback system at the steering wheel, allowing for tighter turns and easier manoeuvring.
SmartCommand meanwhile integrates the latest CANbus communication technology with a user-friendly multi-function control head. Simple to use, the system includes multiple functions such as Easidock, which modulates clutch engagement and engine speeds for safe docking, and AutoTroll, which allows for full control at low engine speeds.
Additionally, the craft is fitted with ZF's JMS, which gives operators the ability to move the vessel sideways, rotate 360 degrees on its axis, or hold the vessel's position accounting for current and wind.
Using ZF's iAnchor function as the base platform, ZF's new iDrift technology offers users the ability to control drift speed and direction when a vessel is in windy conditions, or even in combination with a strong current, all while maintaining the bow's heading.
The versatile ZF 2000 A transmission is perfectly matched to the engines, with much of the base manoeuvring in trials completed with the motors at idle. The transmission is suitable for a wide range of applications, such as sports fishing boats, luxury motor yachts and express cruisers, as well as different propulsion systems, such as waterjets, or in the case of Good Newz, ZF shafts and propellers.
zf.com/au
The Scania DI16/1184 hp is based on a robust design with a strength optimised cylinder block containing wet cylinder liners that can easily be exchanged. Individual cylinder heads with 4 valves per cylinder promotes reparability and fuel economy. The engines are also available as type-approved with jacketed fuel pipes.V8 in configuration the 4-stroke engine displaces 16.4 litres and runs a compression ratio of 16.7:1
The engine is equipped with a Scania developed Engine Management System, EMS, in order to ensure the control of all aspects related to engine performance.
The injection system is Scania's XPI (extra high pressure fuel injection), a common rail system that gives low exhaust emissions with good fuel economy and a high torque.
The Scania DI16 is IMO Tier II and EU Stage IIIA approved.
www.scania.com