The Nordhavn brand, purposefully designed for the serious passagemaker.
Author: Barry Tyler
Images By PAE
If you were a rank and file weekender or extended-stay cruising skipper you would arguably cringe at the thought of travelling the oceans of the world in a 43-foot monohull. To the puritan passage making cruising folk of the world however, if that 43-footer was a Nordhavn – they would have absolutely no compunctions whatsoever about leaving the dock and taking on the 'best' Mother Nature has to offer – around the oceans of the world.
Nordhavn is an old established American-based brand this year celebrating its 30th Birthday. Nordhavn is synonymous with security, safety, handling and general capability. And once you have experienced the brand in its own back yard, the oceans of the world – then you would never ever want to own anything else in your lifetime. The boat literally sells its self in fact, for intending owners already know all about the boat, and fully understand that Nordhavn is a serious ocean-going big-volume passagemaker, not a trawler-style cruiser. It is a boat to live on, for attention to detail is almost beyond comprehension.
Every aspect revolves first and foremost around safety at sea, and Nordhavn jealously guards its reputation as a leader in this ever-increasing market. Acutely aware of the fact that respect is earned, not given, while its are the only 'production' passagemakers (there are however many custom-built versions available) models, it also ensures that each of the 30 boats per year it builds in its Taiwanese and Chinese facilities, in model sizes ranging from 43 to 120 feet – is in some way or another, custom-finished to its owner's expectations.
My initial perceptions of the Nordhavn were confirmed on first glimpse, it exuded quality, durability and sturdiness, yet I was still left wondering how a boat of this concept could be designed without having to make it longer that 43-feet. Step aboard through either the side or aft entry doors and one soon appreciates the fact however, that it has been achieved not so much through clever design, but more so by prioritisation.
When you are 'cruising' the oceans of the world, a large cockpit for instance, is the least important requirement. As such, in the 43's case it served the sole purpose of being simply an entry then a working area, for within these confines were the LPG locker, a S/S BBQ, the bait board, and ship-style hawse chocks and cleats (three each side). Aft of the confines of the cockpit and on the shallow boarding platform, was an appropriate-length S/S and teak swim ladder.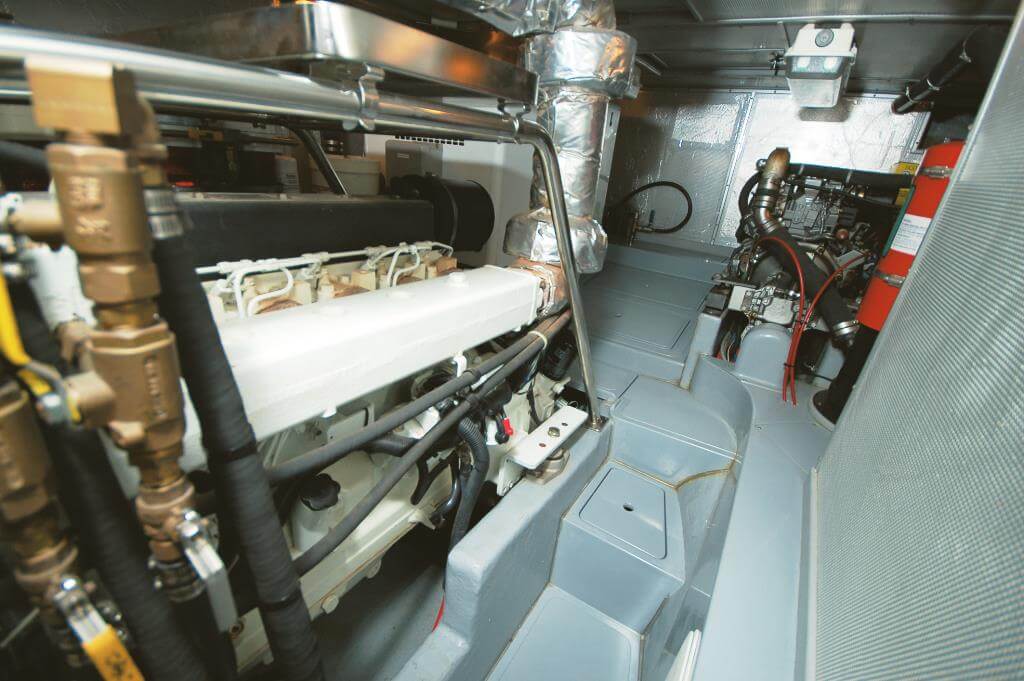 Starboard side walkways lead you along then up some steps and onto the again ship-style foredeck area. Complete with S/S dorades, wet lockers, Lewmar hatches, searchlight, anchor chain bulkhead hatch, a colossal S/S twin anchor fairlead, the Maxwell VCW-3500 capstan, a fresh and a salt-water deck-wash outlet, drain grates (all piped down to water-level outlets) and even a stylish and completely in proportion Portuguese bridge; it was a very safe and practical anchoring and operations area.
The Portuguese bridge continued around to the port side where more steps, encapsulated by again waist-height bulwark coamings and rails, led you past the pilothouse side entry doors (one each side) and up onto what could be loosely termed the flybridge level working area. A split-level area, it housed the funnel or 'stack' base for the communications receivers and extended (dry) exhaust stack, wet lockers, ice-box or refrigerator, a tender mounted on removable chocks, and the manual 'ropes, levers and pulleys' yacht style boom arrangement that fulfilled the typical duties of a mechanical davit crane. There were even side-window acrylic 'storm boards' attached to the top rails, which could be attached prior to ocean passages.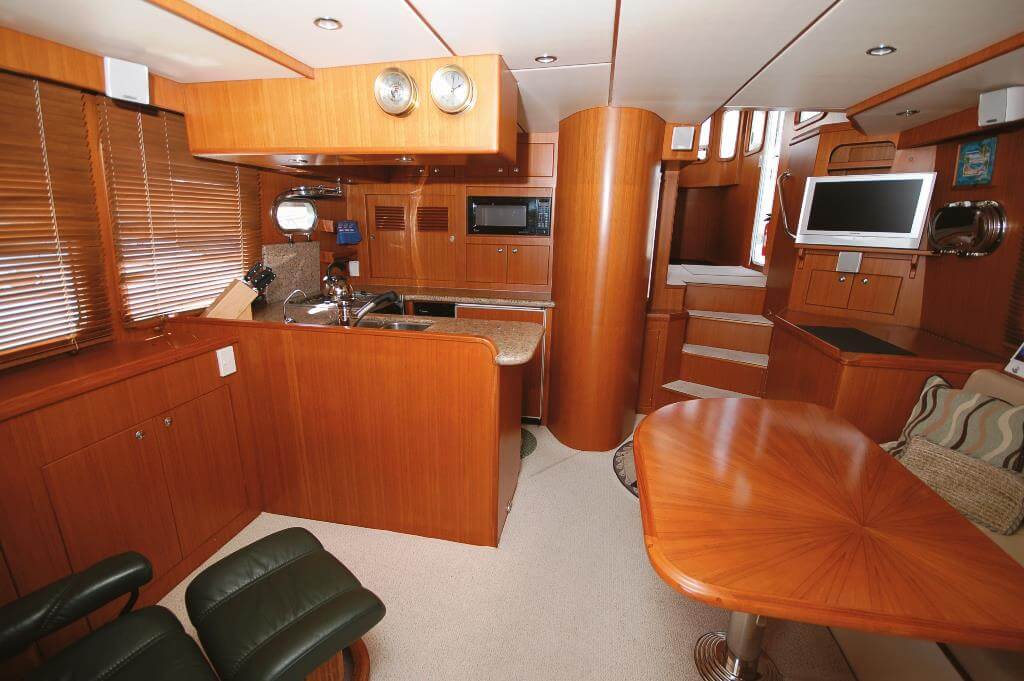 A Dutch saloon door, that like the side entry doors, split in the middle so you could still safely have one half of the door open for ventilation/visibility, while at sea, led us into a saloon that while slightly smaller than expected, was proportionate in size to the rest of the vessel. One must be acutely aware of the fact Nordhavn considers this its 'mum and dad' model, with room for occasional guests – so it was designed accordingly!
Boasting an inherent ambience and homely feel all of its own, the teak woodwork with its 'matched' (continuity of grain) teak panels – was something very special. The workmanship was superb. Every gap was just right, every drawer or cupboard lined up accurately with the one next to or above or below it, and when you opened the cupboards or drawers – there were no rough edges or 'dags'. Complete with reverse-cycle air-conditioning, impressive décor features, traditional-style elongated solid S/S opening port-hole windows and fly-screens, padded vinyl roof panels, a leather L-shaped three-person (more if you utilised the two lounge chairs) dining lounge and the granite bench-top for the galley.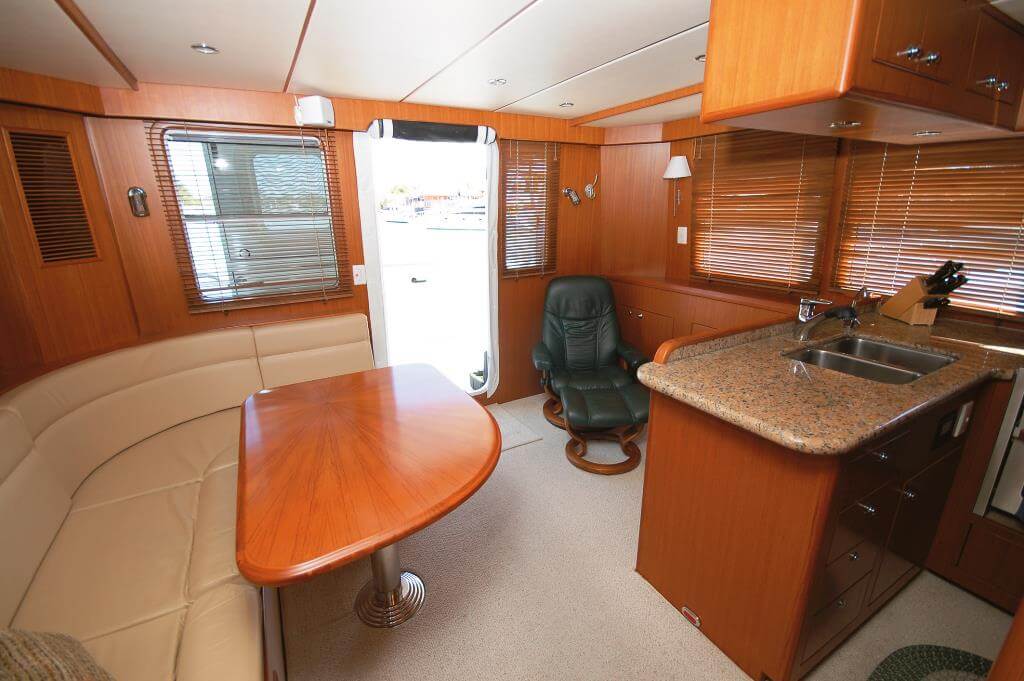 The saloon was in fact very much an all-in-one room designed in such a way that each aspect complemented the other – there was no attempt to disguise the fact that the galley, dining and lounge were all as one. For me, its innocence in that respect was its enduring attraction. To port as you entered was in this instance a bench-high servery with storage cupboards below – more of a feature display than anything. Opposite was a dining setting for (comfortably) three adults with maybe another two in optional ottoman seats, tub-chairs or fold-away chairs.
The galley deserves special mention for while appearing 'compact' it was so all-encompassing and very much commensurate with a live-aboard situation. Included in the galley inventory were generous overhead and wall cupboards, a concealed pantry, two sinks, filtered water, quality faucets, a three-burner gas stove, a separate oven, a dishwasher, a trash compactor, a GE convection microwave oven, and a 130-litre refrigerator. Just incredible, yet there was more. Around the other side of the pillar at the base of the stairs to the pilothouse, was a like-sized freezer with on the other side of these stairs and within the television and entertainment module, another (top-loading) freezer; there was good cold storage capacity!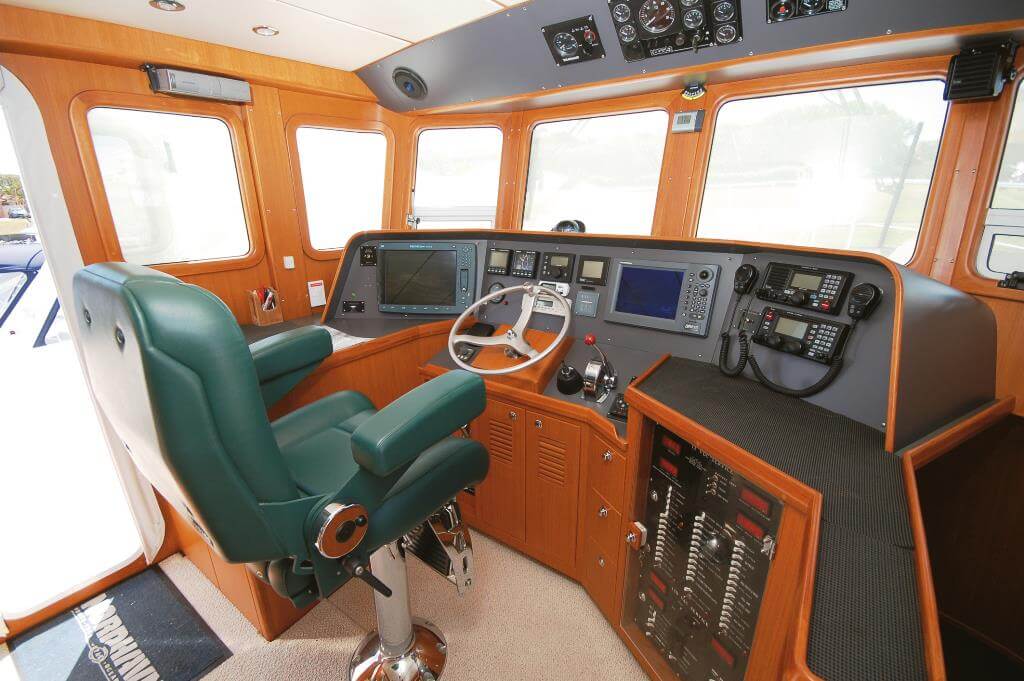 On any 'mini ship', the pilothouse level will be what makes or breaks the passagemaker ideology. In the scheme of things it either works or it doesn't – in this case it embraced the concept brilliantly. In fact, you could easily have been aboard a 100-footer! There were generous lashings of teak woodwork, reverse sloping windows, elevated viewing, side entry doors, ultra-comfortable Stidd helm chair, good cupboard storage, and benches to spread the charts out on – it very much addressed the expectations of an ocean-going pilothouse.
And what a dash-board! There was an impressive custom helm wheel, and a serious smorgasbord of electronics offerings from Simrad, Furuno, Northstar, SeaTec, Icom KVH, Brooks & Gatehouse, and Sirius. There were separate Morse throttle and gear remotes for the main engine as well as the auxiliary, plus remote activators for anchor, throttle, wipers, stabilizers, genset, remote spotlight and bow-thruster. Below and to the right of the helm wheel was the easy-access AC/DC switch panel which included all the circuit breakers, plus inverter switches for the 12V and 24V DC power and the either 120V or 240V AC power.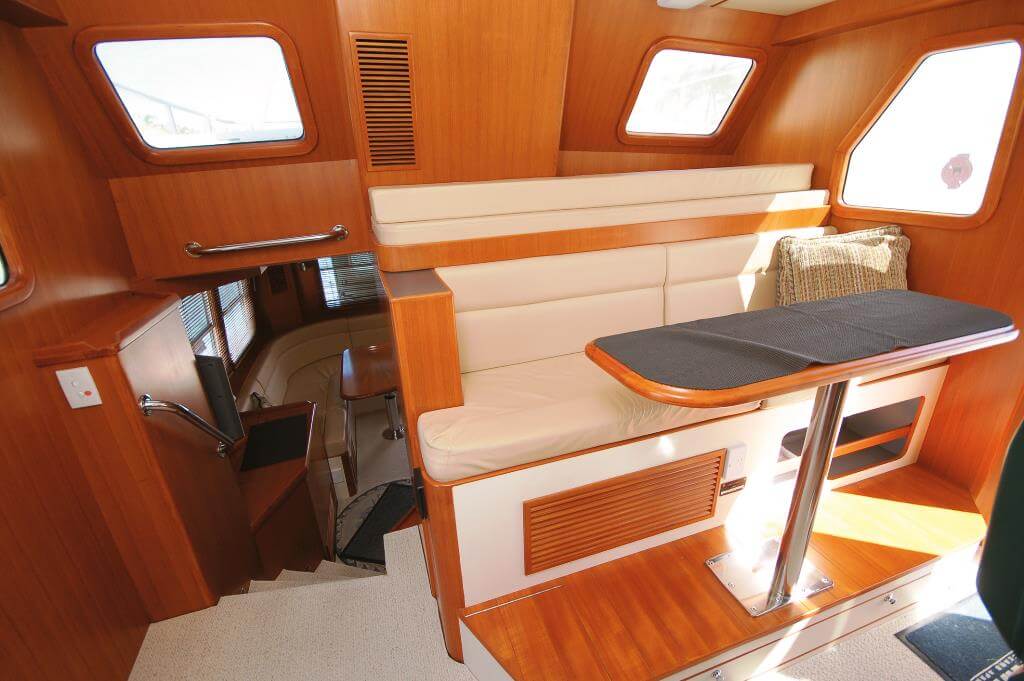 Further investigation of the cupboards at the actual helm also revealed a definite break with tradition (but still a very good 'economical' use of space) – a laundry washer dryer combo which was located in a below-bench cupboard adjacent to the portside entry door. Certainly not where you would expect to find a laundry, but I guess it gives the skipper something to do during the long passages – must have been designed by the lady of the house!
Integral to the aft wall was a dining/coffee or viewing setting; a bench seat with in front of it an elongated table which allows the guest or spouse to be a very real part of the proceedings whilst underway. Under the aft viewing seat there was a huge chart drawer. Above it was a berth for the skipper, which with a bit of imagination could be deemed the third (double) accommodation option. I prefer to think of it in the context of a 'mum and dad' boat, as the skipper's accommodation so as to remain close to the helm action at all times.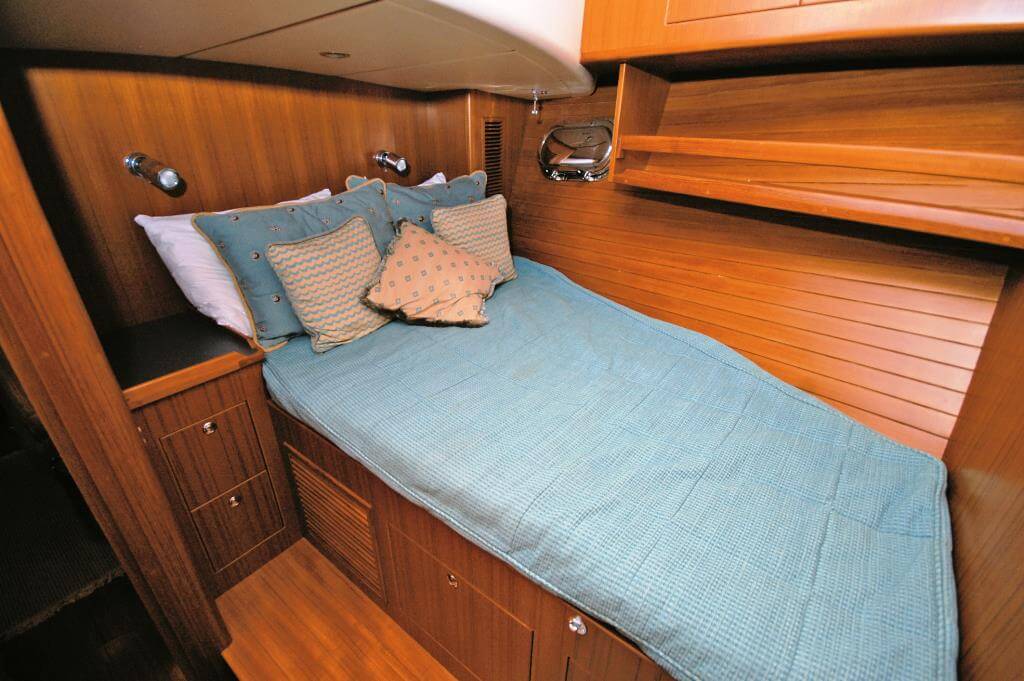 At the foot of the semi-spiral stairway down from the pilothouse was the accommodation level. Being a mum and dad guise as stated, the 43 had just the two cabins. The master cabin, situated effectively amidships in under the pilothouse sole, was an athwartships layout with the 'island' queen-size berth the obvious focal point. Special attributes included two cedar-lined hanging lockers, a very 'visual' bed-head alcove, stereo/DVD, intercom, the elongated opening porthole, plenty of pigeon-hole and generous cupboard and drawer storage – something you can never have enough of! The other obvious 'feature' was the subtle and certainly non-onerous (it could well have been onerous though) bulkhead door which provided access to the full-height engine room.
Short-stay guests are accommodated in the deceptively generously-sized bow cabin. A double berth was off to port, with opposite it a vanity setting for the ladies. Or, in the instance where there was just mum and dad aboard, this vanity setting could very easily be transformed into a working office complete with swivel chair, desk, shelving (the computer and fax machine would go in here), filing cabinet and document cupboard. Special features in this room were the quality lighting, the porthole, the built-in and pigeon-hole storage, and once again, the magnificently crafted woodwork.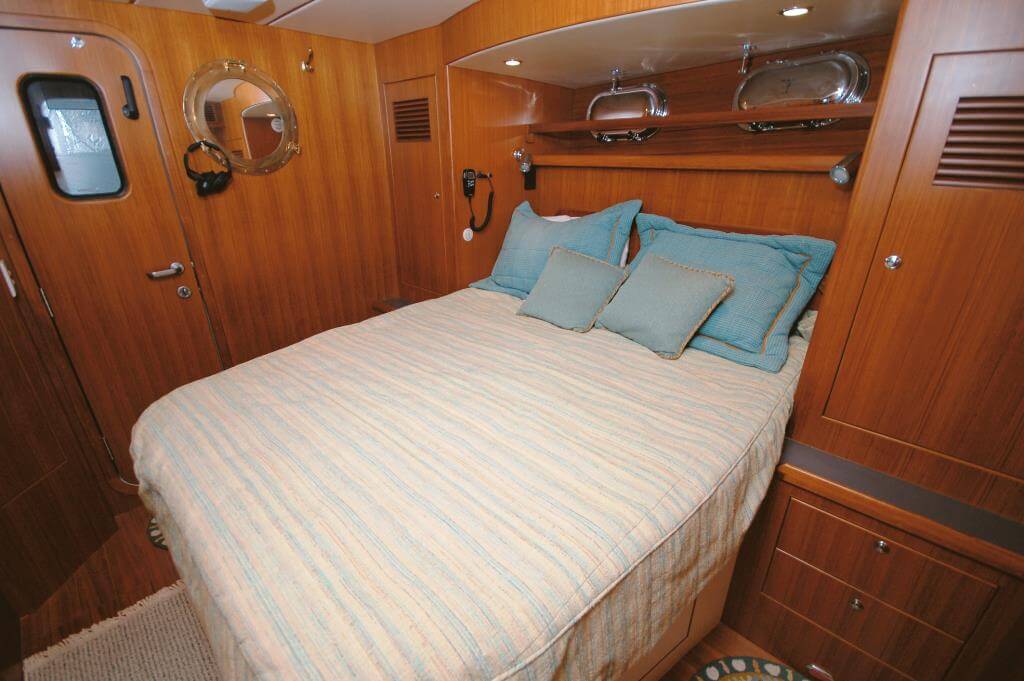 Forward of the cabin was the guest ensuite, complete with Raritan head, separate shower cubicle, vanity and overhead hatch. All of a sudden I appreciated the need for two hatches in the foredeck, between the wet lockers. Other features in this teak wood-lined room included stereo, AC, a hanging locker and of course good storage.
The best way to judge the credibility of any hull is to peer into the inner sanctum, and yet again I was amazed at what I found. Built to the absolute highest specification, the hull perhaps surprisingly was a FRP composite of vinyl ester & polyester resins, GRP cloths and rovings, and balsa, plywood and klegecell cores, strengthened with GRP longitudinal stringers – and 5 tonnes of lead ballast!
A most complex boat in many aspects, its appeal from a mechanical perspective was that it was so easy to maintain. Back-up systems abound also, so you are never left stranded. There were completely separate fuel and electrical systems for each engine (including the auxiliary 27hp 3GM30FV Yanmar 'get home' engine) which was direct-drive to the folding propeller. The shaft seal for instance was a traditional packing gland seal, used in preference to a PPS seal, so it could be easily repaired or replaced at sea if needing maintenance. There were even separate remote fire systems in the engine room and lazarette, and all tanks were colour coded – red for fuel, blue for water, grey for grey water and black for black water.
Engine power was courtesy of a 130hp, 6.8-litre, in-line 4-cylinder naturally aspirated Lugger LP668D diesel engine that the makers suggest will travel six times around the world before it needs an overhaul. This is probably a good thing, for with the fuel tank capacity of 4693 litres, the N43 has a whopping range of 2800 nautical miles.
Power generation was provided by a Northern Lights 12kVA genset plus 90-amp and 160-amp Lugger engine alternators. All generation ran through the upgraded 3600VA/140-amp Xantrax trace sine wave inverter/charger – to a bank of Lifeline deep-cycle gel batteries, upgraded from three to five 255Ah Lifeline batteries. Hot water was courtesy of an engine heat exchanger as well as an electric hot-water heater.
It was built like an ice-breaker, seemingly to overkill proportions, as if it were a much larger vessel. It was presented extremely well, attention to detail was obvious, the woodwork in every instance was superb, and mechanical specifications were to the highest quality in every respect. Every modicum of available space was utilised well. It was a homely boat and despite its relatively small size for a long-range passagemaker, it was a boat that oozed long-range practicality, ability and confidence.
Design Name: Nordhavn N43
Year Launched: New
Designer: Jeff Leishman
Interior Designer: Jeff Leishman
Builder: Pacific Asian Enterprises
LOA: 13.11m
Beam: 4.52m
LWL: 11.68m
Draft: 1.50m
Displacement: 24.35 tonnes
Max Speed: 8.5 knots
Cruise Speed: 7 – 8.5 knots
Construction: FRP composite
Fuel Cap: FRP 4542 litres plus 151-litre reserve
Water Cap. : 1136 litres
Main Engine: 130 hp LP668D Lugger by Northern Lights
Gearboxes: ZFW-220 3.78:1 ratio
Auxiliary Engine: 27hp Yanmar 3GM30FV
Gearboxes: Yanmar – direct drive
Drive Train: Conventional shaft
Propellers: Bronze 34"x28"P 4-blade
Power Generation: Northern Lights 12kVA plus 90A and 160A engine alternators
Inverter / Charger: Xantrax
Air Conditioning: Cruisair 3.8kW
Watermaker: Village "Squirt", 2270 litres per day
Bow Thruster: SidePower 8hp
Anchor Winch: Maxwell VCW-3500
Anchors: Bruce plough – 50kg
Steering: Hynautic
Engine Remote Controls: Morse
Lighting: Cantalupi / Hella
Paint (Topsides): Gelcoat
Paint (Antifouling):  International Micron
Hatches: Lewmar
Wipers: Imtra
Heads: Tecma
Wood Finish: Teak / Spruce
Liferaft: RFD 4-man
Davit Crane: Manual boom
Tender: Nautica RIB with 25hp Yamaha
Helm Chair: Stidd
Stabilisers: ABT Trac 220
Autopilot: Simrad AP26
GPS / Plotter Combo: Northstar 6000i
GPS: Furuno WAAS
Plotter: Navnet
Depth Sounder: Furuno colour
VHF: Icom 602
SSB: Icom M802
Radar: Furuno 6kW/64NM 10.4"
Entertainment Systems: Panasonic / Sirius / KVH Satellite TV
Engine Instruments: Ta Shing Yacht Building
Wind & Depth Instruments: Brooks & Gatehouse
Software System: Furuno / NavNet
Switch Panel: Ta Shing Yacht Building
Base Price of Boat: ?????
Price As Tested: ?????