The Nordhavn 52 is a comfortable coastal cruiser, but her intended mission is really ocean passages.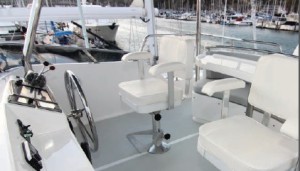 THE Nordhavn 52, is a slight evolution of its smaller sister, the Nordhavn 47 with 2m extra length, and a new layout, that makes this one of PAEs most popular models. Australasian rep for Nordhavn, Peter Devers has had considerable success in selling Nordhavn's into both Australia and New Zealand, with our review boat the second N52 sold to an Australian client and a third N52 recently delivered to a Kiwi client. 
Built in PAE's China for American based Pacific Asian Enterprises, the N52 differs from the N47 with three central design modifications – each of which combines to make a sleeker and slightly more efficient boat. The most significant of these changes is a cockpit extension, which opens up the rear of the boat as well as elongates the yacht's lines. But the benefits of added waterline length aren't limited simply to aesthetics. The design team was able to work an extra 1250 litres of fuel to the capacity of the boat's tanks and in turn, bump up the range. Nordhavn tells us that at a moderate cruise of 8-9kts, she'll have a range of 3000 miles. The N52 was created to reflect a more modern thinking when it came to the construction, hull shape and more importantly the interior space. It's a big, heavy (40.82 tonnes) robust and ocean capable yacht that comes with the highest quality engineering. This is unquestionably a motor yacht that you can take anywhere in the world with confidence.
To coincide with the elongated cockpit, the upper level boat deck was lengthened by 600mm – a move that serves ta dual purpose: not only does this offset the cockpit extension, it enables a bigger tender to be carried on top. Completing the enhanced look is the re-configuration of the flybridge. A purely cosmetic change (no features have been added or altered), the newly-styled flybridge is now more integral with the boat deck and pilothouse roof. Despite these differences, the N52 is exactly like the N47, and the rest of the Nordhavn line, in her robust construction, superior level of fit and finish, and an ability to deliver her owners anywhere they wish to travel in safety, comfort and luxury.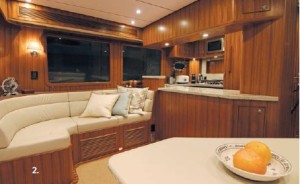 The accommodation layout of this test boat is totally new, with two full double berths. While the standard boat has a centre line double with a forward cabin ¾ berth and office, this is the first N52 to have a double berth in both the centre line forward guest cabin and the amidships master cabin. Both also have ensuites complete with walk in showers and generous vanity and storage spaces. The layout certainly lends itself to be very suitable for two couples in large cabins. 
The earlier N47 also had a stairwell up to the pilothouse and then another stairwell on the starboard side for access to the accommodation areas and engine room.  This latest N52 has a more traditional companionway from the saloon on the starboard side down into a foyer with direct access to the aft owners stateroom and forward guest cabin and ensuite.
These changes have made better use of the forward spaces and as Peter Devers pointed out, that with the advent of laptops and ipads, the call for a separate office is not so prevalent these days.
Fit and finish in the lower saloon is first rate and all furniture is built in for stability and strength in a seaway. The galley, complete with a solid granite surface, is roomy enough to provide meals for two couples and occasional guests, but not oversized to cut into the living areas.
There is storage enough for living virtually self-sufficiently for weeks. Large L shape loungers wrap around both sides of the rear of the saloon, with a drop down dining table to starboard. Watertight doors provide access through to the cockpit. One of the more interesting feature of the N52 is the asymmetrical layout. This allows the living space on the port side to extend all the way to the coaming while to starboard, there are side decks for getting fore and aft to the Portuguese Bridge. The pilothouse is designed to be as much a centre of functionality as it is a centre of attention while underway and is longer than the N47. The helm is mounted just off of centre and is set up for both essential and redundant equipment of your choice. The owner of our N52 has chosen not to fit a helm chair and will do his driving from the aft settee with a remote controller. Visibility is near 360 degrees as the pilothouse is also raised.
Watertight, pantograph dog-down doors to either side lead you to the Portuguese Bridge. The Portuguese Bridge design has a bulwark forward of the ship's superstructure which serves to reduce pressure from heavy seas on the windshields and also provide additional safety for crewmen who have to venture on deck in rough conditions. At the after end of the pilothouse is a comfortable settee on a raised platform for outstanding visibility, and just behind that is a bunk for resting the off watch. All of this laid on top of a teak and holly sole.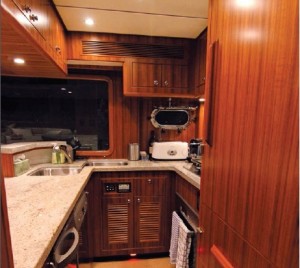 While the owner of this particular N52 opted for an open flybridge with no bimini, the other two N52s have soft top biminis with stainless steel supports. You have the option of either a fixed or fold-down bimini, with or without clears. A single helm seat is standard, with an option of two, plus there is a large aft settee with storage under. The helm is basic in layout with just enough duplication for safe passage making. Centre is a Furuno TZ Touch MFD, with a stainless wheel, with the controls for the Trac stabilisers, thrusters and anchor system at easy reach. The aft deck is big enough to stow a 4m tender or a jet ski, which can be launched or retrieved with a Steelhead 1500 davit crane.
You have a choice of stabilisation via paravanes or active fin stabilisers, or both. Owners mostly specify only the active fin stabilizers, which do a wonderful job of minimizing roll. Paravanes can be installed as an option, however although they are extremely effective, the paravanes are heavy and require some muscle to deploy and retrieve.
Our review boat was fitted with Trac 220 stabilisers. Power for our N52 was via a Lugger L1066T @ 165-hp diesel with a 40-hp Lugger L844D wing engine driving a separate 3-bladed folding Gori prop for backup get home power. It comes with its own fuel supply and batteries and on our test vessel was set up to supply hydraulics to operate the bow and stern thrusters, the engine room bilge pump, the anchor washdown pump and the windlass. Nordhavn claims the little Lugger will push the N52 along at around 4 knots in a moderate sea. Nordhavn is a staunch supporter of a separate power plant driving an independent shaft. Others will connect a generator to drive the main shaft hydraulically, but that's only helpful if the main engine fails… an unlikely scenario unless you get contaminated fuel, which will contaminate the generator along with it. Much better is giving support to losing the main shaft via striking or other damage and having a redundant backup for that system.
You can upgrade to a John Deere 6068AFM75 @ 265hp, but due to the shape of the hull, this will only provide less than 1 knot more performance. The fuel system is brilliant in its simplicity. The main tanks gravity feed into a smaller day tank that feeds the main engine and generator. Simple to use, simple to maintain. Nordhavn employs the tried and tested dry exhaust keel cooled main engine on it's models up to N52. Larger models offer the option of twin engine wet exhaust configuration. Although most owners specify the dry stack, keel cooled option. This gives a quieter operation, and eliminates the problem of fumes and noxious vapors entering the living spaces, which is a common problem with wet exhaust vessels.
The engine room is stand up with stainless steel rails surrounding the Lugger engine. Peter adds that all boats sold to New Zealand or Australian clients are 50 hz/240 volt built to CE compliance. Throughout the last 20 years, Nordhavn has not been afraid to try something new, and the look of their boats and their interior accommodations plans are distinctive. Just as Grand Banks created the "trawler type" with their 36' single screw tri-cabin in 1965, so, too, did Nordhavn create the expedition boat as we visualise it today with their boats. The N52 is a superb example of the expedition boat and it is easy to understand why it has become one of their most popular models.