The marina industry, tasked with supplying marina berths, haul out facilities and hard stands for New Zealand's ever-growing fleet of moored boats, appears to still be growing healthily, despite the numerous and well-publicised hurdles they often face. Mike Rose takes a look at the happenings in the marinas around New Zealand.
While there is continuing strong demand for new marina berths, there is, unfortunately, no shortage of obstacles faced by those who would like to provide them. For a start there is usually stiff competition for the right to use any suitable water space. Then there is the host of regulatory restrictions, the seemingly-endless "red tape" and, quite often, opposition from a vociferous minority determined to get their way. Yet, despite these numerous challenges, dedicated developers, local boating groups and marina associations are continuing to progress a surprisingly number of new projects, both in our main boating centres and in some smaller areas. New marinas and significant marina expansions have either recently opened, are about to open or are well advanced in the planning process in places as diverse as Whangarei, Auckland, Waiheke, Whakatane, Nelson, Lyttleton and Queenstown. And, while the non-boating public often see marinas solely as exclusive playgrounds for the well-off, the truth is they are often a vital part of an area's economy, supporting a wide range of diverse businesses. They also play important roles in ensuring boating (both recreational and commercial) is conducted in an as environmentally friendly way as possible. For example, whereas antifouling was once carried out on careening grids (with the debris simply falling on to seabed to be swept away on the next tide) it is now conducted on specially constructed hardstands with all debris, wash-off, etc safely captured and appropriately dealt with. Chris Galbraith, Chair of the New Zealand Marina Operators Association, says that, while changing policies and regulations can mean marinas and boatyards have to adapt their approach to meet changing requirements, most consider this an opportunity to improve and to find new and better ways of doing things and business opportunities. "Marinas and boatyards are like an environmental gateway to make sure the impact of vessels through biofouling, maintenance and waste discharge is minimised," he says. "New Zealand has been particularly innovative in this area, setting benchmarks both through the Clean Marinas program and the strict environmental standards needed to construct or expand a new marina in recent years." Here is a look at some of the additions, expansions and improvements to the New Zealand marina portfolio.
The Bay of Islands Marina is in Opua. Constructed around a 216m wharf that is more than 130 years old, it underwent a major expansion in 2017. This involved the addition of 180 new berths and a 10,000m2 land reclamation. This was followed in 2022 with the complete reconstruction and resurfacing of its 8000sq m boatyard. Further south, In Whangarei, the new 114-berth Okara Marina is under construction near the town basin. It will complement the existing 200 berths in the town basin and 100 pile moorings at Kissing Point. All are run by an independent charitable trust with profits going to local water sports organisations. The new Okara Marina is downstream from the Town Basin and on the seaward side of the opening bridge, meaning users won't have to pass it to get to and from the ocean. The area is in a very sheltered location, very close to both the town and a large range of marine businesses and is expected to be very popular with visiting boaties from both overseas and from further down the coast. While around half the berths have been set aside to accommodate those visitors, the final 35-40 berths are about to be offered for sale.
As New Zealand's largest and most popular boating centre, demand for marina berths and for haul out facilities in the Auckland area always seems to outstrip supply. This has not been helped by the closure of hardstand areas at Pier 21 (in Wynyard Quarter) and The Landing (at Okahu Bay). Yet, despite being this a very mature market, there continues to be a surprising amount of expansion as the marina operators look for new ways to cater for the increased demand. At Gulf Harbour Marina in the north of the city, a 15-year pile refurbishment programme is set to begin next year. Existing timber piles will be swapped for steel ones, extending the marina's life and giving a modern new look. A new WiFi system across the entire marina is about to go live.
A new 18m shed now complements the marina's 1058 berths, 100-tonne & 30-tonne travel lifts and 110- boat dry stack. A new 50-tonne low loader is due to arrive shortly and Ovlov Marine has recently opened shop, servicing Volvo and Yamaha engines. In the city, the Westhaven, Silo and Viaduct marinas are owned by Auckland Council and managed by Eke Panuku. Westhaven, often referred to as the largest marina in the Southern Hemisphere, is home to over 1,800 recreational boats, four yacht clubs and a variety of marine businesses and hospitality establishments. It also has a huge refuelling facility, pile moorings, wet berths, a Load 'n Go berth, a 45-berth charter base with over 50 charter operators, a 4-lane public boat ramp, floating dock service and 100 metres of public-use pontoons.
There are 10m, 12m, 14m, 16m, 18m, 20m and 24m berths available for rental although the 16m and 18m berths are presently all occupied, with a waiting list in place. To accommodate increasing demand, Westhaven has instituted a 2-stage Pile Berth Redevelopment project. This included the staged redevelopment of the pile moorings to floating berths and the installation of modern new marina berths to help reduce Westhaven Marina's waitlist.
Stage 1 was completed last year and saw the addition of 90 new floating berths (a mixture of 20m and 24m berths). Stage 2 got underway in February, is expected to take 10 months and will include the extension of the Westhaven Promenade boardwalk along the southern side of the reclamation, the installation of new utility services and construction of a new car park and landscaping. Adjacent to Westhaven Marina with easy access to the amenities on offer and a short walk to restaurants and shops, Silo Marina has 8 superyacht berths sized between 90 and 140 metres. The 76-berth Viaduct Marina is an inner-city marina catering for superyachts and smaller vessels up to 55m in length, for both short-term and long-term stays. Silo and Viaduct marinas can provide customs clearance for boats over 24m.
A recent significant expansion at Orams Marine Village saw the addition of three new 90m berths (bringing the total to 7). There are 75-tonne, 85-tonne & 820-tonne travel lifts, a 600-tonne slipway and some 30 specialist marine businesses on a 19,274 sqm site.
Although best known as a specialist superyacht facility, its hardstand and associated businesses also service the local pleasure fleet. In the eastern suburbs, Half Moon Bay Marina recently underwent a major expansion, adding a new 94-berth North Pier. The marina now has a total of 591 berths and its boatyard is serviced by a 35-tonne and 85-tonne travel lift. New undercover working areas mean the hardstand can now cope with up to 24 boats (up to 20m) at a time. The latest major addition to the Auckland marina/hardstand scene is Tamaki Marine Park.
Based on the upper reaches of the Tamaki River it includes a 36-40 boat marina, 272-boat dry stack, 60-tonne haul out area, 60-tonne & 20-tonne trailers, a 50-tonne travel lift and 1400 sqm of undercover space. The marina operates an "open yard" policy meaning that, although there are painters, builders, electricians and mechanical engineers on site, boat owners are free to bring in their own contractors or do any work themselves. Although it requires a 30 min cruise down river to "open water", once there one is close to popular cruising areas such as Browns, Motuihe and Waiheke Islands. The facility is also a close 5-minute drive off the southern motorway.
The only island-based marina in the Hauraki Gulf, the new Kennedy Point Marina is nearing completion and is due to open this spring. Providing permanent berthage for 180 recreational boats in fully serviced berths ranging from 10m to 25m in length, the country's newest marina is proving popular with boat owners, with just 7 berths yet to be sold as of the beginning of July. Features include a sewage pump-out station and offices, a café and car park, all on a floating pontoon.
In one of the largest and most exciting marina developments of recent years, the Nelson City Council recently took back management of the Nelson Marina and has instituted a new 10-year plan. This new $140m plan got underway on July 1 and includes the addition of a 100-tonne travel lift to complement the 550-tonne machine currently being installed as part of the $20 million slipway redevelopment at Port Nelson. It also includes the addition of 240-280 new berths. These will sit alongside the existing 570 berths, many of which are now undersized. The new marinas will all be 14m-plus (16, 18, 20 & some 30m).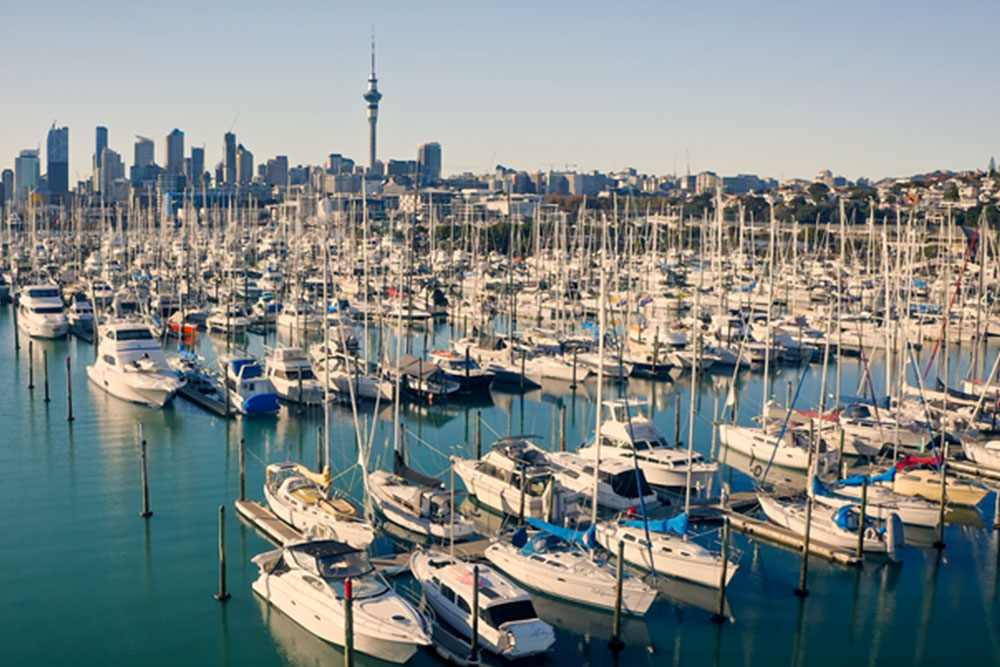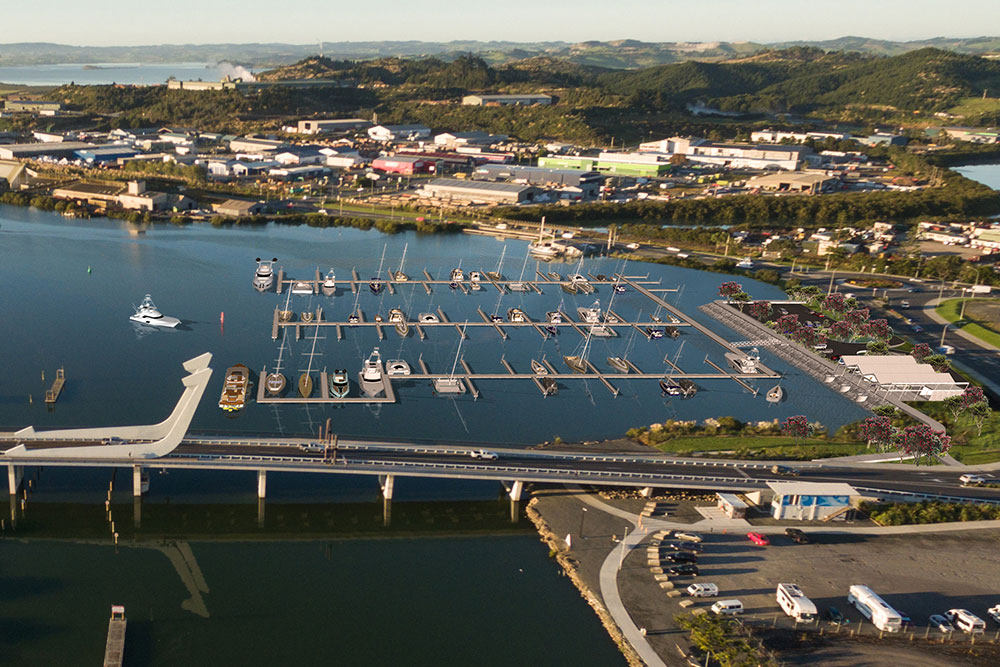 Te Rāhui Herenga Waka is a new commercial boat harbour and marina planned for the eastern Bay of Plenty town of Whakatāne. Construction is about to begin on the project and will be in two stages. In the first, 60 berths will be created for commercial vessels (!shing, aquaculture and commercial charter boats) and in the second, additional berths for recreational users will be added, along with a public boat ramp and commercial premises. Also planned are eco-safe services – fuel, water, electricity and sewage pump out facilities; a hardstand and maintenance facility, including a 80-100 tonne travel lift and a mobile hoist machine; cargo loading and unloading facilities and car parking for 100 vehicles; service buildings and associated services.
As part of Canterbury's post-earthquake rebuild, a new 1700-berth marina was opened in 2018 by the Lyttleton Port Company. Te Ana Marina is Canterbury's only walk-on floating marina and has berths ranging from 10-36 metres which are leased on either a short- or long-term basis. Vessels in the marina are a mix of pleasure, charter and commercial vessels with lease-holders from Canterbury, around New Zealand and offshore (including Australia and Europe).
The new $20m Queenstown Marina opened in November 2022. Initially containing 85 berths, it is already undergoing an expansion with 85 further berths and a suite of new commercial buildings due to be available for occupation in 2025.
In addition, new hardstand facilities are planned in a number of provincial centres. $ese include a new 560-tonne lift for Oceania in Whangarei: a new 380-tonne travel lift for Whanganui Port and a 550-tonne lift for the Port Image by Wardale Marine of Nelson hardstand project.