THE FUTURE
Text Freddy Foote
We feel a trend coming…Midcab walkarounds could be the next big thing on the kiwi boating scene. We sent Freddy Foote to Rotorua to check out the Orca 6.2 Sportfisher.
Orca Engineering isn't a brand you hear about too often. But despite their relatively quiet existence, nestled away in an industrial area of Rotorua, for the last 20 years, the company has been busily building boats for recreational and commercial customers around the world.
Add to that, the work the company does outside of boat building, and according to Managing Director Andre Verdonk, they're "very busy." "We've had a busy couple of years; we've been working with designers here in New Zealand, and as far away as Hawaii where we've been doing some builds for Navatek and their Seablade designed boats," says Verdonk. But closer to home, Orca have formed a relationship with naval architect Alan Walker and his company Coast Design, and are creating a range of alloy boats to be marketed here locally.
"His design originally was a cabin model, so we worked with him to take the boat and put a hardtop on it to suit the New Zealand market."
The 6.2 Sportfisher retains many of the features you would expect to find in a conventional hardtop model if not more. "One of the big things is that you still have a full sized cabin and you don't loose too much room with the walk around. There is in fact still 1.9m of bunk space, which wish to." Verdonk has designed the boat around his style of boating – a slant towards diving and soft baiting. While the demonstrator model is a test case, a full production model is to follow shortly.
"This one is a little bit custom in some of the features we've built into it, from here we'll look to formulate more of a production model that will appeal to a wide audience." "I don't think it's going to be much different; it still has all the core features that people want and need for the style of boating kiwi's do. I love diving and soft baiting; that's what I'm into. So many of the features and ergonomics are tailored around those activities."
"I've also got a young son, so I wanted a boat that he'll want to go out in, and have a few features for him, whether it's resting down in the cabin, or sitting up in the bow."
Starting aft, one of the most prominent features of the 6.2 Sportfisher is the full-width boarding platform. Being a diver, Verdonk wanted plenty of room to be able to climb back onboard out of the water. You'll also find a sizeable T-bar boarding ladder located in the starboard corner. Extra safety on the boarding platform comes in the form of a partial guard rail on each corner of the platform, meaning you can step out there and play a fish if needed. A low profile walk through is also located in each corner of the transom which no doubt game fisherman will appreciate.
Across the transom is a large centralized live bait tank with viewing window. Three separate storage lockers are located below and provide room to store miscellaneous items. No battery storage here, these are located forward in a move to maximise the cockpit space.
Located above the live bait tank is a sizeable bait board, complete with four rod holders and a storage shelf underneath. The cockpit features a side shelf on either side which provides storage for gaffs, rods, etc. Additionally, there are four rod holders in the coamings, while above a rocket launcher provides storage for a further six rods.
Extra storage is provided via a large selfdraining underfloor locker between the pedestal seats. Great place for stowing wet dive gear.
Seating is made up via two pedestal seats which are fully adjustable and can rotate to face aft if needed. Though seating is limited, Verdonk says he is going to make some squabs which will be tailored to be fitted behind the pedestal seats, making use of the step up to the walkaround.
At the helm, there is a Lowrance Elite 9 MFD, while above is a Raymarine VHF, the Suzuki engine instruments and above that the Zip Wake trim control system. At the helm, it feels open and airy, and the windscreen is positioned quite far away from the helm itself, giving the area an even bigger feel. Sliding side windows on both sides provide extra ventilation Making your way forward to the foredeck, you can walk around the wheelhouse without 'shuffling'. Handrails on the top edge of the roof and cabin sides make navigation around the boat even easier.
The sides are high, and the bow rail makes you feel safe while still giving you enough room to be able to cast out baits or play a fish. There is also a bucket seat in the bow built into the cabin roof which is a great place to sit – kids will love it.
Our test boat was powered by a 150hp Suzuki four stroke outboard swinging a three blade 15" propeller. Conditions for our test day on Lake Rotorua were quite overcast and drizzly with the lake starting to rough up later in the morning.
At a trolling speed of 7 knots, the 150hp Suzuki delivered 6.0L/H @ 2000rpm. Pushing the throttles down to 4000rpm, it'll get along to 22 knots using 22L/H. Top speed was 35.7 knots @ 6200rpm using 58L/H – all fed via the 125L fuel tank. The 150hp Suzuki four stroke performed very well on the 6.2 Sportfisher hull, it gave more than adequate throttle response and returned quite a healthy fuel economy.
Bare in mind our performance figures, however, were taken with a very light fuel load of only around 30 litres, no gear and two passengers onboard.
Should you wish, the 6.2 Sportfisher could easily handle more horsepower and would accommodate up to a 200hp outboard. Also, the hull could easily accommodate a twin outboard installation. The ride was good; the lake roughed up slightly later in the morning, and we were able to experience varying levels of chop. The boat felt very solid underway and I have no doubt it'll perform well in rougher water conditions.
The Zip Wake trim control system works well and is a product that is becoming more popular on trailer boats. Essentially it's an automatic trim tab system; you just turn it on, and it'll keep the boat balanced no matter what the water or wind conditions.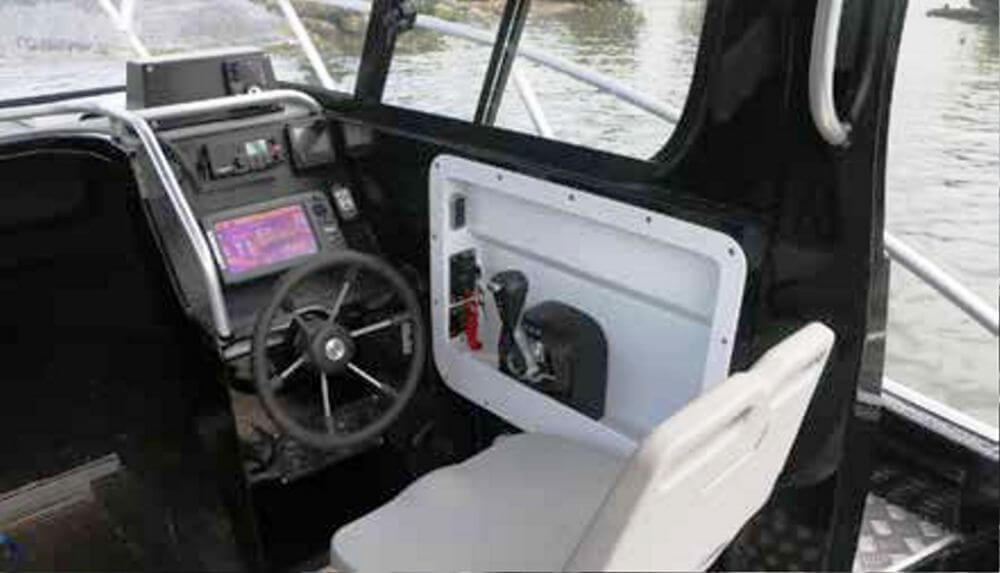 This 6.2m Sportfisher was painted inside and out, and it looked great. Painting is an option. Overall, a great boat. Orca have utilised the space so well, and in my opinion, it still gives you everything that a traditional hardtop does, but in fact adds more. There are only a handful of manufacturers doing walkaround mid-cab style alloy hardtops, and I really can't understand why more builders don't do it.
If you like the versatility of a centre console, but also want the added protection of a hardtop, then a mid cab walkaround like this Orca 6.2 Sportfisher is a great choice.
Model: Orca 6.2 Sportfisher
Price as tested: $138000
Type: Walkaround
Construction: Aluminium
LOA: 6.6m
Beam: 2.2m
Trailerable Wgt: 1850 kg
Power: Suzuki 150hp
Propeller: 15" 3 Blade
Power options: Outboard only
Fuel capacity: 120L
Trailer: Single Axle Voyager