The COX CXO300 is an impressive engine.
COX DIESEL OUTBOARD SETS NEW STANDARDS
Sports Marine have landed their first COX CXO300 diesel outboard in New Zealand, and what a beast.
Pacific Powerboat Magazine was given the opportunity to review the exciting and long-awaited COX CXO300 diesel outboard and what a beast. Editor Barry Thompson said if he didn't know it was a diesel outboard, he would not have been able to tell the difference from a petrol equivalent.
"Visually, it looks great, and as for any specific diesel smell or noise, it just wasn't there. Quiet, responsive and incredibly fuel-efficient.", says Barry.
The 300 complies with EPA Tier 3, one of the most stringent fuel emission standards in the world and is one of the most environmentally friendly outboards (petrol/diesel) available today. "The engine note at cruise is similar to petrol but while a little noisier than petrol at idle and lower rpm, it's not offensive and just seems a little harsher than a petrol engine", added Barry.
The COX CX0300 is built in the UK by Cox Powertrain, and while the gestation period has been long and arduous, the result is nothing short of outstanding. "I have been impressed by many outboards over the years, but the COX CXO300 is something else". 
Under the lightweight carbon fibre cowling is a 4.4 litre V8 cast alloy powerhead with high-pressure common rail fuel system and twin turbochargers, which produce 338hp at the crankshaft and 300hp at the propeller. The engine is not based on anything else and was designed from scratch by Cox Powertrain engineers.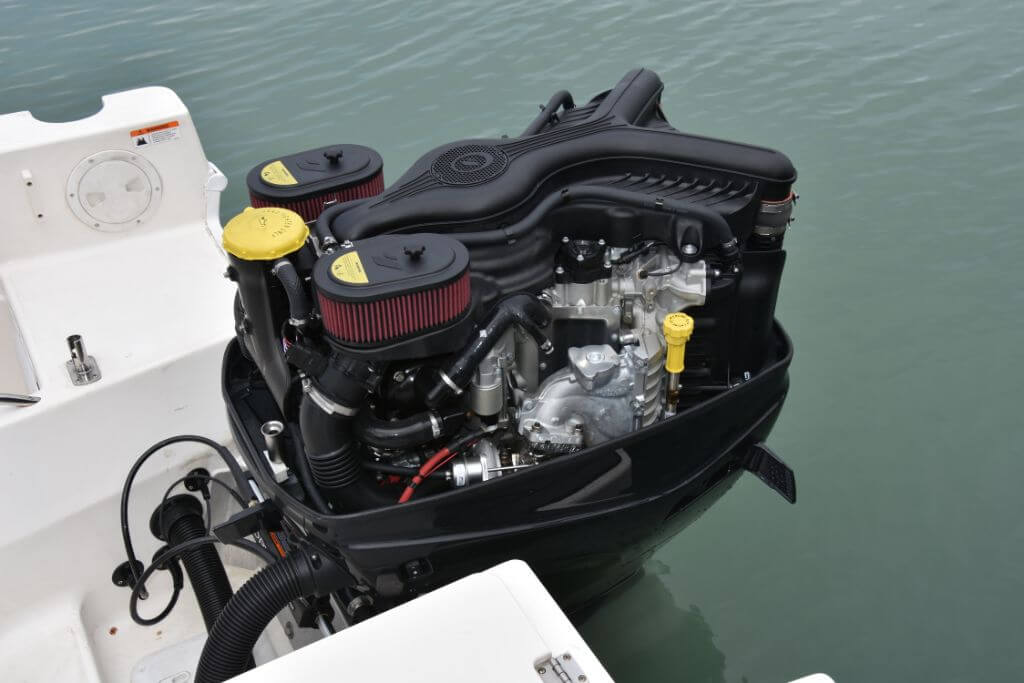 The engine is surprisingly compact, helped by a vertical crankshaft, which reduces the length of the engine's shaft and total weight. While the overall weight of 393 kgs is 121kgs heavier than a Mercury 300 Verado, it is more than compensated for with its massive torque. The COX CXO300 produces 650nm of torque, arguably more than twice an equivalent 300hp petrol outboard.
With two gearbox options; 1.46:1 for larger heavier vessels or 1.23:1 for lighter boats and those looking for speed, you can configure the engine to suit your boat. There are three shaft lengths available, 25″, 30″ & 35″.
The COX CXO300 gets its maximum horsepower at 3500rpm and only revs through to 4000 pm. The restricted torque at very low RPM means you are not overpowering the propeller. There is substantial mid-range torque that provides powerful and responsive acceleration and cruise performance.
Sports Marine had planned to mount the first COX CXO300 on the transom of a new Boston Whaler, but due to unprecedented sales of trailer boats in New Zealand, they didn't have one in stock by the time the COX arrived. Instead, we had a 2016 Seaswirl 230 Walkaround which served as the donor boat. As the review was about the engine and not the boat, it didn't matter. 
One of the cool aspects of the COX CXO300 is that you can start using a keyless FOB ignition. Whilst the technology of keyless ignition is increasingly popular in the automotive industry, it is only just becoming a viable option for marine. This also acts as MOB if you happen to fall out of the boat. The engine will stop when you are about 50m away from the boat. We tried it, and it certainly works. Beats the regular kill switch.  
Acceleration to maximum 4000 rpm and in our case 41 knots (47 mph) was reasonably quick and with no turbo lag. 0 to 30 mph took just 11 secs. We were swinging a 15 1/4″ x 22″ Bravo One propeller, and it had heaps of bite, with no noticeable loss of rpm in the cornering. I think the engine would handle a bigger 23″ or even 24″ (e.g.15″ x 24″ Turning Point), which would probably make the boat quicker from a standing start and give better efficiency and top-end speed. 
Talking about efficiency, that is where the COX CXO300 stamps its mark, in New Zealand, where diesel prices are so much lower than petrol. (Based on regular pump prices of 0.99 cents per litre for diesel and 1.78 cents per litre for petrol in Christchurch). We did a fuel comparison between the CXO 300 and a competitor's petrol 300hp outboard based on a similar boat, and the results were interesting. At around 20 knots, the CXO300 ran at 1.2 nmpl with a total cost of diesel after one hour of just over $NZ22. The petrol equivalent was $NZ50. At wide-open throttle, 41 knots for the diesel outboard and 45 knots for the petrol 300, the comparison was $NZ71 instead of $NZ200, a saving in the diesel engines favour of 65%. These same fuel savings will not apply in places like Australia, where petrol and diesel are much the same price at the pumps, but it certainly does in NZ.
That all sounds great for Kiwi boaties, but you also need to take in the cost of the engine in the first place. The COX CXO300 is going to set you back just shy of $100,000, whereas a petrol 300hp outboard is around half that.
Another big plus for the diesel is its extended service programme which sees the first service at 50 hours, and then every 250 hours after that. Considering the average recreational boat usage in New Zealand is around 45 hours annually, that's over 22 years with just four service schedules! The CXO300 is commercially rated, giving you industry assurance, but it also has a recreational warranty of 5 years or 1500 hours (whatever comes first) and a commercial warranty of 18 months or 1500 hours. According to COX, the engine has a lifespan of triple that of a petrol outboard equivalent! While the diesel outboard is a no brainer for any commercial operators, all the first shipment of CXO300s into New Zealand have surprisingly all been sold to recreational users.
Cox Powertrain is a privately owned, British company based in Shoreham, UK, founded in 2007. Cox Powertrain has accomplished a lot over the past decade, from seeing a gap in the market for compact-sized diesel engine solutions.
Although unique in design, the CXO300 has been built for purpose and developed according to industry standards, making it compatible with controls (NMEA 2000), propellers, standard prop shafts, transom bolt pattern and current steering systems. The trim range is the same as most big V6/V8 outboards, -4 to +16 deg and a tilt of 71 deg, so the lower unit should be well clear of the water when tilted up.  
Designed specifically for commercial and recreational use, the CXO300 is set to disrupt the marine market, offering a new and exciting option. It is, as COX says, Formula 1 technology purpose-built from the ground up for the marine industry.      
SEASWIRL 230WA/COX CX0300

Fuel capacity:

492

litres

 

RPM

Knots

L/h

L/NM

Range  (NM)

750

3.5

2

0.580

760

1000

4.5

3.3

0.740

590

1500

7.0

10.3

1.500

290

2000

9.0

20.1

2.300

190

2500

10.5

24

2.300

190

2700

23.5

28

1.200

360

3000

26.0

32

1.300

340

3500

33.5

42

1.300

340

4000

41.0

72

1.800

240