Triple Yamaha 425 XTOs on the transom of a Grady-White 375.
With the advent of the new generation of larger and more fuel-efficient outboards, their suitability to 10m plus none-trailerable boats has never been better. We look at what's available and a few things you need to consider before experiencing this alternative big boat power source.
Twenty five years ago if you contemplated a pair of outboards over a pair of diesel inboards, be it sterndrive or conventional shafts, your friends would have thought you mad. There may have been an initial cost saving, but the conjecture that the old gas gobbling 2-stroke needed a petrol tanker running alongside to keep you fuelled, was very off-putting. But also very true at the time.
A few did it, and whilst we saw boats like the Genesis 3100 with twin V6 outboards, it never really took off as an accepted alternative to the trusted diesel inboard. Even the historic around New Zealand record run in a Genesis 3100 powered by twin Johnson 225hp Oceanrunners, did little to bolster the enthusiasm. It did however excite the fuel companies.
But times have changed, and with the new era of 4-stroke and now diesel outboards the fuel question has all but been quashed. Bolting a single, or multi outboards on the transom does have its benefits. 
Firstly, there is the cost. A 300hp petrol 4 stroke outboard will set you back around $NZ50,000 and a 300hp diesel outboard almost double that at close to $NZ100,000. A 300hp diesel sterndrive package is around $NZ75,000, and a 300hp petrol sterndrive $NZ40,000-$NZ45,000. And if you run the same diesel inboard engine but via a gearbox you are up for about $NZ60,000 plus when you add the costs of the running gear, your final costs will be in excess of $NZ100,000. Plus all those prices exclude any installation costs.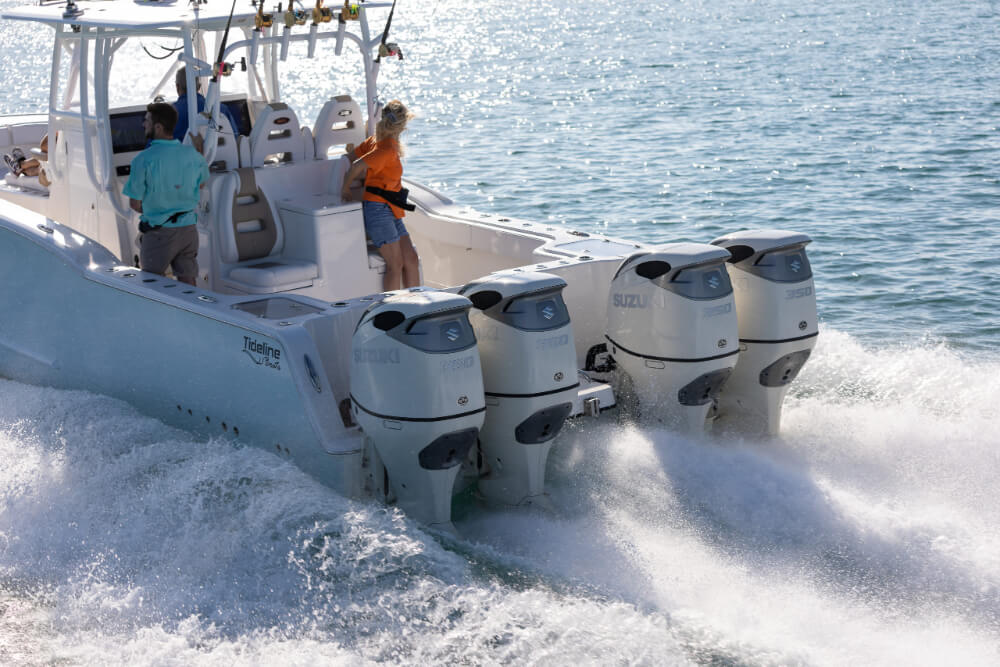 There is also the question of weight saving. The heaviest of the outboards are the diesels, which come in at between 375kg and 395kg. An overall weight of a 300hp petrol outboard ranges from 239kg to 330kg. Now compare that to an equivalent horsepower diesel sterndrive at around 750kg and petrol sterndrive package at 450kg and it is easy to see how much of weight gain there is in running outboards.
The installation is also far simpler and quicker. It's just a matter of bolting the outboard on the transom, whereas a sterndrive requires a hole cut through the transom. A shaft drive engine is more complex requiring the alignment of the underwater running gear.  
When it comes to servicing, the outboard is already out and exposed and very accessible. Replacement is very easy and simple as bolts off – bolts on to change.
Probably one of the major plus factors for outboards is the massive space saving. The conventional engine room space can now be converted to a vast storage area. With today's fly by wire controls it is also an easy job routing the necessary wires to the helm. 
Two other features of modern outboards are that the tilt angle has been increased, and 30" and 35" shaft lengths are now available. These two features combine to ensure that on all but extreme deep-V craft, the lower units will tilt completely clear of the water, minimising corrosion and eliminating the need for antifouling and/or the cleaning of marine growth.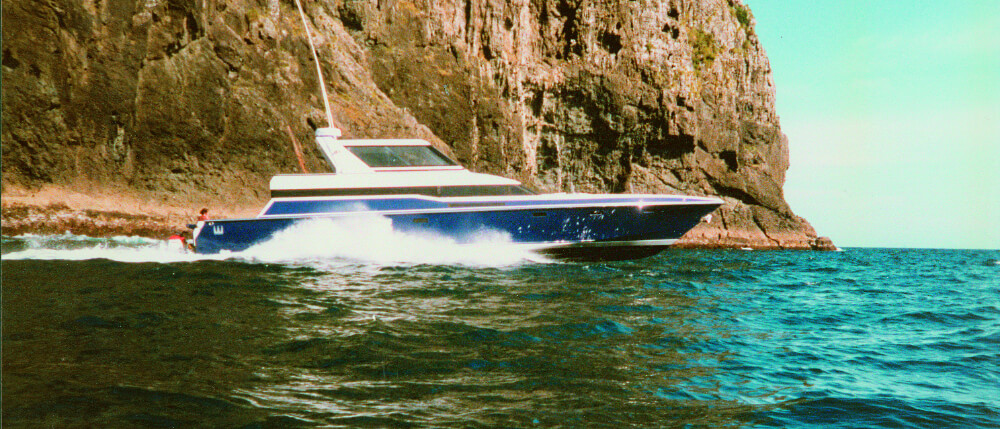 If there is a downside it is that all outboards regardless of brand can only swing a maximum of a 16"diameter prop, apart from the new Mercury V12 which swings a pair of 17" diameter props. Having enough blade area is critical to moving a heavy boat so that's when pitch and the number of blades comes in to play. It's a matter of finding the balance between getting the boat on the plane and top end performance. Big outboards run most efficiently around 5500-6000 rpm so if you are only getting 4800 with the throttles nailed to the dash then you have the wrong prop choice.
This has been a problem in the past, especially with the older 2-strokes that didn't have the torque down low to get a heavy boat onto the plane. Mercury has fixed that problem with their two-speed transmission in the new V12 600hp and 500hp outboards and both the diesel brands, COX & OXE offer different lower unit ratios to suit lighter or heavier boats. The diesel outboards also have better torque at low rpm, which will certainly help a heavy boat onto the plane.
In the past anything over 8 tonnes is asking a pair of outboards to work too hard and you are probably better off going to a sterndrive or conventional shaft drive option. However, today that has changed and with the right outboard set up on the transom, there is no reason you can't use them on boats over 10 tonne displacement.
Leading powercat designer, Roger Hill says that he wouldn't be hugely comfortable going up to 12 tonnes, but would be more than happy with a loaded displacement of 10 tonnes.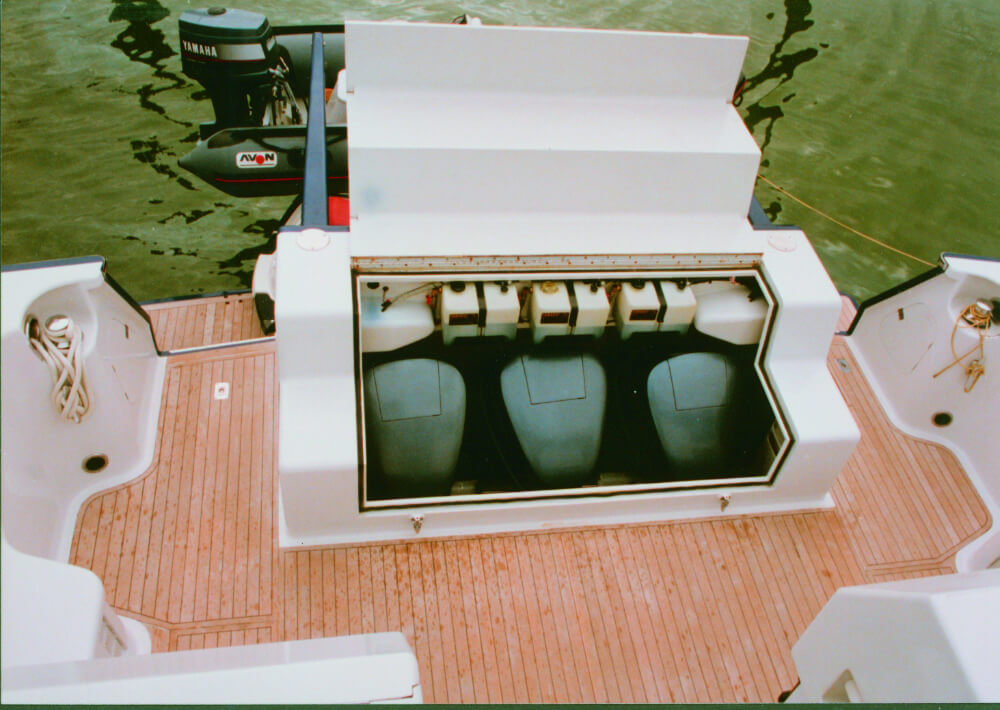 "There are a few other significant factors that go into the hull design mix that would need to be considered along with the outboards. Assuming that we are only talking about planning hull shapes, the bottom loading is critical for planning efficiency and the shape is very relevant regarding ease to get up on the plane and stay there", says Roger. 
He adds that a short, heavy boat with a deep V hull displacing 10 tonnes will be a lot less efficient with outboards than a longer boat of the same displacement with less deadrise.
Currently Hill Yacht Design is working with a client on a 13.5m displacement powercat running a pair of OXE 300 diesel outboards. When fully loaded displacement will be closer to 15 tonnes and Roger says in this case the outboards will be a good fit as top speed is not a consideration and it won't plane in any case. A cruising speed of 17 or 18 knots will be easy to achieve with 180 to 190 hp and a top speed of around 26 knots.
 In 1987 the late Alan Warwick designed the first of two outboard powered boats for Auckland businessman Ken Lusty. The long dark blue hull of Horizon III at speed became a familiar sight on the Hauraki Gulf, yet few realised what was powering this unique 19.4m vessel. 
In Horizon III, triple Yamaha 225hp V6 2-stroke outboards were neatly tucked away in their own internal engine bay. Owner Ken Lusty saw some very definite benefits in the outboards' favour, over larger twin diesels.
Lusty said at the time, "There was the major cost saving on machinery. The boat had less draft, giving it the ability to get into shallower waters, it had a slower minimum speed, it offered the opportunity to upgrade engines without major cost or inconvenience and it had a much lower noise level". The whole boat was built light for its size and on launch day was 14.481 tonnes.
In the mid '80s the era of the big V6 4-stroked, direct injection engines and diesel outboards was still a few years away so the choice of power was limited to 2-strokes. Top power was generally 225hp, although both Mercury and OMC did release some 275hp models, both of which proved unsuccessful in the recreational market. Although certainly not the most economical form of power, especially by today's standards, the triple Yamaha V6 Excel 225s propelled Horizon III at 28 knots in cruising mode and were capable of sustaining speeds of 26 knots in adverse conditions. At 4000 rpm each engine was using 70 litres/hour and at 5000 rpm 82.1 litres/hour. Flat out at 5800rpm consumption jumped to 96 litres/hour. Usual running was done at 26 knots @ 4500 rpm and the fuel economy was as good as some similar sized diesel motor yachts, at around 9 litres per nautical mile. 
A specially designed enclosure for the 3 x V6 outboards also provided a hinged seat allowing access to the outboards. Outboard motor technology has changed a lot since Horizon III was built and while they are certainly a lot more economical, their other inherent benefits have changed very little. 
Ken Lusty was so happy with Horizon III that he commissioned Warwick Yacht Design to design a 30m version to be powered by quadruple V8 outboards. However, eventually Horizon IV was launched with four Yamaha diesel sterndrives instead. Had we had the same technology outboards available then as we have now, I am quite certain that Ken would have stuck with the outboard option.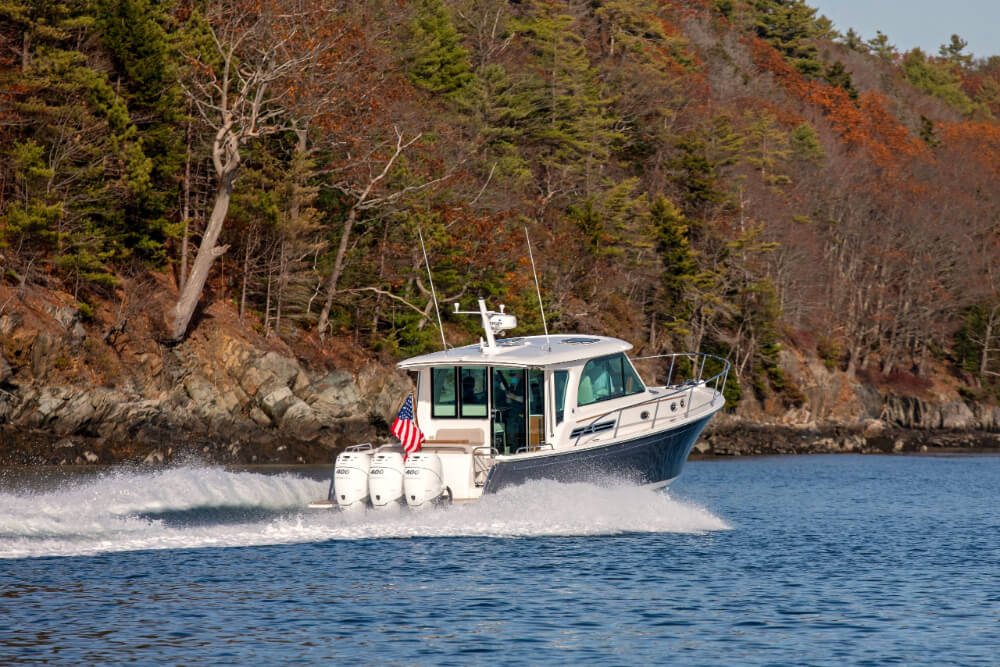 One of the issues you may have if you are running outboards on your boat is the question of fuel availability. Petrol is sold in New Zealand as standard unleaded 91 or premium unleaded in both 95 or 98. Those numbers – 91, 95 and 98 – encompass the octane rating of the fuel. The term RON (Research Octane Number) is also used and so if you see the rating written as 91 RON or 98 RON it refers to the octane rating.
The majority of petrol sold at a marina/jetty is 91 RON although there are some big areas of the country that there are no petrol pumps, just diesel. And when it comes to available 95 RON, the choices are even less.
There are about 50 places around the coast and on a couple of lakes in New Zealand that you can get fuel, either diesel or petrol, with only nine that have 95 RON available. If you are heading North of Auckland the last chance to get 95 RON on the water, is at Tutukaka Marina. It is not available anywhere in the Bay of Islands. So if you are planning a big trip to the Three Kings with your twin V8 powered 12m hardtop, then you need to have big fuel tanks. However, there is always the option of organising a small tanker to top you up at Mangonui, Whangaroa or Hohoura for your return trip.        
In Auckland, 95 is readily available in Westhaven, the OBC Auckland and Gulf Harbour, with the only other stops south being Tairua Marina, Tauranga and Whakatane. Whitianga Marina has just announced that they are installing 95 on their new fuelling jetty. This is great news for all the none trailerable outboard powered boats resident on the marina and in the Waterways. If you have your boat moored in Wellington, then getting petrol is a real problem as it is not available from any marina fuelling site. The South Island has 95 available at Picton and 91 at Waikawa, Elaine Bay and Havelock North, but nowhere else.  
In fact there are only just over a dozen dedicated 91 RON pumps, although there is still only the Russell Wharf and further South Marsden Cove where you can get petrol north of Auckland. Great Barrier has 91 available at both ends, Fitzroy and Tryphena. Plus there are numerous sites around Auckland. Further south you go the less chance you have of getting even 91, with outlets at Tauranga, Napier, and various places in the Marlborough Sounds. There are no dedicated 91 octane pumps in Wellington Harbour or even further North at Mana.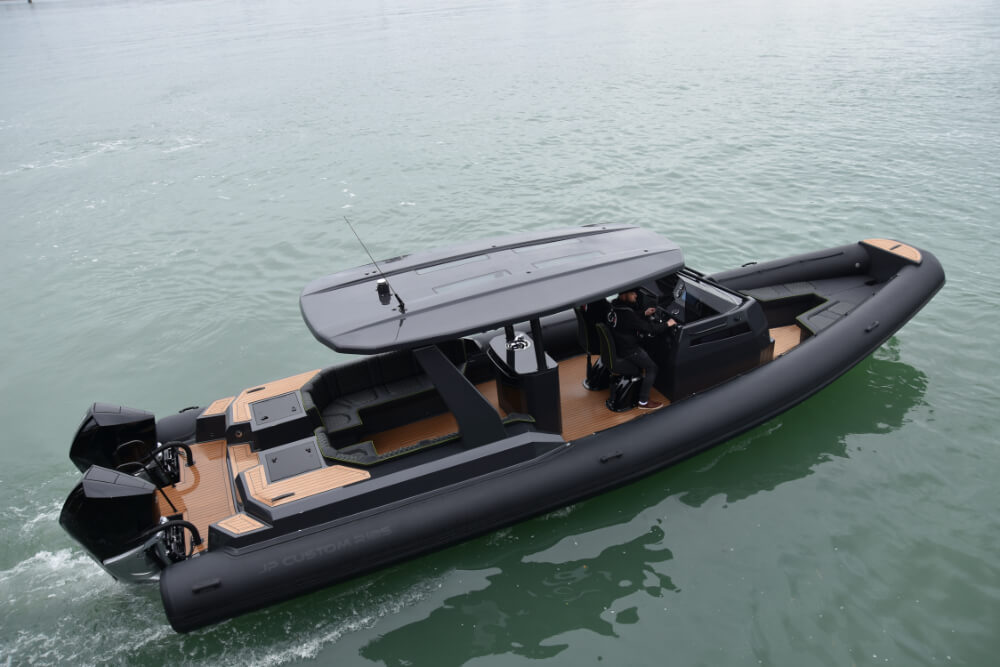 So, while obtaining 91 can be an issue, then it can be an even bigger problem if you require 95 to run to efficient and optimum performance. Fortunately, there are fuel octane boosters available to get your fuel up into the required octane zone.
So, what does a fuel octane additive do? Fuel octane contributes to stability under compression, with a higher-octane rating indicating greater resistance to abnormalities like detonation and engine knock. An octane booster protects against low octane level issues by increasing the octane rating, and it improves performance by helping to ensure that fuel in a cylinder ignites exactly when it should, even in high-compression engines. 
The benefits of a fuel octane booster are that it helps to ensure that you're "feeding" your engine the best fuel grade you can. Octane boosters are best used at every fill-up, although different products will have different ratings for how much fuel they are able to effectively treat. A rule of thumb is 1 litre of octane booster to 400 litres of fuel added at the time of filling. You can buy octane boosters in a variety of packs, from 250ml right through to 200 litres.
Hugh Stewart, Yamaha Marine NZ Technical Sales Advisor says that while some of their outboard motors have a 94 RON fuel recommendation, many owners run on 91 Octane, which is not recommended.
He says that the F375 and F425 should have a minimum fuel rating of 94 RON due to the high compression ratio of this engine 
"The F350, F375, F425 V8s have always carried the RON 94 recommendation, however the availability of the higher rated fuel at many of the on-water fuel stops has seen many engines having a RON 94 recommendation being topped up or filled with RON 91", adds Hugh.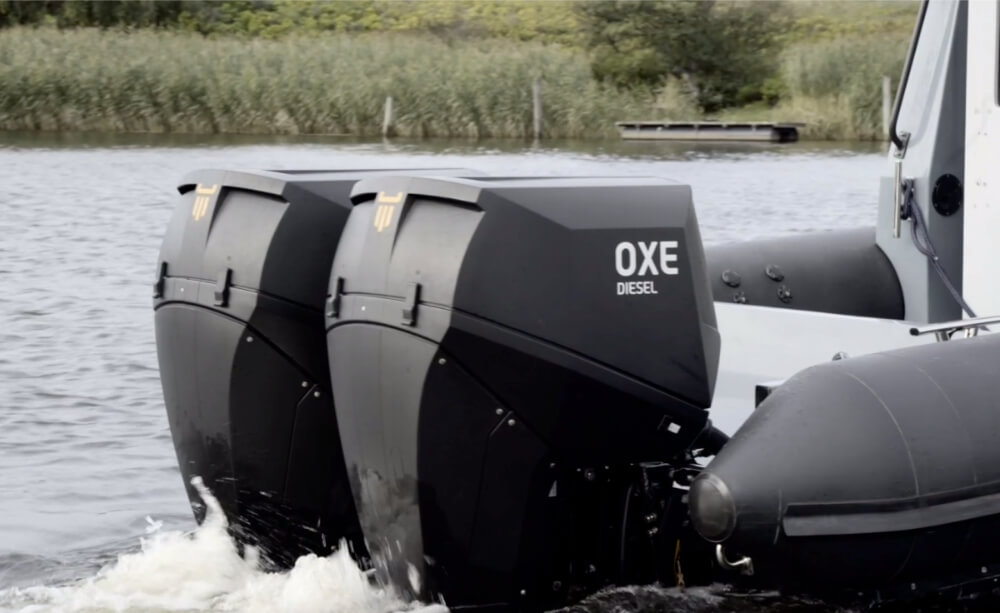 He says that the Yamaha engine management systems (ECUs) mapping adjusts ignition timing, fuel injection duration etc through the inputs from the various engine sensors, including a knock sensor so the Yamaha outboard engines with a RON 94 recommendation have continued to operate with RON 91.    
 "The use of an octane booster, such as HFT ECO XP with the Yamaha XTO375, XTO425 with a compression ratio of 12.2:1 provides a buffer between RON 91 and RON 94 allowing the engine management mapping to remain within normal operational parameters, under normal operational conditions", says Hugh.
Compared to 91 octane petrol, 95 and 98 octane generally cost a further 15 to 20 cents per litre; these extra prices can vary around the country depending on location and competition between retailers. 
"A 1 litre bottle of Eco XP added to your 400-litre tank of 91 will set you back $NZ69.00, which translates to around 17 cents per litre, which is not far from the cost of 95 anyway and cheap insurance for your engine", says Hugh.
There are a number of fuel octane additives available from large retailers such as Supercheap and Repco, with claims of boosting your fuel by between 2-7 RON. Like the HFT product they are also reasonably inexpensive for the quantity required.  
Dean Villis NZ Service Manager for Mercury Marine says that their larger 4 strokes all the way up to 300hp use 90 RON, (Ron 91 in NZ).
"Even our new V12 500 and 600 HP are programmed to run on 91 RON, while our supercharged engines being 350,400 and 450 hp need to use bare minimum of 95 RON to get premium performance", says Dean.
He points out that something to think about when reference to octane ratings are when the fuel is new and uncontaminated. "In a daily driven car this fuel will get used up fairly quickly so in most cases does not have a chance to age, but in a boat however we find fuel doesn't get used up as quickly so can sit around for a while constantly deteriorating", added Dean.
So should a customer fill up with 91 when it really should be 95 using the old NZ "she will be right mate" attitude? No. When you start with a lower than recommended octane rating and compound that with the age of the fuel, the octane will drop down even further.
Some fuel companies use ethanol in their higher-octane fuels. With ethanol blended fuels deterioration also happens but you can have something called phase separation. This is when the ethanol separates from the rest of the fuel which changes the octane. The separated ethanol can be quite corrosive, and it also can attract moisture. Fine if you are using the new fuel, but not so much if you are storing it.
So, it would seem that the day of the outboard powered bigger mono or powercat is very much here and the outboard alternative is a viable option. While in the US, 5-6 outboards on a 18m super console boat is not uncommon, for Kiwis and Aussies it is probably more about twin's on a powercat or triples on a monohull. There are over 60 outboards from eight manufacturers, which include two diesel and two electric brands. Both the electric offerings are in their infancy but one, Evoy from Norway have plans to produce electric outboards to 450hp within a few years. Watch this space!
| | | | | | | | | |
| --- | --- | --- | --- | --- | --- | --- | --- | --- |
| COX | RON | WEIGHT |   | CONFIG | DISP (LITRES) | SHAFT (INCH) | Gearcase Ratio | PROP DIAM |
| CXO 300 | Diesel | 375 kg |   | V8 | 4.4L | 25/30/35 | 1.23:1 / 1.46:1 | 15″ |
| | | | | | | | | |
| --- | --- | --- | --- | --- | --- | --- | --- | --- |
| EVOIY | RON | WEIGHT |   | CONFIG | DISP (LITRES) | SHAFT (INCH) | Gearcase Ratio | PROP DIAM |
| Evoy Pro 150 | Electric | 150 kg |   | NA | NA | 20/25/30/35 |   | 16″ |
| | | | | | | | | |
| --- | --- | --- | --- | --- | --- | --- | --- | --- |
| HONDA | RON | WEIGHT |   | CONFIG | DISP (LITRES) | SHAFT (INCH) | Gearcase Ratio | PROP DIAM |
| BF250D | 91 | 281 kg |   | V6 | 3.6L | 25/30 | 2.00:1 | 16″ |
| BF225D | 91 | 281 kg |   | V6 | 3.6L | 25/30 | 1.87:1 | 16″ |
| BF200D | 91 | 285 kg |   | V6 | 3.6L | 15/20/25 | 1.87:1 | 16″ |
| BF175D | 91 | 285 kg |   | V6 | 3.6L | 25″ | 1.87:1 | 16″ |
| BF150 | 91 | 217 kg |   | L4 | 2.35L | 15/20/25 | 2.14:1 | 16″ |
| | | | | | | | | |
| --- | --- | --- | --- | --- | --- | --- | --- | --- |
| MERCURY  | RON | WEIGHT |   | CONFIG | DISP (LITRES) | SHAFT (INCH) | Gearcase Ratio | PROP DIAM |
| Verado 600 | 91 | 572 kg |   | V12 | 7.6L | 20/25/30/35 | 2.50:1 | 17″ (Duo) |
| SeaPro 500 | 91 | 572 kg |   | V12 | 7.6L | 20/25/30/35 | 2.50:1 | 17″ (Duo) |
| 450R | 95 | 313 kg |   | V8 | 4.6L | 20/25/30 | 1.60:1 | 16″ |
| 400 Verado | 95 | 303 kg |   | L6 | 2.6L | 20/25/30 | 1.75:1 | 16″ |
| 350 Verado | 95 | 303 kg |   | L6 | 2.6L | 20/25/30 | 1.75:1 | 16″ |
| 300 Verado | 91 | 272 kg |   | V8 | 4.6L | 20/25/30 | 1.75:1 / 185:1 | 16″ |
| 300 SeaPro | 91 | 272 kgs |   | V8 | 4.6L | 20/25/30 | 1.75:1 | 16″ |
| 300 Pro XS | 91 | 229 kg |   | V8 | 4.6L | 20/25 | 1.75:1 | 16″ |
| 300 Four Stroke | 91 | 239 kg |   | V8 | 4.6L | 20/25 | 1.75:1 | 16″ |
| 250 Verado | 91 | 272 kg |   | V8 | 4.6L  | 20/25/30 | 1.75:1 | 16″ |
| 250 SeaPro  | 91 | 239 kg |   | V8 | 4.6L | 20/25/30 | 1.75:1 | 16″ |
| 250 Pro XS  | 91 | 229 kg |   | V8 | 4.6L | 20/25 | 1.75:1 | 16″ |
| 250 Four-Stroke  | 91 | 239 kg |   | V8 | 4.6L  | 20/25/30 | 1.75:1 | 16″ |
| 225 Pro XS  | 91 | 229 kg |   | V8 | 4.6L | 20/25 | 1.75:1 | 16″ |
| 225 SeaPro | 91 | 239 kg |   | V8 | 4.6L | 20/25/30 | 1.75:1 | 16″ |
| 225 Four Stroke  | 91 | 216 kg |   | V6 | 3.4L | 20/25/30 | 1.85:1 | 16″ |
| 200 SeaPro | 91 | 220 kg |   | V6 | 3.4L | 20/25 | 1.85:1 | 16″ |
| 200 Pro XS  | 91 | 229 kg |   | V8 | 4.6L | 20/25 | 1.75:1 / 1.85:1 | 16″ |
| 200 Four Stroke  | 91 | 216 kg |   | V6 | 3.4L | 20/25 | 1.85:1 | 16″ |
| 175 Pro XS | 91 | 213 kg |   | V6 | 3.4L | 20/25 | 1.85:1 | 16″ |
| 175 Four Stroke  | 91 | 216 kg |   | V6 | 3.4L | 20/25 | 1.85:1 | 16″ |
| 150  Pro XS | 91 | 207 kg |   | L4 | 3.0L | 20/25 | 2.08:1 | 16″ |
| 150 Four Stroke | 91 | 206 kg |   | L4 | 3.0L | 20/25 | 1.92:1 | 16″ |
| 150 SeaPro | 91 | 206 kg |   | L4 | 3.0L | 20/25 | 1.92:1 | 16″ |
| | | | | | | | | |
| --- | --- | --- | --- | --- | --- | --- | --- | --- |
| OXE | RON | WEIGHT |   |   | DISP (LITRES) | SHAFT (INCH) | Gearcase Ratio | PROP DIAM |
| Diesel 150 | Diesel | 350 kg |   | L4 | 2.0L | 25/33 | 1.73:1 / 2.17:1 | 16″ |
| Diesel 175 | Diesel | 350 kg |   | L4 | 2.0L | 25/33 | 1.73:1 / 2.17:1 | 16″ |
| Diesel 200 | Diesel | 350 kg |   | L4 | 2.0L | 25/33 | 1.73:1 / 2.17:1 | 16″ |
| Diesel 300 | Diesel | 395 kg |   | L6 | 3.0L | 25/33 | 1.39:1 | 16″ |
| | | | | | | | | |
| --- | --- | --- | --- | --- | --- | --- | --- | --- |
| SUZUKI | RON | WEIGHT |   |   | DISP (LITRES) | SHAFT (INCH) | Gearcase Ratio | PROP DIAM |
| DF350A | 95 | 330 kg |   | V6 | 4.4L | 25/30 | 2.29:1 | 15.5″ (Duo) |
| DF325A | 91 | 330 kg |   | V6 | 4.4L | 25/30 | 2.29:1 | 15.5″(Duo) |
| DF300AP | 95 | 290 kg |   | V6 | 4.0L | 25/30 | 2.08:1 | 16″ |
| DF300B | 91 | 330 kg |   | V6 | 4.4L | 25/30 | 2.29:1 | 15.5″ (Duo) |
| DF250AP | 95 | 290 kg |   | V6 | 4.0L | 25/30 | 2.08:1 | 16″ |
| DF250 | 91 | 264 kg |   | V6 | 3.6L | 20/25/30 | 2.29:1 | 16″ |
| DF200AP | 91 | 236 kg |   | L4 | 2.9L | 20/25 | 2.50:1 | 16″ |
| DF200A | 91 | 235 kg |   | L4 | 2.9L | 20/25 | 2.50:1 | 16″ |
| DF200 | 91 | 264 kg |   | V6 | 3.6L | 20/25/30 | 2.29:1 | 16″ |
| SF200SS | 91 | 240 kg |   | L4 | 2.9L | 20/25 | 2.00:1 | 16″ |
| DF175AP | 91 | 236 kg |   | L4 | 2.9L | 20/25 | 2.50:1 | 16″ |
| DF175A | 91 | 235 kg |   | L4 | 2.9L | 20/25 | 2.50:1 | 16″ |
| DF150AP | 91 | 236 kg |   | L4 | 2.9L | 20/25 | 2.50:1 | 16″ |
| DF150A | 91 | 235 kg |   | L4 | 2.9L | 20/25 | 2.50:1 | 16″ |
| DF150SS | 91 | 240 kg |   | L4 | 2.9L | 20/25 | 2.00:1 | 16″ |
| | | | | | | | | |
| --- | --- | --- | --- | --- | --- | --- | --- | --- |
| VISION MARINE | RON | WEIGHT |   | CONFIG | DISP (LITRES) | SHAFT (INCH) | Gearcase Ratio | PROP DIAM |
| e-Motion 180 | Electric | 188 kg |   | NA | NA | 20/25/30/35 | Not Listed | 16″ |
| | | | | | | | | |
| --- | --- | --- | --- | --- | --- | --- | --- | --- |
| YAMAHA  | RON | WEIGHT |   |   | DISP (LITRES) | SHAFT (INCH) | Gearcase Ratio | PROP DIAM |
| XF425 XTO | 95 | 442 kg |   | V8 | 5.6L | 25/30/35 | 1.79:1 | 16″ |
| F375 XTO | 95 |   |   | V8 |   |   |   | 16″ |
| F350  | 95 | 346kg |   | V8 | 5.3L | 25/30 | 1.73:1 | 16″ |
| F300  | 91 | 263 kg |   | V6 | 4.2L | 25/30 | 1.75:1 | 16″ |
| F250  | 91 | 229 kg |   | V6 | 4.2L | 20/25 | 1.75:1 | 16″ |
| F225  | 91 | 229 kg |   | V6 | 4.2L | 20″ | 1.75:1 | 16″ |
| VF225 | 91 | 229 kg |   | V6 | 4.2L | 20″ | 1.75:1 | 16″ |
| VF200 | 91 | 229 kg |   | V6 | 4.2L | 20″ | 1.75:1 | 16″ |
| VF175 | 91 | 218 kg |   | L4 | 2.8L | 20/25 | 1.86:1 | 16″ |
| F175 | 91 | 218 kg |   | L4 | 2.8L | 20/25 | 1.86:1 | 16″ |
| F150 | 91 | 218 kg |   | L4 | 2.8L | 20/25 | 2.00:1 | 16″ |
| VF150 | 91 | 218 kg |   | L4 | 2.8L | 20/25 | 2.00:1 | 16″ |
WEIGHT: lightest model available