Following the successful collaboration with the BMW Group of marinising their 3 litre, 6 cylinder bi-turbo engine for use in the OXE300s, both parties have agreed to co-brand the OXE300.
The purpose of this is to develop the overall sales and marketing initiatives with the focus on the premium quality aspects of the product – as phrased in the Company's promise of delivering "products of unprecedented power, reliability and endurance". The BMW logo and the caption "In cooperation with BMW" is to be displayed on the side and rear of the cowling as well as to be used in various marketing material.
The OXE Diesel is designed and built for commercial users. Endurance, reliability, power and control is key. The world's first commercial diesel outboard combines the reliability and endurance of marine inboards with the flexibility and agility of outboard engines, offering unprecedented efficiency, range and torque.

The OXE300, derives its power from a 3-liter 6 cylinder bi-turbo automotive diesel engine. It produces 300hp at the propeller at 4200 -4400 engine rpm, and 680NM (502ft-lb) of torque at the crankshaft at 1750rpm (more than 1000NM (740ft-lb) at the propeller). 
These are torque numbers that are previously unheard of in the outboard industry and that provides end user massive bollard pulling power as well as fast whole shot acceleration.
To meet commercial customer demands the OXE Diesel has been designed with ease of maintenance and service in mind. All service points for daily maintenance checks are located in the front of the engine to make service and maintenance as easy and straight forward, even in the harshest of conditions.
The OXE 300 significantly reduces the emissions compared to petrol fueled outboard standards. Based on performance tests, the OXE 300 consumes up to 40% less fuel compared to a 300 hp petrol fueled outboard. Carbon dioxide are reduced by more than 35%, carbon monoxide by more than 99% and combined hydrocarbons and NOx by more than 70%. This reduction significantly contributes to a reduced environmental impact. The reduced fuel consumption and increased efficiency also increase the operational range with 60%.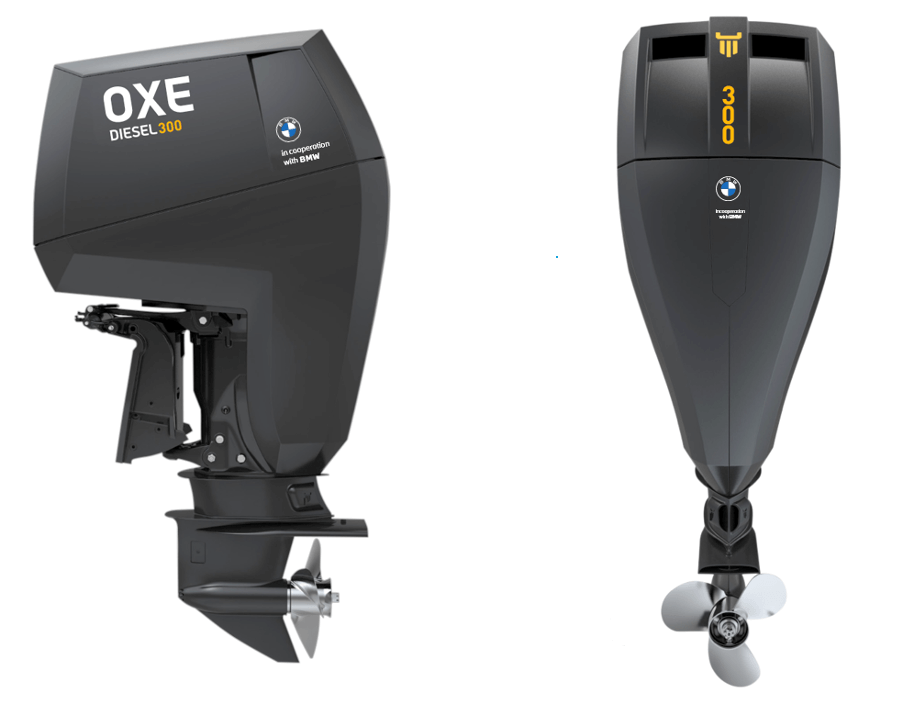 The unrivalled torque and endurance of the OXE300 open up new markets, new vessels and even more end users. From transportation barges built for harbour work, carrying heavy loads, to governmental applications such as coastguard or search and rescue in which speed and range are essential.
OXE Marine AB commenced production of the OXE300, in May. After passing rigorous quality tests, the first units have now been shipped to customers. The production of OXE300 will ramp up and move to new production facility in July.