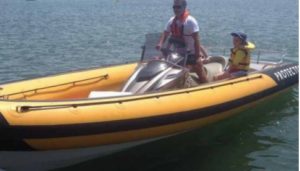 Recently we took delivery of a 5-year-old Rayglass Projet and while the bright yellow Hypalon tubes were still in great condition and lacking none of their sheen, it wasn't the colour we wanted to promote RIB magazine. Having had some experience a few years ago with signwriting Thundercats, I was well aware of the difficulties in painting PVC or Hypalon tubes. The elasticity of the fabric obviously doesn't lend itself to your conventional marine paint, but fortunately there are a number of specialist products available. We made a call to ONE10 Yacht Painters at Gulf Harbour, who has built up an enviable reputation as one of the leading boat painters in Auckland. 
Their expertise in all things timber, glass and alloy also stretches to inflatables. They use a Kiwi product called Marine Shield, which provides a high quality UV protection to marine fabrics. It will reduce the amount of breakdown caused by UV exposure and while one of the thinnest coatings, still has one of the highest UV ratings in the world. Marine Shield product MS110 & MS110.5 is offered with a 5 Year UV Warranty. One of the interesting features about Marine Shield is that when applied it can be up to 300% lighter than other products presently available. Marine Shield provides a hard surface that retains its flexibility and makes the surface easy to clean. It also has a mould inhibiting quality, as mould can cause a rapid deterioration of materials.
Marine Shield has an extensive colour range including fluorescent, pearl, and metallic finishes giving it a unique customised appearance which has not been previously available After some consultation with the experienced team at ONE10, we chose gunmetal grey. Obviously as the boat was to be displayed at the boat shows and events around the country – we wanted to have the boat sign written for added recognition and promotion. Fortunately the Marine Shield coating welcomed the creative vinyl signage, designed by our sign-writing wizard, Steve from Letter Rip.
Getting the right paint on your RIB or inflatable dinghy is essential. Inflatable boats have plenty of advantages but one of them is not eternal life of the tubes. The tough alloy or fiberglass hulls can take a lot of wear and abuse, but when it comes to the soft tubes, then that's a whole different story. PVC is the worst, with a life span before it needs replacing of 5-10 years, depending on how you look after it. PVC is subject to the sun leaching the elastercisers out of the fabric and forming hard spots and dullness. Hypalon on the other hand can look as good as new 20 years after it was first glued to the hull. However, again that all depends on, just how you look after it. TLC is required and while rips and tears can be patched, it is the overall appearance of the tubes that eventually deteriorates and dulls, giving your RIB that well used look. 
The harsh effects of UV exposure, frequent use, and operating in polluted waters can all take their toll on inflatable boats, whether they are PVC or Hypalon. Proper maintenance and frequent washing with a good dinghy cleaner help keep grime, oxidation, and organic fouling (barnacles, slime, etc.) to a minimum, but eventually, a new paint job may be needed. Topside paints for inflatable boats, in general, have a poor reputation for durability, but there are some very good products on the market now that will stand up to the tests of time on the water—and especially in New Zealand, the harshest of all UVs.
Specially formulated paint for PVC/Hypalon is designed to adhere as a strong flexible bond, becoming part of the surface withstanding weathering, abrasions and retaining colours for many years. It needs a high stretch ratio that will not crack or flake off. Generally they are applied with a two-coat process, the first for good surface adhesion and a second coat for a smooth appearance and improved, lasting durability to UV and the elements. However, it is essential that the surface to be painted is well prepared before you go near it with a brush, roller or spray unit.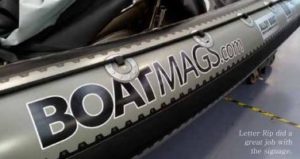 It is recommended to repair and reattach components or patches that may be coming lose prior to painting. A hot air gun will soften the old glue and then you need to clean all the surfaces with an appropriate solvent. This should then be followed with an inflatable boat cleaner to remove any excess grease, dirt or oxidation and then all areas to be painted wash and dried. Having a clean surface to paint is essential, so it's important to not only go over the larger surfaces but also get right into the seams and joints, as they can be real dirt gatherers. Inadequate surface preparations will result in unsatisfactory result. Masking areas can be done by using standard Low Tack Masking Tape You can apply most RIB suitable paints with a brush, roller or by spraying although professionals usually go for the spray method. If you don't have that option at home, then a brush is fine. 
Some manufacturers
recommended using a brush with natural bristles as synthetic bristles may dissolve due to the solvents. This goes also for rollers, which are usually synthetic and prone also to breaking down due to solvents, thus spoiling your final finish. ONE10 sprayed our Projet RIB, using Marine Shield 110 that can only be applied by approved applicators and has been used on many of the Coastguard vessels and work boats in NZ and around the world.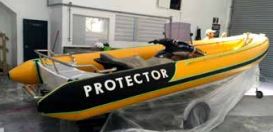 To help maintain the new finish and to further resist the effects of UV, an application coat of polish is recommended each time you clean your inflatable, we also called on Ocean Covers & Upholstery to have a snug fitting, custom cover made to further protect our newly painted baby from the harsh NZ weather. Overall the process of painting our RIB was very straightforward and the result is our 5 years old Projet looks brand new. The secret is getting the job done professionally, by people that known what they are doing. Also make sure you have the right materials for the job, such as the products from Marine Shield. We are very happy with what we ended up with and look forward to seeing you on the water this summer.