With a reputation as a bespoke builder of finely crafted vessels, Palm Beach Motor Yachts have, with the release of the Palm Beach 45 added yet another stunningly handsome boat to their range.
The Palm Beach 45 was developed from the mould of the popular PB 50 in response to client requests. Specific feedback resulted in a lower priced, entry-level boat with more contemporary styling and family-focused robust finishes. As with all Palm Beach Motor Yachts there is no compromise on build quality or handling.
While the PB45 does look very similar to the popular PB50, albeit 5ft shorter, and carrying the same beam, it is the fit out where the real difference is most obvious. Designer and builder of the Palm Beach range, Mark Richards has for sometime wanted to produce a less expensive version of the PB50, but without compromising the high quality finish that is evident in every boat that leaves the North Sydney factory. Talk to anyone about Palm Beach Motor Yachts and they speak of flawless finish, attention to detail and unquestionable quality. Palm Beach Motor Yachts has an enviable international reputation as one of, if not the premium boat builder in Australia and it's easy to see why with every boat they build. The PB45 is certainly no exception.
The first thing you notice when you look inside the PB45 is that most of the traditional all timber interior is gone in favour of a more modern fibreglass look. This was a strategic move by Richards to pull back the time it takes to build the boat, but without compromising the finish and look. " We have cut down the build schedule by a staggering 3000 hours and this all relates directly back to the final retail price, which for the PB45 is $Aus1.2 million base", says Mark. However he was quick to point out that if someone wanted this boat with a full timber interior then that's certainly an option.
The interior is probably now more family friendly and durable so should certainly suit those that do a lot of their boating with young children.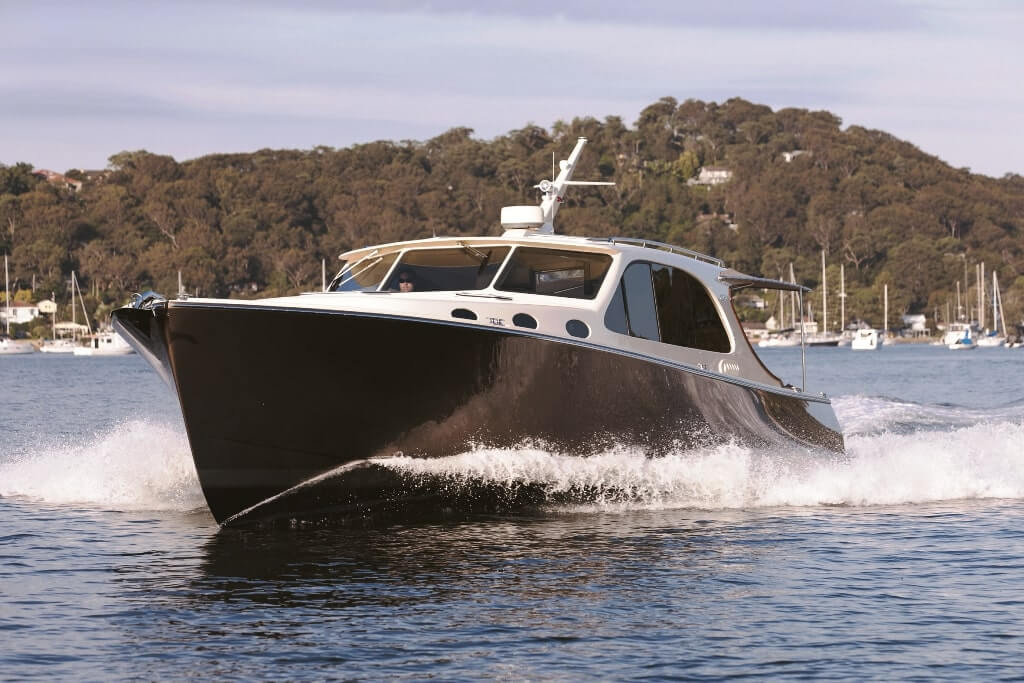 Mark is well aware that not everyone wants the same thing so they offer a variety of layouts to suit what an owner wants. "We like to let our owners create their own space and we will consider most layout requests and happy to go with something new if we agree it's going to work," says Mark.
The choice is between two cabin and single cabin layouts with either a lower forward or upper aft galley, depending on your accommodation choice. If you are keen on your privacy then the single cabin is a great option, but for me, I prefer the two-cabin layout is a more practical option, and it also opens up the scope of the boat a lot more. In boat one the layout chosen by the owners was for a large single forward cabin, complete with central island queen size berth, plenty of storage options with hanging lockers and cupboards.
"We have built 25 boats from this mould and we have honed the forward cabin design to a point that we know it works and is the best use of space", added Mark.
First thing you notice is the lack of timber with clean fibreglass cabin linings and bulkheads. There is a small hint of timber, in this case the owners chose Burmese teak, but even the port and overhead hatch surrounds are moulded fibreglass with a painted finish. In fact the finish is such that at first glance they certainly look like timber. The doors and surrounds are still all timber.
The ensuite vanity is Caesar stone with a raised bowl, plus there is a generous size shower cubicle complete with glass doors and electric head. Again you find the timber has all been replaced with fibreglass panelling.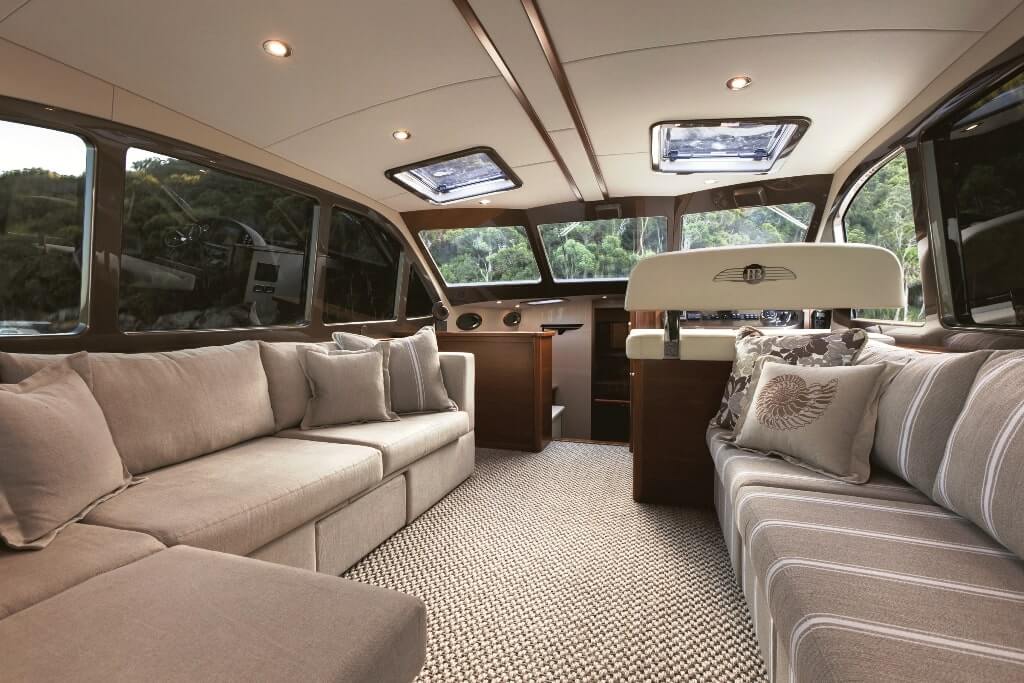 Depending on your accommodation option you can configure the galley forward or aft, upper or lower. Boat #1 has a lower forward galley with loads of storage and generous Caesar stone composite bench space for meal preparation. Standard features include a convection microwave, bench hob, fridge/freezer and there is the option of fitting an under bench dishwasher.
Timber has been retained for all cupboards and below bench units and the sole is finished in Burmese teak. Attention to detail, no matter how small or seemingly insignificant is obvious throughout the boat, from the black Formica lined galley drawers complete with teak dividers to the handcrafted wooden toilet seat.
Take a few steps up to the main saloon area and you'll find a starboard side helm that retains the same styling as the PB50, but is a moulded unit, painted and trimmed with teak. In the PB50 it's all teak timber. A single Garmin screen sits centrally under the eyebrow and is flanked by an array of instruments and electronics, plus of course the IPS instrumentation and controls.
A large double leather helm seat provides comfort for the driver, with excellent visibility and sightlines from bow to stern. The side window opens enough so you can step out onto the deck with the likes of Yacht Controller when docking and still be in full charge of the boat. In this single cabin forward galley layout the saloon is completed with both port and starboard loungers that can be easily used as another couple of single berths. If you opt for the two cabin aft galley then both loungers are still retained but reduced in length. There's also a great sound system and pop up 36" TV.
Being a boat that begs for entertaining, it's all about having plenty of space. Palm Beach Motor Yachts solution to providing as much open space in the saloon is to make the dining table totally free standing and when not required inside can be simply carried out to the cockpit. Obviously the same applies in reverse. A weighted base means it retains it stability even when the boat's underway.
The saloon space is extremely inviting, with white leather and fibreglass perfectly integrated with enough satin finish Burmese teak timber trim to still say this is a Palm Beach. Large high side windows radiate light inside, with the fully opening keyhole aft bulkhead, with port side drop down window bringing both interior and exterior spaces together with a natural blend.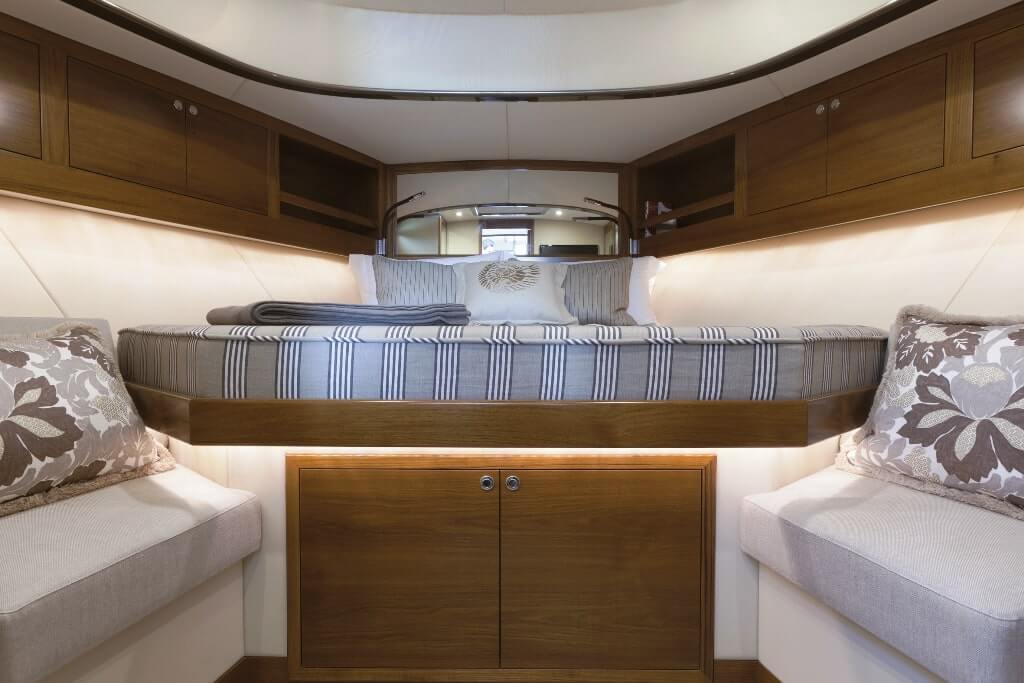 Party central continues through to the cockpit with a soft bimini overhead providing the necessary shade. An L shape soft lounger to port provides a great area to relax and soak up the ambience of the day or dining in some secluded bay in the evening. There's a portside wet bar and plenty of storage in side lockers and in the lazarette under the teak sole.
The cockpit coaming, now somewhat of a trademark piece for PBMY, is an intricate handcrafted timber capping that has not been replaced with a composite clone. It is another fine example of the attention to detail the builders put into every boat they produce.
The design and layout of the engine room has been taken to a new level with a unique sound deadening system developed by the builders. There is a separate engine room liner that has an air void between it and the hull and deck, which certainly cuts the noise level to a minimum.  As well they have developed a new fibreglass exhaust system design for the Volvo Penta IPS
"We have reduced the noise from the last 50 footer we launched by around 15 percent, which is significant," says Mark.
Palm Beach Motor Yachts is another traditional builder that has embraced the pod design and standard power for the 45 is a pair of IPS 400s, with an option of IPS 600s. However the engine choice ultimately is the owners and if you are not yet ready for pods then the 45 is also available with conventional shaft drives and a variety of engine options. You also have the option of running either a single or twin engines. The first three 45 owners have all chosen twin IPS 400s.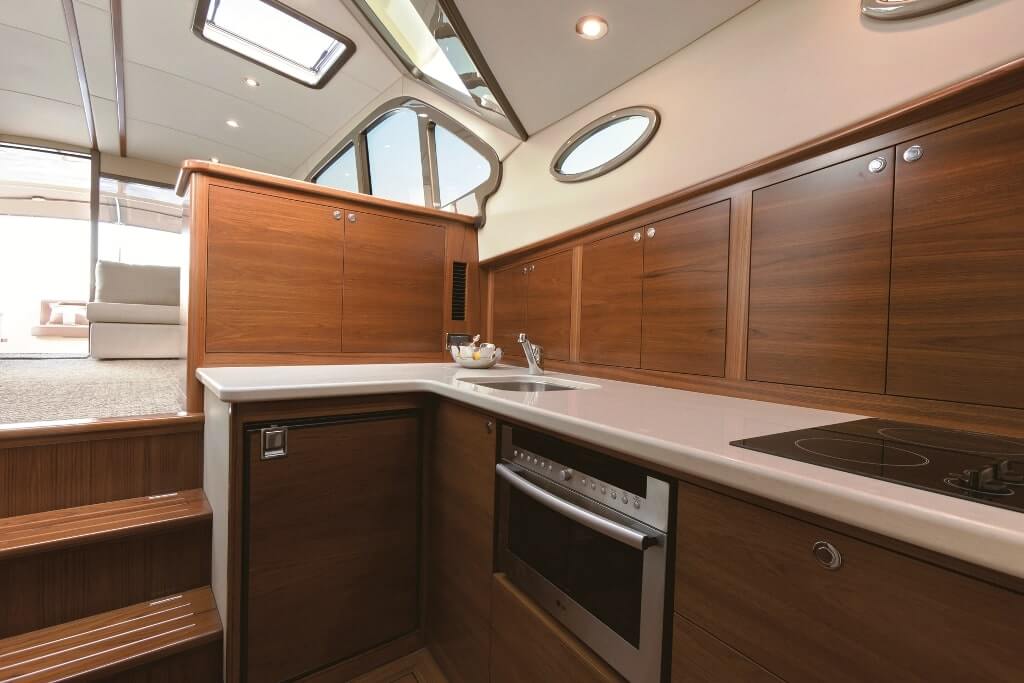 " I personally like the Volvo Penta IPS as they seem a good fit for the boat and perform well in all conditions, plus they turn a very good fuel economy right across the range. says Mark.
A pair of IPS 400s is good for 25 knots and if you upgrade to the IPS 600 then expect to see the gps nudging around 34 knots.
Entry Level
Mark describes the PB45 as an entry level boat and as a way of getting people to enjoy the Palm Beach experience that may have not been able to afford it before. Obviously the company has struck a cord, with three sold off the initial drawings and interest in more extremely high.
"SCIBS was a great show for us and the feedback was we were right on track with the PB45 which at $Aus1.2m is half a million less expensive than a PB50 and that's a significant difference for a boat that features most of what the PB50 has but is just a little shorter", said Mark.
The Palm Beach 45 is certainly very family friendly that offers low maintenance, but without lacking any of the styling and performance that the builders have an international reputation for. The first boat was released at the recent SCIBS and soon after carried on North to its new home in Hamilton Island. Hull number two and three were sold to buyers in Sydney and Brisbane both of which will be powered by twin IPS 400s.
The PB45 is the smallest of the growing PBMY range, which now includes the PB50, PB52, PB55 and the stunning PB65. Also on the drawing board and release for later this year is a PB68 Pilothouse.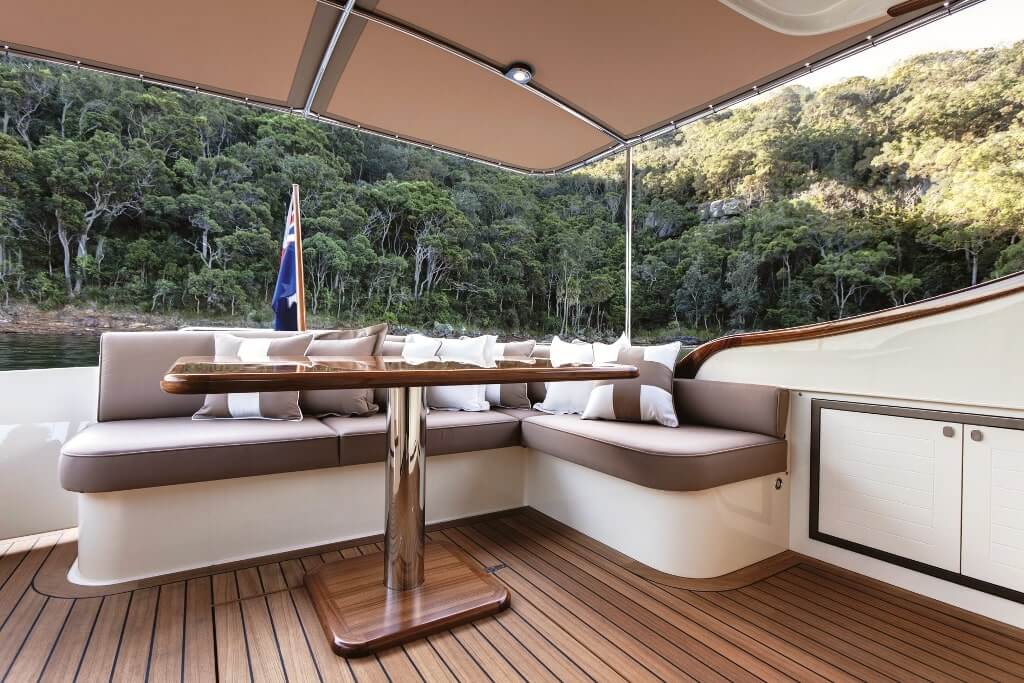 Boat Design Name: Palm Beach 45
Boat Name: Ammonite
Year Launched: 2012
Designer: Mark Richards
Interior Designer: Mark Richards
Builder: Palm Beach Motor Yachts
LOA: 15.10m
LOH: 13.70m
Beam: 4.45m
Draft: 0.86m
Displacement (dry): 12000 kg
Max Speed: 33.5 knots
Cruise Speed: 28.0 knots
Construction: GRP/Composite
Fuel Cap: 1200 litres
Water Cap: 700 litres
Engines Make: 2 x Volvo Penta IPS600 @ 435hp each
Base Price of Boat:   $Aus1.2 m
Price As Tested: $Aus1.32m