The Palm Beach 65 is exquisite proof that the art of the artisan is alive and well in boatbuilding. 
By Mark Rothfield      
There's something exquisitely special about a product that was crafted by artisans for perfection, not profit. Its quality will resonate long after the purchase price is forgotten, whereas when money is the object, it becomes a race to be cheapest.
While pondering this point after testing the new Palm Beach 65 Sedan motoryacht, I happened upon an advertisement for a V8-powered Jaguar that was for sale because the "nanny state fun police" wouldn't let the provisionally licensed son drive it.
"The mighty Shaguar has to go!" the classified cried. "They're the best car ever built, bar none  … If you park a Ferrari next to this Jag, people will say 'what's that thing next to the Jag?'"
Continuing: "It drives as smooth as a gravy sandwich, on white bread with real butter, and it has a sunroof so you can look straight up at heaven and say, 'thank you God for this Jag!' He'd appreciate that. He has the exact same car  …"
The first to see it bought it, apparently.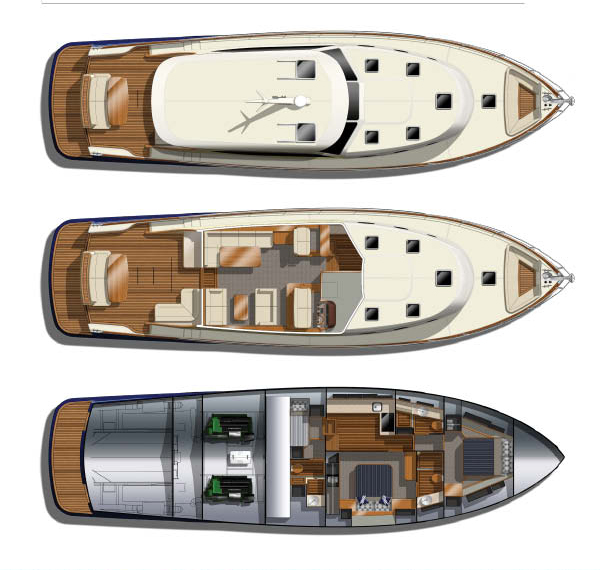 And, in many ways, you could say the same about the Palm Beach 65, though its motoring soulmate is more likely a Bentley. God would almost certainly drive one to Church Point on Sundays  … only His would be white.
It's not merely a boat, the builder says, it's an heirloom. And I'd have to agree.
I can't recall ever seeing joinery so perfect, right down to the wooden steering wheel that represents many hours of skilled and painstaking toil. Even the oft-overlooked engine room is a place where art and function come together as one.
Embodying this philosophy, the test boat boasted a uniquely ornate addition  – a diamond-encrusted gold propeller broach, mounted proudly on the teak table, with a blue Argyle diamond as the centrepiece. The vessel's energy and essence, rarity and clarity, was manifested deep within the oceanic hues of this pure and precise stone.
The owner, a jeweller, continued the theme by specifying a bevelled angle for the timberwork rather than rounded edging. Palm Beach remains small enough to accommodate such requests, with build time generally running to around 12 months.
The company itself was acquired by Grand Banks in 2014, taking founder Mark Richards with it as CEO. It presented a huge opportunity for the boutique builder to capitalise on the parent's tacit knowledge of large-scale production. It currently employs 700 staff across factories in Berkeley Vale, NSW, Singapore and Malaysia, where the test boat was built.
At one point, Richards halted the entire operation and hit the reset button. As part of that seismic shift, Palm Beach no longer uses brokers  – factory-employed staff represent the brand at international shows, lavishing the same attention-to-detail to sales and service as shown in construction.
By adding sophisticated robotics, like an 8-axis CNC router, they've gained more flexibility and affordability when developing tooling, yet many of the production processes still rely on hand crafting.
With the PB65, the hull is an E-glass laminate, vacuum-infused with vinylester resin over Corecell M100/80 structural foam, while the deck and everything above the shearline is fully infused carbon fibre. The hull/deck join is seamless for sleekness.
Throughout the hull, there's a considerable amount of carbon fibre added for structural strength and rigidity, and the bulkheads and fixed furniture are fully bonded to form a semi-monocoque structure. The result is a far lighter structure that uses less material, yet is considerably stronger and considerably dearer.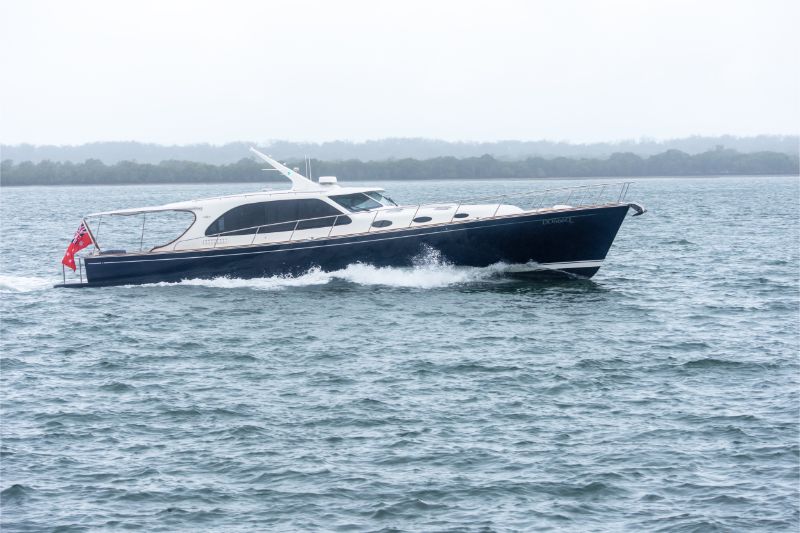 What's more, it saves weight aloft, which in turn allows for a more easily driven hull shape without compromise to stability.
Naval architect Andy Dovell penned the hull in collaboration with Richards, and their yachting pedigree shines through. A warped-vee, semi-displacement form, it begins with a fine entry to pierce through waves, then flattens to just 8-degrees aft to promote lift and form stability.
Soft shoulders roll the water away without pounding, while a small chine forward deflects the bow wave. Prop tunnels and a keel are dispensed with, as Richards and Co are sticklers for streamlining.
While Palm Beach isn't wedded to a single engine brand, Volvo is the preferred partner. Standard power is twin 1000hp Volvo D13s running shafts  – however, the test boat sported IPS 1200s at the owner's behest. There's no difference in engine location as a jackshaft transmission is employed with the shaft version.
Interestingly, the owner had opted for a Side-Power bowthruster as well as the IPS.
It may have the countenance of super-cool Bentley, yet the 65 performs more like a Bugatti supercar. Think of it as a 36-knot apartment, one that consumes distance with deceptive ease.
Zipwake tabbing, comprising 30mm interceptor blades, gives fully automated control of lateral and longitudinal trim, although it can also be manually adjusted by dialling two wheels. Having a full-beam fuel tank amidships helps maintain balance at varying loads.
There's no planing transition, just easy acceleration, and both the ride softness and racking ability are excellent. A remarkably flat wake shows just how efficient the hull is  – virtually no power goes to waste.
Even Volvo was amazed at the fuel figures. At 820rpm you're doing 10 knots (18.5km/h) and burning a mere 22lt per hour, giving an ocean-going range of 2700nm from the 6000lt tank. Cruising at 25 knots (46km/h), the 65 uses just 165lt per hour. Mind you, it's twice that when topping out at 36 knots (66.7km/h) at 2350 revs.
To have long-range cruising capabilities is a feather in the cap but, typically, the Palm Beach will serve as a dayboat or weekender. Size-wise, there are 21m cruisers with more quantity  – though none with more quality.
Interior options differ as much as the buyer demographic, with each Palm Beach being personalised within guidelines rather than boundaries. An owner preference in the test boat's case was an oak-like stain for the teak, affording the timeless feel and appeal of a gentlemen's den.
The test boat also had the optional down-galley layout, filling a portside-space on the stateroom level that can alternatively serve as a reading room, office or bunk cabin. Though not overly large, it's practical, durable and beautifully appointed, with Silestone solid quartz countertops, Miele oven and stove, single sink, under-bench fridges and a dishwasher drawer. Dinnerware and glasses are also included.
A kids' cabin resides aft of the galley, with lateral bunks, and there's a walk-through passage to an optional crew cabin or utility room. Here you find the washer-dryer hiding. The main stateroom, opposite the galley, features a king-sized berth and en suite with walk-in shower and twin ceramic sinks on the stone tops. A VIP cabin with double berth and dayhead access fills the vee.
On saloon level is a C-shaped lounge and helm station to starboard, facing a television unit and the dinette. Large windows, allowing a 360-degree line of sight, can be lowered to fill the zone with fresh air, or provide instant access to the side deck.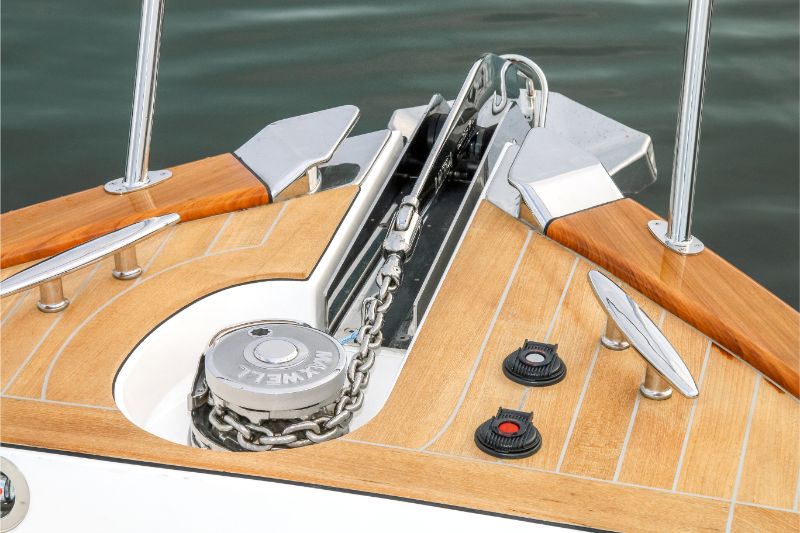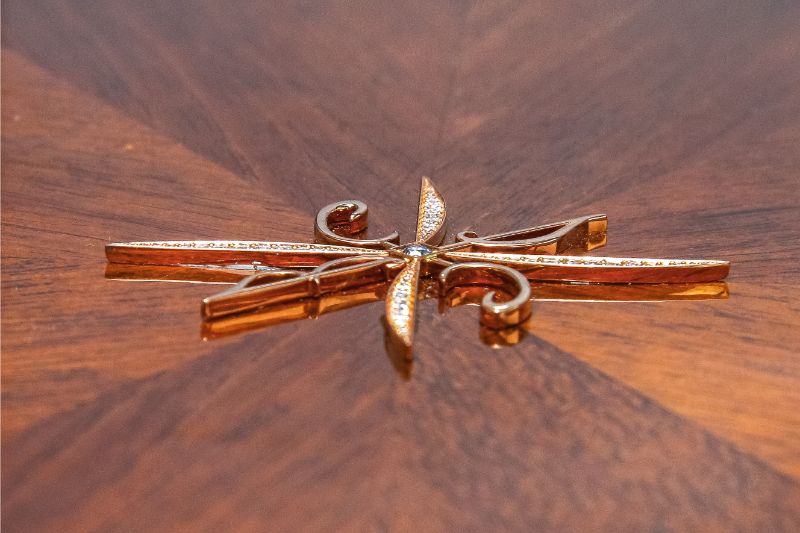 The owner loves to entertain and therefore specified a cockpit bar that includes a Miele electric hotplate. He also plumbed the bow seating pit to become a 1400lt jacuzzi with heated water and LED mood lighting. A single 25kVA Fischer Panda genset feeds it the necessary power.
For water sports or trips ashore, an inflatable tender resides in a stern garage, launched via a hydraulic swim platform, which can double as a passerelle. That, however, might interrupt your whisky and wine time.
At the champagne-filled launch party, our jeweller friend was fulsome and authentic in his praise of Richards and staff. He finally had the vessel he'd longed for since childhood, one that will now give him and his family a lifetime of memories.
The price of such happiness starts at $AUD3,635,000, with the flybridge another $AUD192,000  – as tested, say $AUD4.2 million. But, as mentioned at the start, the cost is almost irrelevant. The Palm Beach 65 sedan is built for boaters by boaters, not bean counters, and buyers would, and should, fully embrace that fact.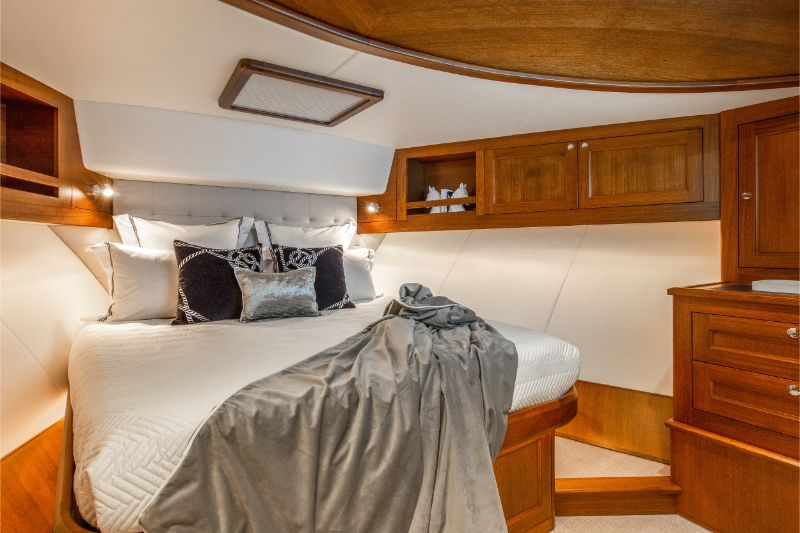 Boat Design Name: Palm Beach 65 Sedan
Year Launched: 2018              
Builder: Palm  Beach Motor Yachts             
Designer: Mark Richards            /Andy Dovell (Naval Architect)            
LOA: 21.30m                
LOD: 19.81m                       
Beam: 5.85m               
Displ (Dry): 30,000 kg          
Max Speed: 36 knots
Construction: E-glass/Corecell/carbon fibre.
Fuel Cap: 6000 litres           
Water Cap: 1100 litres           
Engines Make: 2 x Volvo Penta IPS 1200.
Drive Train: IPS                  
Generator: 25kVA Fischer Panda             
Interceptors: Zipwake
Thruster: Side Power
Air Con: 2 x Cruiseair 27000 BTU                    
Anchor Winch: Maxwell
MFD: Garmin                                   
Entertainment: Samsung & Bose        
Underwater Lights:  ??
Price of Boat from: $US3,635,000
Contact: Palm Beach Motor Yachts, Ph +61 (02) 4389 1244,
W: palmbeachmotoryachts.com.