Palm Beach motor yachts are described as the quintessential sport yacht with timeless appeal and refined elegance. Their latest model, the Palm Beach GT50 is a stunning example of all those attributes. Barry Thompson spent a few hours on Auckland Harbour savouring every moment.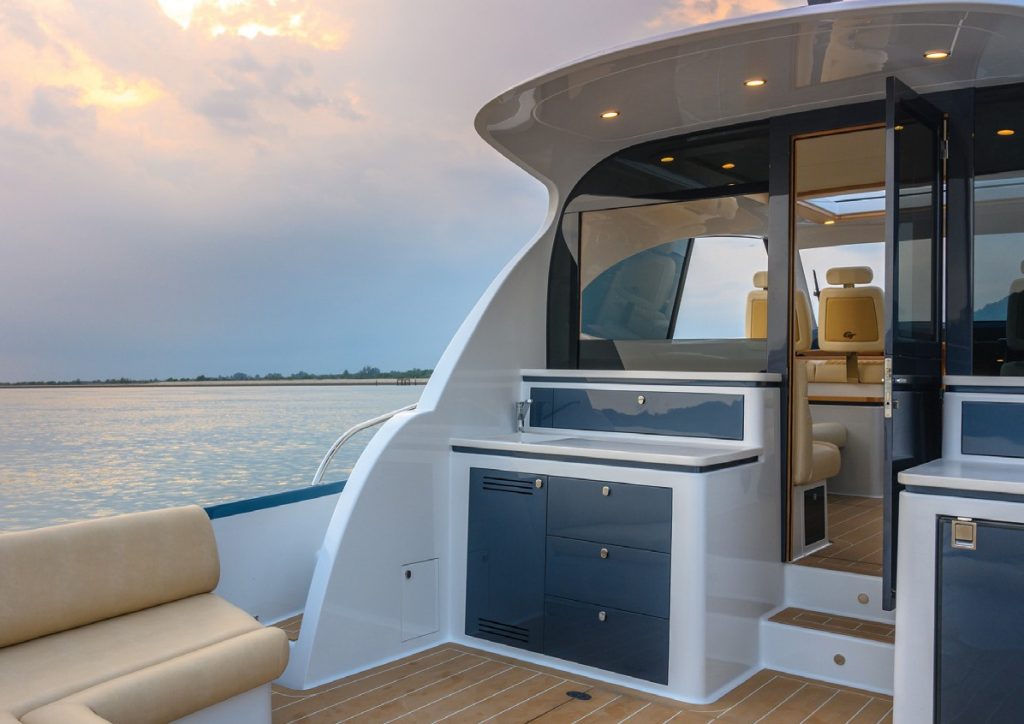 MARK RICHARDS, Palm Beach Motor Yachts founder and CEO is quoted as saying, "The
GT50 was conceived as a vessel that would allow Palm Beach Motor Yachts to push the envelope in terms of our hallmark traits of performance and efficiency".
He added, "She also brings to market a new aesthetic for the brand that is still elegant and timeless, while also showcasing simplicity in design where form and function complement each other, rather than one dictating the other."
I have always been an admirer of the Palm Beach brand, and for many years it has been the stand-out marque in the luxury sport yacht market. Initially an all Australian build, some of the models are now manufactured in the Grand Banks factory (the current owners of Palm Beach Motor Yachts) in Johor Baruh, Malaysia. Amongst them is new GT range, with the GT50 available in either open or enclosed versions.
The Palm Beach GT50 was released in Sept 2018 and is the first in a series that also includes the justlaunched GT60 and the yet to be completed GT70. While the GT50 has all the attributes and styling of a traditional Palm Beach, it goes a step beyond. There is a softness and appeal about the profile that makes you fall in love with the boat on first sight. I know I did when I saw it parked up on the dock at Orakei Marina and while from a distance it looked absolutely stunning, close up it was even more
inspiring.
Matthew Mason, the New Zealand rep for Palm Beach Motor Yachts had already given me all the hype about the GT50, but as flattering as his words were they could not adequately describe it. You have to walk aboard to experience what Richards and his team have done, and I could see straight away, that while this boat is reasonably highly priced for a 50ft sports sedan, it is worth every cent.
When we cruised out of Orakei Marina, the northerly wind was gusting around 15-18, knot, an ideal day for a test. Our skipper, Michael Roberts quickly got the boat up to 22 knots and what a ride. It was smooth, quiet and effortless. For our drone shots we cranked it up to over 35 knots, and even then the boat handled superbly. Zipwakes helped to maintain a level riding attitude, and in the hard turns, the hull has minimal heel. From a standing start to plane, the GT50 maintains a low bow attitude. Despite the gusting winds we took virtually no water across the expansive forward screen. Michael was telling me that the owner had purposely taken the boat out on a particularly nasty
Hauraki Gulf day to see how it handled. He was super impressed with the way the boat rode and performed.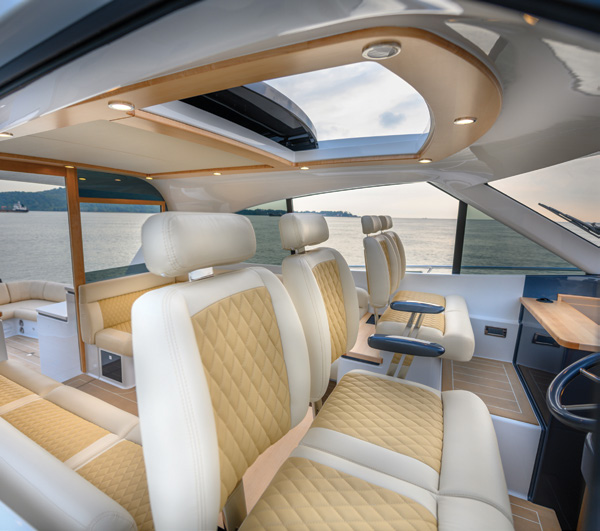 There is just one power option for the GT50, a pair of Volvo Penta 600s with IPS800s. Top speed is an impressive 40 knots @ 3000 rpm, which gives a fuel consumption of 242 lph. However, drop that back to 2500 rpm and the speed is still an impressive 29 knots, but the fuel has dropped back to around 144 lph and the range to 270nm. What is notable, is that at around 2000 rpm and with a cruise of around 21-22 knots, the fuel drops back to a super-efficient 83 lph and the range increases to almost 350nm. Using 40 lph per engine at over 20 knots says a lot about the efficiency of the underwater profile. Like all Palm Beach models, the focus on lightweight, robust construction helps to ensure the GT's efficiency. The GT's hull is a fully infused vinylester cored e-glass construction, complemented by a fully infused, 100% carbon fibre deck and superstructure. The
deck and bulkheads are structurally bonded to the hull for increased strength and rigidity, forming a semi-monocoque shell that produces a far stronger result.
The forward master cabin features a large island berth with easy access both sides, plenty of storage provided in a hanging locker, upper shelves and drawers. There is an overhead Lewmar hatch (with privacy screen and blind) and an adjoining head with separate shower stall.
At the rear, there is a mid-cabin with another large, rectangular berth behind a bulk headed entryway that, in spite of a small port opening into the cockpit, seems to produce a darkened, cave-like ambience. And in between the two spaces, at the foot of the companionway, is a bright, airy galley-down with stainless-steel appliances, sweetly joined Oak cabinetry (containing Palm Beach-embossed silver, stemware and china) and Corian counter tops. The atrium design means that the galley is bathed in natural light and imparts a feeling of openness.
Step up to the saloon, and you enter a new domain. One that offers a contemporary interior that is stunning as it is practical. A raised, upper cockpit forward features a starboard helm station with two comfortable, sumptuously upholstered helm chairs, with duplicates of the two chairs for passengers to port. The carbon-fibre dashboard
at the helm is comprehensive and features a Garmin MFD, Zipwake monitor, Hepworth Marine wiper rheostat, an Electronic Vessel Control module from Volvo Penta (as well as both binnacle and joystick-type engine controls) and Muir anchoring touchpad.
The first thing that got my attention when I stepped into the saloon of the GT50 was the massive full-width screen with no mullions to break the symmetry of the gently curved glass. The emphasis is obviously on laid-back luxury throughout the saloon with opposing settees and a moveable table.
While the GT50 is complete with air-con, if you like natural fresh air circulating inside, you can open the electrically operated side and rear windows and a large sunroof. It's a couple of steps from the saloon down to the cockpit, which like the interior is all about luxurious comfort. Twin L shape settees are split with convenient access to the
large boarding platform. Storage is abundant under the seating and in a huge lazarette in the centre of the teak cockpit sole.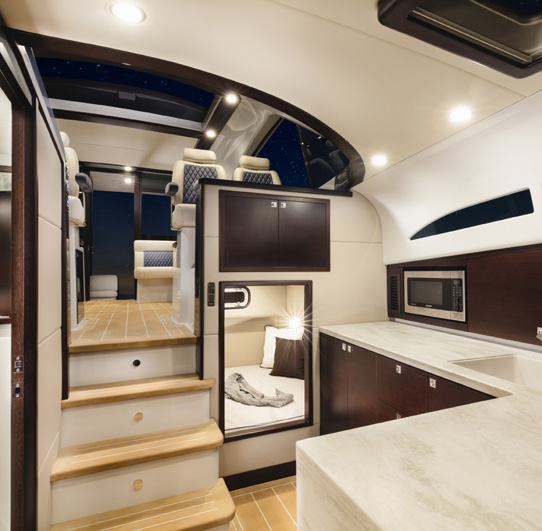 I find I have run out of superlatives to describe the Palm Beach GT50. I have reviewed dozens of sport yachts but never one that is to the same standard as the GT50. It might not be your average family sport yacht, but then it was never intended to be. It's an exceptional boat that is faultless in every facet of design, finish and certainly style. Timeless and enduring, a boat that will never date and mature with age