Kiwi Peter Brady has been designing and building power cats for over 20 years and rates Rehab as his crowning achievement. Barry Thompson went to Mandurah, WA to check it out.
The design is not revolutionary, but it is certainly evolutionary and is the culmination of over 40 years of boatbuilding by expat Kiwi Brady, who now resides in Australia, with his boat building yard and design office on the banks of the Brisbane River. Although the construction started as a 15.9m power cat early in 2012, it morphed into its final 17.4m length due to the current owner's requirements for a bigger boat. Capable of achieving 25 knots from a pair of 440hp Yanmar engines, Rehab has a range of close to 3000 nm @ 10 knots, making it genuinely trans-ocean capable.
Brady says that to be truly trans-ocean a vessel must at least have a 1,500nm range without refuelling, the load carrying ability to carry the fuel, water, food and gear required to make this length of journey and most important of all the strength to make it.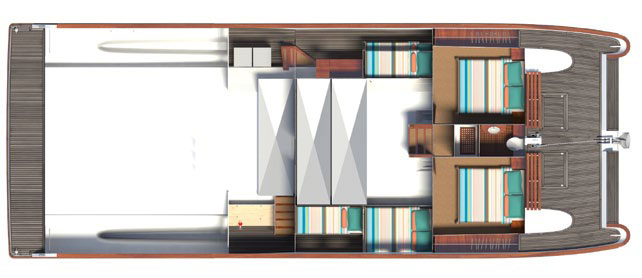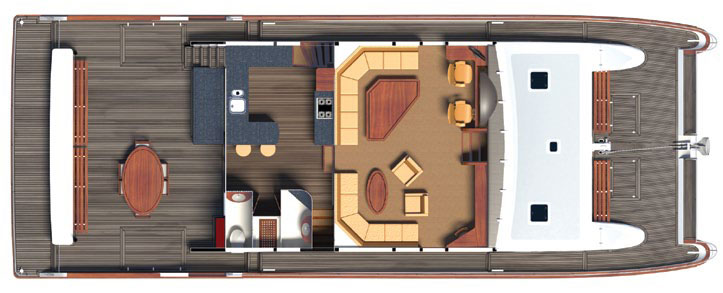 I knew when I first spoke to Brady that this article would be more about the hull design, handling and construction than the interior, three areas that he is passionate about. Being a custom boat, the interior layout is very much owner driven and Rehab reflects those personal requirements. The overall finish and presentation of the interior and the blending of all the different areas of the boat is exceptional and the workmanship to a very high standard.

Rehab is also very much about style. Brady's wife, Lorma was responsible for much of the interior décor and along with the owner styled the design around an upmarket Bali hotel. The choice of textures and colours was inspiring and the skilled tradesmen had the experience and desire to carry out the job and from this team work and passion came the result.
Externally the boat had to look contemporary, but not necessarily the latest fashion that could date. The hull windows for example had to look right as well as be functional. After trying a number of different shapes, it turned out a simple vertical rectangle with radiused corners worked perfectly, letting plenty of light into the boats mid cabins, yet not dominating the topsides and detracting from the classical sheer.
There is a welcoming and relaxing ambience the minute you step aboard the boat and a practical finish that makes the best use of the huge beam offered by the catamaran design. The open plan layout allows everyone onboard to be included in the cruising experience.
Rehab's owners were already very familiar with power cats, having stepped out of a Brady designed Brava 45 and were looking for a larger and even more long range capable boat. Their requirements were three-fold. The design called for separate areas of the foredeck, upper deck and large aft deck to accommodate up to 70 guests for social events. It also had to be a family friendly weekender with all the features of a modern beach front apartment and plenty of accommodation, plus be able to stay at sea for months if required.
Accommodation is set up with two forward cabins at bridge-deck level, both with walk around queen size beds, with the master to starboard with an en-suite. One of the popular options is for a single large master in this area, with large en-suite and spa bath.
To starboard in the mid section of the hulls is a family room with a double and single bed and in the same position in the port hull another bedroom with two single bunks. With both the lounge and the settee in the pilothouse being able to convert to single beds along with the seating on the upper deck, Rehab has 12 dedicated berths. Storage is gargantuan throughout all the accommodation areas, with a myriad of places to stow gear for long passage making.
The pilothouse has been designed for comfort, be it on a casual cruise around the bay or a long distance journey. With good visibility when seated from either the large port side settee or the lounge to starboard, the 20sqm raised pilothouse fulfils the requirements perfectly.
There are twin Navigator helm seats on the port side behind a large dash and navigation area. In keeping with the boat's cruising motives, the electronics and navigation package is extensive and based around a Simrad MFD with multi screens. Across from the helm is the entertainment centre with pop-up TV and writing desk. Trawler style sliding doors provide access to both sides of the pilothouse. A Yacht Controller can be used for when outside on the deck for close manoeuvring while docking.
Moving aft, the extensive galley, which opens to the aft deck, is located to port with all the necessary amenities, such as three burner hob, dish drawer, fridges, freezers, microwave convection/griller/steamer and servery spaces to cater for exceptionally large groups or just the family. Opposite is the day head and separate bathroom with two-way access, plus a lockable rod locker.
One thing I noticed was when I looked around inside Rehab there are no hard timber edges. This, according to Brady was intentional, as if you are going trans-ocean, at sometime you are going to be thrown about the boat, so the last thing you want is a hard corner to fall against.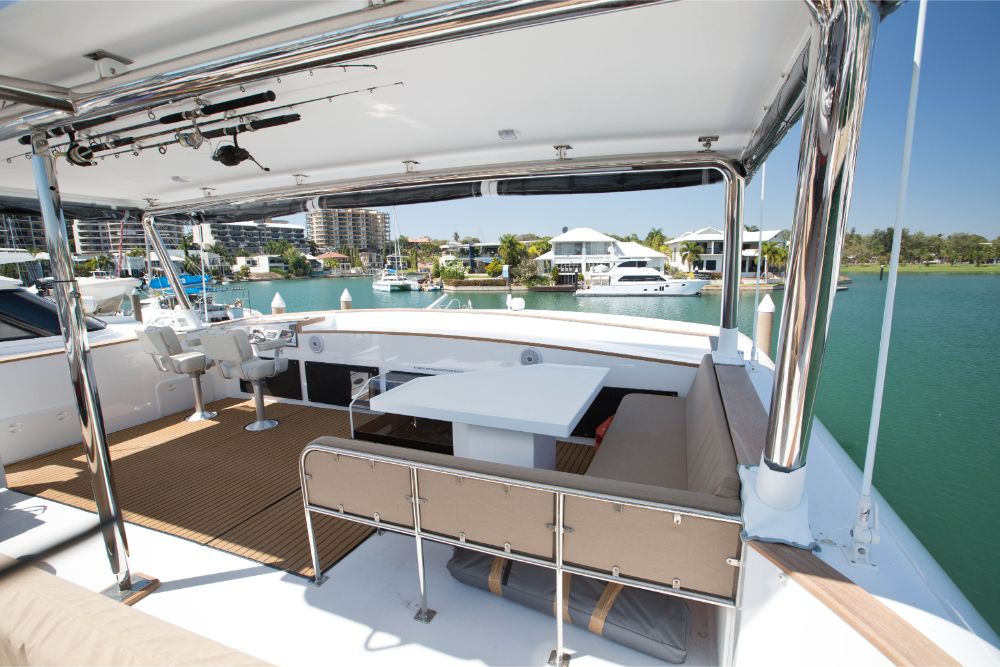 True to the request for big open entertaining areas, Rehab has a massive cockpit with space for 20 plus guests, with at least that many more being able to be accommodated upstairs on the open bridge.  The cockpit and transom also feature more coolboxes, fridges and freezers, plus a bbq in the transom.
The second helm station upstairs features twin seats, a secondary Simrad navigation system and autopilot, with an L shape settee to starboard. Clears hang off the grp targa which, due to the fact there is a low bridge between the owners berth outside his home at Mandurah and the sea, is fitted with a rise and fall system. It can be lowered or raised very easily with the help of 12v actuators.
An ADC 600kg crane looks after launching and retrieving of the 'croc proof" alloy 4.8m dinghy. Brady informed me that RIBs are referred to as 'crocodile chewing gum' around the Top End of Australia so if you are intending to do your boating around places like the Kimberleys, you need a hard tender. You learn something new every day!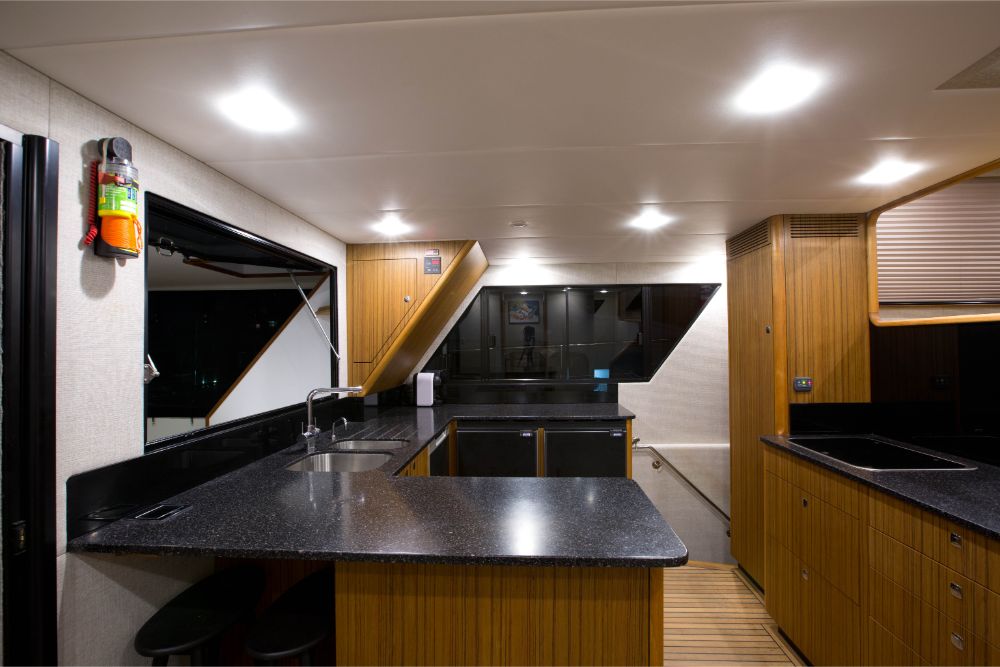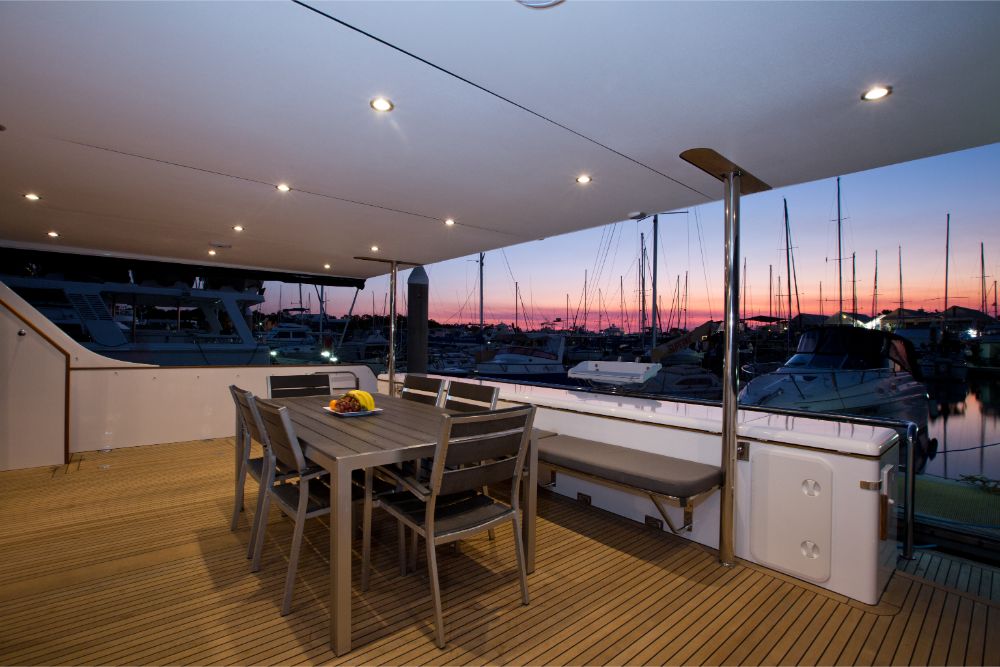 My first impression of the Pathfinder 17.4 when I saw it parked up at the Mandurah Boats Show was just how massive the outside area is and could picture myself playing mini tennis across the cockpit. The full width-boarding platform (6.7m overall) was a sea of shoes, testimony to the popularity of the boat with show patrons. If I heard it once, I heard it ten times…" this is the boat of the show".
I had been invited to WA to review the new Pathfinder Pilothouse 17.4 powercat and keen to show me the handling attributes Brady was looking for some rough water for the test.  Rehab he says is an unreal boat in the rough and this was proven time and time again on the delivery journey from Brisbane.
One of the reasons he says is that he has repositioned the fuel tanks up onto the wing deck, rather than in the hulls and that he says has made a massive difference to the way the boat handles, especially in adverse sea conditions.
"It's simply better than good and a huge improvement of what I have done previously."
The bonus is there is also now more space in the middle cabins which certainly make them more liveable, open and with plenty of natural light. He has stamped his mark on the way forward for efficient power cat designs, with Rehab representing a quantum leap in design, efficiency and handling.
Although this was one occasion that I had hoped for rough water, it was not to be. The sea off Mandurah was calm with a very low swell, hardly enough to ripple the feet of a barefooter. Disappointed for sure, but then I had been told some great stories by the owner regarding his delivery voyage from Brisbane to Mandurah, a distance of around 4500nm, with 500 hours running time.
On the first leg to Cairns, they experienced a decent variety of sea conditions including a good hard punch into head seas off Frazer Island the first night. The crew also experienced a spectacular days running and surfing in following seas on the last day heading into Cairns with the autopilot at 16kts with frequent long surfs down waves at 20kts plus.
"The boat would lift on a wave and just take off, appearing to shoot out the front of the wave and just when you were waiting for a thump as it hit bottom, the CVD features would do their job and the bows would gently lift and off you would go again", adds Brady.
Back in Mandurah, running at 20 knots in calm water, the ride was so pacifying, it was almost boring. Not that cruising in Rehab could ever be described as boring, it's just that the boat was viceless and quite honestly, I doubt any boat of this size, be it cat or mono could be any better. Even without the benefit of rough water I could feel that this was a cat that had more roar than purr left in it.
Serene, is probably the best way to sum up the ride of the Pathfinder Pilothouse 17.4. As Brady says, it's not unlike a cruising yacht with a steadying sail, but in the case of Rehab, it's the beam that is providing the lack of motion. By putting the fuel tanks up on the wing deck in the middle, Brady has effectively emulated the principle of a seesaw, where the weight is at the pivot point in the middle, thereby providing limited movement.
The hull shape is described by Brady as round bilged planning, with a displacement bow. This unique style has long been his favourite and from it he coined the descriptive phrase, "displaning".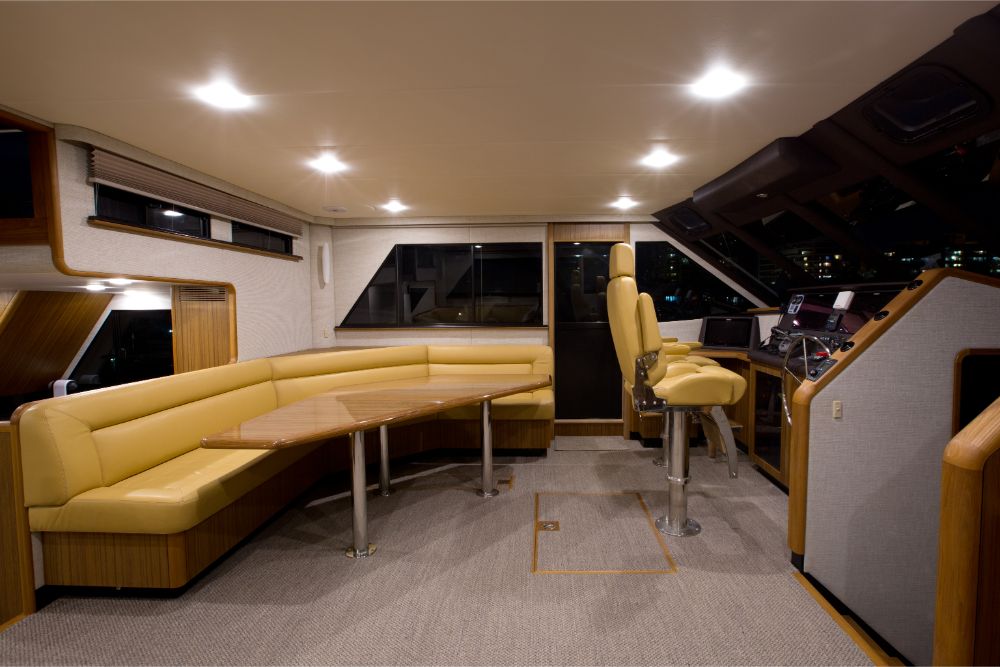 He explains, "To effectively and economically achieve planing range speeds in power multihulls up to 20m, requires a hull form that is basically of displacement type in its first two-thirds blended into a planing type for its aft third.
"Displaning designs are capable of speeds that are well into planing hull form territory, yet comfortably able to cruise at displacement speeds if the sea conditions are against greater speed," he adds.
The displaning hull form exhibits none of the "on the plane, off the plane" quirks of the planing hull, yet is easily and economically driven to speeds beyond the possibility of pure displacement vessels. The secret to displaning multihull design is how subtly the bow, mid and aft sections are blended together.
Rehab is the perfect blend of three factors; the underwater lines for performance, the area just above the waterline for the ride and the weight distribution which gives the boat the perfect balance for the ride and stops the inertia.
Another special 'Brady' feature is what he calls CVD (Controlled Vapour Dampening). This is a development of multiple chines and V-pods working together to break solid water into vapour to soften the ride as well as providing gradual lift. As it is all above the waterline, it will not have any effect in calm water except increasing the internal volume of the boat and providing better structural engineering. CVD's real benefit is realised in the vessels ability to maintain high cruising speeds and a quieter smoother ride in rough conditions.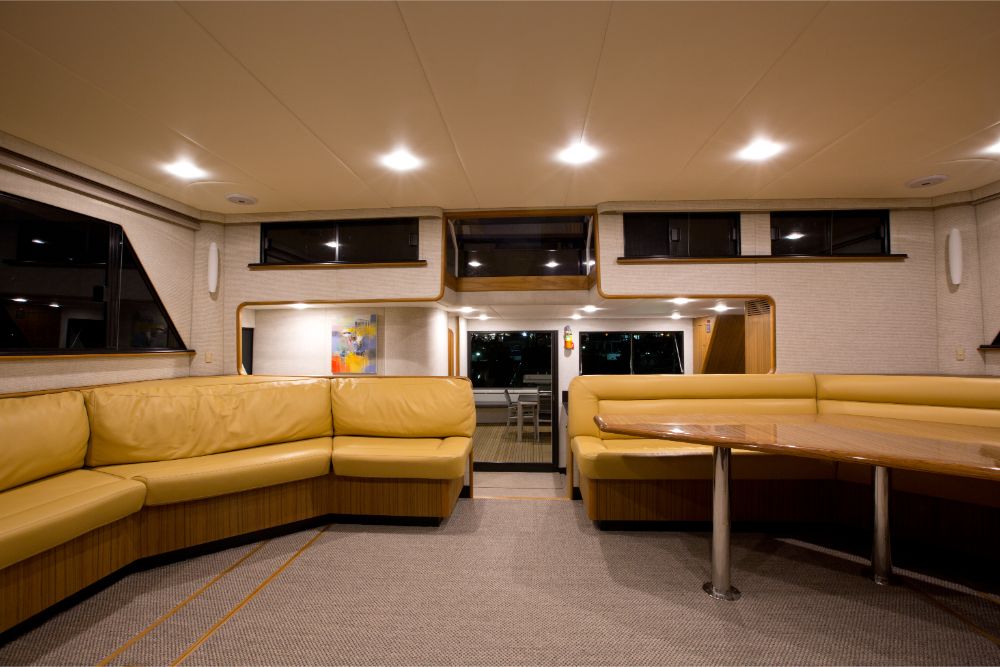 Rehab is powered with a pair of Yanmar 440hp engines, running through 2.47:1 reduction gearboxes, onto 56mm, 9 deg angle shafts and Faster Bar98 25" x 25" propellers. Maximum speed during our trials off Mandurah was 25 knots @ 3300 rpm, with 3000 litres of fuel and 1500 litres of water aboard. In light ship load, Rehab will run over 26 knots. Around 2500rpm, Rehab has a maximum speed of 17.5 knots and a cruising range of more than 1200nm. That's Sydney to Auckland on a tank of gas!
A pair of 225hp 6.8 litre John Deere engines will still give the Pathfinder 17.4 a top speed of around 21 knots and if you want more speed then a pair of 600hp engines will rocket the boat along in excess of 30 knots.
Rehab is unquestionably a true trans-ocean cruising boat, with the range to go anywhere in the world. It's got the speed to outrun the weather or any undesirables who may want to take your boat from you while cruising in certain areas of Asia!
Rehab demonstrates that despite the GFC and the invasion of cheaper import, Australia and New Zealand boatbuilding still have a strong future by producing innovative high quality products
Rehab is the fourth generation of the Brady power cat design and every boat has been sensitive to achieving the right balance of lift, angles, width and volume of the hulls. In Rehab Brady feels is has achieved his best yet, although always the perfectionist the next boat will he says be even better. Of that I am in no doubt!
Boat Design Name: Pathfinder 17.4
Year Launched: 2014
Designer: Peter Brady
Interior Designer: Peter Brady & Owners
Builder: Pathfinder Power Cats
LOA: 18.00m
LOH: 17.45m
Beam: 6.70m
Draft: 1.40m
Displ (loaded): 28.5 tonne
Max Speed: 26.5 knots
Cruise Speed: 17.5 knots
Construction: Infused GRP
Fuel Cap: 5400 litres
Water Cap: 1500 litres
Engines Make: 2 x Yanmar 6LYA-STP @ 440hp
Drive Train: Shafts
Propellers: Faster 25" x 25" 4Bld
Generator: Mace  15.2kva
Battery Chargers: Sterling
Air Conditioning: Marine Air
Watermaker: Stella Marine
Engine Controller: Yacht Controller
Anchor Winch: Muir 3500
Anchors: Manson Supreme
Steering: Hydrive
Engine Controls: Yanmar Electronic
Lighting: LED
Hatches: Lewmar
Woodwork: Teak
Liferaft: 8-Man
Davit Crane: ADC 400kg
Tenders: 4.8m Alloy
Stainless Steel Fab: In House
Saloon Doors: In House
Trim Tabs: NA
Helm Chairs: Navigator
Upholstery: Vinyl
Autopilot: Simrad
MFD: Simrad
VHF: GME
Ent Systems: ??
Systems Man: C-Zone
Base Price of Boat: $AUD3 million
Price As Tested: $AUD3.4 million
FUEL & PERFORMANCE DATA

 

Pathfinder 17.4  / 2 x Yanmar 440hp

 

    

Fuel capacity:

5400

litres

 

 

RPM

Knots

L/h

L/NM

Range  (NM)

 

700

5.0

3

0.6

8100

 

1000

7.0

5

0.7

6800

 

1500

9.8

16

1.7

2890

 

1750

11.0

30

2.7

1780

 

2000

12.0

46

3.8

1270

 

2250

14.5

55

3.8

1280

 

2500

17.5

71

4.1

1200

 

2750

20.0

85

4.3

1140

 

3000

22.0

120

5.5

890

 

3300

25.0

155

6.2

780

 

To allow for adverse conditions, range is calculated on 90% of the fuel capacity.